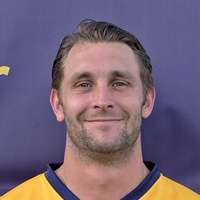 Position:
Defender
Achievements
2013/14 Won promotion to Southern League, Premier Division
2014/15 Managers' Player of the Season (jointly won with Ed Smith)
2014/15 Supporters' Player of the Season runner-up
Bio
Former Windsor defender Ryan Parsons joined the club in late December 2013, making the move from Southern Premier leaders Hemel Hempstead Town.
Ryan proved to be a very important signing for Neil Baker and Jon Underwood, and proceeded to play a huge part in getting the club promoted. He made a strong debut in the 2-0 defeat against Kettering Town and went from strength to strength.
He gives the side natural balance at left back, has a great attitude, and bundles of energy which allows him to get up and down the line, but with his first thought being defensive.
Ryan is very experienced in the non-league game. He came through the youth setup at Wycombe Wanderers, and went on to play in over 100 games in two spells for Windsor & Eton, also playing for Maidenhead United in between. He joined Hemel originally for the 2010/11 season before returning to the newly formed Windsor FC as their captain.
Mens
| First Appearance | Appearances | First Goal | Goals |
| --- | --- | --- | --- |
| 28-12-2013 vs Kettering Town | 78 | 22-02-2014 vs Dunstable Town | 1 |
History
| Match Date | Home | Score | Away | Competition | Goals | Cards | |
| --- | --- | --- | --- | --- | --- | --- | --- |
| 19-09-2015 | Bedworth United | 2-1 | Slough Town | League | | | Match report |
| 12-09-2015 | Dorking Wanderers | 0-1 | Slough Town | FA Cup | | | Match report |
| 08-09-2015 | Slough Town | 0-3 | Burnham | B&B Senior Cup | | | Match report |
| 05-09-2015 | Slough Town | 1-0 | Cirencester Town | League | | | Match report |
| 31-08-2015 | Chesham United | 1-1 | Slough Town | League | | | Match report |
| 29-08-2015 | Slough Town | 1-3 | Poole Town | League | | | Match report |
| 22-08-2015 | Hitchin Town | 3-1 | Slough Town | League | | | Match report |
| 18-08-2015 | Slough Town | 7-1 | Histon | League | | | Match report |
| 15-08-2015 | Stratford Town | 1-1 | Slough Town | League | | | Match report |
| 11-08-2015 | Biggleswade Town | 5-1 | Slough Town | League | | | Match report |
| 08-08-2015 | Slough Town | 0-0 | Frome Town | League | | | Match report |
| 25-04-2015 | Dorchester Town | 3-1 | Slough Town | League | | | Match report |
| 21-04-2015 | Banbury United | 3-0 | Slough Town | League | | | Match report |
| 18-04-2015 | Slough Town | 1-1 | Frome Town | League | | | Match report |
| 11-04-2015 | Dunstable Town | 2-4 | Slough Town | League | | | Match report |
| 06-04-2015 | Hungerford Town | 2-0 | Slough Town | League | | | Match report |
| 04-04-2015 | Slough Town | 3-3 | St Neots Town | League | | | Match report |
| 28-03-2015 | Hitchin Town | 5-2 | Slough Town | League | | | Match report |
| 24-03-2015 | Slough Town | 1-2 | Corby Town | League | | | Match report |
| 21-03-2015 | Cirencester Town | 3-5 | Slough Town | League | | | Match report |
| 14-03-2015 | Slough Town | 1-2 | Truro City | League | | | Match report |
| 07-03-2015 | Slough Town | 0-4 | Cambridge City | League | | | Match report |
| 28-02-2015 | Redditch United | 4-0 | Slough Town | League | | | Match report |
| 21-02-2015 | Chippenham Town | 2-0 | Slough Town | League | | | Match report |
| 14-02-2015 | Slough Town | 1-0 | Arlesey Town | League | | | Match report |
| 10-02-2015 | Histon | 0-0 | Slough Town | League | | | Match report |
| 31-01-2015 | Bideford | 2-0 | Slough Town | League | | | Match report |
| 20-01-2015 | Slough Town | 2-2 | Burnham | League | | | Match report |
| 17-01-2015 | Slough Town | 3-0 | Weymouth | League | | | Match report |
| 01-01-2015 | Slough Town | 1-2 | Hungerford Town | League | | | Match report |
| 26-12-2014 | Chesham United | 0-0 | Slough Town | League | | | Match report |
| 20-12-2014 | Slough Town | 2-1 | Dorchester Town | League | | | Match report |
| 13-12-2014 | Frome Town | 1-1 | Slough Town | League | | | Match report |
| 09-12-2014 | St Neots Town | 0-3 | Slough Town | League | | | Match report |
| 06-12-2014 | Slough Town | 0-3 | Dunstable Town | League | | | Match report |
| 02-12-2014 | Slough Town | 1-2 | Cirencester Town | League | | | Match report |
| 25-11-2014 | Slough Town | 2-2 | Chippenham Town | League | | | Match report |
| 22-11-2014 | Slough Town | 2-1 | Hitchin Town | League | | | Match report |
| 18-11-2014 | Merthyr Town | 3-2 | Slough Town | FA Trophy | | | Match report |
| 15-11-2014 | Slough Town | 1-1 | Merthyr Town | FA Trophy | | | Match report |
| 08-11-2014 | Slough Town | 4-2 | Paulton Rovers | League | | | Match report |
| 01-11-2014 | Margate | 0-2 | Slough Town | FA Trophy | | | Match report |
| 28-10-2014 | Biggleswade Town | 3-3 | Slough Town | League | | | Match report |
| 18-10-2014 | Cambridge City | 3-3 | Slough Town | League | | | Match report |
| 14-10-2014 | Egham Town | 4-2 | Slough Town | League Cup | | | Match report |
| 04-10-2014 | Arlesey Town | 1-0 | Slough Town | League | | | Match report |
| 01-10-2014 | Corby Town | 1-2 | Slough Town | League | | | Match report |
| 27-09-2014 | Truro City | 1-2 | Slough Town | League | | | Match report |
| 20-09-2014 | Slough Town | 4-1 | Bideford | League | | | Match report |
| 09-09-2014 | Poole Town | 2-1 | Slough Town | League | | | Match report |
| 06-09-2014 | Weymouth | 3-2 | Slough Town | League | | | Match report |
| 30-08-2014 | Slough Town | 1-1 | Histon | League | | | Match report |
| 25-08-2014 | Slough Town | 0-3 | Chesham United | League | | | Match report |
| 23-08-2014 | Paulton Rovers | 2-2 | Slough Town | League | | | Match report |
| 19-08-2014 | Slough Town | 1-1 | Biggleswade Town | League | | | Match report |
| 16-08-2014 | Slough Town | 2-1 | Banbury United | League | | | Match report |
| 09-08-2014 | Burnham | 0-2 | Slough Town | League | | | Match report |
| 05-05-2014 | Kettering Town | 2-3 | Slough Town | Play Off | | | Match report |
| 29-04-2014 | Rugby Town | 0-3 | Slough Town | Play Off | | | Match report |
| 19-04-2014 | Slough Town | 1-2 | Rugby Town | League | | | Match report |
| 12-04-2014 | Ashford Town (Middx) | 0-5 | Slough Town | League | | | Match report |
| 05-04-2014 | AFC Hayes | 0-1 | Slough Town | League | | | Match report |
| 03-04-2014 | Barton Rovers | 1-2 | Slough Town | League | | | Match report |
| 29-03-2014 | Slough Town | 2-1 | Royston Town | League | | | Match report |
| 25-03-2014 | North Greenford Utd | 1-7 | Slough Town | League | | | Match report |
| 22-03-2014 | Slough Town | 4-1 | Leighton Town | League | | | Match report |
| 15-03-2014 | Daventry Town | 2-2 | Slough Town | League | | | Match report |
| 08-03-2014 | Slough Town | 1-0 | St Ives Town | League | | | Match report |
| 04-03-2014 | Slough Town | 1-3 | Egham Town | League | | | Match report |
| 01-03-2014 | Potters Bar Town | 0-3 | Slough Town | League | | | Match report |
| 22-02-2014 | Slough Town | 4-0 | Dunstable Town | League | | | Match report |
| 15-02-2014 | Slough Town | 5-3 | Aylesbury United | League | | | Match report |
| 04-02-2014 | Slough Town | 2-0 | Aylesbury | League | | | Match report |
| 28-01-2014 | Northwood | 0-2 | Slough Town | League | | | Match report |
| 18-01-2014 | Slough Town | 5-1 | Chalfont St Peter | League | | | Match report |
| 11-01-2014 | Marlow | 2-2 | Slough Town | League | | | Match report |
| 07-01-2014 | Burnham | 3-3 | Slough Town | League Cup | | | Match report |
| 28-12-2013 | Slough Town | 0-2 | Kettering Town | League | | | Match report |
Slough Town FC is not responsible for content produced on external websites | Copyright Slough Town FC 2023