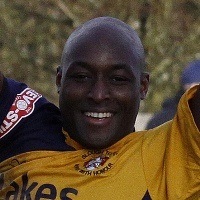 Position:
Forward
Bio
Former Ghana international Lloyd Owusu re-signed for his hometown club in February 2012 to help manager, and former teammate Steve Bateman achieve promotion, after a long and varied career in the Football League and Australian 'A' League.
Owusu started his career with Slough Town, his hometown club, rising through the ranks at youth and reserve team level before breaking into the first team in September 1996. He made his debut in a 2-0 home win against Bromsgrove Rovers in the GM Vauxhall Conference. Owusu marked his full league debut for the club in style with four goals in a 6-0 win over Telford United.
In all, Owusu scored 18 goals in 59 appearances for Slough before being sold to Brentford, then managed by Ron Noades, in 1998 for a fee of £25,000. This came in the midst of the club's "summer of hell" which saw the club expelled from the Conference. At Slough he was often deployed as an ëimpact subí and had pace and strength in abundance. It was clear from the early days that good things were destined for Owusu.
He enjoyed his most successful spell in League football with the Bees, scoring 76 goals for the club in two spells. He was an instant success at Brentford, scoring 24 goals in 53 games in all competitions, leading the scoring charts in Nationwide Division Three (now Football League Two). Owusu was less successful in the 1999/2000 campaign, netting 13 goals in 44 games in all competitions. He struggled in the 2000/01 season also, scoring just 10 goals in 34 games. He returned to form with a bang in 2001/02, scoring 22 goals and helping Brentford reach the Division Two playoff final at the Millennium Stadium. Brentford lost 2-0 to Stoke City and Owusu's contract was not renewed.
Championship side Sheffield Wednesday took the chance to sign Owusu on a free transfer upon his release from Brentford. Lloyd became an instant Wednesday legend when, after entering the match as a substitute in the fierce Steel City derby match against Sheffield United, he placed a header past Blades keeper Paddy Kenny with his first touch in a Wednesday shirt (which earned him the nickname of "one-touch Owusu"), and the Owls went on to win the match 2-0. Sadly for Lloyd he did not really break into the first team, starting only 13 games out of a possible 34 in all competitions in the 2002/3 season, finishing the season with a disappointing total of 4 goals.
He continued to be used sparingly in the 2003/4 season and was signed on a loan deal by Reading, who made the loan move permanent in the summer of 2004. In the 2004/5 season, Owusu finished with an impressive record of 6 goals in 14 league starts.
Brentford manager Martin Allen signed Owusu on a free transfer in the summer of 2005. Even though he had only earned his first cap for the Ghana national football team in 2005, Owusu was hopeful of playing in the 2006 FIFA World Cup, the first World Cup which his country had qualified for. However, on 26 April 2006, in a rare appearance for Ghana, Owusu tore a groin muscle in a friendly match against VfB Stuttgart. As a result of the injury, Owusu could not finish the remainder of that season, and he was no longer in contention to play in the World Cup.
Owusu finally made his comeback in March 2007; however this was short-lived as he was released two months later. Owusu then signed for Russell Sladeís Yeovil Town in July 2007 on a free transfer on a one-year deal. Just over a year later, on transfer deadline day 1 September 2008, Owusu joined Coca-Cola League 1 side Cheltenham Town for free, on a one year deal.
In March 2009, Owusu was allowed to leave Cheltenham after the club were forced to cut costs to join Brighton & Hove Albion on loan until the end of the season. Owusu scored 7 goals in 14 League appearances for Brighton, ensuring they avoided relegation from League One and as a result he was named as the Powerade League One player of the month for April 2009.
In June 2009, Owusu took on a new challenge, signing for A-League side Adelaide United on a two-year deal. However, Owusu was severely hampered after contracting swine flu and pneumonia, and he struggled to make an impact at Adelaide. After an unsuccessful spell, which included a short spell at Chinese Super League club Guangzhou Evergrande, he had his contract terminated by mutual consent at the end of December 2010.
After spending pre-season with Cypriot Second Division AEP Paphos in the summer of 2011, Lloyd then went on to make a handful of appearances for Barnet and Hayes & Yeading United (on loan), but picked up an injury and left Barnet after his contract expired.
Mens
| First Appearance | Appearances | First Goal | Goals |
| --- | --- | --- | --- |
| 14-09-1996 vs Bromsgrove Rovers | 65 | 19-10-1996 vs Telford Utd | 20 |
History
| Match Date | Home | Score | Away | Competition | Goals | Cards | |
| --- | --- | --- | --- | --- | --- | --- | --- |
| 17-03-2012 | Slough Town | 2-1 | Biggleswade Town | League | | | Match report |
| 13-03-2012 | Slough Town | 0-2 | North Greenford Utd | League | | | Match report |
| 10-03-2012 | St Neots Town | 0-1 | Slough Town | League | | | Match report |
| 03-03-2012 | Slough Town | 1-0 | Northwood | League | | | Match report |
| 25-02-2012 | Daventry Town | 1-1 | Slough Town | League | | | Match report |
| 18-02-2012 | Slough Town | 1-1 | AFC Hayes | League | | | Match report |
| 23-04-1998 | Slough Town | 1-1 | Kettering Town | League | | | Match report |
| 13-04-1998 | Slough Town | 1-1 | Yeovil Town | League | | | Match report |
| 05-04-1998 | Southport | 1-1 | Slough Town | FA Trophy | | | Match report |
| 31-03-1998 | Slough Town | 1-0 | Gateshead | League | | | Match report |
| 28-03-1998 | Slough Town | 0-1 | Southport | FA Trophy | | | Match report |
| 16-03-1998 | Stevenage Borough | 4-2 | Slough Town | League | | | Match report |
| 14-03-1998 | Stevenage Borough | 0-1 | Slough Town | FA Trophy | | | Match report |
| 10-03-1998 | Slough Town | 1-3 | Woking | League | | | Match report |
| 03-03-1998 | Slough Town | 1-0 | Telford Utd | League | | | Match report |
| 28-02-1998 | Morecambe | 2-1 | Slough Town | League | | | Match report |
| 24-02-1998 | Boreham Wood | 1-2 | Slough Town | FA Trophy | | | Match report |
| 21-02-1998 | Slough Town | 1-1 | Boreham Wood | FA Trophy | | | Match report |
| 18-02-1998 | Farnborough Town | 1-0 | Slough Town | League | | | Match report |
| 13-01-1998 | Slough Town | 2-1 | Welling United | FA Trophy | | | Match report |
| 10-01-1998 | Welling United | 1-1 | Slough Town | FA Trophy | | | Match report |
| 01-01-1998 | Hayes | 0-1 | Slough Town | League | | | Match report |
| 29-12-1997 | Slough Town | 1-0 | Farnborough Town | League | | | Match report |
| 26-12-1997 | Slough Town | 0-0 | Hayes | League | | | Match report |
| 20-12-1997 | Yeovil Town | 2-1 | Slough Town | League | | | Match report |
| 13-12-1997 | Slough Town | 2-0 | Kidderminster Harriers | League | | | Match report |
| 06-12-1997 | Welling United | 1-1 | Slough Town | League | | | Match report |
| 29-11-1997 | Slough Town | 1-0 | Southport | League | | | Match report |
| 25-11-1997 | Cardiff City | 3-2 | Slough Town | FA Cup | | | Match report |
| 22-11-1997 | Hednesford Town | 2-1 | Slough Town | League | | | Match report |
| 18-11-1997 | Hayes | 2-0 | Slough Town | Isthmian Lge Sub. Cup | | | Match report |
| 15-11-1997 | Slough Town | 1-1 | Cardiff City | FA Cup | | | Match report |
| 08-11-1997 | Slough Town | 1-2 | Cheltenham Town | League | | | Match report |
| 01-11-1997 | Rushden & Diamonds | 0-1 | Slough Town | League | | | Match report |
| 25-10-1997 | Slough Town | 2-1 | Kingstonian | FA Cup | | | Match report |
| 18-10-1997 | Slough Town | 3-3 | Morecambe | League | | | Match report |
| 11-10-1997 | Slough Town | 6-1 | Tilbury | FA Cup | | | Match report |
| 07-10-1997 | Slough Town | 1-0 | Welling United | Isthmian Lge Sub. Cup | | | Match report |
| 04-10-1997 | Leek Town | 0-2 | Slough Town | League | | | Match report |
| 30-09-1997 | Slough Town | 0-0 | Walton & Hersham | FA Cup | | | Match report |
| 27-09-1997 | Walton & Hersham | 0-0 | Slough Town | FA Cup | | | Match report |
| 10-09-1997 | Slough Town | 1-2 | Welling United | League | | | Match report |
| 07-09-1997 | Southport | 1-2 | Slough Town | League | | | Match report |
| 02-09-1997 | Slough Town | 1-2 | Rushden & Diamonds | League | | | Match report |
| 30-08-1997 | Stalybridge Celtic | 0-1 | Slough Town | League | | | Match report |
| 25-08-1997 | Woking | 2-1 | Slough Town | League | | | Match report |
| 19-08-1997 | Slough Town | 2-4 | Dover Athletic | League | | | Match report |
| 16-08-1997 | Kettering Town | 3-3 | Slough Town | League | | | Match report |
| 03-05-1997 | Stalybridge Celtic | 2-2 | Slough Town | League | | | Match report |
| 26-04-1997 | Morecambe | 0-0 | Slough Town | League | | | Match report |
| 05-04-1997 | Slough Town | 1-0 | Halifax Town | League | | | Match report |
| 31-03-1997 | Slough Town | 2-2 | Dover Athletic | League | | | Match report |
| 15-03-1997 | Slough Town | 1-3 | Hayes | League | | | Match report |
| 01-03-1997 | Rushden & Diamonds | 2-2 | Slough Town | League | | | Match report |
| 16-11-1996 | Gateshead | 2-1 | Slough Town | League | | | Match report |
| 09-11-1996 | Slough Town | 0-2 | Kidderminster Harriers | League | | | Match report |
| 02-11-1996 | Altrincham | 0-1 | Slough Town | League | | | Match report |
| 26-10-1996 | Hayes | 1-0 | Slough Town | FA Cup | | | Match report |
| 19-10-1996 | Slough Town | 6-0 | Telford Utd | League | | | Match report |
| 08-10-1996 | Kettering Town | 1-0 | Slough Town | Isthmian Lge Sub. Cup | | | Match report |
| 05-10-1996 | Slough Town | 1-2 | Morecambe | League | | | Match report |
| 01-10-1996 | Slough Town | 3-0 | Woking | League | | | Match report |
| 28-09-1996 | Bromsgrove Rovers | 4-1 | Slough Town | League | | | Match report |
| 17-09-1996 | Dover Athletic | 0-0 | Slough Town | League | | | Match report |
| 14-09-1996 | Slough Town | 2-0 | Bromsgrove Rovers | League | | | Match report |
Slough Town FC is not responsible for content produced on external websites | Copyright Slough Town FC 2023