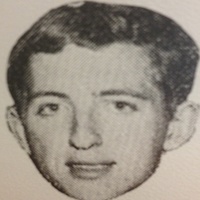 Position:
Forward
Bio
Began as a centre forward at Slough Grammar School and played in a variety of forward positions before cementing his reputation as a very skilful "John Robertson" style outside left, regularly bamboozling defenders with his clever footwork.
Bobby was undoubtedly one of the best ball players at the Dolphin and was probably best thought of for his great performances against Wycombe Wanderers when he gave an England reserve full-back John Beck a terrible afternoon.
Like John Mead, Bobby, who comes from Cippenham, was a member of the all-successful Old Pals team of the 1960/61 season. At that time, he played
inside-left but when he joined the Rebels the following season he played at centre-forward.In his school days Bobby played for Slough and District Schoolboys, the Bucks Grammar Schools XI and the Berks and Bucks Youth XI.
In his first season with the Rebels he was a regular in the Reserves, although he did have five first team games last season
He began the present season where he left off last term-on the left-wing-but after a dozen or so outings was switched to centre forward. Now he is back on the left-wing, having played one match on the other wing.
A first team regular from 1961 to 1966, he had a degree in economics having studied at the London School of Economics.
Mens
| First Appearance | Appearances | First Goal | Goals |
| --- | --- | --- | --- |
| 21-10-1961 vs Dorking | 184 | 25-04-1962 vs Wembley | 51 |
History
| Match Date | Home | Score | Away | Competition | Goals | Cards | |
| --- | --- | --- | --- | --- | --- | --- | --- |
| 07-05-1968 | Hornchurch | 2-4 | Slough Town | Mithras Cup | | | Match report |
| 17-04-1968 | Slough Town | 1-6 | Southall | Premier Midweek FL | | | Match report |
| 15-04-1968 | Wycombe Wanderers | 3-2 | Slough Town | B&B Senior Cup | | | Match report |
| 08-04-1968 | Woking | 2-1 | Slough Town | Wycombe Floodlit Lge. | | | Match report |
| 04-04-1968 | Guildford City | 3-1 | Slough Town | Premier Midweek FL | | | Match report |
| 30-03-1968 | Chesham United | 0-2 | Slough Town | B&B Senior Cup | | | Match report |
| 26-03-1968 | Maidenhead United | 0-2 | Slough Town | Wycombe Floodlit Lge. | | | Match report |
| 23-03-1968 | Slough Town | 0-0 | Chesham United | B&B Senior Cup | | | Match report |
| 20-03-1968 | Slough Town | 4-0 | Horsham | Premier Midweek FL | | | Match report |
| 18-03-1968 | Slough Town | 3-1 | Redhill | League | | | Match report |
| 26-02-1968 | Hertford Town | 2-0 | Slough Town | Mithras Cup | | | Match report |
| 21-02-1968 | Tooting | 0-0 | Slough Town | Premier Midweek FL | | | Match report |
| 12-02-1968 | Slough Town | 2-2 | Wokingham Town | Wycombe Floodlit Lge. | | | Match report |
| 20-09-1967 | Slough Town | 1-0 | Windsor & Eton | Westminster Hospital Cup | | | Match report |
| 16-09-1967 | Slough Town | 3-0 | Corinthian Casuals | FA Cup | | | Match report |
| 07-05-1967 | Windsor & Eton | 1-1 | Slough Town | Windsor Hosp. | | | Match report |
| 29-04-1967 | Grays Athletic | 4-1 | Slough Town | League | | | Match report |
| 27-04-1967 | Wycombe Wanderers | 1-0 | Slough Town | Wycombe Floodlit League | | | Match report |
| 26-04-1967 | Slough Town | 2-1 | Leatherhead | League | | | Match report |
| 22-04-1967 | Dagenham | 1-0 | Slough Town | League | | | Match report |
| 19-04-1967 | Slough Town | 0-0 | Hemel Hempstead Town | League | | | Match report |
| 17-04-1967 | Maidenhead United | 2-1 | Slough Town | Wycombe Floodlit League | | | Match report |
| 15-04-1967 | Harwich | 1-5 | Slough Town | League | | | Match report |
| 12-04-1967 | Slough Town | 2-0 | Southall | Wycombe Floodlit League | | | Match report |
| 10-04-1967 | Slough Town | 1-0 | Maidenhead United | Wycombe Floodlit League | | | Match report |
| 04-04-1967 | Walton & Hersham | 1-2 | Slough Town | League | | | Match report |
| 29-03-1967 | Slough Town | 3-1 | Oxford City | Wycombe Floodlit League | | | Match report |
| 13-03-1967 | Slough Town | 2-3 | Wokingham Town | Wycombe Floodlit League | | | Match report |
| 18-02-1967 | Chesham United | 2-1 | Slough Town | B&B Senior Cup | | | Match report |
| 05-11-1966 | Marlow | 1-2 | Slough Town | FA Amateur Cup | | | Match report |
| 01-11-1966 | Wokingham Town | 1-0 | Slough Town | Wycombe Floodlit League | | | Match report |
| 29-10-1966 | Slough Town | 7-0 | Hazells | FA Amateur Cup | | | Match report |
| 08-10-1966 | Bracknell Town | 0-4 | Slough Town | FA Amateur Cup | | | Match report |
| 27-08-1966 | Finchley | 1-0 | Slough Town | League | | | Match report |
| 20-08-1966 | Slough Town | 3-2 | Leyton | League | | | Match report |
| 22-05-1966 | Windsor & Eton | 1-2 | Slough Town | Windsor Hosp. | | | Match report |
| 19-05-1966 | Slough Town | 3-0 | Maidenhead United | Wycombe Floodlit League | | | Match report |
| 11-05-1966 | Slough Town | 2-1 | Reading | Wycombe Floodlit League | | | Match report |
| 04-05-1966 | Slough Town | 0-1 | Leatherhead | League | | | Match report |
| 20-04-1966 | Edgware | 0-0 | Slough Town | League | | | Match report |
| 11-04-1966 | Walton & Hersham | 2-2 | Slough Town | League | | | Match report |
| 02-04-1966 | Slough Town | 1-1 | Grays Athletic | League | | | Match report |
| 28-03-1966 | Slough Town | 1-2 | Wycombe Wanderers | Wycombe Floodlit League | | | Match report |
| 26-03-1966 | Maidenhead United | 3-1 | Slough Town | League | | | Match report |
| 19-03-1966 | Leatherhead | 1-1 | Slough Town | League | | | Match report |
| 12-03-1966 | Slough Town | 3-2 | Hayes | League | | | Match report |
| 02-03-1966 | Slough Town | 2-1 | Hemel Hempstead Town | League | | | Match report |
| 26-02-1966 | Slough Town | 2-0 | Leyton | League | | | Match report |
| 19-02-1966 | Slough Town | 3-0 | Worthing | League | | | Match report |
| 05-02-1966 | Slough Town | 3-4 | Maidenhead United | B&B Senior Cup | | | Match report |
| 29-01-1966 | Hemel Hempstead Town | 2-3 | Slough Town | League | | | Match report |
| 22-01-1966 | Hounslow | 4-3 | Slough Town | League | | | Match report |
| 08-01-1966 | Slough Town | 1-2 | Maidenhead United | League | | | Match report |
| 01-01-1966 | Southall | 1-0 | Slough Town | League | | | Match report |
| 21-12-1965 | Wycombe Wanderers | 0-2 | Slough Town | Wycombe Floodlit League | | | Match report |
| 18-12-1965 | Slough Town | 10-0 | Carshalton Ath | League | | | Match report |
| 04-12-1965 | Hayes | 1-2 | Slough Town | League | | | Match report |
| 27-11-1965 | Slough Town | 1-2 | Hemel Hempstead Town | FA Amateur Cup | | | Match report |
| 20-11-1965 | Dagenham | 5-3 | Slough Town | League | | | Match report |
| 13-11-1965 | Slough Town | 3-0 | Walton & Hersham | League | | | Match report |
| 08-11-1965 | Slough Town | 2-1 | Oxford City | Mithras Cup | | | Match report |
| 06-11-1965 | Chalfont St Peter | 0-1 | Slough Town | FA Amateur Cup | | | Match report |
| 30-10-1965 | Slough Town | 0-3 | Hounslow | League | | | Match report |
| 16-10-1965 | Slough Town | 0-1 | Finchley | League | | | Match report |
| 09-10-1965 | Wolverton | 0-4 | Slough Town | FA Amateur Cup | | | Match report |
| 25-09-1965 | Hornchurch | 2-2 | Slough Town | League | | | Match report |
| 18-09-1965 | Slough Town | 0-1 | Metropolitan Police | FA Cup | | | Match report |
| 11-09-1965 | Grays Athletic | 2-1 | Slough Town | League | | | Match report |
| 04-09-1965 | Slough Town | 5-3 | Wembley | FA Cup | | | Match report |
| 30-08-1965 | Worthing | 3-2 | Slough Town | League | | | Match report |
| 28-08-1965 | Slough Town | 6-0 | Edgware | League | | | Match report |
| 26-08-1965 | Slough Town | 5-1 | Southall | League | | | Match report |
| 21-08-1965 | Carshalton Ath | 3-6 | Slough Town | League | | | Match report |
| 06-05-1965 | Slough Town | 1-2 | Chalfont St Peter | Benevolent Cup | | | Match report |
| 01-05-1965 | Slough Town | 5-0 | Eastbourne | League | | | Match report |
| 29-04-1965 | Tilbury | 1-1 | Slough Town | League | | | Match report |
| 24-04-1965 | Slough Town | 4-0 | Dorking | League | | | Match report |
| 19-04-1965 | Chesham United | 4-2 | Slough Town | B&B Senior Cup | | | Match report |
| 17-04-1965 | Horsham | 1-3 | Slough Town | League | | | Match report |
| 16-04-1965 | Hemel Hempstead Town | 0-1 | Slough Town | League | | | Match report |
| 14-04-1965 | Slough Town | 1-0 | Letchworth | League | | | Match report |
| 10-04-1965 | Slough Town | 7-2 | Horsham | Memorial Shield | | | Match report |
| 07-04-1965 | Slough Town | 2-0 | Hertford Town | League | | | Match report |
| 03-04-1965 | Horsham | 1-0 | Slough Town | Memorial Shield | | | Match report |
| 31-03-1965 | Slough Town | 3-2 | Uxbridge | League | | | Match report |
| 29-03-1965 | Dorking | 0-3 | Slough Town | League | | | Match report |
| 13-03-1965 | Windsor & Eton | 2-3 | Slough Town | B&B Senior Cup | | | Match report |
| 06-03-1965 | Slough Town | 4-1 | Epsom & Ewell | League | | | Match report |
| 27-02-1965 | Slough Town | 6-1 | Hertford Town | Memorial Shield | | | Match report |
| 20-02-1965 | Harlow Town | 0-2 | Slough Town | League | | | Match report |
| 30-01-1965 | Eastbourne | 1-1 | Slough Town | League | | | Match report |
| 23-01-1965 | Wembley | 0-2 | Slough Town | League | | | Match report |
| 16-01-1965 | Slough Town | 2-1 | Chalfont St Peter | B&B Senior Cup | | | Match report |
| 09-01-1965 | Slough Town | 7-0 | Harlow Town | League | | | Match report |
| 02-01-1965 | Slough Town | 1-0 | Chesham United | League | | | Match report |
| 19-12-1964 | Hertford Town | 2-1 | Slough Town | League | | | Match report |
| 12-12-1964 | Slough Town | 4-0 | Hemel Hempstead Town | League | | | Match report |
| 05-12-1964 | Epsom & Ewell | 2-4 | Slough Town | League | | | Match report |
| 28-11-1964 | Slough Town | 3-0 | Wokingham Town | League | | | Match report |
| 21-11-1964 | Letchworth | 2-5 | Slough Town | Memorial Shield | | | Match report |
| 07-11-1964 | Slough Town | 5-1 | Horsham | League | | | Match report |
| 31-10-1964 | Slough Town | 4-0 | Wembley | League | | | Match report |
| 24-10-1964 | Chalfont St Peter | 2-1 | Slough Town | FA Amateur Cup | | | Match report |
| 10-10-1964 | Slough Town | 5-0 | Huntley & Palmers | FA Amateur Cup | | | Match report |
| 03-10-1964 | Epsom & Ewell | 0-1 | Slough Town | FA Cup | | | Match report |
| 26-09-1964 | Slough Town | 14-1 | Hungerford Town | FA Amateur Cup | | | Match report |
| 19-09-1964 | Slough Town | 2-0 | Carshalton Ath | FA Cup | | | Match report |
| 12-09-1964 | Slough Town | 4-0 | Tilbury | League | | | Match report |
| 05-09-1964 | Slough Town | 4-1 | Metropolitan Police | FA Cup | | | Match report |
| 03-09-1964 | Uxbridge | 2-0 | Slough Town | League | | | Match report |
| 29-08-1964 | Harrow Town | 0-2 | Slough Town | League | | | Match report |
| 27-08-1964 | Wokingham Town | 1-1 | Slough Town | League | | | Match report |
| 22-08-1964 | Slough Town | 7-1 | Erith | League | | | Match report |
| 08-04-1964 | Slough Town | 1-0 | Wokingham Town | League | | | Match report |
| 30-03-1964 | Eastbourne | 1-1 | Slough Town | League | | | Match report |
| 28-03-1964 | Dorking | 0-4 | Slough Town | League | | | Match report |
| 21-03-1964 | Slough Town | 3-0 | Letchworth | League | | | Match report |
| 14-03-1964 | Horsham | 1-3 | Slough Town | League | | | Match report |
| 07-03-1964 | Wokingham Town | 2-1 | Slough Town | League | | | Match report |
| 29-02-1964 | Slough Town | 4-2 | Epsom | League | | | Match report |
| 22-02-1964 | Slough Town | 3-1 | Dorking | League | | | Match report |
| 08-02-1964 | Windsor & Eton | 2-0 | Slough Town | B&B Senior Cup | | | Match report |
| 01-02-1964 | Slough Town | 5-0 | Didcot Town | B&B Senior Cup | | | Match report |
| 25-01-1964 | Newbury Town | 0-4 | Slough Town | B&B Senior Cup | | | Match report |
| 11-01-1964 | Slough Town | 2-1 | Chesham United | League | | | Match report |
| 04-01-1964 | Chesham United | 2-1 | Slough Town | League | | | Match report |
| 28-12-1963 | Slough Town | 4-1 | Uxbridge | League | | | Match report |
| 21-12-1963 | Wembley | 1-6 | Slough Town | League | | | Match report |
| 14-12-1963 | Slough Town | 0-3 | Leatherhead | League | | | Match report |
| 07-12-1963 | Slough Town | 4-2 | Edgware | Memorial Shield | | | Match report |
| 23-11-1963 | Letchworth | 2-1 | Slough Town | League | | | Match report |
| 16-11-1963 | Slough Town | 2-1 | Wembley | League | | | Match report |
| 09-11-1963 | Wokingham Town | 4-1 | Slough Town | FA Amateur Cup | | | Match report |
| 02-11-1963 | Epsom | 1-2 | Slough Town | League | | | Match report |
| 26-10-1963 | Slough Town | 2-0 | Aylesbury United | FA Amateur Cup | | | Match report |
| 19-10-1963 | Erith | 2-1 | Slough Town | League | | | Match report |
| 12-10-1963 | Slough Town | 6-0 | Hungerford Town | FA Amateur Cup | | | Match report |
| 05-10-1963 | Slough Town | 5-1 | Chalfont St Peter | FA Amateur Cup | | | Match report |
| 28-09-1963 | Chalfont St Peter | 1-1 | Slough Town | FA Amateur Cup | | | Match report |
| 21-09-1963 | Edgware | 0-3 | Slough Town | League | | | Match report |
| 14-09-1963 | Slough Town | 3-1 | Worthing | League | | | Match report |
| 07-09-1963 | Epsom | 2-1 | Slough Town | FA Cup | | | Match report |
| 31-08-1963 | Slough Town | 1-2 | Erith | League | | | Match report |
| 27-08-1963 | Slough Town | 6-1 | Windsor & Eton | S. Comb. Cup | | | Match report |
| 24-08-1963 | Leatherhead | 4-1 | Slough Town | League | | | Match report |
| 27-05-1963 | Slough Town | 3-0 | Wokingham Town | S. Comb. Cup | | | Match report |
| 25-05-1963 | Horsham | 2-3 | Slough Town | League | | | Match report |
| 11-05-1963 | Slough Town | 1-1 | Windsor & Eton | Benevolent Cup | | | Match report |
| 08-05-1963 | Uxbridge | 1-1 | Slough Town | League | | | Match report |
| 04-05-1963 | Slough Town | 5-0 | Eastbourne | League | | | Match report |
| 20-04-1963 | Slough Town | 3-0 | Horsham | League | | | Match report |
| 15-04-1963 | Slough Town | 1-3 | Wokingham Town | League | | | Match report |
| 13-04-1963 | Chesham United | 0-2 | Slough Town | League | | | Match report |
| 30-03-1963 | Eastbourne | 2-1 | Slough Town | League | | | Match report |
| 23-03-1963 | Slough Town | 2-4 | Wycombe Wanderers | B&B Senior Cup | | | Match report |
| 16-03-1963 | Epsom | 0-5 | Slough Town | League | | | Match report |
| 09-03-1963 | Slough Town | 3-2 | Edgware | League | | | Match report |
| 02-03-1963 | Slough Town | 4-2 | Wembley | League | | | Match report |
| 23-02-1963 | Slough Town | 2-2 | Worthing | League | | | Match report |
| 26-12-1962 | Slough Town | 1-1 | Maidenhead United | League | | | Match report |
| 22-12-1962 | Maidenhead United | 1-1 | Slough Town | League | | | Match report |
| 15-12-1962 | Edgware | 4-1 | Slough Town | League | | | Match report |
| 08-12-1962 | Slough Town | 5-2 | Erith | League | | | Match report |
| 01-12-1962 | Wembley | 2-3 | Slough Town | League | | | Match report |
| 24-11-1962 | Slough Town | 2-2 | Letchworth | League | | | Match report |
| 17-11-1962 | Slough Town | 2-0 | Epsom | League | | | Match report |
| 03-11-1962 | Dorking | 5-2 | Slough Town | League | | | Match report |
| 27-10-1962 | Erith | 2-2 | Slough Town | League | | | Match report |
| 20-10-1962 | Slough Town | 0-0 | Dagenham | League | | | Match report |
| 06-10-1962 | Slough Town | 3-1 | Uxbridge | League | | | Match report |
| 29-09-1962 | Slough Town | 2-4 | Newbury Town | FA Amateur Cup | | | Match report |
| 22-09-1962 | Slough Town | 0-4 | Tooting | FA Cup | | | Match report |
| 15-09-1962 | Slough Town | 2-1 | Dagenham | Memorial Shield | | | Match report |
| 08-09-1962 | Epsom | 1-3 | Slough Town | FA Cup | | | Match report |
| 05-09-1962 | Slough Town | 4-3 | Molesey | S. Comb. Cup | | | Match report |
| 01-09-1962 | Worthing | 2-2 | Slough Town | League | | | Match report |
| 30-08-1962 | Wokingham Town | 1-0 | Slough Town | League | | | Match report |
| 25-08-1962 | Leatherhead | 3-3 | Slough Town | League | | | Match report |
| 22-08-1962 | Slough Town | 2-1 | Chesham United | League | | | Match report |
| 25-04-1962 | Slough Town | 3-1 | Wembley | League | | | Match report |
| 16-12-1961 | Chesham United | 0-1 | Slough Town | League | | | Match report |
| 02-12-1961 | Letchworth | 2-2 | Slough Town | League | | | Match report |
| 04-11-1961 | Slough Town | 1-1 | Horsham | League | | | Match report |
| 21-10-1961 | Dorking | 2-2 | Slough Town | League | | | Match report |
Slough Town FC is not responsible for content produced on external websites | Copyright Slough Town FC 2023