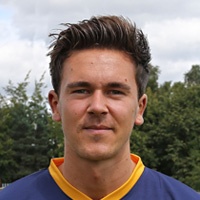 Position:
Defender
Bio
Defender Tom Moran signed for Slough Town in the summer of 2014, following the club's promotion to the Southern League, Premier Division.
Tom has proven himself to be a versatile player, slotting in at right-back, centre-back and central midfield already with good effect. He is normally utilised as a defender.
Tom has also played a few games for Ascot United in the 2014/15 season, helping the 'Yellamen' reach the FA Vase quarter-finals.
Mens
| First Appearance | Appearances | First Goal | Goals |
| --- | --- | --- | --- |
| 09-08-2014 vs Burnham | 35 | N/A | 0 |
History
| Match Date | Home | Score | Away | Competition | Goals | Cards | |
| --- | --- | --- | --- | --- | --- | --- | --- |
| 25-04-2015 | Dorchester Town | 3-1 | Slough Town | League | | | Match report |
| 18-04-2015 | Slough Town | 1-1 | Frome Town | League | | | Match report |
| 11-04-2015 | Dunstable Town | 2-4 | Slough Town | League | | | Match report |
| 06-04-2015 | Hungerford Town | 2-0 | Slough Town | League | | | Match report |
| 04-04-2015 | Slough Town | 3-3 | St Neots Town | League | | | Match report |
| 28-03-2015 | Hitchin Town | 5-2 | Slough Town | League | | | Match report |
| 07-03-2015 | Slough Town | 0-4 | Cambridge City | League | | | Match report |
| 28-02-2015 | Redditch United | 4-0 | Slough Town | League | | | Match report |
| 14-02-2015 | Slough Town | 1-0 | Arlesey Town | League | | | Match report |
| 10-02-2015 | Histon | 0-0 | Slough Town | League | | | Match report |
| 31-01-2015 | Bideford | 2-0 | Slough Town | League | | | Match report |
| 24-01-2015 | Slough Town | 0-4 | Poole Town | League | | | Match report |
| 20-01-2015 | Slough Town | 2-2 | Burnham | League | | | Match report |
| 17-01-2015 | Slough Town | 3-0 | Weymouth | League | | | Match report |
| 01-01-2015 | Slough Town | 1-2 | Hungerford Town | League | | | Match report |
| 26-12-2014 | Chesham United | 0-0 | Slough Town | League | | | Match report |
| 06-12-2014 | Slough Town | 0-3 | Dunstable Town | League | | | Match report |
| 08-11-2014 | Slough Town | 4-2 | Paulton Rovers | League | | | Match report |
| 01-11-2014 | Margate | 0-2 | Slough Town | FA Trophy | | | Match report |
| 18-10-2014 | Cambridge City | 3-3 | Slough Town | League | | | Match report |
| 14-10-2014 | Egham Town | 4-2 | Slough Town | League Cup | | | Match report |
| 11-10-2014 | Slough Town | 1-7 | Redditch United | League | | | Match report |
| 07-10-2014 | Hungerford Town | 2-1 | Slough Town | B&B Senior Cup | | | Match report |
| 04-10-2014 | Arlesey Town | 1-0 | Slough Town | League | | | Match report |
| 01-10-2014 | Corby Town | 1-2 | Slough Town | League | | | Match report |
| 27-09-2014 | Truro City | 1-2 | Slough Town | League | | | Match report |
| 20-09-2014 | Slough Town | 4-1 | Bideford | League | | | Match report |
| 13-09-2014 | Slough Town | 1-2 | Ardley United | FA Cup | | | Match report |
| 09-09-2014 | Poole Town | 2-1 | Slough Town | League | | | Match report |
| 06-09-2014 | Weymouth | 3-2 | Slough Town | League | | | Match report |
| 30-08-2014 | Slough Town | 1-1 | Histon | League | | | Match report |
| 23-08-2014 | Paulton Rovers | 2-2 | Slough Town | League | | | Match report |
| 19-08-2014 | Slough Town | 1-1 | Biggleswade Town | League | | | Match report |
| 16-08-2014 | Slough Town | 2-1 | Banbury United | League | | | Match report |
| 09-08-2014 | Burnham | 0-2 | Slough Town | League | | | Match report |
Slough Town FC is not responsible for content produced on external websites | Copyright Slough Town FC 2023