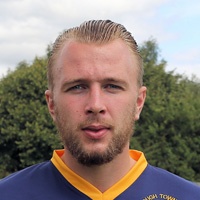 Position:
Defender
Bio
Defender Reece Yorke signed for Slough Town in the summer of 2014, following the club's promotion to the Southern Premier.
He was one that came to the attention of joint-managers Neil Baker and Jon Underwood at the beginning of last season when he was playing for Burnham against the Rebels in pre-season, and he impressed greatly. From then on, the management kept an eye on him with a view to signing him this season.
He is still young and wants to keep progressing, he is an ex England schoolboy international, and also signed a professional contract with Barnet. He is a strong, no-nonsense centre half who will fit well into the squad.
Mens
| First Appearance | Appearances | First Goal | Goals |
| --- | --- | --- | --- |
| 09-08-2014 vs Burnham | 38 | 23-08-2014 vs Paulton Rovers | 4 |
History
| Match Date | Home | Score | Away | Competition | Goals | Cards | |
| --- | --- | --- | --- | --- | --- | --- | --- |
| 06-04-2015 | Hungerford Town | 2-0 | Slough Town | League | | | Match report |
| 04-04-2015 | Slough Town | 3-3 | St Neots Town | League | | | Match report |
| 28-03-2015 | Hitchin Town | 5-2 | Slough Town | League | | | Match report |
| 24-03-2015 | Slough Town | 1-2 | Corby Town | League | | | Match report |
| 21-03-2015 | Cirencester Town | 3-5 | Slough Town | League | | | Match report |
| 14-03-2015 | Slough Town | 1-2 | Truro City | League | | | Match report |
| 07-03-2015 | Slough Town | 0-4 | Cambridge City | League | | | Match report |
| 21-02-2015 | Chippenham Town | 2-0 | Slough Town | League | | | Match report |
| 14-02-2015 | Slough Town | 1-0 | Arlesey Town | League | | | Match report |
| 10-02-2015 | Histon | 0-0 | Slough Town | League | | | Match report |
| 31-01-2015 | Bideford | 2-0 | Slough Town | League | | | Match report |
| 24-01-2015 | Slough Town | 0-4 | Poole Town | League | | | Match report |
| 20-01-2015 | Slough Town | 2-2 | Burnham | League | | | Match report |
| 17-01-2015 | Slough Town | 3-0 | Weymouth | League | | | Match report |
| 06-12-2014 | Slough Town | 0-3 | Dunstable Town | League | | | Match report |
| 02-12-2014 | Slough Town | 1-2 | Cirencester Town | League | | | Match report |
| 25-11-2014 | Slough Town | 2-2 | Chippenham Town | League | | | Match report |
| 18-11-2014 | Merthyr Town | 3-2 | Slough Town | FA Trophy | | | Match report |
| 15-11-2014 | Slough Town | 1-1 | Merthyr Town | FA Trophy | | | Match report |
| 08-11-2014 | Slough Town | 4-2 | Paulton Rovers | League | | | Match report |
| 01-11-2014 | Margate | 0-2 | Slough Town | FA Trophy | | | Match report |
| 28-10-2014 | Biggleswade Town | 3-3 | Slough Town | League | | | Match report |
| 18-10-2014 | Cambridge City | 3-3 | Slough Town | League | | | Match report |
| 14-10-2014 | Egham Town | 4-2 | Slough Town | League Cup | | | Match report |
| 07-10-2014 | Hungerford Town | 2-1 | Slough Town | B&B Senior Cup | | | Match report |
| 04-10-2014 | Arlesey Town | 1-0 | Slough Town | League | | | Match report |
| 01-10-2014 | Corby Town | 1-2 | Slough Town | League | | | Match report |
| 27-09-2014 | Truro City | 1-2 | Slough Town | League | | | Match report |
| 20-09-2014 | Slough Town | 4-1 | Bideford | League | | | Match report |
| 13-09-2014 | Slough Town | 1-2 | Ardley United | FA Cup | | | Match report |
| 09-09-2014 | Poole Town | 2-1 | Slough Town | League | | | Match report |
| 06-09-2014 | Weymouth | 3-2 | Slough Town | League | | | Match report |
| 30-08-2014 | Slough Town | 1-1 | Histon | League | | | Match report |
| 25-08-2014 | Slough Town | 0-3 | Chesham United | League | | | Match report |
| 23-08-2014 | Paulton Rovers | 2-2 | Slough Town | League | | | Match report |
| 19-08-2014 | Slough Town | 1-1 | Biggleswade Town | League | | | Match report |
| 16-08-2014 | Slough Town | 2-1 | Banbury United | League | | | Match report |
| 09-08-2014 | Burnham | 0-2 | Slough Town | League | | | Match report |
Slough Town FC is not responsible for content produced on external websites | Copyright Slough Town FC 2023