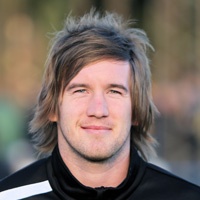 Position:
Midfielder
Achievements
2013/14 Won promotion to Southern League, Premier Division
Bio
Energetic midfielder Leigh Rumbold joined the Rebels in December 2013 from Fleet Town.
'Rummy' came in during a poor spell in December 2013. He made a huge impact at the club with his no nonsense displays.
Leigh did not start the 2014/15 season with the Rebels, but came back in to the squad in November 2014 upon his return from the US, where he played for Lansing United. Whilst at Lansing, he won the National Premier League (Mid West Conference).
He departed the club again in January 2015 and his footballing adventures continue after signing for Team Taranaki of New Zealand's Central League.
Leigh has previously played for Farnborough in the Conference South and has had several spells at Fleet. In total, he made 131 appearances for Farnborough, scoring 14 times.
Mens
| First Appearance | Appearances | First Goal | Goals |
| --- | --- | --- | --- |
| 07-01-2014 vs Burnham | 38 | 24-10-2015 vs Cambridge City | 1 |
History
| Match Date | Home | Score | Away | Competition | Goals | Cards | |
| --- | --- | --- | --- | --- | --- | --- | --- |
| 01-03-2016 | Slough Town | 1-3 | Kettering Town | League | | | Match report |
| 27-02-2016 | Paulton Rovers | 3-3 | Slough Town | League | | | Match report |
| 16-02-2016 | Cirencester Town | 1-3 | Slough Town | League | | | Match report |
| 06-02-2016 | Slough Town | 1-2 | Bedworth United | League | | | Match report |
| 26-01-2016 | Potters Bar Town | 2-2 | Slough Town | League Cup | | | Match report |
| 23-01-2016 | Slough Town | 1-0 | Hitchin Town | League | | | Match report |
| 05-12-2015 | Slough Town | 2-2 | St Neots Town | League | | | Match report |
| 21-11-2015 | Slough Town | 2-4 | Stratford Town | League | | | Match report |
| 14-11-2015 | Frome Town | 2-1 | Slough Town | FA Trophy | | | Match report |
| 10-11-2015 | Marlow | 3-6 | Slough Town | League Cup | | | Match report |
| 07-11-2015 | King's Lynn Town | 2-1 | Slough Town | League | | | Match report |
| 01-11-2015 | Romford | 0-4 | Slough Town | FA Trophy | | | Match report |
| 27-10-2015 | Chippenham Town | 3-3 | Slough Town | League | | | Match report |
| 24-10-2015 | Slough Town | 3-1 | Cambridge City | League | | | Match report |
| 19-10-2015 | Redditch United | 1-0 | Slough Town | League | | | Match report |
| 17-10-2015 | Slough Town | 2-1 | Paulton Rovers | League | | | Match report |
| 01-01-2015 | Slough Town | 1-2 | Hungerford Town | League | | | Match report |
| 26-12-2014 | Chesham United | 0-0 | Slough Town | League | | | Match report |
| 20-12-2014 | Slough Town | 2-1 | Dorchester Town | League | | | Match report |
| 13-12-2014 | Frome Town | 1-1 | Slough Town | League | | | Match report |
| 09-12-2014 | St Neots Town | 0-3 | Slough Town | League | | | Match report |
| 06-12-2014 | Slough Town | 0-3 | Dunstable Town | League | | | Match report |
| 02-12-2014 | Slough Town | 1-2 | Cirencester Town | League | | | Match report |
| 25-11-2014 | Slough Town | 2-2 | Chippenham Town | League | | | Match report |
| 22-11-2014 | Slough Town | 2-1 | Hitchin Town | League | | | Match report |
| 18-11-2014 | Merthyr Town | 3-2 | Slough Town | FA Trophy | | | Match report |
| 22-03-2014 | Slough Town | 4-1 | Leighton Town | League | | | Match report |
| 15-03-2014 | Daventry Town | 2-2 | Slough Town | League | | | Match report |
| 08-03-2014 | Slough Town | 1-0 | St Ives Town | League | | | Match report |
| 04-03-2014 | Slough Town | 1-3 | Egham Town | League | | | Match report |
| 01-03-2014 | Potters Bar Town | 0-3 | Slough Town | League | | | Match report |
| 22-02-2014 | Slough Town | 4-0 | Dunstable Town | League | | | Match report |
| 15-02-2014 | Slough Town | 5-3 | Aylesbury United | League | | | Match report |
| 04-02-2014 | Slough Town | 2-0 | Aylesbury | League | | | Match report |
| 28-01-2014 | Northwood | 0-2 | Slough Town | League | | | Match report |
| 18-01-2014 | Slough Town | 5-1 | Chalfont St Peter | League | | | Match report |
| 11-01-2014 | Marlow | 2-2 | Slough Town | League | | | Match report |
| 07-01-2014 | Burnham | 3-3 | Slough Town | League Cup | | | Match report |
Slough Town FC is not responsible for content produced on external websites | Copyright Slough Town FC 2023