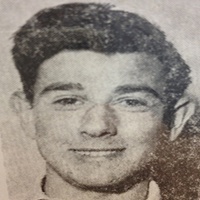 Position:
Forward
Bio
Bernie made his first-team debut at Dulwich Hamlet in 1961 and had the distinction of scoring Slough's only goal.
This was after a couple of outings with the reserves where he impressed with his ball control, bustling play and strong shot. He played on a couple of other occasions for the first-team before resuming in the reserves. Bernie was a centre-forward and played in that position for Loughborough College, going there straight from school at Brockenhurst.
Hugely popular, good in the air and possessed of a powerful shot, he led the Rebels' attack almost single handedly before linking up with Peter Lowen to form a lethal goalscoring partnership during the championship season of 1964/65.
Bernie's all-round ability was rewarded with several Berks and Bucks appearances, and he scored twice in a county match against Worcestershire.
He was born at Ringwood in Hampshire and played for Hants Grammar Schools for three seasons. While at Loughborough College he played in the college team, and joined the Rebels his first senior club - when he was appointed P.E. master at Warrenfield School.
Bernie met his wife Marion at Warrenfield and moved to teach in Hemel Hempstead. He left the club in May 1966 on moving away from the district and later featured for Hemel Hempstead Town and Chesham United before joining Hitchin Town. Whilst with the Canaries, he maintained his fine goalscoring record with 108 goals in 210 appearances – helping Hitchin to runners-up spot in the Isthmian League - and he also scored twice in the London Senior Cup final in May 1970.
Off the field, Bernie, took a big interest in the schoolboy soccer connected with his job. When not actively concerned with sport he liked to relax and listen to music.
Mens
| First Appearance | Appearances | First Goal | Goals |
| --- | --- | --- | --- |
| 07-10-1961 vs Dulwich Hamlet | 177 | 07-10-1961 vs Dulwich Hamlet | 133 |
History
| Match Date | Home | Score | Away | Competition | Goals | Cards | |
| --- | --- | --- | --- | --- | --- | --- | --- |
| 19-05-1966 | Slough Town | 3-0 | Maidenhead United | Wycombe Floodlit League | | | Match report |
| 11-05-1966 | Slough Town | 2-1 | Reading | Wycombe Floodlit League | | | Match report |
| 04-05-1966 | Slough Town | 0-1 | Leatherhead | League | | | Match report |
| 26-04-1966 | Finchley | 4-0 | Slough Town | League | | | Match report |
| 23-04-1966 | Slough Town | 5-0 | Hornchurch | League | | | Match report |
| 20-04-1966 | Edgware | 0-0 | Slough Town | League | | | Match report |
| 11-04-1966 | Walton & Hersham | 2-2 | Slough Town | League | | | Match report |
| 02-04-1966 | Slough Town | 1-1 | Grays Athletic | League | | | Match report |
| 28-03-1966 | Slough Town | 1-2 | Wycombe Wanderers | Wycombe Floodlit League | | | Match report |
| 26-03-1966 | Maidenhead United | 3-1 | Slough Town | League | | | Match report |
| 19-03-1966 | Leatherhead | 1-1 | Slough Town | League | | | Match report |
| 12-03-1966 | Slough Town | 3-2 | Hayes | League | | | Match report |
| 02-03-1966 | Slough Town | 2-1 | Hemel Hempstead Town | League | | | Match report |
| 26-02-1966 | Slough Town | 2-0 | Leyton | League | | | Match report |
| 19-02-1966 | Slough Town | 3-0 | Worthing | League | | | Match report |
| 05-02-1966 | Slough Town | 3-4 | Maidenhead United | B&B Senior Cup | | | Match report |
| 29-01-1966 | Hemel Hempstead Town | 2-3 | Slough Town | League | | | Match report |
| 22-01-1966 | Hounslow | 4-3 | Slough Town | League | | | Match report |
| 08-01-1966 | Slough Town | 1-2 | Maidenhead United | League | | | Match report |
| 01-01-1966 | Southall | 1-0 | Slough Town | League | | | Match report |
| 21-12-1965 | Wycombe Wanderers | 0-2 | Slough Town | Wycombe Floodlit League | | | Match report |
| 18-12-1965 | Slough Town | 10-0 | Carshalton Ath | League | | | Match report |
| 04-12-1965 | Hayes | 1-2 | Slough Town | League | | | Match report |
| 27-11-1965 | Slough Town | 1-2 | Hemel Hempstead Town | FA Amateur Cup | | | Match report |
| 20-11-1965 | Dagenham | 5-3 | Slough Town | League | | | Match report |
| 13-11-1965 | Slough Town | 3-0 | Walton & Hersham | League | | | Match report |
| 08-11-1965 | Slough Town | 2-1 | Oxford City | Mithras Cup | | | Match report |
| 06-11-1965 | Chalfont St Peter | 0-1 | Slough Town | FA Amateur Cup | | | Match report |
| 30-10-1965 | Slough Town | 0-3 | Hounslow | League | | | Match report |
| 23-10-1965 | Wokingham Town | 0-3 | Slough Town | FA Amateur Cup | | | Match report |
| 19-10-1965 | Maidenhead United | 1-1 | Slough Town | Wycombe Floodlit League | | | Match report |
| 16-10-1965 | Slough Town | 0-1 | Finchley | League | | | Match report |
| 09-10-1965 | Wolverton | 0-4 | Slough Town | FA Amateur Cup | | | Match report |
| 02-10-1965 | Slough Town | 1-3 | Dagenham | League | | | Match report |
| 25-09-1965 | Hornchurch | 2-2 | Slough Town | League | | | Match report |
| 18-09-1965 | Slough Town | 0-1 | Metropolitan Police | FA Cup | | | Match report |
| 11-09-1965 | Grays Athletic | 2-1 | Slough Town | League | | | Match report |
| 04-09-1965 | Slough Town | 5-3 | Wembley | FA Cup | | | Match report |
| 28-08-1965 | Slough Town | 6-0 | Edgware | League | | | Match report |
| 26-08-1965 | Slough Town | 5-1 | Southall | League | | | Match report |
| 21-08-1965 | Carshalton Ath | 3-6 | Slough Town | League | | | Match report |
| 01-05-1965 | Slough Town | 5-0 | Eastbourne | League | | | Match report |
| 29-04-1965 | Tilbury | 1-1 | Slough Town | League | | | Match report |
| 24-04-1965 | Slough Town | 4-0 | Dorking | League | | | Match report |
| 21-04-1965 | Slough Town | 3-3 | Harrow Town | League | | | Match report |
| 19-04-1965 | Chesham United | 4-2 | Slough Town | B&B Senior Cup | | | Match report |
| 17-04-1965 | Horsham | 1-3 | Slough Town | League | | | Match report |
| 16-04-1965 | Hemel Hempstead Town | 0-1 | Slough Town | League | | | Match report |
| 14-04-1965 | Slough Town | 1-0 | Letchworth | League | | | Match report |
| 10-04-1965 | Slough Town | 7-2 | Horsham | Memorial Shield | | | Match report |
| 07-04-1965 | Slough Town | 2-0 | Hertford Town | League | | | Match report |
| 03-04-1965 | Horsham | 1-0 | Slough Town | Memorial Shield | | | Match report |
| 31-03-1965 | Slough Town | 3-2 | Uxbridge | League | | | Match report |
| 29-03-1965 | Dorking | 0-3 | Slough Town | League | | | Match report |
| 20-03-1965 | Erith | 1-1 | Slough Town | League | | | Match report |
| 13-03-1965 | Windsor & Eton | 2-3 | Slough Town | B&B Senior Cup | | | Match report |
| 06-03-1965 | Slough Town | 4-1 | Epsom & Ewell | League | | | Match report |
| 27-02-1965 | Slough Town | 6-1 | Hertford Town | Memorial Shield | | | Match report |
| 20-02-1965 | Harlow Town | 0-2 | Slough Town | League | | | Match report |
| 13-02-1965 | Slough Town | 2-1 | Chesham United | Memorial Shield | | | Match report |
| 06-02-1965 | Hazells | 2-3 | Slough Town | B&B Senior Cup | | | Match report |
| 30-01-1965 | Eastbourne | 1-1 | Slough Town | League | | | Match report |
| 23-01-1965 | Wembley | 0-2 | Slough Town | League | | | Match report |
| 16-01-1965 | Slough Town | 2-1 | Chalfont St Peter | B&B Senior Cup | | | Match report |
| 09-01-1965 | Slough Town | 7-0 | Harlow Town | League | | | Match report |
| 02-01-1965 | Slough Town | 1-0 | Chesham United | League | | | Match report |
| 26-12-1964 | Chesham United | 2-2 | Slough Town | League | | | Match report |
| 19-12-1964 | Hertford Town | 2-1 | Slough Town | League | | | Match report |
| 12-12-1964 | Slough Town | 4-0 | Hemel Hempstead Town | League | | | Match report |
| 05-12-1964 | Epsom & Ewell | 2-4 | Slough Town | League | | | Match report |
| 28-11-1964 | Slough Town | 3-0 | Wokingham Town | League | | | Match report |
| 21-11-1964 | Letchworth | 2-5 | Slough Town | Memorial Shield | | | Match report |
| 07-11-1964 | Slough Town | 5-1 | Horsham | League | | | Match report |
| 31-10-1964 | Slough Town | 4-0 | Wembley | League | | | Match report |
| 17-10-1964 | Hendon | 3-1 | Slough Town | FA Cup | | | Match report |
| 10-10-1964 | Slough Town | 5-0 | Huntley & Palmers | FA Amateur Cup | | | Match report |
| 03-10-1964 | Epsom & Ewell | 0-1 | Slough Town | FA Cup | | | Match report |
| 26-09-1964 | Slough Town | 14-1 | Hungerford Town | FA Amateur Cup | | | Match report |
| 19-09-1964 | Slough Town | 2-0 | Carshalton Ath | FA Cup | | | Match report |
| 12-09-1964 | Slough Town | 4-0 | Tilbury | League | | | Match report |
| 05-09-1964 | Slough Town | 4-1 | Metropolitan Police | FA Cup | | | Match report |
| 27-08-1964 | Wokingham Town | 1-1 | Slough Town | League | | | Match report |
| 22-08-1964 | Slough Town | 7-1 | Erith | League | | | Match report |
| 02-05-1964 | Worthing | 5-0 | Slough Town | League | | | Match report |
| 30-04-1964 | Slough Town | 1-0 | Molesey | S. Comb. Cup | | | Match report |
| 25-04-1964 | Slough Town | 3-2 | Wokingham Town | S. Comb. Cup | | | Match report |
| 21-04-1964 | Uxbridge | 1-0 | Slough Town | League | | | Match report |
| 18-04-1964 | Slough Town | 3-2 | Eastbourne | League | | | Match report |
| 15-04-1964 | Slough Town | 1-1 | Edgware | League | | | Match report |
| 11-04-1964 | Slough Town | 3-0 | Horsham | League | | | Match report |
| 08-04-1964 | Slough Town | 1-0 | Wokingham Town | League | | | Match report |
| 04-04-1964 | Wokingham Town | 3-2 | Slough Town | Benevolent Cup | | | Match report |
| 30-03-1964 | Eastbourne | 1-1 | Slough Town | League | | | Match report |
| 28-03-1964 | Dorking | 0-4 | Slough Town | League | | | Match report |
| 21-03-1964 | Slough Town | 3-0 | Letchworth | League | | | Match report |
| 14-03-1964 | Horsham | 1-3 | Slough Town | League | | | Match report |
| 29-02-1964 | Slough Town | 4-2 | Epsom | League | | | Match report |
| 22-02-1964 | Slough Town | 3-1 | Dorking | League | | | Match report |
| 08-02-1964 | Windsor & Eton | 2-0 | Slough Town | B&B Senior Cup | | | Match report |
| 01-02-1964 | Slough Town | 5-0 | Didcot Town | B&B Senior Cup | | | Match report |
| 25-01-1964 | Newbury Town | 0-4 | Slough Town | B&B Senior Cup | | | Match report |
| 11-01-1964 | Slough Town | 2-1 | Chesham United | League | | | Match report |
| 04-01-1964 | Chesham United | 2-1 | Slough Town | League | | | Match report |
| 28-12-1963 | Slough Town | 4-1 | Uxbridge | League | | | Match report |
| 21-12-1963 | Wembley | 1-6 | Slough Town | League | | | Match report |
| 14-12-1963 | Slough Town | 0-3 | Leatherhead | League | | | Match report |
| 23-11-1963 | Letchworth | 2-1 | Slough Town | League | | | Match report |
| 09-11-1963 | Wokingham Town | 4-1 | Slough Town | FA Amateur Cup | | | Match report |
| 02-11-1963 | Epsom | 1-2 | Slough Town | League | | | Match report |
| 26-10-1963 | Slough Town | 2-0 | Aylesbury United | FA Amateur Cup | | | Match report |
| 19-10-1963 | Erith | 2-1 | Slough Town | League | | | Match report |
| 12-10-1963 | Slough Town | 6-0 | Hungerford Town | FA Amateur Cup | | | Match report |
| 05-10-1963 | Slough Town | 5-1 | Chalfont St Peter | FA Amateur Cup | | | Match report |
| 28-09-1963 | Chalfont St Peter | 1-1 | Slough Town | FA Amateur Cup | | | Match report |
| 21-09-1963 | Edgware | 0-3 | Slough Town | League | | | Match report |
| 14-09-1963 | Slough Town | 3-1 | Worthing | League | | | Match report |
| 27-05-1963 | Slough Town | 3-0 | Wokingham Town | S. Comb. Cup | | | Match report |
| 25-05-1963 | Horsham | 2-3 | Slough Town | League | | | Match report |
| 15-05-1963 | Windsor & Eton | 3-0 | Slough Town | Benevolent Cup | | | Match report |
| 11-05-1963 | Slough Town | 1-1 | Windsor & Eton | Benevolent Cup | | | Match report |
| 08-05-1963 | Uxbridge | 1-1 | Slough Town | League | | | Match report |
| 04-05-1963 | Slough Town | 5-0 | Eastbourne | League | | | Match report |
| 02-05-1963 | Staines Town | 1-2 | Slough Town | S. Comb. Cup | | | Match report |
| 20-04-1963 | Slough Town | 3-0 | Horsham | League | | | Match report |
| 17-04-1963 | Slough Town | 3-3 | Staines Town | S. Comb. Cup | | | Match report |
| 15-04-1963 | Slough Town | 1-3 | Wokingham Town | League | | | Match report |
| 13-04-1963 | Chesham United | 0-2 | Slough Town | League | | | Match report |
| 30-03-1963 | Eastbourne | 2-1 | Slough Town | League | | | Match report |
| 23-03-1963 | Slough Town | 2-4 | Wycombe Wanderers | B&B Senior Cup | | | Match report |
| 16-03-1963 | Epsom | 0-5 | Slough Town | League | | | Match report |
| 09-03-1963 | Slough Town | 3-2 | Edgware | League | | | Match report |
| 02-03-1963 | Slough Town | 4-2 | Wembley | League | | | Match report |
| 23-02-1963 | Slough Town | 2-2 | Worthing | League | | | Match report |
| 26-12-1962 | Slough Town | 1-1 | Maidenhead United | League | | | Match report |
| 22-12-1962 | Maidenhead United | 1-1 | Slough Town | League | | | Match report |
| 15-12-1962 | Edgware | 4-1 | Slough Town | League | | | Match report |
| 08-12-1962 | Slough Town | 5-2 | Erith | League | | | Match report |
| 01-12-1962 | Wembley | 2-3 | Slough Town | League | | | Match report |
| 24-11-1962 | Slough Town | 2-2 | Letchworth | League | | | Match report |
| 17-11-1962 | Slough Town | 2-0 | Epsom | League | | | Match report |
| 03-11-1962 | Dorking | 5-2 | Slough Town | League | | | Match report |
| 27-10-1962 | Erith | 2-2 | Slough Town | League | | | Match report |
| 13-10-1962 | Dagenham | 2-1 | Slough Town | League | | | Match report |
| 06-10-1962 | Slough Town | 3-1 | Uxbridge | League | | | Match report |
| 29-09-1962 | Slough Town | 2-4 | Newbury Town | FA Amateur Cup | | | Match report |
| 22-09-1962 | Slough Town | 0-4 | Tooting | FA Cup | | | Match report |
| 15-09-1962 | Slough Town | 2-1 | Dagenham | Memorial Shield | | | Match report |
| 30-08-1962 | Wokingham Town | 1-0 | Slough Town | League | | | Match report |
| 25-08-1962 | Leatherhead | 3-3 | Slough Town | League | | | Match report |
| 22-08-1962 | Slough Town | 2-1 | Chesham United | League | | | Match report |
| 12-05-1962 | Slough Town | 2-1 | Wokingham Town | Benevolent Cup | | | Match report |
| 03-05-1962 | Wembley | 1-4 | Slough Town | League | | | Match report |
| 28-04-1962 | Eastbourne | 2-1 | Slough Town | League | | | Match report |
| 14-04-1962 | Slough Town | 2-0 | Epsom | League | | | Match report |
| 07-04-1962 | Slough Town | 3-2 | Windsor & Eton | Benevolent Cup | | | Match report |
| 17-03-1962 | Slough Town | 0-3 | Edgware | League | | | Match report |
| 10-03-1962 | Slough Town | 2-1 | Letchworth | League | | | Match report |
| 03-03-1962 | Slough Town | 2-0 | Worthing | League | | | Match report |
| 24-02-1962 | Horsham | 3-2 | Slough Town | League | | | Match report |
| 17-02-1962 | Slough Town | 3-0 | Eastbourne | League | | | Match report |
| 10-02-1962 | Slough Town | 2-0 | Newbury Town | B&B Senior Cup | | | Match report |
| 03-02-1962 | Worthing | 4-0 | Slough Town | League | | | Match report |
| 27-01-1962 | Slough Town | 2-0 | Chesham United | Benevolent Cup | | | Match report |
| 20-01-1962 | Leatherhead | 3-0 | Slough Town | Memorial Shield | | | Match report |
| 13-01-1962 | Slough Town | 2-1 | Chesham United | League | | | Match report |
| 06-01-1962 | Uxbridge | 1-0 | Slough Town | League | | | Match report |
| 30-12-1961 | Slough Town | 0-2 | Wokingham Town | League | | | Match report |
| 26-12-1961 | Maidenhead United | 2-0 | Slough Town | League | | | Match report |
| 23-12-1961 | Slough Town | 0-1 | Maidenhead United | League | | | Match report |
| 09-12-1961 | Edgware | 2-1 | Slough Town | League | | | Match report |
| 02-12-1961 | Letchworth | 2-2 | Slough Town | League | | | Match report |
| 25-11-1961 | Slough Town | 3-2 | Leatherhead | League | | | Match report |
| 18-11-1961 | Slough Town | 0-1 | Uxbridge | League | | | Match report |
| 11-11-1961 | Erith | 2-2 | Slough Town | League | | | Match report |
| 21-10-1961 | Dorking | 2-2 | Slough Town | League | | | Match report |
| 14-10-1961 | Slough Town | 4-2 | Dagenham | League | | | Match report |
| 07-10-1961 | Dulwich Hamlet | 5-1 | Slough Town | FA Cup | | | Match report |
Slough Town FC is not responsible for content produced on external websites | Copyright Slough Town FC 2023