Role: Current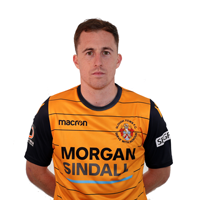 Scott Davies
Midfielder Scott Davies joined the Rebels in March 2018 to boost the squad in a packed end of season schedule.
Scott began his career as a professional at Reading and played around 100 games in the Football League, the majority of which were on loan in League One and League Two. He also scored the goal that got Aldershot Town promoted back to the Football League for the first time.
Over the past three seasons he has made well over 100 appearances in the Conference South for Wealdstone, Oxford City and this season for Chelmsford City.
Sponsored by: Gary House
Statistics
| | |
| --- | --- |
| First Appearance: | 20-03-2018 vs St Ives Town |
| First Goal: | Never |
| Position: | Midfielder |
| Total STFC Appearances: | 39 |
| Total STFC Goals: | 0 |
Achievements
2017/18 Won promotion to National League South
Matches Played
| Match Date | Home Team | Score | Away Team | Competition | Goals | Cards | Report |
| --- | --- | --- | --- | --- | --- | --- | --- |
| 11-12-2018 | Slough Town | 1-2 | Truro City | League | - | - | Report |
| 08-12-2018 | Dartford | 1-1 | Slough Town | League | - | - | Report |
| 02-12-2018 | Slough Town | 0-1 | Gillingham | FA Cup | - | - | Report |
| 20-11-2018 | Slough Town | 1-1 | Sutton United | FA Cup | - | - | Report |
| 17-11-2018 | Slough Town | 0-1 | Woking | League | - | - | Report |
| 13-11-2018 | Slough Town | 6-3 | Chalfont St Peter | B&B Senior Cup | - | - | Report |
| 10-11-2018 | Sutton United | 0-0 | Slough Town | FA Cup | - | - | Report |
| 03-11-2018 | Slough Town | 1-0 | Concord Rangers | League | - | - | Report |
| 30-10-2018 | Hemel Hempstead Town | 1-1 | Slough Town | League | - | - | Report |
| 27-10-2018 | St Albans City | 3-2 | Slough Town | League | - | - | Report |
| 20-10-2018 | Eastbourne Borough | 1-2 | Slough Town | FA Cup | - | - | Report |
| 06-10-2018 | Slough Town | 2-2 | Bristol Manor Farm | FA Cup | - | - | Report |
| 29-09-2018 | Slough Town | 2-0 | Hungerford Town | League | - | - | Report |
| 25-09-2018 | Sholing | 0-3 | Slough Town | FA Cup | - | - | Report |
| 22-09-2018 | Slough Town | 2-2 | Sholing | FA Cup | - | - | Report |
| 15-09-2018 | Eastbourne Borough | 2-4 | Slough Town | League | - | | Report |
| 01-09-2018 | Chelmsford City | 0-1 | Slough Town | League | - | | Report |
| 27-08-2018 | Slough Town | 1-2 | Dulwich Hamlet | League | - | - | Report |
| 25-08-2018 | East Thurrock United | 1-0 | Slough Town | League | - | - | Report |
| 18-08-2018 | Slough Town | 0-0 | Torquay United | League | - | - | Report |
| 14-08-2018 | Slough Town | 2-1 | Weston-super-Mare | League | - | - | Report |
| 11-08-2018 | Gloucester City | 1-2 | Slough Town | League | - | - | Report |
| 07-08-2018 | Chippenham Town | 1-0 | Slough Town | League | - | | Report |
| 04-08-2018 | Slough Town | 1-1 | Hampton & Richmond Boro' | League | - | - | Report |
| 07-05-2018 | King's Lynn Town | 1-2 | Slough Town | Play Off | - | - | Report |
| 02-05-2018 | Slough Town | 3-1 | Kettering Town | Play Off | - | - | Report |
| 28-04-2018 | Slough Town | 2-1 | Royston Town | League | - | - | Report |
| 24-04-2018 | Royston Town | 0-4 | Slough Town | League | - | - | Report |
| 21-04-2018 | Dorchester Town | 0-1 | Slough Town | League | - | - | Report |
| 16-04-2018 | Hitchin Town | 0-1 | Slough Town | League | - | - | Report |
| 14-04-2018 | Slough Town | 2-2 | King's Lynn Town | League | - | | Report |
| 10-04-2018 | Biggleswade Town | 3-5 | Slough Town | League | - | - | Report |
| 07-04-2018 | Stratford Town | 0-1 | Slough Town | League | - | - | Report |
| 04-04-2018 | Frome Town | 0-4 | Slough Town | League | - | - | Report |
| 02-04-2018 | Slough Town | 2-1 | Chesham United | League | - | - | Report |
| 30-03-2018 | Dunstable Town | 0-3 | Slough Town | League | - | - | Report |
| 27-03-2018 | Weymouth | 1-0 | Slough Town | League | - | - | Report |
| 24-03-2018 | Basingstoke Town | 1-4 | Slough Town | League | - | | Report |
| 20-03-2018 | St Ives Town | 1-4 | Slough Town | League | - | - | Report |