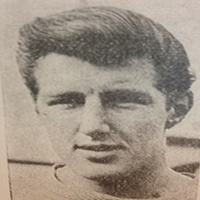 Position:
Goalkeeper
Bio
Tall, quietly confident, and very popular goalkeeper who established himself in the first team in early 1963 and remained a virtual fixture until replaced by Chris Reynolds in the summer of 1966.
Whilst at Haymill School he represented the Slough and District Schools X[ and later while at the Technical School he represented the Berks and Bucks Grammar Schools XI for two seasons.
More representative honours followed when he played for Phoenix in the local youth league. He was in the Berks and Bucks Youth Xl for two seasons and also played for Fulham Youths.
Studied at Southall Technical College in Mechanical Engineering.
Made an outstanding contribution to the championship winning side of 1964/65. Subsequently moved on Chesham United and then Wokingham Town, appearing in the team that defeated Slough in the Berks and Bucks Senior Cup Final in 1969.
Mens
| First Appearance | Appearances | First Goal | Goals | Clean Sheets |
| --- | --- | --- | --- | --- |
| 14-04-1962 vs Epsom | 126 | N/A | 0 | 40 |
History
| Match Date | Home | Score | Away | Competition | Goals | Cards | |
| --- | --- | --- | --- | --- | --- | --- | --- |
| 22-05-1966 | Windsor & Eton | 1-2 | Slough Town | Windsor Hosp. | | | Match report |
| 11-05-1966 | Slough Town | 2-1 | Reading | Wycombe Floodlit League | | | Match report |
| 09-05-1966 | Reading | 2-0 | Slough Town | Wycombe Floodlit League | | | Match report |
| 04-05-1966 | Slough Town | 0-1 | Leatherhead | League | | | Match report |
| 26-04-1966 | Finchley | 4-0 | Slough Town | League | | | Match report |
| 23-04-1966 | Slough Town | 5-0 | Hornchurch | League | | | Match report |
| 20-04-1966 | Edgware | 0-0 | Slough Town | League | | | Match report |
| 11-04-1966 | Walton & Hersham | 2-2 | Slough Town | League | | | Match report |
| 02-04-1966 | Slough Town | 1-1 | Grays Athletic | League | | | Match report |
| 28-03-1966 | Slough Town | 1-2 | Wycombe Wanderers | Wycombe Floodlit League | | | Match report |
| 26-03-1966 | Maidenhead United | 3-1 | Slough Town | League | | | Match report |
| 19-03-1966 | Leatherhead | 1-1 | Slough Town | League | | | Match report |
| 12-03-1966 | Slough Town | 3-2 | Hayes | League | | | Match report |
| 05-03-1966 | Leyton | 2-1 | Slough Town | League | | | Match report |
| 02-03-1966 | Slough Town | 2-1 | Hemel Hempstead Town | League | | | Match report |
| 26-02-1966 | Slough Town | 2-0 | Leyton | League | | | Match report |
| 19-02-1966 | Slough Town | 3-0 | Worthing | League | | | Match report |
| 22-01-1966 | Hounslow | 4-3 | Slough Town | League | | | Match report |
| 08-01-1966 | Slough Town | 1-2 | Maidenhead United | League | | | Match report |
| 01-01-1966 | Southall | 1-0 | Slough Town | League | | | Match report |
| 21-12-1965 | Wycombe Wanderers | 0-2 | Slough Town | Wycombe Floodlit League | | | Match report |
| 18-12-1965 | Slough Town | 10-0 | Carshalton Ath | League | | | Match report |
| 27-11-1965 | Slough Town | 1-2 | Hemel Hempstead Town | FA Amateur Cup | | | Match report |
| 20-11-1965 | Dagenham | 5-3 | Slough Town | League | | | Match report |
| 13-11-1965 | Slough Town | 3-0 | Walton & Hersham | League | | | Match report |
| 06-11-1965 | Chalfont St Peter | 0-1 | Slough Town | FA Amateur Cup | | | Match report |
| 30-10-1965 | Slough Town | 0-3 | Hounslow | League | | | Match report |
| 27-10-1965 | Oxford City | 6-1 | Slough Town | Mithras Cup | | | Match report |
| 23-10-1965 | Wokingham Town | 0-3 | Slough Town | FA Amateur Cup | | | Match report |
| 19-10-1965 | Maidenhead United | 1-1 | Slough Town | Wycombe Floodlit League | | | Match report |
| 16-10-1965 | Slough Town | 0-1 | Finchley | League | | | Match report |
| 09-10-1965 | Wolverton | 0-4 | Slough Town | FA Amateur Cup | | | Match report |
| 02-10-1965 | Slough Town | 1-3 | Dagenham | League | | | Match report |
| 25-09-1965 | Hornchurch | 2-2 | Slough Town | League | | | Match report |
| 18-09-1965 | Slough Town | 0-1 | Metropolitan Police | FA Cup | | | Match report |
| 11-09-1965 | Grays Athletic | 2-1 | Slough Town | League | | | Match report |
| 04-09-1965 | Slough Town | 5-3 | Wembley | FA Cup | | | Match report |
| 30-08-1965 | Worthing | 3-2 | Slough Town | League | | | Match report |
| 28-08-1965 | Slough Town | 6-0 | Edgware | League | | | Match report |
| 26-08-1965 | Slough Town | 5-1 | Southall | League | | | Match report |
| 21-08-1965 | Carshalton Ath | 3-6 | Slough Town | League | | | Match report |
| 01-05-1965 | Slough Town | 5-0 | Eastbourne | League | | | Match report |
| 29-04-1965 | Tilbury | 1-1 | Slough Town | League | | | Match report |
| 27-04-1965 | Letchworth | 2-0 | Slough Town | League | | | Match report |
| 24-04-1965 | Slough Town | 4-0 | Dorking | League | | | Match report |
| 21-04-1965 | Slough Town | 3-3 | Harrow Town | League | | | Match report |
| 19-04-1965 | Chesham United | 4-2 | Slough Town | B&B Senior Cup | | | Match report |
| 17-04-1965 | Horsham | 1-3 | Slough Town | League | | | Match report |
| 16-04-1965 | Hemel Hempstead Town | 0-1 | Slough Town | League | | | Match report |
| 14-04-1965 | Slough Town | 1-0 | Letchworth | League | | | Match report |
| 10-04-1965 | Slough Town | 7-2 | Horsham | Memorial Shield | | | Match report |
| 07-04-1965 | Slough Town | 2-0 | Hertford Town | League | | | Match report |
| 03-04-1965 | Horsham | 1-0 | Slough Town | Memorial Shield | | | Match report |
| 31-03-1965 | Slough Town | 3-2 | Uxbridge | League | | | Match report |
| 29-03-1965 | Dorking | 0-3 | Slough Town | League | | | Match report |
| 27-03-1965 | Slough Town | 2-1 | Chesham United | Benevolent Cup | | | Match report |
| 20-03-1965 | Erith | 1-1 | Slough Town | League | | | Match report |
| 13-03-1965 | Windsor & Eton | 2-3 | Slough Town | B&B Senior Cup | | | Match report |
| 06-03-1965 | Slough Town | 4-1 | Epsom & Ewell | League | | | Match report |
| 27-02-1965 | Slough Town | 6-1 | Hertford Town | Memorial Shield | | | Match report |
| 20-02-1965 | Harlow Town | 0-2 | Slough Town | League | | | Match report |
| 13-02-1965 | Slough Town | 2-1 | Chesham United | Memorial Shield | | | Match report |
| 06-02-1965 | Hazells | 2-3 | Slough Town | B&B Senior Cup | | | Match report |
| 30-01-1965 | Eastbourne | 1-1 | Slough Town | League | | | Match report |
| 23-01-1965 | Wembley | 0-2 | Slough Town | League | | | Match report |
| 16-01-1965 | Slough Town | 2-1 | Chalfont St Peter | B&B Senior Cup | | | Match report |
| 09-01-1965 | Slough Town | 7-0 | Harlow Town | League | | | Match report |
| 02-01-1965 | Slough Town | 1-0 | Chesham United | League | | | Match report |
| 26-12-1964 | Chesham United | 2-2 | Slough Town | League | | | Match report |
| 19-12-1964 | Hertford Town | 2-1 | Slough Town | League | | | Match report |
| 12-12-1964 | Slough Town | 4-0 | Hemel Hempstead Town | League | | | Match report |
| 05-12-1964 | Epsom & Ewell | 2-4 | Slough Town | League | | | Match report |
| 28-11-1964 | Slough Town | 3-0 | Wokingham Town | League | | | Match report |
| 21-11-1964 | Letchworth | 2-5 | Slough Town | Memorial Shield | | | Match report |
| 07-11-1964 | Slough Town | 5-1 | Horsham | League | | | Match report |
| 31-10-1964 | Slough Town | 4-0 | Wembley | League | | | Match report |
| 24-10-1964 | Chalfont St Peter | 2-1 | Slough Town | FA Amateur Cup | | | Match report |
| 17-10-1964 | Hendon | 3-1 | Slough Town | FA Cup | | | Match report |
| 10-10-1964 | Slough Town | 5-0 | Huntley & Palmers | FA Amateur Cup | | | Match report |
| 03-10-1964 | Epsom & Ewell | 0-1 | Slough Town | FA Cup | | | Match report |
| 26-09-1964 | Slough Town | 14-1 | Hungerford Town | FA Amateur Cup | | | Match report |
| 19-09-1964 | Slough Town | 2-0 | Carshalton Ath | FA Cup | | | Match report |
| 12-09-1964 | Slough Town | 4-0 | Tilbury | League | | | Match report |
| 05-09-1964 | Slough Town | 4-1 | Metropolitan Police | FA Cup | | | Match report |
| 03-09-1964 | Uxbridge | 2-0 | Slough Town | League | | | Match report |
| 29-08-1964 | Harrow Town | 0-2 | Slough Town | League | | | Match report |
| 27-08-1964 | Wokingham Town | 1-1 | Slough Town | League | | | Match report |
| 22-08-1964 | Slough Town | 7-1 | Erith | League | | | Match report |
| 02-05-1964 | Worthing | 5-0 | Slough Town | League | | | Match report |
| 30-04-1964 | Slough Town | 1-0 | Molesey | S. Comb. Cup | | | Match report |
| 25-04-1964 | Slough Town | 3-2 | Wokingham Town | S. Comb. Cup | | | Match report |
| 21-04-1964 | Uxbridge | 1-0 | Slough Town | League | | | Match report |
| 18-04-1964 | Slough Town | 3-2 | Eastbourne | League | | | Match report |
| 15-04-1964 | Slough Town | 1-1 | Edgware | League | | | Match report |
| 11-04-1964 | Slough Town | 3-0 | Horsham | League | | | Match report |
| 08-04-1964 | Slough Town | 1-0 | Wokingham Town | League | | | Match report |
| 04-04-1964 | Wokingham Town | 3-2 | Slough Town | Benevolent Cup | | | Match report |
| 30-03-1964 | Eastbourne | 1-1 | Slough Town | League | | | Match report |
| 28-03-1964 | Dorking | 0-4 | Slough Town | League | | | Match report |
| 21-03-1964 | Slough Town | 3-0 | Letchworth | League | | | Match report |
| 14-03-1964 | Horsham | 1-3 | Slough Town | League | | | Match report |
| 29-02-1964 | Slough Town | 4-2 | Epsom | League | | | Match report |
| 22-02-1964 | Slough Town | 3-1 | Dorking | League | | | Match report |
| 15-02-1964 | Worthing | 4-0 | Slough Town | Memorial Shield | | | Match report |
| 08-02-1964 | Windsor & Eton | 2-0 | Slough Town | B&B Senior Cup | | | Match report |
| 01-02-1964 | Slough Town | 5-0 | Didcot Town | B&B Senior Cup | | | Match report |
| 25-01-1964 | Newbury Town | 0-4 | Slough Town | B&B Senior Cup | | | Match report |
| 11-01-1964 | Slough Town | 2-1 | Chesham United | League | | | Match report |
| 04-01-1964 | Chesham United | 2-1 | Slough Town | League | | | Match report |
| 28-12-1963 | Slough Town | 4-1 | Uxbridge | League | | | Match report |
| 21-12-1963 | Wembley | 1-6 | Slough Town | League | | | Match report |
| 14-12-1963 | Slough Town | 0-3 | Leatherhead | League | | | Match report |
| 07-12-1963 | Slough Town | 4-2 | Edgware | Memorial Shield | | | Match report |
| 23-11-1963 | Letchworth | 2-1 | Slough Town | League | | | Match report |
| 16-11-1963 | Slough Town | 2-1 | Wembley | League | | | Match report |
| 09-11-1963 | Wokingham Town | 4-1 | Slough Town | FA Amateur Cup | | | Match report |
| 02-11-1963 | Epsom | 1-2 | Slough Town | League | | | Match report |
| 26-10-1963 | Slough Town | 2-0 | Aylesbury United | FA Amateur Cup | | | Match report |
| 19-10-1963 | Erith | 2-1 | Slough Town | League | | | Match report |
| 12-10-1963 | Slough Town | 6-0 | Hungerford Town | FA Amateur Cup | | | Match report |
| 05-10-1963 | Slough Town | 5-1 | Chalfont St Peter | FA Amateur Cup | | | Match report |
| 28-09-1963 | Chalfont St Peter | 1-1 | Slough Town | FA Amateur Cup | | | Match report |
| 21-09-1963 | Edgware | 0-3 | Slough Town | League | | | Match report |
| 14-09-1963 | Slough Town | 3-1 | Worthing | League | | | Match report |
| 07-09-1963 | Epsom | 2-1 | Slough Town | FA Cup | | | Match report |
| 14-04-1962 | Slough Town | 2-0 | Epsom | League | | | Match report |
Slough Town FC is not responsible for content produced on external websites | Copyright Slough Town FC 2023