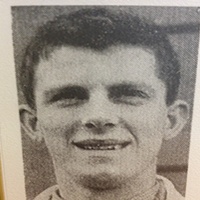 Position:
Forward
Bio
Former Slough Grammar School pupil who enjoyed two spells with Slough separated by a couple of seasons at Wokingham Town and Chesham United. Left-back who joined the club after more than five seasons of junior football.
Ges, a local boy, started, like so many Slough players, at Slough playing for the school side and for the schools representative XI. At that time he was a full-back but switched to centre-forward before he left school.
While playing for Granville Rovers in the Slough Youth League he also appeared in the Youth representative XI and from there joined Brentford Juniors, with whom he played for a season at centre and inside-forward. It was after this that Ges joined the Rebels for the first time.
After a couple of seasons in and out of the reserves, he got his big chance in the first team, towards the end of one season, at Edgware, but tragedy struck when he broke his leg and was out of action for 12 weeks.
The following season Ges established himself as a first-team player-on the left-wing-but the next term Len Townsend switched him back to full-back, only for Jimmy Price to arrive and move him back to centre-forward.
The next two seasons he spent at Wokingham, after recovering from a second broken leg, playing left-back behind Malcolm Scott and then returned to the Dolphin for the latter half of the season, making seven first-team appearances in the process.
Ges regained his first-team place and played as though he means to keep it. Married, with two children, Ges was a production manager with a local firm.
Mens
| First Appearance | Appearances | First Goal | Goals |
| --- | --- | --- | --- |
| 10-03-1956 vs Edgware | 177 | 10-03-1956 vs Edgware | 19 |
History
| Match Date | Home | Score | Away | Competition | Goals | Cards | |
| --- | --- | --- | --- | --- | --- | --- | --- |
| 09-10-1965 | Wolverton | 0-4 | Slough Town | FA Amateur Cup | | | Match report |
| 02-10-1965 | Slough Town | 1-3 | Dagenham | League | | | Match report |
| 25-09-1965 | Hornchurch | 2-2 | Slough Town | League | | | Match report |
| 18-09-1965 | Slough Town | 0-1 | Metropolitan Police | FA Cup | | | Match report |
| 11-09-1965 | Grays Athletic | 2-1 | Slough Town | League | | | Match report |
| 04-09-1965 | Slough Town | 5-3 | Wembley | FA Cup | | | Match report |
| 30-08-1965 | Worthing | 3-2 | Slough Town | League | | | Match report |
| 28-08-1965 | Slough Town | 6-0 | Edgware | League | | | Match report |
| 26-08-1965 | Slough Town | 5-1 | Southall | League | | | Match report |
| 21-08-1965 | Carshalton Ath | 3-6 | Slough Town | League | | | Match report |
| 06-05-1965 | Slough Town | 1-2 | Chalfont St Peter | Benevolent Cup | | | Match report |
| 01-05-1965 | Slough Town | 5-0 | Eastbourne | League | | | Match report |
| 24-04-1965 | Slough Town | 4-0 | Dorking | League | | | Match report |
| 21-04-1965 | Slough Town | 3-3 | Harrow Town | League | | | Match report |
| 19-04-1965 | Chesham United | 4-2 | Slough Town | B&B Senior Cup | | | Match report |
| 17-04-1965 | Horsham | 1-3 | Slough Town | League | | | Match report |
| 16-04-1965 | Hemel Hempstead Town | 0-1 | Slough Town | League | | | Match report |
| 14-04-1965 | Slough Town | 1-0 | Letchworth | League | | | Match report |
| 10-04-1965 | Slough Town | 7-2 | Horsham | Memorial Shield | | | Match report |
| 07-04-1965 | Slough Town | 2-0 | Hertford Town | League | | | Match report |
| 03-04-1965 | Horsham | 1-0 | Slough Town | Memorial Shield | | | Match report |
| 31-03-1965 | Slough Town | 3-2 | Uxbridge | League | | | Match report |
| 29-03-1965 | Dorking | 0-3 | Slough Town | League | | | Match report |
| 20-03-1965 | Erith | 1-1 | Slough Town | League | | | Match report |
| 13-03-1965 | Windsor & Eton | 2-3 | Slough Town | B&B Senior Cup | | | Match report |
| 06-03-1965 | Slough Town | 4-1 | Epsom & Ewell | League | | | Match report |
| 27-02-1965 | Slough Town | 6-1 | Hertford Town | Memorial Shield | | | Match report |
| 20-02-1965 | Harlow Town | 0-2 | Slough Town | League | | | Match report |
| 13-02-1965 | Slough Town | 2-1 | Chesham United | Memorial Shield | | | Match report |
| 06-02-1965 | Hazells | 2-3 | Slough Town | B&B Senior Cup | | | Match report |
| 30-01-1965 | Eastbourne | 1-1 | Slough Town | League | | | Match report |
| 23-01-1965 | Wembley | 0-2 | Slough Town | League | | | Match report |
| 16-01-1965 | Slough Town | 2-1 | Chalfont St Peter | B&B Senior Cup | | | Match report |
| 09-01-1965 | Slough Town | 7-0 | Harlow Town | League | | | Match report |
| 02-01-1965 | Slough Town | 1-0 | Chesham United | League | | | Match report |
| 26-12-1964 | Chesham United | 2-2 | Slough Town | League | | | Match report |
| 19-12-1964 | Hertford Town | 2-1 | Slough Town | League | | | Match report |
| 12-12-1964 | Slough Town | 4-0 | Hemel Hempstead Town | League | | | Match report |
| 05-12-1964 | Epsom & Ewell | 2-4 | Slough Town | League | | | Match report |
| 28-11-1964 | Slough Town | 3-0 | Wokingham Town | League | | | Match report |
| 21-11-1964 | Letchworth | 2-5 | Slough Town | Memorial Shield | | | Match report |
| 07-11-1964 | Slough Town | 5-1 | Horsham | League | | | Match report |
| 31-10-1964 | Slough Town | 4-0 | Wembley | League | | | Match report |
| 24-10-1964 | Chalfont St Peter | 2-1 | Slough Town | FA Amateur Cup | | | Match report |
| 17-10-1964 | Hendon | 3-1 | Slough Town | FA Cup | | | Match report |
| 10-10-1964 | Slough Town | 5-0 | Huntley & Palmers | FA Amateur Cup | | | Match report |
| 03-10-1964 | Epsom & Ewell | 0-1 | Slough Town | FA Cup | | | Match report |
| 26-09-1964 | Slough Town | 14-1 | Hungerford Town | FA Amateur Cup | | | Match report |
| 19-09-1964 | Slough Town | 2-0 | Carshalton Ath | FA Cup | | | Match report |
| 12-09-1964 | Slough Town | 4-0 | Tilbury | League | | | Match report |
| 05-09-1964 | Slough Town | 4-1 | Metropolitan Police | FA Cup | | | Match report |
| 15-02-1964 | Worthing | 4-0 | Slough Town | Memorial Shield | | | Match report |
| 25-01-1964 | Newbury Town | 0-4 | Slough Town | B&B Senior Cup | | | Match report |
| 11-01-1964 | Slough Town | 2-1 | Chesham United | League | | | Match report |
| 04-01-1964 | Chesham United | 2-1 | Slough Town | League | | | Match report |
| 28-12-1963 | Slough Town | 4-1 | Uxbridge | League | | | Match report |
| 21-12-1963 | Wembley | 1-6 | Slough Town | League | | | Match report |
| 16-11-1963 | Slough Town | 2-1 | Wembley | League | | | Match report |
| 03-05-1961 | Slough Town | 0-5 | Worthing | League | | | Match report |
| 18-03-1961 | Slough Town | 1-3 | Chesham United | League | | | Match report |
| 11-03-1961 | Uxbridge | 6-0 | Slough Town | League | | | Match report |
| 28-01-1961 | Wolverton | 1-2 | Slough Town | B&B Senior Cup | | | Match report |
| 21-01-1961 | Worthing | 6-5 | Slough Town | League | | | Match report |
| 14-01-1961 | Slough Town | 1-2 | Maidenhead United | Benevolent Cup | | | Match report |
| 07-01-1961 | Slough Town | 5-1 | Aylesbury United | B&B Senior Cup | | | Match report |
| 31-12-1960 | Wokingham Town | 1-1 | Slough Town | League | | | Match report |
| 27-12-1960 | Slough Town | 2-3 | Maidenhead United | League | | | Match report |
| 17-12-1960 | Dorking | 3-1 | Slough Town | League | | | Match report |
| 10-12-1960 | Slough Town | 1-2 | Dagenham | League | | | Match report |
| 03-12-1960 | Chesham United | 4-1 | Slough Town | League | | | Match report |
| 26-11-1960 | Epsom | 5-4 | Slough Town | League | | | Match report |
| 19-11-1960 | Slough Town | 3-7 | Wokingham Town | Memorial Shield | | | Match report |
| 05-11-1960 | Slough Town | 5-1 | Erith | League | | | Match report |
| 29-10-1960 | Slough Town | 1-2 | Uxbridge | League | | | Match report |
| 22-10-1960 | Slough Town | 4-2 | Wokingham Town | S. Comb. Cup | | | Match report |
| 15-10-1960 | Slough Town | 3-5 | Newbury Town | FA Amateur Cup | | | Match report |
| 08-10-1960 | Slough Town | 4-3 | Epsom | League | | | Match report |
| 01-10-1960 | Bletchley | 1-2 | Slough Town | FA Amateur Cup | | | Match report |
| 24-09-1960 | Carshalton Ath | 5-2 | Slough Town | FA Cup | | | Match report |
| 17-09-1960 | Slough Town | 10-1 | Amersham Town | FA Amateur Cup | | | Match report |
| 14-09-1960 | Wokingham Town | 0-0 | Slough Town | S. Comb. Cup | | | Match report |
| 10-09-1960 | Marlow | 0-1 | Slough Town | FA Cup | | | Match report |
| 07-09-1960 | Slough Town | 2-4 | Carshalton Ath | S. Comb. Cup | | | Match report |
| 03-09-1960 | Dagenham | 2-1 | Slough Town | League | | | Match report |
| 31-08-1960 | Slough Town | 4-3 | Wembley | League | | | Match report |
| 27-08-1960 | Slough Town | 3-0 | Epsom | Memorial Shield | | | Match report |
| 24-08-1960 | Wembley | 6-0 | Slough Town | League | | | Match report |
| 20-08-1960 | Epsom | 1-1 | Slough Town | Memorial Shield | | | Match report |
| 12-05-1960 | Maidenhead United | 4-1 | Slough Town | Benevolent Cup | | | Match report |
| 07-05-1960 | Worthing | 3-5 | Slough Town | League | | | Match report |
| 30-04-1960 | Slough Town | 2-3 | Uxbridge | League | | | Match report |
| 28-04-1960 | Redhill | 0-4 | Slough Town | S. Comb. Cup | | | Match report |
| 23-04-1960 | Slough Town | 5-0 | Letchworth | League | | | Match report |
| 18-04-1960 | Uxbridge | 2-3 | Slough Town | League | | | Match report |
| 16-04-1960 | Slough Town | 3-1 | Worthing | League | | | Match report |
| 09-04-1960 | Chesham United | 1-2 | Slough Town | Benevolent Cup | | | Match report |
| 26-03-1960 | Slough Town | 1-0 | Horsham | League | | | Match report |
| 19-03-1960 | Maidenhead United | 1-0 | Slough Town | League | | | Match report |
| 12-03-1960 | Leatherhead | 1-2 | Slough Town | League | | | Match report |
| 05-03-1960 | Wokingham Town | 0-1 | Slough Town | League | | | Match report |
| 27-02-1960 | Slough Town | 1-1 | Dagenham | League | | | Match report |
| 20-02-1960 | Slough Town | 1-2 | Uxbridge | Memorial Shield | | | Match report |
| 30-01-1960 | Wycombe Wanderers | 3-1 | Slough Town | B&B Senior Cup | | | Match report |
| 23-01-1960 | Huntley & Palmers | 1-6 | Slough Town | Benevolent Cup | | | Match report |
| 19-12-1959 | Slough Town | 3-0 | Leatherhead | League | | | Match report |
| 12-12-1959 | Horsham | 4-1 | Slough Town | League | | | Match report |
| 05-12-1959 | Slough Town | 0-1 | Edgware | League | | | Match report |
| 28-11-1959 | Edgware | 5-1 | Slough Town | League | | | Match report |
| 21-11-1959 | Slough Town | 0-1 | Erith | League | | | Match report |
| 14-11-1959 | Letchworth | 3-0 | Slough Town | League | | | Match report |
| 31-10-1959 | Slough Town | 3-1 | Chesham United | League | | | Match report |
| 24-10-1959 | Eastbourne | 2-2 | Slough Town | League | | | Match report |
| 17-10-1959 | Slough Town | 1-1 | Eastbourne | League | | | Match report |
| 10-10-1959 | Wembley | 4-2 | Slough Town | League | | | Match report |
| 03-10-1959 | Dorking | 2-3 | Slough Town | League | | | Match report |
| 26-09-1959 | Dagenham | 4-1 | Slough Town | League | | | Match report |
| 19-09-1959 | Slough Town | 2-1 | Dorking | League | | | Match report |
| 12-09-1959 | Maidenhead United | 3-0 | Slough Town | FA Amateur Cup | | | Match report |
| 29-08-1959 | Slough Town | 3-2 | Epsom | League | | | Match report |
| 26-08-1959 | Slough Town | 3-1 | Wembley | League | | | Match report |
| 22-08-1959 | Erith | 2-1 | Slough Town | League | | | Match report |
| 21-02-1959 | Slough Town | 3-1 | Dorking | League | | | Match report |
| 14-02-1959 | Slough Town | 3-0 | Eastbourne | League | | | Match report |
| 07-02-1959 | Abingdon | 4-0 | Slough Town | B&B Senior Cup | | | Match report |
| 31-01-1959 | Wokingham Town | 3-6 | Slough Town | Benevolent Cup | | | Match report |
| 17-01-1959 | Eastbourne | 0-4 | Slough Town | League | | | Match report |
| 03-01-1959 | Uxbridge | 0-3 | Slough Town | League | | | Match report |
| 27-12-1958 | Slough Town | 1-1 | Maidenhead United | League | | | Match report |
| 26-12-1958 | Maidenhead United | 2-1 | Slough Town | League | | | Match report |
| 20-12-1958 | Chesham United | 3-3 | Slough Town | League | | | Match report |
| 13-12-1958 | Slough Town | 3-1 | Wembley | League | | | Match report |
| 29-11-1958 | Slough Town | 0-2 | Horsham | Memorial Shield | | | Match report |
| 22-11-1958 | Leatherhead | 2-2 | Slough Town | League | | | Match report |
| 15-11-1958 | Slough Town | 3-1 | Dagenham | League | | | Match report |
| 08-11-1958 | Erith | 3-2 | Slough Town | League | | | Match report |
| 01-11-1958 | Slough Town | 7-1 | Edgware | League | | | Match report |
| 25-10-1958 | Slough Town | 2-2 | Uxbridge | League | | | Match report |
| 18-10-1958 | Edgware | 1-0 | Slough Town | League | | | Match report |
| 11-10-1958 | Aylesbury United | 2-0 | Slough Town | FA Amateur Cup | | | Match report |
| 04-10-1958 | Slough Town | 6-2 | Worthing | League | | | Match report |
| 27-09-1958 | Stokenchurch | 2-3 | Slough Town | FA Amateur Cup | | | Match report |
| 20-09-1958 | Wokingham Town | 3-2 | Slough Town | FA Cup | | | Match report |
| 13-09-1958 | Epsom | 1-2 | Slough Town | League | | | Match report |
| 06-09-1958 | Slough Town | 2-3 | Leatherhead | League | | | Match report |
| 30-08-1958 | Wembley | 2-3 | Slough Town | League | | | Match report |
| 27-08-1958 | Slough Town | 3-2 | Leatherhead | S. Comb. Cup | | | Match report |
| 23-08-1958 | Slough Town | 4-1 | Epsom | League | | | Match report |
| 07-05-1958 | Slough Town | 3-0 | Wokingham Town | Benevolent Cup | | | Match report |
| 03-05-1958 | Dagenham | 1-2 | Slough Town | League | | | Match report |
| 30-04-1958 | Slough Town | 4-0 | Edgware | League | | | Match report |
| 28-04-1958 | Slough Town | 3-0 | Dorking | League | | | Match report |
| 26-04-1958 | Slough Town | 2-1 | Worthing | League | | | Match report |
| 24-04-1958 | Wembley | 0-1 | Slough Town | League | | | Match report |
| 22-04-1958 | Yiewsley | 2-1 | Slough Town | Memorial Shield | | | Match report |
| 19-04-1958 | Dorking | 0-2 | Slough Town | League | | | Match report |
| 17-04-1958 | Erith | 1-0 | Slough Town | League | | | Match report |
| 07-04-1958 | Uxbridge | 1-1 | Slough Town | League | | | Match report |
| 04-04-1958 | Slough Town | 4-1 | Erith | League | | | Match report |
| 29-03-1958 | Aylesbury United | 3-5 | Slough Town | Benevolent Cup | | | Match report |
| 22-03-1958 | Erith | 1-2 | Slough Town | Memorial Shield | | | Match report |
| 02-11-1957 | Wokingham Town | 2-0 | Slough Town | FA Amateur Cup | | | Match report |
| 11-05-1957 | Slough Town | 2-0 | Aylesbury United | Benevolent Cup | | | Match report |
| 04-05-1957 | Slough Town | 1-1 | Eastbourne | League | | | Match report |
| 22-04-1957 | Worthing | 0-1 | Slough Town | League | | | Match report |
| 20-04-1957 | Maidstone United | 5-1 | Slough Town | League | | | Match report |
| 19-04-1957 | Slough Town | 0-0 | Maidstone United | League | | | Match report |
| 13-04-1957 | Dorking | 1-3 | Slough Town | League | | | Match report |
| 06-04-1957 | Slough Town | 2-0 | Chesham United | League | | | Match report |
| 30-03-1957 | Slough Town | 5-0 | Worthing | League | | | Match report |
| 23-03-1957 | Slough Town | 2-1 | Maidenhead United | Benevolent Cup | | | Match report |
| 16-03-1957 | Maidenhead United | 0-3 | Slough Town | B&B Senior Cup | | | Match report |
| 09-03-1957 | Erith | 2-3 | Slough Town | League | | | Match report |
| 02-03-1957 | Slough Town | 2-1 | Erith | League | | | Match report |
| 16-02-1957 | Newbury Town | 0-2 | Slough Town | B&B Senior Cup | | | Match report |
| 09-02-1957 | Yiewsley | 2-0 | Slough Town | League | | | Match report |
| 02-02-1957 | Slough Town | 2-5 | Epsom | Memorial Shield | | | Match report |
| 10-03-1956 | Edgware | 1-1 | Slough Town | League | | | Match report |
Slough Town FC is not responsible for content produced on external websites | Copyright Slough Town FC 2023