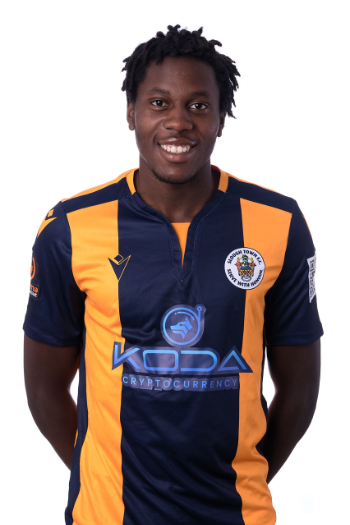 Position:
Forward
Bio
Joseph is 19 years old and originally from Dublin until he relocated to England in 2014.
Having come through the academies at Norwich City and Luton Town, he joined FAB Academy where he also managed some senior football with Burnham in the Hellenic League, with some trials at Reading and Nottingham Forest in between.
He joined Academy23 at the beginning of last season, and drew the attention of the first team managers with his hardworking displays whilst also showing his pace. Following an excellent season which culminated in winning the Suburban League Shield, he was invited to first team training, where he has excelled and earnt himself a contract for the forthcoming season.
EDS
| First Appearance | Appearances | First Goal | Goals |
| --- | --- | --- | --- |
| 15-09-2020 vs Hartley Wintney U23 Development | 23 | 10-10-2020 vs Lingfield Reserves | 10 |
Mens
| First Appearance | Appearances | First Goal | Goals |
| --- | --- | --- | --- |
| 21-08-2021 vs Dartford | 17 | N/A | 0 |
History
| Match Date | Home | Score | Away | Competition | Goals | Cards | |
| --- | --- | --- | --- | --- | --- | --- | --- |
| 11-05-2022 | Erith Town Reserves | 0-6 | Slough Town EDS | Suburban Shield | | | Match report |
| 04-05-2022 | AFC Dunstable Development | 2-7 | Slough Town EDS | Suburban Shield | | | Match report |
| 12-04-2022 | Hartley Wintney U23 Development | 0-0 | Slough Town EDS | League | | | Match report |
| 05-01-2022 | Cardiff City U23 | 3-1 | Slough Town EDS | Friendly | | | Match report |
| 10-12-2021 | Chippenham Town U23 | 2-0 | Slough Town EDS | League | | | Match report |
| 23-11-2021 | Slough Town EDS | 2-1 | Bromley U23 | League | | | Match report |
| 09-11-2021 | Aylesbury Vale Dynamos | 3-3 | Slough Town EDS | League Cup | | | Match report |
| 02-10-2021 | Corinthian Reserves | 1-3 | Slough Town EDS | League | | | Match report |
| 26-08-2021 | Woking U23 | 0-3 | Slough Town EDS | League | | | Match report |
| 28-05-2021 | Langley | 1-6 | Slough Town EDS | Friendly | | | Match report |
| 08-05-2021 | Slough Town EDS | 1-2 | Chippenham Town U23 | Suburban Shield | | | Match report |
| 04-05-2021 | Oxford City U23 | 1-2 | Slough Town EDS | Suburban Shield | | | Match report |
| 01-05-2021 | AFC Dunstable Development | 2-0 | Slough Town EDS | Suburban Shield | | | Match report |
| 24-04-2021 | Hanwell Town | 1-1 | Slough Town EDS | Friendly | | | Match report |
| 20-04-2021 | Slough Town EDS | 3-0 | AFC Dunstable Development | Suburban Shield | | | Match report |
| 17-04-2021 | Slough Town EDS | 5-3 | Oxford City U23 | Suburban Shield | | | Match report |
| 13-04-2021 | Slough Town EDS | 6-0 | AFC Hayes Reserves | Suburban Shield | | | Match report |
| 23-10-2020 | Hartley Wintney U23 Development | 4-2 | Slough Town EDS | League Cup | | | Match report |
| 20-10-2020 | Slough Town EDS | 2-1 | Abbey Rangers Development | League | | | Match report |
| 10-10-2020 | Lingfield Reserves | 0-4 | Slough Town EDS | League | | | Match report |
| 26-09-2020 | Slough Town EDS | 2-1 | Corinthian U21 | League | | | Match report |
| 19-09-2020 | Corinthian U21 | 2-0 | Slough Town EDS | League | | | Match report |
| 15-09-2020 | Hartley Wintney U23 Development | 1-2 | Slough Town EDS | League | | | Match report |
| Match Date | Home | Score | Away | Competition | Goals | Cards | |
| --- | --- | --- | --- | --- | --- | --- | --- |
| 02-05-2022 | Hampton & Richmond | 3-1 | Slough Town | League | | | Match report |
| 28-12-2021 | Slough Town | 4-1 | Hampton & Richmond | League | | | Match report |
| 26-12-2021 | Oxford City | 3-2 | Slough Town | League | | | Match report |
| 18-12-2021 | Slough Town | 3-1 | Eastbourne Borough | FA Trophy | | | Match report |
| 11-12-2021 | Hemel Hempstead Town | 2-2 | Slough Town | League | | | Match report |
| 29-11-2021 | Beaconsfield Town | 5-1 | Slough Town | B&B Senior Cup | | | Match report |
| 20-11-2021 | Eastbourne Borough | 3-1 | Slough Town | League | | | Match report |
| 06-11-2021 | Maidstone United | 0-1 | Slough Town | League | | | Match report |
| 26-10-2021 | Slough Town | 2-0 | Bath City | League | | | Match report |
| 23-10-2021 | Havant & Waterlooville | 1-2 | Slough Town | League | | | Match report |
| 16-10-2021 | Billericay Town | 2-1 | Slough Town | League | | | Match report |
| 09-10-2021 | Slough Town | 1-3 | Ebbsfleet United | League | | | Match report |
| 18-09-2021 | Slough Town | 1-3 | Whitehawk | FA Cup | | | Match report |
| 11-09-2021 | Slough Town | 2-3 | St Albans City | League | | | Match report |
| 04-09-2021 | Welling United | 2-2 | Slough Town | League | | | Match report |
| 28-08-2021 | Slough Town | 0-1 | Chippenham Town | League | | | Match report |
| 21-08-2021 | Dartford | 3-0 | Slough Town | League | | | Match report |
Slough Town FC is not responsible for content produced on external websites | Copyright Slough Town FC 2023