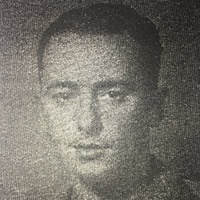 Position:
Striker
Bio
Stan was a regular member of the side since he joined Slough during the 1944/45 season from Reading. He was born in Henley on Thames in 1920 and was 5 feet 8 inches tall.
He had a deadly shot and was the sides recognised penalty taker. Equally at home at inside forward or wing half, Stan was a reliable player who gave his all in every appearance.
Played for the R.A.F. against the Army in India.
Mens
| First Appearance | Appearances | First Goal | Goals |
| --- | --- | --- | --- |
| 31-03-1945 vs Tuffnell Park | 45 | 08-09-1945 vs Hounslow | 11 |
History
| Match Date | Home | Score | Away | Competition | Goals | Cards | |
| --- | --- | --- | --- | --- | --- | --- | --- |
| 15-03-1947 | Slough Town | 4-4 | Eastbourne | League | | | Match report |
| 12-10-1946 | Hastings United | 1-1 | Slough Town | League | | | Match report |
| 09-10-1946 | Windsor & Eton | 2-4 | Slough Town | FA Cup | | | Match report |
| 05-10-1946 | Slough Town | 3-3 | Windsor & Eton | FA Cup | | | Match report |
| 28-09-1946 | Erith | 1-2 | Slough Town | League | | | Match report |
| 21-09-1946 | Slough Town | 4-2 | Lyons Club | FA Cup | | | Match report |
| 14-09-1946 | Walton & Hersham | 2-2 | Slough Town | League | | | Match report |
| 07-09-1946 | Carshalton Ath | 3-2 | Slough Town | League | | | Match report |
| 11-05-1946 | Chippenham Town | 0-4 | Slough Town | Unknown Cup | | | Match report |
| 29-04-1946 | Slough Town | 1-1 | Wycombe Wanderers | Benevolent Cup | | | Match report |
| 27-04-1946 | Walton & Hersham | 2-7 | Slough Town | League | | | Match report |
| 22-04-1946 | Grays Athletic | 1-0 | Slough Town | League | | | Match report |
| 20-04-1946 | Twickenham | 2-4 | Slough Town | League | | | Match report |
| 19-04-1946 | Slough Town | 0-0 | Grays Athletic | League | | | Match report |
| 13-04-1946 | Maidenhead United | 3-6 | Slough Town | League | | | Match report |
| 06-04-1946 | Slough Town | 2-1 | Windsor & Eton | League | | | Match report |
| 30-03-1946 | Epsom Town | 0-3 | Slough Town | Benevolent Cup | | | Match report |
| 26-03-1946 | Marlow | 3-10 | Slough Town | League | | | Match report |
| 19-03-1946 | Slough Town | 3-1 | Epsom Town | Benevolent Cup | | | Match report |
| 02-03-1946 | Slough Town | 6-5 | St Albans City | Unknown Cup | | | Match report |
| 23-02-1946 | Wycombe Wanderers | 6-1 | Slough Town | League | | | Match report |
| 16-02-1946 | Moor Green | 2-1 | Slough Town | B&B Senior Cup | | | Match report |
| 02-02-1946 | Oxford City | 2-3 | Slough Town | FA Amateur Cup | | | Match report |
| 19-01-1946 | Chippenham Town | 1-5 | Slough Town | League | | | Match report |
| 05-01-1946 | Slough Town | 1-4 | Windsor & Eton | League | | | Match report |
| 26-12-1945 | Windsor & Eton | 2-6 | Slough Town | Corinthian Lge. | | | Match report |
| 25-12-1945 | Slough Town | 4-2 | Windsor & Eton | League | | | Match report |
| 08-12-1945 | Slough Town | 0-2 | Maidenhead United | League | | | Match report |
| 01-12-1945 | Chesham United | 1-13 | Slough Town | B&B Senior Cup | | | Match report |
| 20-11-1945 | Bromley | 6-1 | Slough Town | FA Cup | | | Match report |
| 06-11-1945 | Slough Town | 3-1 | Leytonstone | FA Cup | | | Match report |
| 03-11-1945 | Leytonstone | 3-3 | Slough Town | FA Cup | | | Match report |
| 27-10-1945 | Slough Town | 6-4 | Twickenham | League | | | Match report |
| 20-10-1945 | Slough Town | 3-1 | Oxford City | FA Cup | | | Match report |
| 13-10-1945 | Maidenhead United | 1-0 | Slough Town | Memorial Shield | | | Match report |
| 06-10-1945 | Banbury Spencer | 2-5 | Slough Town | FA Cup | | | Match report |
| 29-09-1945 | Slough Town | 4-0 | Walton & Hersham | League | | | Match report |
| 25-09-1945 | Slough Town | 2-0 | Yiewsley | FA Cup | | | Match report |
| 22-09-1945 | Yiewsley | 2-2 | Slough Town | FA Cup | | | Match report |
| 13-09-1945 | Slough Town | 3-1 | Hounslow | FA Cup | | | Match report |
| 08-09-1945 | Hounslow | 4-4 | Slough Town | FA Cup | | | Match report |
| 01-09-1945 | Slough Town | 3-2 | Erith | League | | | Match report |
| 05-05-1945 | Windsor & Eton | 0-2 | Slough Town | Red Cross Cup | | | Match report |
| 28-04-1945 | Slough Town | 1-3 | Windsor & Eton | Red Cross Cup | | | Match report |
| 31-03-1945 | Slough Town | 1-0 | Tuffnell Park | League | | | Match report |
Slough Town FC is not responsible for content produced on external websites | Copyright Slough Town FC 2023