Role: Former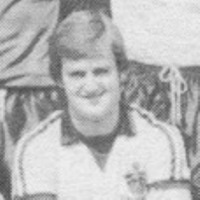 Keith White
Keith was the club captain and by virtue of his honourable service was honoured with a testimonial.
Since starting his days at Chelsea as an apprentice Keith only played for one other club apart from Slough that club being Athenian League Burnham.
He was top scorer for Burnham in 1978/79 and 1979/80 with 19 and 21 goals, respectively. Another local lad, he was an expert at dead ball situations.
Joined the club in August 1980 from near neighbours Burnham, winning an Isthmian League championship medal in his first season, along with the Berks & Bucks Senior Cup and Isthmian League Cup.
Was a member of the side which beat Millwall in the F.A. Cup in 1982. Has also played in Chelsea's Youth Side.
Keith was married and was a machine operator living in Slough.
Statistics
| | |
| --- | --- |
| First Appearance: | 16-08-1980 vs Dagenham |
| First Goal: | 06-12-1980 vs Barking |
| Position: | Striker |
| Total STFC Appearances: | 466 |
| Total STFC Goals: | 87 |
Achievements
1980/81 Isthmian League, Premier Division - winner
1980/81 Berks & Bucks Senior Cup - winner
1980/81 Isthmian League Cup - winner
Matches Played
| Match Date | Home Team | Score | Away Team | Competition | Goals | Cards | Report |
| --- | --- | --- | --- | --- | --- | --- | --- |
| 06-05-1989 | Slough Town | 4-1 | Tooting | League | - | - | Report |
| 29-04-1989 | St Albans City | 1-4 | Slough Town | League | - | - | Report |
| 22-04-1989 | Slough Town | 4-0 | Hendon | League | - | - | Report |
| 08-04-1989 | Slough Town | 1-1 | Carshalton Ath | League | - | - | Report |
| 01-04-1989 | Farnborough Town | 2-6 | Slough Town | League | - | - | Report |
| 28-03-1989 | Leyton Wingate | 1-1 | Slough Town | League | - | - | Report |
| 25-03-1989 | Slough Town | 2-0 | Kingstonian | League | - | - | Report |
| 18-03-1989 | Dulwich Hamlet | 1-0 | Slough Town | League | - | - | Report |
| 11-03-1989 | Slough Town | 2-0 | Grays Athletic | League | - | - | Report |
| 04-03-1989 | Harrow Borough | 1-2 | Slough Town | League | - | - | Report |
| 28-02-1989 | Barking | 1-0 | Slough Town | League | - | - | Report |
| 25-02-1989 | Slough Town | 1-3 | Leyton Wingate | League | | - | Report |
| 18-02-1989 | Wokingham Town | 1-1 | Slough Town | League | - | - | Report |
| 07-02-1989 | Grays Athletic | 2-1 | Slough Town | League | - | - | Report |
| 04-02-1989 | Slough Town | 4-0 | Croydon | League | - | - | Report |
| 31-01-1989 | Slough Town | 1-2 | Burnham | B&B Senior Cup | - | - | Report |
| 28-01-1989 | Leytonstone Ilford | 1-0 | Slough Town | League | - | - | Report |
| 24-01-1989 | Hendon | 1-1 | Slough Town | League | - | - | Report |
| 21-01-1989 | Slough Town | 4-1 | Bromley | League | - | - | Report |
| 17-01-1989 | Burnham | 3-3 | Slough Town | B&B Senior Cup | - | - | Report |
| 14-01-1989 | Welling United | 4-0 | Slough Town | FA Trophy | - | - | Report |
| 07-01-1989 | Slough Town | 0-2 | Bishop's Stortford | League | - | - | Report |
| 02-01-1989 | Windsor & Eton | 3-2 | Slough Town | League | - | - | Report |
| 30-12-1988 | Slough Town | 3-0 | Bognor Regis Town | League | - | - | Report |
| 27-12-1988 | Slough Town | 0-3 | Farnborough Town | League | - | - | Report |
| 17-12-1988 | Carshalton Ath | 0-0 | Slough Town | League | - | - | Report |
| 10-12-1988 | Slough Town | 2-0 | Hayes | League | - | - | Report |
| 03-12-1988 | Ashford | 0-3 | Slough Town | FA Trophy | - | - | Report |
| 26-11-1988 | Slough Town | 4-3 | St Albans City | League | - | - | Report |
| 15-11-1988 | Slough Town | 2-0 | Marlow | League | - | - | Report |
| 12-11-1988 | Slough Town | 0-2 | Dagenham | League | - | - | Report |
| 08-11-1988 | Bognor Regis Town | 1-0 | Slough Town | League | - | - | Report |
| 05-11-1988 | Slough Town | 3-2 | Dulwich Hamlet | League | - | - | Report |
| 01-11-1988 | Kingstonian | 0-1 | Slough Town | League | - | - | Report |
| 29-10-1988 | Slough Town | 1-2 | Dartford | FA Cup | - | - | Report |
| 22-10-1988 | Slough Town | 3-0 | Wokingham Town | League | - | - | Report |
| 15-10-1988 | Tooting | 2-3 | Slough Town | League | | - | Report |
| 11-10-1988 | Hayes | 5-1 | Slough Town | Premier Interleague Cup | - | - | Report |
| 08-10-1988 | Slough Town | 1-1 | Harrow Borough | League | - | - | Report |
| 04-10-1988 | Slough Town | 2-2 | Hayes | Premier Interleague Cup | - | - | Report |
| 01-10-1988 | Slough Town | 2-1 | Aylesbury United | B&B Senior Cup | - | - | Report |
| 26-09-1988 | Croydon | 0-2 | Slough Town | League | - | - | Report |
| 17-09-1988 | Dagenham | 0-1 | Slough Town | League | - | - | Report |
| 13-09-1988 | Barking | 3-0 | Slough Town | AC Delco Cup | - | - | Report |
| 10-09-1988 | Slough Town | 2-0 | Leytonstone Ilford | League | - | - | Report |
| 03-09-1988 | Bromley | 0-1 | Slough Town | League | - | - | Report |
| 30-08-1988 | Slough Town | 0-1 | Windsor & Eton | League | - | - | Report |
| 27-08-1988 | Bishop's Stortford | 4-0 | Slough Town | League | - | - | Report |
| 23-08-1988 | Hayes | 0-1 | Slough Town | League | - | - | Report |
| 20-08-1988 | Slough Town | 1-0 | Barking | League | - | - | Report |
| 05-05-1988 | Slough Town | 3-1 | Wokingham Town | League | - | - | Report |
| 30-04-1988 | Slough Town | 1-0 | Croydon | League | - | - | Report |
| 23-04-1988 | Slough Town | 1-0 | Bromley | League | - | - | Report |
| 16-04-1988 | Barking | 1-0 | Slough Town | League | - | - | Report |
| 12-04-1988 | Bishop's Stortford | 1-1 | Slough Town | League | - | - | Report |
| 02-04-1988 | Leytonstone Ilford | 3-0 | Slough Town | League | - | - | Report |
| 28-03-1988 | Bognor Regis Town | 0-2 | Slough Town | League | - | - | Report |
| 26-03-1988 | Slough Town | 3-0 | St Albans City | League | - | - | Report |
| 22-03-1988 | Carshalton Ath | 1-1 | Slough Town | League | - | - | Report |
| 12-03-1988 | Slough Town | 1-1 | Leyton Wingate | League | - | - | Report |
| 08-03-1988 | St Albans City | 1-3 | Slough Town | League | - | - | Report |
| 05-03-1988 | Kingstonian | 1-0 | Slough Town | League | - | - | Report |
| 01-03-1988 | Slough Town | 0-0 | Hendon | League | - | - | Report |
| 27-02-1988 | Harrow Borough | 1-3 | Slough Town | League | | - | Report |
| 23-02-1988 | Slough Town | 3-1 | Hungerford Town | B&B Senior Cup | - | - | Report |
| 20-02-1988 | Slough Town | 0-1 | Carshalton Ath | League | - | - | Report |
| 13-02-1988 | Slough Town | 1-0 | Hitchin Town | League | - | - | Report |
| 06-02-1988 | Tooting | 2-0 | Slough Town | League | - | - | Report |
| 01-02-1988 | Fisher Ath | 2-1 | Slough Town | FA Trophy | - | - | Report |
| 26-01-1988 | Slough Town | 6-1 | Chalfont St Peter | B&B Senior Cup | | - | Report |
| 19-01-1988 | Slough Town | 1-1 | Basingstoke Town | League | - | - | Report |
| 16-01-1988 | Slough Town | 2-0 | Barking | League | - | - | Report |
| 09-01-1988 | Hayes | 3-1 | Slough Town | League | - | - | Report |
| 02-01-1988 | Slough Town | 3-2 | Leytonstone Ilford | League | - | - | Report |
| 26-12-1987 | Wokingham Town | 0-3 | Slough Town | League | - | - | Report |
| 19-12-1987 | Slough Town | 3-1 | Dagenham | FA Trophy | - | - | Report |
| 12-12-1987 | Slough Town | 2-0 | Maidenhead United | B&B Senior Cup | - | - | Report |
| 08-12-1987 | Slough Town | 2-2 | Yeovil Town | League | | - | Report |
| 05-12-1987 | Leyton Wingate | 1-1 | Slough Town | League | - | - | Report |
| 28-11-1987 | Basingstoke Town | 0-3 | Slough Town | League | - | - | Report |
| 25-11-1987 | Saltash | 2-5 | Slough Town | FA Trophy | - | - | Report |
| 21-11-1987 | Slough Town | 3-3 | Saltash | FA Trophy | - | - | Report |
| 14-11-1987 | Slough Town | 3-1 | Kingstonian | League | - | - | Report |
| 10-11-1987 | Windsor & Eton | 1-0 | Slough Town | League | - | - | Report |
| 07-11-1987 | Slough Town | 2-0 | Dulwich Hamlet | League | - | - | Report |
| 03-11-1987 | Slough Town | 2-3 | Bognor Regis Town | General Motors A Cup | - | - | Report |
| 17-10-1987 | Dulwich Hamlet | 1-0 | Slough Town | League | - | - | Report |
| 07-10-1987 | Cheltenham Town | 1-2 | Slough Town | General Motors A Cup | - | - | Report |
| 03-10-1987 | Hendon | 1-4 | Slough Town | League | - | - | Report |
| 29-09-1987 | Slough Town | 1-1 | Hayes | League | | - | Report |
| 26-09-1987 | Farnborough Town | 4-1 | Slough Town | League | - | - | Report |
| 19-09-1987 | Slough Town | 0-0 | Bishop's Stortford | League | - | - | Report |
| 15-09-1987 | Slough Town | 3-1 | Farnborough Town | League | | - | Report |
| 12-09-1987 | Slough Town | 0-1 | Bognor Regis Town | League | - | - | Report |
| 09-09-1987 | Yeovil Town | 2-1 | Slough Town | League | - | - | Report |
| 05-09-1987 | Croydon | 0-1 | Slough Town | League | - | - | Report |
| 01-09-1987 | Slough Town | 1-0 | Windsor & Eton | League | - | - | Report |
| 29-08-1987 | Slough Town | 4-1 | Tooting | League | - | - | Report |
| 25-08-1987 | Hitchin Town | 1-6 | Slough Town | League | | - | Report |
| 22-08-1987 | Bromley | 2-1 | Slough Town | League | - | - | Report |
| 25-04-1987 | Farnborough Town | 0-1 | Slough Town | League | - | - | Report |
| 21-04-1987 | Slough Town | 3-1 | Farnborough Town | League | - | - | Report |
| 18-04-1987 | Worthing | 1-1 | Slough Town | League | - | - | Report |
| 14-04-1987 | Aylesbury United | 2-0 | Slough Town | B&B Senior Cup | - | - | Report |
| 11-04-1987 | Slough Town | 1-1 | Barking | League | - | - | Report |
| 04-04-1987 | Yeovil Town | 2-0 | Slough Town | League | - | - | Report |
| 28-03-1987 | Slough Town | 3-0 | Harrow Borough | League | - | - | Report |
| 24-03-1987 | Slough Town | 4-4 | Aylesbury United | B&B Senior Cup | | - | Report |
| 21-03-1987 | Tooting | 0-1 | Slough Town | League | - | - | Report |
| 17-03-1987 | Kingstonian | 2-1 | Slough Town | League | - | - | Report |
| 14-03-1987 | Barking | 4-4 | Slough Town | League | - | - | Report |
| 10-03-1987 | Slough Town | 3-0 | St Albans City | League | | - | Report |
| 07-03-1987 | Slough Town | 0-1 | Hayes | League | - | - | Report |
| 03-03-1987 | Harrow Borough | 4-0 | Slough Town | League | - | - | Report |
| 28-02-1987 | Wycombe Wanderers | 1-1 | Slough Town | League | - | - | Report |
| 24-02-1987 | Slough Town | 1-0 | Bishop's Stortford | League | | - | Report |
| 21-02-1987 | Slough Town | 2-1 | Dulwich Hamlet | League | - | - | Report |
| 17-02-1987 | Slough Town | 3-4 | Yeovil Town | General Motors A Cup | | - | Report |
| 14-02-1987 | Carshalton Ath | 0-1 | Slough Town | League | - | - | Report |
| 10-02-1987 | Slough Town | 7-4 | Buckingham Town | B&B Senior Cup | | - | Report |
| 07-02-1987 | Slough Town | 2-1 | Hendon | League | - | - | Report |
| 31-01-1987 | Bognor Regis Town | 0-0 | Slough Town | League | - | - | Report |
| 27-01-1987 | Slough Town | 5-1 | Milton Keynes City | B&B Senior Cup | - | - | Report |
| 24-01-1987 | Slough Town | 0-1 | Croydon | League | - | - | Report |
| 06-01-1987 | Slough Town | 1-0 | Tooting | League | - | - | Report |
| 03-01-1987 | Walthamstow | 0-2 | Slough Town | League | | - | Report |
| 01-01-1987 | Wokingham Town | 1-3 | Slough Town | League | | - | Report |
| 27-12-1986 | Slough Town | 1-3 | Bromley | League | - | - | Report |
| 23-12-1986 | Cheltenham Town | 0-1 | Slough Town | General Motors A Cup | - | - | Report |
| 13-12-1986 | Bromley | 0-0 | Slough Town | League | - | - | Report |
| 09-12-1986 | Slough Town | 0-1 | Yeovil Town | League | - | - | Report |
| 06-12-1986 | Swansea City | 3-0 | Slough Town | FA Cup | - | - | Report |
| 02-12-1986 | Slough Town | 3-0 | Didcot Town | B&B Senior Cup | - | - | Report |
| 29-11-1986 | Slough Town | 2-3 | Worthing | League | | - | Report |
| 27-11-1986 | Slough Town | 2-2 | Cheltenham Town | General Motors A Cup | - | - | Report |
| 25-11-1986 | Tooting | 1-0 | Slough Town | FA Trophy | - | - | Report |
| 22-11-1986 | Slough Town | 0-0 | Tooting | FA Trophy | - | - | Report |
| 18-11-1986 | Bognor Regis Town | 0-1 | Slough Town | FA Cup | - | - | Report |
| 15-11-1986 | Slough Town | 1-1 | Bognor Regis Town | FA Cup | | - | Report |
| 04-11-1986 | Slough Town | 3-1 | Windsor & Eton | League | - | - | Report |
| 28-10-1986 | Dover Athletic | 2-3 | Slough Town | FA Cup | | - | Report |
| 25-10-1986 | Slough Town | 1-1 | Dover Athletic | FA Cup | - | - | Report |
| 18-10-1986 | Hayes | 1-4 | Slough Town | League | - | - | Report |
| 11-10-1986 | Slough Town | 0-3 | Wycombe Wanderers | League | - | - | Report |
| 07-10-1986 | Hitchin Town | 0-2 | Slough Town | League | - | - | Report |
| 04-10-1986 | Dulwich Hamlet | 0-3 | Slough Town | League | - | - | Report |
| 23-09-1986 | Slough Town | 2-1 | Ware | AC Delco Cup | - | - | Report |
| 20-09-1986 | Hendon | 0-4 | Slough Town | League | - | - | Report |
| 13-09-1986 | Slough Town | 1-1 | Bognor Regis Town | League | - | - | Report |
| 06-09-1986 | Croydon | 1-1 | Slough Town | League | - | - | Report |
| 02-09-1986 | Windsor & Eton | 3-1 | Slough Town | League | - | - | Report |
| 30-08-1986 | Slough Town | 2-0 | Kingstonian | League | - | - | Report |
| 26-08-1986 | Slough Town | 5-2 | Wokingham Town | League | | - | Report |
| 23-08-1986 | Bishop's Stortford | 2-1 | Slough Town | League | - | - | Report |
| 03-05-1986 | Kingstonian | 1-1 | Slough Town | League | - | - | Report |
| 01-05-1986 | Slough Town | 2-3 | Yeovil Town | League | - | - | Report |
| 29-04-1986 | Slough Town | 1-4 | Hendon | League | - | - | Report |
| 26-04-1986 | Worthing | 2-1 | Slough Town | League | - | - | Report |
| 19-04-1986 | Slough Town | 1-0 | Walthamstow | League | - | - | Report |
| 17-04-1986 | Slough Town | 3-1 | Worthing | League | - | - | Report |
| 15-04-1986 | Billericay Town | 2-3 | Slough Town | League | - | - | Report |
| 12-04-1986 | Hitchin Town | 0-1 | Slough Town | League | - | - | Report |
| 09-04-1986 | Yeovil Town | 3-4 | Slough Town | League | | - | Report |
| 05-04-1986 | Slough Town | 1-0 | Bishop's Stortford | League | - | - | Report |
| 03-04-1986 | Slough Town | 1-2 | Hitchin Town | League | - | - | Report |
| 31-03-1986 | Walthamstow | 1-2 | Slough Town | League | | - | Report |
| 29-03-1986 | Epsom | 2-1 | Slough Town | League | - | - | Report |
| 27-03-1986 | Slough Town | 0-1 | Sutton United | League | - | - | Report |
| 25-03-1986 | Slough Town | 4-3 | Billericay Town | League | | - | Report |
| 22-03-1986 | Slough Town | 1-2 | Dulwich Hamlet | League | - | - | Report |
| 18-03-1986 | Bishop's Stortford | 0-3 | Slough Town | League | | - | Report |
| 11-03-1986 | Slough Town | 4-1 | Tooting | League | | - | Report |
| 01-02-1986 | Slough Town | 2-3 | Farnborough Town | League | - | - | Report |
| 28-01-1986 | Harrow Borough | 4-2 | Slough Town | League | - | - | Report |
| 25-01-1986 | Bognor Regis Town | 3-0 | Slough Town | League | - | - | Report |
| 21-01-1986 | Slough Town | 4-4 | Epsom | League | - | - | Report |
| 18-01-1986 | Slough Town | 1-2 | Kettering Town | FA Trophy | - | - | Report |
| 13-01-1986 | Slough Town | 0-2 | Hayes | League | - | - | Report |
| 11-01-1986 | Carshalton Ath | 1-1 | Slough Town | League | - | - | Report |
| 07-01-1986 | Barking | 4-3 | Slough Town | League | | - | Report |
| 01-01-1986 | Slough Town | 1-1 | Wokingham Town | League | - | - | Report |
| 26-12-1985 | Windsor & Eton | 0-0 | Slough Town | League | - | - | Report |
| 21-12-1985 | Slough Town | 1-0 | Tilbury | FA Trophy | - | - | Report |
| 14-12-1985 | Wokingham Town | 4-0 | Slough Town | League | - | - | Report |
| 10-12-1985 | Slough Town | 2-3 | Orient | FA Cup | | - | Report |
| 07-12-1985 | Orient | 2-2 | Slough Town | FA Cup | - | - | Report |
| 03-12-1985 | Slough Town | 0-2 | Carshalton Ath | AC Delco Cup | - | - | Report |
| 30-11-1985 | Slough Town | 1-0 | Bromley | FA Trophy | - | - | Report |
| 26-11-1985 | Carshalton Ath | 2-2 | Slough Town | AC Delco Cup | - | - | Report |
| 23-11-1985 | Sutton United | 4-1 | Slough Town | League | - | - | Report |
| 19-11-1985 | Aylesbury United | 2-5 | Slough Town | FA Cup | | - | Report |
| 16-11-1985 | Slough Town | 2-2 | Aylesbury United | FA Cup | | - | Report |
| 12-11-1985 | Windsor & Eton | 3-1 | Slough Town | B&B Senior Cup | - | - | Report |
| 09-11-1985 | Slough Town | 3-2 | Kingstonian | League | - | - | Report |
| 06-11-1985 | Slough Town | 0-0 | Harrow Borough | League | - | - | Report |
| 04-11-1985 | Slough Town | 2-1 | Kingstonian | FA Cup | - | - | Report |
| 02-11-1985 | Slough Town | 2-1 | Reading | B&B Senior Cup | | - | Report |
| 29-10-1985 | Kingstonian | 1-1 | Slough Town | FA Cup | - | - | Report |
| 26-10-1985 | Slough Town | 2-2 | Kingstonian | FA Cup | | - | Report |
| 22-10-1985 | Slough Town | 3-1 | Bromley | AC Delco Cup | - | - | Report |
| 19-10-1985 | Hendon | 1-1 | Slough Town | League | - | - | Report |
| 15-10-1985 | Slough Town | 2-1 | Welling United | FA Cup | - | - | Report |
| 12-10-1985 | Welling United | 0-0 | Slough Town | FA Cup | - | - | Report |
| 05-10-1985 | Croydon | 1-0 | Slough Town | League | - | - | Report |
| 28-09-1985 | Woking | 1-5 | Slough Town | FA Cup | | - | Report |
| 24-09-1985 | Slough Town | 3-1 | Windsor & Eton | League | - | - | Report |
| 21-09-1985 | Farnborough Town | 2-1 | Slough Town | League | - | - | Report |
| 14-09-1985 | Slough Town | 1-0 | Bognor Regis Town | League | - | - | Report |
| 07-09-1985 | Merstham | 0-4 | Slough Town | FA Cup | - | - | Report |
| 03-09-1985 | Hayes | 0-1 | Slough Town | League | - | - | Report |
| 31-08-1985 | Slough Town | 2-1 | Carshalton Ath | League | - | - | Report |
| 27-08-1985 | Slough Town | 0-0 | Croydon | League | - | - | Report |
| 24-08-1985 | Tooting | 2-3 | Slough Town | League | - | - | Report |
| 23-04-1985 | Sutton United | 1-1 | Slough Town | League | - | - | Report |
| 20-04-1985 | Slough Town | 4-1 | Walthamstow | League | | - | Report |
| 16-04-1985 | Barking | 2-2 | Slough Town | League | - | - | Report |
| 13-04-1985 | Slough Town | 0-2 | Worthing | League | - | - | Report |
| 06-04-1985 | Epsom | 2-2 | Slough Town | League | - | - | Report |
| 30-03-1985 | Slough Town | 0-0 | Hayes | League | - | - | Report |
| 27-03-1985 | Slough Town | 3-2 | Billericay Town | League | - | - | Report |
| 23-03-1985 | Slough Town | 1-3 | Carshalton Ath | League | - | - | Report |
| 16-03-1985 | Dulwich Hamlet | 4-1 | Slough Town | League | - | - | Report |
| 12-03-1985 | Windsor & Eton | 1-1 | Slough Town | League | | - | Report |
| 09-03-1985 | Slough Town | 3-1 | Sutton United | League | | - | Report |
| 05-03-1985 | Slough Town | 2-2 | Wycombe Wanderers | League | - | - | Report |
| 02-03-1985 | Bognor Regis Town | 3-2 | Slough Town | League | - | - | Report |
| 23-02-1985 | Slough Town | 0-0 | Hendon | League | - | - | Report |
| 09-02-1985 | Walthamstow | 1-1 | Slough Town | League | - | - | Report |
| 02-02-1985 | Slough Town | 3-1 | Tooting | League | | - | Report |
| 28-01-1985 | Harrow Borough | 2-0 | Slough Town | FA Trophy | - | - | Report |
| 26-01-1985 | Wokingham Town | 3-2 | Slough Town | League | - | - | Report |
| 21-01-1985 | Slough Town | 1-1 | Harrow Borough | FA Trophy | - | - | Report |
| 05-01-1985 | Slough Town | 3-0 | Hitchin Town | League | | - | Report |
| 01-01-1985 | Hendon | 1-2 | Slough Town | League | - | - | Report |
| 29-12-1984 | Tooting | 1-4 | Slough Town | League | - | - | Report |
| 26-12-1984 | Slough Town | 0-3 | Windsor & Eton | League | - | - | Report |
| 18-12-1984 | Hitchin Town | 1-1 | Slough Town | League | - | - | Report |
| 15-12-1984 | Slough Town | 2-1 | Aylesbury United | FA Trophy | | - | Report |
| 08-12-1984 | Bishop's Stortford | 3-1 | Slough Town | League | - | - | Report |
| 04-12-1984 | Slough Town | 1-1 | Leytonstone Ilford | League | - | - | Report |
| 01-12-1984 | Worthing | 3-2 | Slough Town | League | - | - | Report |
| 27-11-1984 | Harlow Town | 3-1 | Slough Town | League | - | - | Report |
| 24-11-1984 | Slough Town | 0-0 | Dulwich Hamlet | League | - | - | Report |
| 17-11-1984 | Slough Town | 3-1 | Croydon | League | | - | Report |
| 13-11-1984 | Aylesbury United | 1-0 | Slough Town | B&B Senior Cup | - | - | Report |
| 10-11-1984 | Harrow Borough | 3-1 | Slough Town | League | - | - | Report |
| 06-11-1984 | Wycombe Wanderers | 3-1 | Slough Town | League | - | - | Report |
| 03-11-1984 | Slough Town | 3-1 | Harlow Town | League | - | - | Report |
| 27-10-1984 | Slough Town | 3-2 | Thatcham Town | B&B Senior Cup | - | - | Report |
| 20-10-1984 | Slough Town | 2-1 | Barking | League | - | - | Report |
| 13-10-1984 | Chippenham Town | 1-0 | Slough Town | FA Cup | - | - | Report |
| 09-10-1984 | Slough Town | 0-1 | Staines Town | Hennessey Cup | - | - | Report |
| 06-10-1984 | Billericay Town | 4-1 | Slough Town | League | - | - | Report |
| 02-10-1984 | Hayes | 2-1 | Slough Town | League | - | - | Report |
| 29-09-1984 | Slough Town | 2-0 | Fareham | FA Cup | - | - | Report |
| 15-09-1984 | Newbury Town | 1-5 | Slough Town | FA Cup | | - | Report |
| 11-09-1984 | Slough Town | 0-1 | Bognor Regis Town | League | - | - | Report |
| 08-09-1984 | Croydon | 2-1 | Slough Town | League | - | - | Report |
| 04-09-1984 | Carshalton Ath | 4-3 | Slough Town | League | - | - | Report |
| 01-09-1984 | Slough Town | 1-1 | Bishop's Stortford | League | - | - | Report |
| 28-08-1984 | Slough Town | 3-1 | Harrow Borough | League | - | - | Report |
| 25-08-1984 | Leytonstone Ilford | 0-2 | Slough Town | League | | - | Report |
| 23-04-1984 | Wycombe Wanderers | 1-2 | Slough Town | League | - | - | Report |
| 21-04-1984 | Slough Town | 2-2 | Harlow Town | League | | - | Report |
| 17-04-1984 | Barking | 1-0 | Slough Town | League | - | - | Report |
| 14-04-1984 | Harlow Town | 3-2 | Slough Town | League | - | - | Report |
| 10-04-1984 | Slough Town | 2-4 | Dulwich Hamlet | League | - | - | Report |
| 05-04-1984 | Slough Town | 1-0 | Tooting | League | - | - | Report |
| 17-03-1984 | Slough Town | 2-0 | Walthamstow | League | | - | Report |
| 13-03-1984 | Leytonstone Ilford | 0-2 | Slough Town | League | - | - | Report |
| 10-03-1984 | Hendon | 0-1 | Slough Town | League | - | - | Report |
| 06-03-1984 | Slough Town | 3-2 | Bognor Regis Town | League | - | - | Report |
| 03-03-1984 | Harrow Borough | 1-0 | Slough Town | League | - | - | Report |
| 25-02-1984 | Slough Town | 0-0 | Bromley | League | - | - | Report |
| 18-02-1984 | Croydon | 2-2 | Slough Town | League | - | - | Report |
| 11-02-1984 | Slough Town | 2-0 | Billericay Town | League | | - | Report |
| 17-01-1984 | Slough Town | 3-4 | Dulwich Hamlet | FA Trophy | - | - | Report |
| 10-01-1984 | Slough Town | 0-2 | Wokingham Town | League | - | - | Report |
| 31-12-1983 | Slough Town | 2-1 | Carshalton Ath | League | | - | Report |
| 26-12-1983 | Slough Town | 3-0 | Wycombe Wanderers | League | - | - | Report |
| 20-12-1983 | Hitchin Town | 1-1 | Slough Town | League | - | - | Report |
| 17-12-1983 | Sutton United | 2-0 | Slough Town | League | - | - | Report |
| 13-12-1983 | Slough Town | 1-2 | Staines Town | League | - | - | Report |
| 06-12-1983 | Hayes | 2-1 | Slough Town | League | - | - | Report |
| 03-12-1983 | Tooting | 3-0 | Slough Town | League | - | - | Report |
| 26-11-1983 | Slough Town | 0-2 | Harrow Borough | League | - | - | Report |
| 19-11-1983 | Bognor Regis Town | 2-2 | Slough Town | League | - | - | Report |
| 15-11-1983 | Worthing | 2-1 | Slough Town | League | | - | Report |
| 12-11-1983 | Slough Town | 5-1 | Croydon | League | - | - | Report |
| 08-11-1983 | Dulwich Hamlet | 4-6 | Slough Town | League | | - | Report |
| 05-11-1983 | Bromley | 3-3 | Slough Town | League | | - | Report |
| 01-11-1983 | Carshalton Ath | 1-2 | Slough Town | League | - | - | Report |
| 29-10-1983 | Poole Town | 3-0 | Slough Town | FA Cup | - | - | Report |
| 22-10-1983 | Slough Town | 3-1 | Hendon | League | - | - | Report |
| 18-10-1983 | Slough Town | 2-1 | Wolverton | B&B Senior Cup | | - | Report |
| 15-10-1983 | Slough Town | 3-2 | Hampton | FA Cup | | - | Report |
| 11-10-1983 | Wokingham Town | 0-0 | Slough Town | League | - | - | Report |
| 08-10-1983 | Walthamstow | 0-2 | Slough Town | League | - | - | Report |
| 04-10-1983 | Slough Town | 5-1 | Hitchin Town | League | | - | Report |
| 01-10-1983 | Whyteleafe | 0-5 | Slough Town | FA Cup | | - | Report |
| 27-09-1983 | Clapton | 1-0 | Slough Town | Hennessey Cup | - | - | Report |
| 24-09-1983 | Slough Town | 1-0 | Sutton United | League | - | - | Report |
| 17-09-1983 | Hounslow | 0-3 | Slough Town | FA Cup | - | - | Report |
| 13-09-1983 | Slough Town | 1-0 | Hayes | League | - | - | Report |
| 10-09-1983 | Billericay Town | 0-3 | Slough Town | League | | - | Report |
| 06-09-1983 | Slough Town | 2-4 | Worthing | League | | - | Report |
| 03-09-1983 | Slough Town | 2-1 | Leytonstone Ilford | League | | - | Report |
| 29-08-1983 | Tilbury | 0-4 | Slough Town | Hennessey Cup | | - | Report |
| 27-08-1983 | Bishop's Stortford | 2-1 | Slough Town | League | - | - | Report |
| 23-08-1983 | Staines Town | 2-3 | Slough Town | League | - | - | Report |
| 20-08-1983 | Slough Town | 1-1 | Barking | League | - | - | Report |
| 30-04-1983 | Dulwich Hamlet | 1-0 | Slough Town | League | - | - | Report |
| 26-04-1983 | Sutton United | 0-2 | Slough Town | League | - | - | Report |
| 19-04-1983 | Slough Town | 1-2 | Bromley | League | - | - | Report |
| 16-04-1983 | Croydon | 1-1 | Slough Town | League | - | - | Report |
| 14-04-1983 | Slough Town | 6-0 | Sutton United | League | | - | Report |
| 11-04-1983 | Bognor Regis Town | 2-0 | Slough Town | League | - | - | Report |
| 09-04-1983 | Slough Town | 1-1 | Barking | League | - | - | Report |
| 05-04-1983 | Slough Town | 2-3 | Wycombe Wanderers | League | - | - | Report |
| 02-04-1983 | Slough Town | 1-0 | Leytonstone Ilford | League | - | - | Report |
| 29-03-1983 | Tooting | 2-1 | Slough Town | League | - | - | Report |
| 26-03-1983 | Hitchin Town | 1-3 | Slough Town | League | - | - | Report |
| 19-03-1983 | Slough Town | 0-1 | Hayes | League | - | - | Report |
| 15-03-1983 | Slough Town | 4-0 | Carshalton Ath | League | - | - | Report |
| 12-03-1983 | Bromley | 0-0 | Slough Town | League | - | - | Report |
| 08-03-1983 | Billericay Town | 0-0 | Slough Town | League | - | - | Report |
| 26-02-1983 | Bishop's Stortford | 0-0 | Slough Town | League | - | - | Report |
| 19-02-1983 | Slough Town | 7-2 | Walthamstow | League | | - | Report |
| 08-02-1983 | Slough Town | 1-1 | Staines Town | League | - | - | Report |
| 29-01-1983 | Slough Town | 0-0 | Croydon | League | - | - | Report |
| 22-01-1983 | Slough Town | 3-0 | Woking | League | | - | Report |
| 15-01-1983 | Slough Town | 0-1 | Dagenham | FA Trophy | - | - | Report |
| 08-01-1983 | Harrow Borough | 1-0 | Slough Town | League | - | - | Report |
| 01-01-1983 | Wokingham Town | 0-2 | Slough Town | League | - | - | Report |
| 27-12-1982 | Slough Town | 0-1 | Wokingham Town | League | - | - | Report |
| 21-12-1982 | Slough Town | 1-1 | Hitchin Town | League | - | - | Report |
| 11-12-1982 | Slough Town | 1-4 | Bishop's Stortford | FA Cup | - | - | Report |
| 20-11-1982 | Slough Town | 1-0 | Millwall | FA Cup | - | - | Report |
| 16-11-1982 | Hungerford Town | 3-1 | Slough Town | B&B Senior Cup | - | - | Report |
| 13-11-1982 | Barking | 1-1 | Slough Town | League | | - | Report |
| 09-11-1982 | Slough Town | 5-1 | Leatherhead | League | - | - | Report |
| 06-11-1982 | Hayes | 2-1 | Slough Town | League | - | - | Report |
| 02-11-1982 | Hendon | 3-0 | Slough Town | League | - | - | Report |
| 30-10-1982 | Slough Town | 7-1 | Bideford | FA Cup | | - | Report |
| 23-10-1982 | Slough Town | 0-0 | Dulwich Hamlet | League | - | - | Report |
| 19-10-1982 | Staines Town | 0-2 | Slough Town | League | - | - | Report |
| 16-10-1982 | Slough Town | 3-0 | Frome Town | FA Cup | - | - | Report |
| 12-10-1982 | Slough Town | 2-0 | Bognor Regis Town | League | | - | Report |
| 09-10-1982 | Walthamstow | 0-1 | Slough Town | League | | - | Report |
| 05-10-1982 | Slough Town | 2-0 | Basingstoke Town | FA Cup | - | - | Report |
| 02-10-1982 | Basingstoke Town | 2-2 | Slough Town | FA Cup | - | - | Report |
| 28-09-1982 | Slough Town | 2-1 | Aylesbury United | B&B Senior Cup | - | - | Report |
| 25-09-1982 | Woking | 1-1 | Slough Town | League | - | - | Report |
| 18-09-1982 | Slough Town | 2-0 | Salisbury City | FA Cup | | - | Report |
| 14-09-1982 | Leatherhead | 0-1 | Slough Town | League | - | - | Report |
| 11-09-1982 | Slough Town | 5-0 | Tooting | League | - | - | Report |
| 04-09-1982 | Slough Town | 2-0 | Bishop's Stortford | League | - | - | Report |
| 30-08-1982 | Tooting | 1-0 | Slough Town | Hennessey Cup | - | - | Report |
| 28-08-1982 | Slough Town | 4-2 | Harrow Borough | League | - | - | Report |
| 24-08-1982 | Slough Town | 6-0 | Hendon | League | - | - | Report |
| 21-08-1982 | Slough Town | 2-1 | Billericay Town | League | - | - | Report |
| 01-05-1982 | Tooting | 3-0 | Slough Town | League | - | - | Report |
| 24-04-1982 | Bromley | 4-0 | Slough Town | League | - | - | Report |
| 20-04-1982 | Slough Town | 0-2 | Hendon | League | - | - | Report |
| 17-04-1982 | Leytonstone Ilford | 2-1 | Slough Town | League | - | - | Report |
| 15-04-1982 | Slough Town | 2-0 | Sutton United | League | - | - | Report |
| 10-04-1982 | Harlow Town | 1-1 | Slough Town | League | - | - | Report |
| 03-04-1982 | Slough Town | 1-0 | Staines Town | League | - | - | Report |
| 01-04-1982 | Bishop's Stortford | 1-2 | Slough Town | League | - | - | Report |
| 30-03-1982 | Slough Town | 3-2 | Carshalton Ath | League | - | - | Report |
| 27-03-1982 | Walthamstow | 4-1 | Slough Town | League | - | - | Report |
| 20-03-1982 | Slough Town | 4-1 | Walthamstow | League | - | - | Report |
| 16-03-1982 | Wycombe Wanderers | 3-2 | Slough Town | League | - | - | Report |
| 13-03-1982 | Slough Town | 0-1 | Billericay Town | League | - | - | Report |
| 06-03-1982 | Slough Town | 0-1 | Hungerford Town | B&B Senior Cup | - | - | Report |
| 02-03-1982 | Slough Town | 1-2 | Scarborough | FA Trophy | - | - | Report |
| 27-02-1982 | Scarborough | 1-1 | Slough Town | FA Trophy | - | - | Report |
| 16-02-1982 | Slough Town | 4-1 | Hayes | League | | - | Report |
| 13-02-1982 | Slough Town | 2-0 | Harlow Town | League | - | - | Report |
| 08-02-1982 | Harrow Borough | 2-2 | Slough Town | League | | - | Report |
| 06-02-1982 | Slough Town | 1-0 | Rossendale | FA Trophy | - | - | Report |
| 02-02-1982 | Slough Town | 2-0 | Aylesbury United | B&B Senior Cup | - | - | Report |
| 30-01-1982 | Barking | 0-0 | Slough Town | League | - | - | Report |
| 26-01-1982 | Aylesbury United | 0-0 | Slough Town | B&B Senior Cup | - | - | Report |
| 23-01-1982 | Slough Town | 0-0 | Croydon | League | - | - | Report |
| 05-01-1982 | Slough Town | 2-3 | Wycombe Wanderers | Hennessey Cup | - | - | Report |
| 02-01-1982 | Staines Town | 2-4 | Slough Town | League | - | - | Report |
| 05-12-1981 | Billericay Town | 0-1 | Slough Town | League | - | - | Report |
| 28-11-1981 | Slough Town | 0-1 | Dulwich Hamlet | League | - | - | Report |
| 24-11-1981 | Slough Town | 6-0 | Didcot Town | B&B Senior Cup | | - | Report |
| 21-11-1981 | Dulwich Hamlet | 2-4 | Slough Town | League | - | - | Report |
| 17-11-1981 | Hendon | 0-0 | Slough Town | League | - | - | Report |
| 14-11-1981 | Slough Town | 4-0 | Bishop's Stortford | League | - | - | Report |
| 07-11-1981 | Slough Town | 0-3 | Hitchin Town | League | - | - | Report |
| 03-11-1981 | Hayes | 2-1 | Slough Town | League | - | - | Report |
| 31-10-1981 | Sutton United | 2-1 | Slough Town | League | - | - | Report |
| 27-10-1981 | Slough Town | 3-3 | Wycombe Wanderers | League | - | - | Report |
| 24-10-1981 | Slough Town | 1-0 | Leatherhead | League | - | - | Report |
| 20-10-1981 | Woking | 1-1 | Slough Town | League | | - | Report |
| 17-10-1981 | Croydon | 1-1 | Slough Town | League | - | - | Report |
| 13-10-1981 | Slough Town | 3-2 | Boreham Wood | League | | - | Report |
| 10-10-1981 | Slough Town | 1-0 | Leytonstone Ilford | League | - | - | Report |
| 06-10-1981 | Leatherhead | 0-0 | Slough Town | League | - | - | Report |
| 03-10-1981 | Slough Town | 1-5 | Wokingham Town | FA Cup | - | - | Report |
| 29-09-1981 | Slough Town | 3-0 | Windsor & Eton | Hennessey Cup | - | - | Report |
| 22-09-1981 | Slough Town | 1-1 | Harrow Borough | League | - | - | Report |
| 19-09-1981 | Slough Town | 2-1 | Chalfont St Peter | FA Cup | - | - | Report |
| 15-09-1981 | Hitchin Town | 0-4 | Slough Town | League | - | - | Report |
| 12-09-1981 | Slough Town | 1-3 | Bromley | League | - | - | Report |
| 08-09-1981 | Slough Town | 4-2 | Wootton BC | FA Cup | | - | Report |
| 05-09-1981 | Wootton BC | 2-2 | Slough Town | FA Cup | | - | Report |
| 31-08-1981 | Harwich | 0-1 | Slough Town | Hennessey Cup | - | - | Report |
| 29-08-1981 | Slough Town | 0-0 | Barking | League | - | - | Report |
| 25-08-1981 | Boreham Wood | 1-1 | Slough Town | League | - | - | Report |
| 22-08-1981 | Slough Town | 5-2 | Tooting | League | - | - | Report |
| 18-08-1981 | Slough Town | 0-0 | Woking | League | - | - | Report |
| 15-08-1981 | Carshalton Ath | 1-2 | Slough Town | League | - | - | Report |
| 08-08-1981 | Slough Town | 1-3 | Wycombe Wanderers | Drinkwise Trophy | - | - | Report |
| 07-05-1981 | Sutton United | 1-2 | Slough Town | League | - | - | Report |
| 04-05-1981 | Walthamstow | 2-4 | Slough Town | Isthmian Lge Cup | | - | Report |
| 28-04-1981 | Slough Town | 3-2 | Sutton United | League | - | - | Report |
| 25-04-1981 | Slough Town | 6-0 | Carshalton Ath | League | | - | Report |
| 22-04-1981 | Slough Town | 3-0 | Walthamstow | League | - | - | Report |
| 20-04-1981 | Milton Keynes City | 0-2 | Slough Town | B&B Senior Cup | - | - | Report |
| 18-04-1981 | Slough Town | 1-2 | Hendon | League | - | - | Report |
| 14-04-1981 | Hitchin Town | 1-0 | Slough Town | League | - | - | Report |
| 11-04-1981 | Enfield | 0-0 | Slough Town | League | - | - | Report |
| 04-04-1981 | Slough Town | 4-0 | Croydon | League | - | - | Report |
| 31-03-1981 | Slough Town | 2-1 | Bishop's Stortford | Isthmian Lge Cup | - | - | Report |
| 28-03-1981 | Slough Town | 0-0 | Enfield | League | - | - | Report |
| 24-03-1981 | Bishop's Stortford | 1-1 | Slough Town | Isthmian Lge Cup | - | - | Report |
| 21-03-1981 | Slough Town | 2-1 | Aylesbury United | B&B Senior Cup | - | - | Report |
| 07-03-1981 | Hendon | 1-1 | Slough Town | League | - | - | Report |
| 28-02-1981 | Tooting | 2-1 | Slough Town | League | | - | Report |
| 21-02-1981 | Barking | 1-1 | Slough Town | League | | - | Report |
| 17-02-1981 | Slough Town | 1-0 | Enfield | Isthmian Lge Cup | - | - | Report |
| 14-02-1981 | Slough Town | 5-1 | Dulwich Hamlet | League | | - | Report |
| 07-02-1981 | Leatherhead | 0-2 | Slough Town | League | | - | Report |
| 31-01-1981 | Didcot Town | 1-3 | Slough Town | B&B Senior Cup | - | - | Report |
| 24-01-1981 | Dagenham | 0-2 | Slough Town | League | - | - | Report |
| 17-01-1981 | Harlow Town | 1-1 | Slough Town | League | - | - | Report |
| 13-12-1980 | Slough Town | 2-1 | Bromley | League | - | - | Report |
| 09-12-1980 | Leytonstone Ilford | 3-3 | Slough Town | League | | - | Report |
| 06-12-1980 | Slough Town | 1-0 | Barking | League | | - | Report |
| 22-11-1980 | Croydon | 1-1 | Slough Town | League | - | - | Report |
| 18-11-1980 | Slough Town | 3-1 | Barton Rovers | Isthmian Lge Cup | - | - | Report |
| 11-11-1980 | Woking | 2-0 | Slough Town | League | - | - | Report |
| 08-11-1980 | Slough Town | 1-0 | Leatherhead | League | - | - | Report |
| 03-11-1980 | Harrow Borough | 2-0 | Slough Town | League | - | - | Report |
| 01-11-1980 | Walthamstow | 0-2 | Slough Town | League | - | - | Report |
| 28-10-1980 | Slough Town | 3-0 | Hayes | League | - | - | Report |
| 25-10-1980 | Dulwich Hamlet | 0-1 | Slough Town | League | - | - | Report |
| 21-10-1980 | Staines Town | 0-2 | Slough Town | League | - | - | Report |
| 18-10-1980 | Slough Town | 0-1 | Barton Rovers | FA Cup | - | - | Report |
| 11-10-1980 | Slough Town | 2-0 | Wantage Town | B&B Senior Cup | - | - | Report |
| 04-10-1980 | Hounslow | 1-3 | Slough Town | FA Cup | - | - | Report |
| 30-09-1980 | Slough Town | 0-0 | Hitchin Town | League | - | - | Report |
| 27-09-1980 | Slough Town | 2-1 | Leytonstone Ilford | League | - | - | Report |
| 20-09-1980 | Slough Town | 2-1 | Tooting | League | - | - | Report |
| 06-09-1980 | Slough Town | 2-2 | Harlow Town | League | - | - | Report |
| 02-09-1980 | Slough Town | 1-0 | Harrow Borough | League | - | - | Report |
| 30-08-1980 | Bromley | 1-1 | Slough Town | League | - | - | Report |
| 25-08-1980 | Slough Town | 2-1 | Horsham | Isthmian Lge Cup | - | - | Report |
| 23-08-1980 | Carshalton Ath | 0-3 | Slough Town | League | - | - | Report |
| 19-08-1980 | Hayes | 0-0 | Slough Town | League | - | - | Report |
| 16-08-1980 | Slough Town | 3-3 | Dagenham | League | - | - | Report |