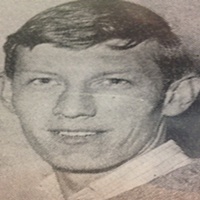 Position:
Defender
Bio
Centre Half. One of the all-time greats of Slough Town's footballing history.
Another local lad who has graduated through District League football. John, came back to the Rebels at the age of 22 after a very successful season with Coopers, having joined the Premier Division side after only three matches with Slough Town as a goalkeeper.
John decided that he got no enjoyment out of playing in goal, although at one time it seemed that his future was "between the sticks".
After making a solitary appearance as a left half at the end of season 1962/63 had a brief, unsuccessful, spell as first team goalkeeper at the beginning of the following season.
After deciding that keeping goal was not his forte, returned in summer 1964 to become a commanding and inspirational centre half and eventually captain for the next five seasons.
Left for Wycombe Wanderers in summer 1969 in order to further his ambition to win an Amateur International Cap, which he duly did, playing 17 times for England.
Made 25 Football League appearances for Bournemouth during season 1973/74. Subsequently played for Hayes and Sutton United.
After leaving St. Ethelbert's School when lie was 15, John Joined Q.P.R., having impressed in the District Schools XI - under Bob Gibbs-and seemed likely to make soccer his career.
Unfortunately things did not work out as John had hoped, and after a season-and-a-half with the London Club, he left.
Back in Slough John played for the Black Horse in the District League and then had a couple of seasons with Horlicks before Slough and Coopers. He also plays Sunday football for the Naval Club.
John came to the Dolphin at the start of this season as a right-half, but because Wilks was unavailable for the first two matches, John Delaney played at centre-half - and he has never looked back.
He has improved with, every match and looks like keeping his place for a long time to come. John was a humourist himself. He waxed eloquently about beer in a straight glass and not in tankards. "Don't forget," he said, "to tell the supporters what a fantastic lot they are, worth a goal a game!"
True to character had he turned "pro", he would have liked it to have been Hartlepool. John was a store man by trade.
Mens
| First Appearance | Appearances | First Goal | Goals |
| --- | --- | --- | --- |
| 15-05-1963 vs Windsor & Eton | 243 | 24-10-1964 vs Chalfont St Peter | 52 |
History
| Match Date | Home | Score | Away | Competition | Goals | Cards | |
| --- | --- | --- | --- | --- | --- | --- | --- |
| 18-05-1969 | Windsor & Eton | 1-1 | Slough Town | Windsor Hosp. | | | Match report |
| 09-05-1969 | Slough Town | 0-2 | Wokingham Town | Unknown Cup | | | Match report |
| 07-05-1969 | Slough Town | 3-1 | Hayes | Premier Midweek FL | | | Match report |
| 03-05-1969 | Hayes | 1-0 | Slough Town | League | | | Match report |
| 30-04-1969 | Slough Town | 2-1 | Dagenham | League | | | Match report |
| 25-04-1969 | Walton & Hersham | 0-3 | Slough Town | League | | | Match report |
| 19-04-1969 | Hounslow | 2-3 | Slough Town | League | | | Match report |
| 15-04-1969 | Hayes | 1-1 | Slough Town | Premier Midweek FL | | | Match report |
| 12-04-1969 | Slough Town | 3-0 | Wembley | League | | | Match report |
| 07-04-1969 | Slough Town | 0-1 | Wokingham Town | B&B Senior Cup | | | Match report |
| 31-03-1969 | Hillingdon | 2-0 | Slough Town | Premier Midweek FL | | | Match report |
| 29-03-1969 | Bishop's Stortford | 1-3 | Slough Town | League | | | Match report |
| 24-03-1969 | Slough Town | 0-0 | St Albans City | Premier Midweek FL | | | Match report |
| 22-03-1969 | Slough Town | 2-2 | Walton & Hersham | League | | | Match report |
| 19-03-1969 | Slough Town | 3-0 | Redhill | League | | | Match report |
| 15-03-1969 | Wolverton | 2-3 | Slough Town | B&B Senior Cup | | | Match report |
| 08-03-1969 | Slough Town | 2-0 | Hornchurch | League | | | Match report |
| 05-03-1969 | Slough Town | 6-1 | Finchley | Premier Midweek FL | | | Match report |
| 25-02-1969 | Chesham United | 2-3 | Slough Town | Premier Midweek FL | | | Match report |
| 18-02-1969 | Cheshunt | 1-4 | Slough Town | League | | | Match report |
| 08-02-1969 | Marlow | 0-1 | Slough Town | B&B Senior Cup | | | Match report |
| 04-02-1969 | Hemel Hempstead Town | 1-4 | Slough Town | Premier Midweek FL | | | Match report |
| 01-02-1969 | Whitley Bay | 3-2 | Slough Town | FA Amateur Cup | | | Match report |
| 25-01-1969 | Wembley | 0-1 | Slough Town | League | | | Match report |
| 18-01-1969 | Slough Town | 2-1 | Grays Athletic | League | | | Match report |
| 11-01-1969 | Slough Town | 4-0 | Hitchin Town | FA Amateur Cup | | | Match report |
| 04-01-1969 | Slough Town | 1-0 | Bishop's Stortford | League | | | Match report |
| 26-11-1968 | Finchley | 0-4 | Slough Town | Premier Midweek FL | | | Match report |
| 23-11-1968 | Redhill | 1-4 | Slough Town | League | | | Match report |
| 20-11-1968 | Slough Town | 1-1 | Chesham United | Premier Midweek FL | | | Match report |
| 18-11-1968 | Woking | 2-0 | Slough Town | Wycombe Floodlit Lge. | | | Match report |
| 16-11-1968 | Slough Town | 3-1 | Leatherhead | League | | | Match report |
| 09-11-1968 | Finchley | 1-1 | Slough Town | League | | | Match report |
| 06-11-1968 | Wealdstone | 2-0 | Slough Town | FA Cup | | | Match report |
| 02-11-1968 | Slough Town | 1-1 | Wealdstone | FA Cup | | | Match report |
| 23-10-1968 | Slough Town | 4-2 | Hemel Hempstead Town | Premier Midweek FL | | | Match report |
| 19-10-1968 | Slough Town | 2-0 | Bishop's Stortford | FA Cup | | | Match report |
| 12-10-1968 | Dagenham | 3-2 | Slough Town | League | | | Match report |
| 09-10-1968 | Slough Town | 2-1 | Hillingdon | Premier Midweek FL | | | Match report |
| 05-10-1968 | Slough Town | 2-1 | Hendon | FA Cup | | | Match report |
| 28-09-1968 | Grays Athletic | 2-4 | Slough Town | League | | | Match report |
| 21-09-1968 | Slough Town | 2-1 | Feltham | FA Cup | | | Match report |
| 14-08-1968 | Slough Town | 1-2 | Wycombe Wanderers | Windsor Hosp. | | | Match report |
| 10-08-1968 | Slough Town | 0-0 | Dagenham | Mithras Cup | | | Match report |
| 07-05-1968 | Hornchurch | 2-4 | Slough Town | Mithras Cup | | | Match report |
| 04-05-1968 | Slough Town | 4-2 | Leyton | League | | | Match report |
| 01-05-1968 | Dagenham | 2-1 | Slough Town | League | | | Match report |
| 27-04-1968 | Leatherhead | 0-0 | Slough Town | League | | | Match report |
| 24-04-1968 | Slough Town | 4-1 | Hornchurch | Mithras Cup | | | Match report |
| 19-04-1968 | Slough Town | 4-0 | Bishop's Stortford | League | | | Match report |
| 15-04-1968 | Wycombe Wanderers | 3-2 | Slough Town | B&B Senior Cup | | | Match report |
| 06-04-1968 | Aylesbury United | 0-1 | Slough Town | B&B Senior Cup | | | Match report |
| 04-04-1968 | Guildford City | 3-1 | Slough Town | Premier Midweek FL | | | Match report |
| 30-03-1968 | Chesham United | 0-2 | Slough Town | B&B Senior Cup | | | Match report |
| 26-03-1968 | Maidenhead United | 0-2 | Slough Town | Wycombe Floodlit Lge. | | | Match report |
| 23-03-1968 | Slough Town | 0-0 | Chesham United | B&B Senior Cup | | | Match report |
| 18-03-1968 | Slough Town | 3-1 | Redhill | League | | | Match report |
| 16-03-1968 | Hemel Hempstead Town | 0-2 | Slough Town | League | | | Match report |
| 11-03-1968 | Slough Town | 1-1 | Dagenham | League | | | Match report |
| 09-03-1968 | Slough Town | 3-1 | Leatherhead | League | | | Match report |
| 06-03-1968 | Slough Town | 3-0 | Hertford Town | Mithras Cup | | | Match report |
| 04-03-1968 | Slough Town | 2-0 | Wycombe Wanderers | Wycombe Floodlit Lge. | | | Match report |
| 02-03-1968 | Slough Town | 7-0 | Hemel Hempstead Town | League | | | Match report |
| 24-02-1968 | Hayes | 0-2 | Slough Town | League | | | Match report |
| 17-02-1968 | Sutton United | 1-0 | Slough Town | FA Amateur Cup | | | Match report |
| 10-02-1968 | Slough Town | 1-1 | Sutton United | FA Amateur Cup | | | Match report |
| 03-02-1968 | West Auckland | 1-3 | Slough Town | FA Amateur Cup | | | Match report |
| 27-01-1968 | Marlow | 0-4 | Slough Town | B&B Senior Cup | | | Match report |
| 22-01-1968 | Wokingham Town | 0-3 | Slough Town | Wycombe Floodlit Lge. | | | Match report |
| 20-01-1968 | Slough Town | 3-2 | Finchley | FA Amateur Cup | | | Match report |
| 06-01-1968 | Slough Town | 1-2 | Hounslow | League | | | Match report |
| 03-01-1968 | Slough Town | 5-2 | Horsham | Mithras Cup | | | Match report |
| 30-12-1967 | Slough Town | 4-0 | Maidenhead United | League | | | Match report |
| 26-12-1967 | Maidenhead United | 0-4 | Slough Town | League | | | Match report |
| 22-12-1967 | Slough Town | 5-2 | Southall | Wycombe Floodlit Lge. | | | Match report |
| 18-12-1967 | Wycombe Wanderers | 1-5 | Slough Town | Wycombe Floodlit Lge. | | | Match report |
| 16-12-1967 | Slough Town | 4-1 | Hoddesdon | FA Amateur Cup | | | Match report |
| 04-12-1967 | Slough Town | 3-0 | Woking | Wycombe Floodlit Lge. | | | Match report |
| 02-12-1967 | Harwich | 1-3 | Slough Town | League | | | Match report |
| 29-11-1967 | Slough Town | 2-0 | Tooting | Premier Midweek FL | | | Match report |
| 22-11-1967 | Slough Town | 7-1 | Crawley Town | Premier Midweek FL | | | Match report |
| 11-11-1967 | Hornchurch | 0-1 | Slough Town | League | | | Match report |
| 04-11-1967 | Slough Town | 9-1 | Southall | League | | | Match report |
| 01-11-1967 | Leytonstone | 2-1 | Slough Town | FA Cup | | | Match report |
| 28-10-1967 | Slough Town | 2-2 | Leytonstone | FA Cup | | | Match report |
| 21-10-1967 | Finchley | 1-2 | Slough Town | League | | | Match report |
| 17-10-1967 | Southall | 1-1 | Slough Town | Premier Midweek FL | | | Match report |
| 14-10-1967 | Slough Town | 5-1 | Bishop's Stortford | FA Cup | | | Match report |
| 07-10-1967 | Leyton | 0-4 | Slough Town | League | | | Match report |
| 03-10-1967 | Horsham | 2-2 | Slough Town | Premier Midweek FL | | | Match report |
| 30-09-1967 | Slough Town | 3-0 | Hertford Town | FA Cup | | | Match report |
| 23-09-1967 | Hounslow | 1-3 | Slough Town | League | | | Match report |
| 16-09-1967 | Slough Town | 3-0 | Corinthian Casuals | FA Cup | | | Match report |
| 09-09-1967 | Slough Town | 3-0 | Walton & Hersham | League | | | Match report |
| 06-09-1967 | Slough Town | 2-0 | Hayes | League | | | Match report |
| 02-09-1967 | Grays Athletic | 1-4 | Slough Town | League | | | Match report |
| 28-08-1967 | Redhill | 3-3 | Slough Town | League | | | Match report |
| 26-08-1967 | Slough Town | 6-2 | Harwich | League | | | Match report |
| 23-08-1967 | Slough Town | 2-2 | Finchley | League | | | Match report |
| 19-08-1967 | Bishop's Stortford | 1-2 | Slough Town | League | | | Match report |
| 17-05-1967 | Slough Town | 1-0 | Hendon | Benevolent Fund | | | Match report |
| 07-05-1967 | Windsor & Eton | 1-1 | Slough Town | Windsor Hosp. | | | Match report |
| 29-04-1967 | Grays Athletic | 4-1 | Slough Town | League | | | Match report |
| 27-04-1967 | Wycombe Wanderers | 1-0 | Slough Town | Wycombe Floodlit League | | | Match report |
| 22-04-1967 | Dagenham | 1-0 | Slough Town | League | | | Match report |
| 19-04-1967 | Slough Town | 0-0 | Hemel Hempstead Town | League | | | Match report |
| 15-04-1967 | Harwich | 1-5 | Slough Town | League | | | Match report |
| 06-04-1967 | Oxford City | 6-1 | Slough Town | Wycombe Floodlit League | | | Match report |
| 04-04-1967 | Walton & Hersham | 1-2 | Slough Town | League | | | Match report |
| 01-04-1967 | Slough Town | 2-1 | Harwich | League | | | Match report |
| 27-03-1967 | Leyton | 2-0 | Slough Town | League | | | Match report |
| 25-03-1967 | Slough Town | 0-2 | Dagenham | League | | | Match report |
| 22-03-1967 | Edgware | 1-4 | Slough Town | League | | | Match report |
| 18-03-1967 | Worthing | 0-4 | Slough Town | League | | | Match report |
| 14-03-1967 | Leatherhead | 1-0 | Slough Town | League | | | Match report |
| 08-03-1967 | Hemel Hempstead Town | 1-0 | Slough Town | League | | | Match report |
| 04-03-1967 | Skelmersdale | 1-0 | Slough Town | FA Amateur Cup | | | Match report |
| 25-02-1967 | Slough Town | 2-2 | Skelmersdale | FA Amateur Cup | | | Match report |
| 18-02-1967 | Chesham United | 2-1 | Slough Town | B&B Senior Cup | | | Match report |
| 11-02-1967 | Southall | 0-1 | Slough Town | FA Amateur Cup | | | Match report |
| 28-01-1967 | Harwich | 0-2 | Slough Town | FA Amateur Cup | | | Match report |
| 21-01-1967 | Hitchin Town | 1-3 | Slough Town | FA Amateur Cup | | | Match report |
| 18-01-1967 | Slough Town | 1-1 | Finchley | League | | | Match report |
| 14-01-1967 | Slough Town | 1-1 | Hitchin Town | FA Amateur Cup | | | Match report |
| 31-12-1966 | Maidenhead United | 1-1 | Slough Town | League | | | Match report |
| 26-12-1966 | Slough Town | 4-5 | Maidenhead United | League | | | Match report |
| 17-12-1966 | Witney | 0-4 | Slough Town | FA Amateur Cup | | | Match report |
| 13-12-1966 | Maidenhead United | 2-0 | Slough Town | Mithras Cup | | | Match report |
| 03-12-1966 | Hayes | 0-1 | Slough Town | League | | | Match report |
| 26-11-1966 | Slough Town | 6-0 | Hounslow | League | | | Match report |
| 19-11-1966 | Bishop's Stortford | 0-2 | Slough Town | League | | | Match report |
| 14-11-1966 | Slough Town | 0-1 | Maidenhead United | Mithras Cup | | | Match report |
| 12-11-1966 | Slough Town | 1-1 | Grays Athletic | League | | | Match report |
| 05-11-1966 | Marlow | 1-2 | Slough Town | FA Amateur Cup | | | Match report |
| 29-10-1966 | Slough Town | 7-0 | Hazells | FA Amateur Cup | | | Match report |
| 22-10-1966 | Hazells | 2-2 | Slough Town | FA Amateur Cup | | | Match report |
| 15-10-1966 | Slough Town | 4-1 | Bishop's Stortford | League | | | Match report |
| 08-10-1966 | Bracknell Town | 0-4 | Slough Town | FA Amateur Cup | | | Match report |
| 03-10-1966 | Slough Town | 1-4 | Wycombe Wanderers | Wycombe Floodlit League | | | Match report |
| 01-10-1966 | Finchley | 3-2 | Slough Town | FA Cup | | | Match report |
| 24-09-1966 | Hounslow | 2-0 | Slough Town | League | | | Match report |
| 17-09-1966 | Clapton | 0-2 | Slough Town | FA Cup | | | Match report |
| 10-09-1966 | Slough Town | 3-2 | Hayes | League | | | Match report |
| 03-09-1966 | Slough Town | 2-0 | Dagenham | FA Cup | | | Match report |
| 29-08-1966 | Slough Town | 3-1 | Walton & Hersham | League | | | Match report |
| 27-08-1966 | Finchley | 1-0 | Slough Town | League | | | Match report |
| 23-08-1966 | Southall | 2-0 | Slough Town | League | | | Match report |
| 20-08-1966 | Slough Town | 3-2 | Leyton | League | | | Match report |
| 22-05-1966 | Windsor & Eton | 1-2 | Slough Town | Windsor Hosp. | | | Match report |
| 19-05-1966 | Slough Town | 3-0 | Maidenhead United | Wycombe Floodlit League | | | Match report |
| 11-05-1966 | Slough Town | 2-1 | Reading | Wycombe Floodlit League | | | Match report |
| 09-05-1966 | Reading | 2-0 | Slough Town | Wycombe Floodlit League | | | Match report |
| 04-05-1966 | Slough Town | 0-1 | Leatherhead | League | | | Match report |
| 26-04-1966 | Finchley | 4-0 | Slough Town | League | | | Match report |
| 23-04-1966 | Slough Town | 5-0 | Hornchurch | League | | | Match report |
| 20-04-1966 | Edgware | 0-0 | Slough Town | League | | | Match report |
| 11-04-1966 | Walton & Hersham | 2-2 | Slough Town | League | | | Match report |
| 02-04-1966 | Slough Town | 1-1 | Grays Athletic | League | | | Match report |
| 28-03-1966 | Slough Town | 1-2 | Wycombe Wanderers | Wycombe Floodlit League | | | Match report |
| 26-03-1966 | Maidenhead United | 3-1 | Slough Town | League | | | Match report |
| 19-03-1966 | Leatherhead | 1-1 | Slough Town | League | | | Match report |
| 12-03-1966 | Slough Town | 3-2 | Hayes | League | | | Match report |
| 05-03-1966 | Leyton | 2-1 | Slough Town | League | | | Match report |
| 02-03-1966 | Slough Town | 2-1 | Hemel Hempstead Town | League | | | Match report |
| 26-02-1966 | Slough Town | 2-0 | Leyton | League | | | Match report |
| 19-02-1966 | Slough Town | 3-0 | Worthing | League | | | Match report |
| 05-02-1966 | Slough Town | 3-4 | Maidenhead United | B&B Senior Cup | | | Match report |
| 29-01-1966 | Hemel Hempstead Town | 2-3 | Slough Town | League | | | Match report |
| 22-01-1966 | Hounslow | 4-3 | Slough Town | League | | | Match report |
| 08-01-1966 | Slough Town | 1-2 | Maidenhead United | League | | | Match report |
| 01-01-1966 | Southall | 1-0 | Slough Town | League | | | Match report |
| 21-12-1965 | Wycombe Wanderers | 0-2 | Slough Town | Wycombe Floodlit League | | | Match report |
| 18-12-1965 | Slough Town | 10-0 | Carshalton Ath | League | | | Match report |
| 04-12-1965 | Hayes | 1-2 | Slough Town | League | | | Match report |
| 27-11-1965 | Slough Town | 1-2 | Hemel Hempstead Town | FA Amateur Cup | | | Match report |
| 13-11-1965 | Slough Town | 3-0 | Walton & Hersham | League | | | Match report |
| 08-11-1965 | Slough Town | 2-1 | Oxford City | Mithras Cup | | | Match report |
| 06-11-1965 | Chalfont St Peter | 0-1 | Slough Town | FA Amateur Cup | | | Match report |
| 30-10-1965 | Slough Town | 0-3 | Hounslow | League | | | Match report |
| 27-10-1965 | Oxford City | 6-1 | Slough Town | Mithras Cup | | | Match report |
| 23-10-1965 | Wokingham Town | 0-3 | Slough Town | FA Amateur Cup | | | Match report |
| 19-10-1965 | Maidenhead United | 1-1 | Slough Town | Wycombe Floodlit League | | | Match report |
| 16-10-1965 | Slough Town | 0-1 | Finchley | League | | | Match report |
| 09-10-1965 | Wolverton | 0-4 | Slough Town | FA Amateur Cup | | | Match report |
| 02-10-1965 | Slough Town | 1-3 | Dagenham | League | | | Match report |
| 25-09-1965 | Hornchurch | 2-2 | Slough Town | League | | | Match report |
| 18-09-1965 | Slough Town | 0-1 | Metropolitan Police | FA Cup | | | Match report |
| 11-09-1965 | Grays Athletic | 2-1 | Slough Town | League | | | Match report |
| 04-09-1965 | Slough Town | 5-3 | Wembley | FA Cup | | | Match report |
| 30-08-1965 | Worthing | 3-2 | Slough Town | League | | | Match report |
| 28-08-1965 | Slough Town | 6-0 | Edgware | League | | | Match report |
| 26-08-1965 | Slough Town | 5-1 | Southall | League | | | Match report |
| 21-08-1965 | Carshalton Ath | 3-6 | Slough Town | League | | | Match report |
| 06-05-1965 | Slough Town | 1-2 | Chalfont St Peter | Benevolent Cup | | | Match report |
| 01-05-1965 | Slough Town | 5-0 | Eastbourne | League | | | Match report |
| 29-04-1965 | Tilbury | 1-1 | Slough Town | League | | | Match report |
| 27-04-1965 | Letchworth | 2-0 | Slough Town | League | | | Match report |
| 24-04-1965 | Slough Town | 4-0 | Dorking | League | | | Match report |
| 21-04-1965 | Slough Town | 3-3 | Harrow Town | League | | | Match report |
| 19-04-1965 | Chesham United | 4-2 | Slough Town | B&B Senior Cup | | | Match report |
| 17-04-1965 | Horsham | 1-3 | Slough Town | League | | | Match report |
| 16-04-1965 | Hemel Hempstead Town | 0-1 | Slough Town | League | | | Match report |
| 14-04-1965 | Slough Town | 1-0 | Letchworth | League | | | Match report |
| 10-04-1965 | Slough Town | 7-2 | Horsham | Memorial Shield | | | Match report |
| 07-04-1965 | Slough Town | 2-0 | Hertford Town | League | | | Match report |
| 03-04-1965 | Horsham | 1-0 | Slough Town | Memorial Shield | | | Match report |
| 31-03-1965 | Slough Town | 3-2 | Uxbridge | League | | | Match report |
| 29-03-1965 | Dorking | 0-3 | Slough Town | League | | | Match report |
| 20-03-1965 | Erith | 1-1 | Slough Town | League | | | Match report |
| 13-03-1965 | Windsor & Eton | 2-3 | Slough Town | B&B Senior Cup | | | Match report |
| 27-02-1965 | Slough Town | 6-1 | Hertford Town | Memorial Shield | | | Match report |
| 20-02-1965 | Harlow Town | 0-2 | Slough Town | League | | | Match report |
| 13-02-1965 | Slough Town | 2-1 | Chesham United | Memorial Shield | | | Match report |
| 06-02-1965 | Hazells | 2-3 | Slough Town | B&B Senior Cup | | | Match report |
| 30-01-1965 | Eastbourne | 1-1 | Slough Town | League | | | Match report |
| 23-01-1965 | Wembley | 0-2 | Slough Town | League | | | Match report |
| 16-01-1965 | Slough Town | 2-1 | Chalfont St Peter | B&B Senior Cup | | | Match report |
| 09-01-1965 | Slough Town | 7-0 | Harlow Town | League | | | Match report |
| 02-01-1965 | Slough Town | 1-0 | Chesham United | League | | | Match report |
| 26-12-1964 | Chesham United | 2-2 | Slough Town | League | | | Match report |
| 19-12-1964 | Hertford Town | 2-1 | Slough Town | League | | | Match report |
| 12-12-1964 | Slough Town | 4-0 | Hemel Hempstead Town | League | | | Match report |
| 05-12-1964 | Epsom & Ewell | 2-4 | Slough Town | League | | | Match report |
| 28-11-1964 | Slough Town | 3-0 | Wokingham Town | League | | | Match report |
| 21-11-1964 | Letchworth | 2-5 | Slough Town | Memorial Shield | | | Match report |
| 07-11-1964 | Slough Town | 5-1 | Horsham | League | | | Match report |
| 31-10-1964 | Slough Town | 4-0 | Wembley | League | | | Match report |
| 24-10-1964 | Chalfont St Peter | 2-1 | Slough Town | FA Amateur Cup | | | Match report |
| 17-10-1964 | Hendon | 3-1 | Slough Town | FA Cup | | | Match report |
| 10-10-1964 | Slough Town | 5-0 | Huntley & Palmers | FA Amateur Cup | | | Match report |
| 03-10-1964 | Epsom & Ewell | 0-1 | Slough Town | FA Cup | | | Match report |
| 26-09-1964 | Slough Town | 14-1 | Hungerford Town | FA Amateur Cup | | | Match report |
| 19-09-1964 | Slough Town | 2-0 | Carshalton Ath | FA Cup | | | Match report |
| 12-09-1964 | Slough Town | 4-0 | Tilbury | League | | | Match report |
| 05-09-1964 | Slough Town | 4-1 | Metropolitan Police | FA Cup | | | Match report |
| 03-09-1964 | Uxbridge | 2-0 | Slough Town | League | | | Match report |
| 29-08-1964 | Harrow Town | 0-2 | Slough Town | League | | | Match report |
| 27-08-1964 | Wokingham Town | 1-1 | Slough Town | League | | | Match report |
| 22-08-1964 | Slough Town | 7-1 | Erith | League | | | Match report |
| 31-08-1963 | Slough Town | 1-2 | Erith | League | | | Match report |
| 27-08-1963 | Slough Town | 6-1 | Windsor & Eton | S. Comb. Cup | | | Match report |
| 24-08-1963 | Leatherhead | 4-1 | Slough Town | League | | | Match report |
| 15-05-1963 | Windsor & Eton | 3-0 | Slough Town | Benevolent Cup | | | Match report |
Slough Town FC is not responsible for content produced on external websites | Copyright Slough Town FC 2023