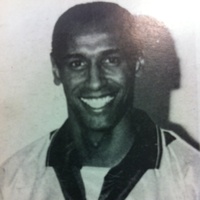 Position:
Defender
Bio
Goalscoring defender who signed from Marlow.
Joined the club for their promotion winning season from the Isthmian Premier division scoring a number of goals in the process. Had two spells with Slough and also represented Woking, Burnham and Windsor & Eton.
Scored a hat-trick within eight minutes as Slough hosted Yeading in 1994.
Mens
| First Appearance | Appearances | First Goal | Goals |
| --- | --- | --- | --- |
| 25-08-1984 vs Leytonstone Ilford | 97 | 16-10-1984 vs Wokingham Town | 17 |
History
| Match Date | Home | Score | Away | Competition | Goals | Cards | |
| --- | --- | --- | --- | --- | --- | --- | --- |
| 17-02-1996 | Slough Town | 1-2 | Kettering Town | League | | | Match report |
| 13-02-1996 | Kettering Town | 2-0 | Slough Town | Isthmian Lge Sub. Cup | | | Match report |
| 10-02-1996 | Slough Town | 1-2 | Kettering Town | FA Trophy | | | Match report |
| 03-02-1996 | Slough Town | 1-2 | Telford Utd | League | | | Match report |
| 30-01-1996 | Reading | 3-2 | Slough Town | B&B Senior Cup | | | Match report |
| 23-01-1996 | Slough Town | 4-3 | Farnborough Town | FA Trophy | | | Match report |
| 20-01-1996 | Farnborough Town | 1-1 | Slough Town | FA Trophy | | | Match report |
| 13-01-1996 | Altrincham | 0-1 | Slough Town | League | | | Match report |
| 06-01-1996 | Slough Town | 1-2 | Gateshead | League | | | Match report |
| 01-01-1996 | Stevenage Borough | 3-1 | Slough Town | League | | | Match report |
| 16-12-1995 | Slough Town | 3-0 | Woking | Isthmian Lge Sub. Cup | | | Match report |
| 09-12-1995 | Slough Town | 2-3 | Halifax Town | League | | | Match report |
| 02-12-1995 | Stalybridge Celtic | 0-1 | Slough Town | League | | | Match report |
| 25-11-1995 | Slough Town | 1-1 | Northwich Victoria | League | | | Match report |
| 20-11-1995 | Dagenham & R. | 1-3 | Slough Town | League | | | Match report |
| 18-11-1995 | Slough Town | 2-3 | Woking | League | | | Match report |
| 11-11-1995 | Slough Town | 0-2 | Plymouth Argyle | FA Cup | | | Match report |
| 04-11-1995 | Gateshead | 2-1 | Slough Town | League | | | Match report |
| 31-10-1995 | Slough Town | 1-1 | Farnborough Town | League | | | Match report |
| 28-10-1995 | Telford Utd | 2-0 | Slough Town | League | | | Match report |
| 21-10-1995 | Yeading | 0-2 | Slough Town | FA Cup | | | Match report |
| 14-10-1995 | Slough Town | 2-2 | Macclesfield Town | League | | | Match report |
| 07-10-1995 | Kettering Town | 2-0 | Slough Town | League | | | Match report |
| 03-10-1995 | Slough Town | 3-0 | Dagenham & R. | Isthmian Lge Sub. Cup | | | Match report |
| 30-09-1995 | Slough Town | 0-2 | Hednesford Town | League | | | Match report |
| 26-09-1995 | Dover Athletic | 0-1 | Slough Town | League | | | Match report |
| 23-09-1995 | Slough Town | 2-3 | Bromsgrove Rovers | League | | | Match report |
| 18-09-1995 | Dagenham & R. | 0-3 | Slough Town | Isthmian Lge Sub. Cup | | | Match report |
| 16-09-1995 | Slough Town | 1-2 | Altrincham | League | | | Match report |
| 12-09-1995 | Slough Town | 3-2 | Dover Athletic | League | | | Match report |
| 09-09-1995 | Runcorn | 4-3 | Slough Town | League | | | Match report |
| 02-09-1995 | Morecambe | 1-2 | Slough Town | League | | | Match report |
| 28-08-1995 | Slough Town | 5-4 | Kidderminster Harriers | League | | | Match report |
| 26-08-1995 | Halifax Town | 1-2 | Slough Town | League | | | Match report |
| 22-08-1995 | Welling United | 0-3 | Slough Town | League | | | Match report |
| 19-08-1995 | Slough Town | 2-5 | Southport | League | | | Match report |
| 08-05-1995 | Aylesbury United | 1-1 | Slough Town | Ryman League Cup | | | Match report |
| 04-05-1995 | Slough Town | 1-4 | Enfield | League | | | Match report |
| 02-05-1995 | Reading | 1-0 | Slough Town | B&B Senior Cup | | | Match report |
| 29-04-1995 | Molesey | 0-2 | Slough Town | League | | | Match report |
| 27-04-1995 | Sutton United | 1-1 | Slough Town | League | | | Match report |
| 25-04-1995 | Slough Town | 5-2 | Chesham United | League | | | Match report |
| 22-04-1995 | Harrow Borough | 0-3 | Slough Town | League | | | Match report |
| 19-04-1995 | Bromley | 1-1 | Slough Town | League | | | Match report |
| 17-04-1995 | Slough Town | 1-0 | Wokingham Town | League | | | Match report |
| 14-04-1995 | Hitchin Town | 1-0 | Slough Town | League | | | Match report |
| 11-04-1995 | Slough Town | 2-1 | Kingstonian | League | | | Match report |
| 08-04-1995 | Slough Town | 3-1 | Hayes | League | | | Match report |
| 04-04-1995 | Hendon | 1-2 | Slough Town | League | | | Match report |
| 01-04-1995 | Slough Town | 0-0 | Walton & Hersham | League | | | Match report |
| 28-03-1995 | Slough Town | 3-2 | Hitchin Town | League | | | Match report |
| 25-03-1995 | St Albans City | 3-1 | Slough Town | League | | | Match report |
| 21-03-1995 | Marlow | 0-2 | Slough Town | B&B Senior Cup | | | Match report |
| 14-03-1995 | Dulwich Hamlet | 1-2 | Slough Town | Ryman League Cup | | | Match report |
| 11-03-1995 | Slough Town | 1-0 | Bishop's Stortford | League | | | Match report |
| 07-03-1995 | Aylesbury United | 3-3 | Slough Town | League | | | Match report |
| 28-02-1995 | Slough Town | 3-1 | Dulwich Hamlet | League | | | Match report |
| 18-02-1995 | Yeading | 0-0 | Slough Town | League | | | Match report |
| 14-02-1995 | St Albans City | 3-4 | Slough Town | League Cup | | | Match report |
| 09-02-1995 | Slough Town | 2-1 | Wycombe Wanderers | B&B Senior Cup | | | Match report |
| 04-02-1995 | Grays Athletic | 3-3 | Slough Town | League | | | Match report |
| 24-01-1995 | Merthyr Tydfil | 3-2 | Slough Town | FA Trophy | | | Match report |
| 17-01-1995 | Slough Town | 4-0 | Thatcham Town | B&B Senior Cup | | | Match report |
| 14-01-1995 | Slough Town | 4-0 | Marlow | League | | | Match report |
| 10-01-1995 | Chertsey Town | 3-2 | Slough Town | Ryman League Cup | | | Match report |
| 31-12-1994 | Slough Town | 4-1 | Bromley | League | | | Match report |
| 26-12-1994 | Wokingham Town | 2-0 | Slough Town | League | | | Match report |
| 17-12-1994 | Slough Town | 2-4 | Purfleet | League | | | Match report |
| 13-12-1994 | Slough Town | 5-1 | Sutton United | League Cup | | | Match report |
| 10-12-1994 | Carshalton Ath | 1-3 | Slough Town | League | | | Match report |
| 03-12-1994 | Slough Town | 3-1 | Molesey | League | | | Match report |
| 29-11-1994 | Worthing | 3-6 | Slough Town | League Cup | | | Match report |
| 26-11-1994 | Hayes | 3-1 | Slough Town | League | | | Match report |
| 19-11-1994 | Slough Town | 1-1 | Harrow Borough | League | | | Match report |
| 12-11-1994 | Slough Town | 0-4 | Birmingham City | FA Cup | | | Match report |
| 22-10-1994 | Stafford Rangers | 0-4 | Slough Town | FA Cup | | | Match report |
| 15-10-1994 | Enfield | 0-1 | Slough Town | League | | | Match report |
| 08-10-1994 | Bishop's Stortford | 2-2 | Slough Town | League | | | Match report |
| 01-10-1994 | Slough Town | 1-1 | Dulwich Hamlet | League | | | Match report |
| 17-09-1994 | Kingstonian | 0-3 | Slough Town | League | | | Match report |
| 10-09-1994 | Slough Town | 3-2 | Sutton United | League | | | Match report |
| 06-09-1994 | Hayes | 0-1 | Slough Town | Ryman League Cup | | | Match report |
| 03-09-1994 | Slough Town | 5-3 | Yeading | League | | | Match report |
| 29-08-1994 | Purfleet | 3-0 | Slough Town | League | | | Match report |
| 27-08-1994 | Slough Town | 1-0 | Aylesbury United | League | | | Match report |
| 23-08-1994 | Slough Town | 2-0 | Grays Athletic | League | | | Match report |
| 20-08-1994 | Chesham United | 0-1 | Slough Town | League | | | Match report |
| 16-08-1994 | Marlow | 0-2 | Slough Town | League | | | Match report |
| 13-08-1994 | Slough Town | 2-2 | Hendon | League | | | Match report |
| 17-11-1984 | Slough Town | 3-1 | Croydon | League | | | Match report |
| 13-11-1984 | Aylesbury United | 1-0 | Slough Town | B&B Senior Cup | | | Match report |
| 10-11-1984 | Harrow Borough | 3-1 | Slough Town | League | | | Match report |
| 06-11-1984 | Wycombe Wanderers | 3-1 | Slough Town | League | | | Match report |
| 16-10-1984 | Slough Town | 2-4 | Wokingham Town | League | | | Match report |
| 13-10-1984 | Chippenham Town | 1-0 | Slough Town | FA Cup | | | Match report |
| 28-08-1984 | Slough Town | 3-1 | Harrow Borough | League | | | Match report |
| 25-08-1984 | Leytonstone Ilford | 0-2 | Slough Town | League | | | Match report |
Slough Town FC is not responsible for content produced on external websites | Copyright Slough Town FC 2023