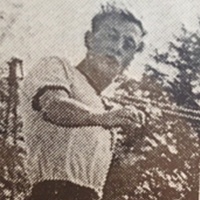 Position:
Forward
Bio
Another product of Slough Grammar School, he began his playing career with Slough Centre and then Coopers Sports.
A lanky striker with a sure eye for goal and good close ball control, he had already established a reputation as a prolific goalscorer for Maidenhead United and Chesham United when he joined Slough in the summer of 1964 from Wycombe Wanderers.
Although not one to relish the more physical aspects of the game, he enjoyed a final season in the sun as partner to Bernie Gogan in the championship winning side of 1964/65, scoring 56 goals in 47 league and cup appearances.
In 1956 he joined Coopers, and after displaying his goalscoring talents with them, was snapped up by Maidenhead.
While with the Magpies he scored over 150 goals in four seasons and attracted the attention of scouts from Tottenham Hotspur.
He left Maidenhead halfway through last season, for Wycombe--and finished up top scorer for both clubs! Whatever you think of Peter as a player you cannot take away the 55 goals he scored for the Rebels in the 54-55 season and the wonderful partnership he struck up with Bernie Gogan. He could appear to be in a world of his own for 90 per cent of a game - and then bang! - quick goals and it was all over.
He once said: "I hate bodily contact in football." His matches for Slough have borne out this statement. He rarely gets involved in hard tackling and we cannot ever remember fouling anyone-certainly not intentionally. When he himself is fouled he always manages a smile and not retaliation. A model for all footballers.
Does his wife like football? "Yes" says Peter-but she's my severest critic. If he keeps banging in the goals, Peter will have few critics at the Dolphin.
Peter could have been considered a lazy player, and shunned bodily contact on the field most of the time, but he came to the Dolphin for a purpose - to score goals. He has done that better than any other Slough player for the previous decade.
He emigrated to Australia soon following leaving the Rebels.
Mens
| First Appearance | Appearances | First Goal | Goals |
| --- | --- | --- | --- |
| 22-08-1964 vs Erith | 52 | 22-08-1964 vs Erith | 59 |
History
| Match Date | Home | Score | Away | Competition | Goals | Cards | |
| --- | --- | --- | --- | --- | --- | --- | --- |
| 02-10-1965 | Slough Town | 1-3 | Dagenham | League | | | Match report |
| 25-09-1965 | Hornchurch | 2-2 | Slough Town | League | | | Match report |
| 18-09-1965 | Slough Town | 0-1 | Metropolitan Police | FA Cup | | | Match report |
| 28-08-1965 | Slough Town | 6-0 | Edgware | League | | | Match report |
| 26-08-1965 | Slough Town | 5-1 | Southall | League | | | Match report |
| 21-08-1965 | Carshalton Ath | 3-6 | Slough Town | League | | | Match report |
| 06-05-1965 | Slough Town | 1-2 | Chalfont St Peter | Benevolent Cup | | | Match report |
| 01-05-1965 | Slough Town | 5-0 | Eastbourne | League | | | Match report |
| 29-04-1965 | Tilbury | 1-1 | Slough Town | League | | | Match report |
| 24-04-1965 | Slough Town | 4-0 | Dorking | League | | | Match report |
| 21-04-1965 | Slough Town | 3-3 | Harrow Town | League | | | Match report |
| 19-04-1965 | Chesham United | 4-2 | Slough Town | B&B Senior Cup | | | Match report |
| 17-04-1965 | Horsham | 1-3 | Slough Town | League | | | Match report |
| 16-04-1965 | Hemel Hempstead Town | 0-1 | Slough Town | League | | | Match report |
| 14-04-1965 | Slough Town | 1-0 | Letchworth | League | | | Match report |
| 10-04-1965 | Slough Town | 7-2 | Horsham | Memorial Shield | | | Match report |
| 07-04-1965 | Slough Town | 2-0 | Hertford Town | League | | | Match report |
| 03-04-1965 | Horsham | 1-0 | Slough Town | Memorial Shield | | | Match report |
| 31-03-1965 | Slough Town | 3-2 | Uxbridge | League | | | Match report |
| 29-03-1965 | Dorking | 0-3 | Slough Town | League | | | Match report |
| 27-03-1965 | Slough Town | 2-1 | Chesham United | Benevolent Cup | | | Match report |
| 20-03-1965 | Erith | 1-1 | Slough Town | League | | | Match report |
| 13-03-1965 | Windsor & Eton | 2-3 | Slough Town | B&B Senior Cup | | | Match report |
| 06-03-1965 | Slough Town | 4-1 | Epsom & Ewell | League | | | Match report |
| 27-02-1965 | Slough Town | 6-1 | Hertford Town | Memorial Shield | | | Match report |
| 20-02-1965 | Harlow Town | 0-2 | Slough Town | League | | | Match report |
| 13-02-1965 | Slough Town | 2-1 | Chesham United | Memorial Shield | | | Match report |
| 06-02-1965 | Hazells | 2-3 | Slough Town | B&B Senior Cup | | | Match report |
| 30-01-1965 | Eastbourne | 1-1 | Slough Town | League | | | Match report |
| 23-01-1965 | Wembley | 0-2 | Slough Town | League | | | Match report |
| 16-01-1965 | Slough Town | 2-1 | Chalfont St Peter | B&B Senior Cup | | | Match report |
| 09-01-1965 | Slough Town | 7-0 | Harlow Town | League | | | Match report |
| 02-01-1965 | Slough Town | 1-0 | Chesham United | League | | | Match report |
| 26-12-1964 | Chesham United | 2-2 | Slough Town | League | | | Match report |
| 12-12-1964 | Slough Town | 4-0 | Hemel Hempstead Town | League | | | Match report |
| 05-12-1964 | Epsom & Ewell | 2-4 | Slough Town | League | | | Match report |
| 28-11-1964 | Slough Town | 3-0 | Wokingham Town | League | | | Match report |
| 21-11-1964 | Letchworth | 2-5 | Slough Town | Memorial Shield | | | Match report |
| 07-11-1964 | Slough Town | 5-1 | Horsham | League | | | Match report |
| 31-10-1964 | Slough Town | 4-0 | Wembley | League | | | Match report |
| 24-10-1964 | Chalfont St Peter | 2-1 | Slough Town | FA Amateur Cup | | | Match report |
| 17-10-1964 | Hendon | 3-1 | Slough Town | FA Cup | | | Match report |
| 10-10-1964 | Slough Town | 5-0 | Huntley & Palmers | FA Amateur Cup | | | Match report |
| 03-10-1964 | Epsom & Ewell | 0-1 | Slough Town | FA Cup | | | Match report |
| 26-09-1964 | Slough Town | 14-1 | Hungerford Town | FA Amateur Cup | | | Match report |
| 19-09-1964 | Slough Town | 2-0 | Carshalton Ath | FA Cup | | | Match report |
| 12-09-1964 | Slough Town | 4-0 | Tilbury | League | | | Match report |
| 05-09-1964 | Slough Town | 4-1 | Metropolitan Police | FA Cup | | | Match report |
| 03-09-1964 | Uxbridge | 2-0 | Slough Town | League | | | Match report |
| 29-08-1964 | Harrow Town | 0-2 | Slough Town | League | | | Match report |
| 27-08-1964 | Wokingham Town | 1-1 | Slough Town | League | | | Match report |
| 22-08-1964 | Slough Town | 7-1 | Erith | League | | | Match report |
Slough Town FC is not responsible for content produced on external websites | Copyright Slough Town FC 2023