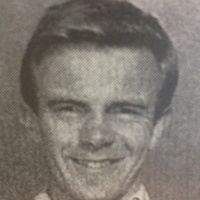 Position:
Defender
Bio
Left back who joined the club as a twenty five year old to link up with his younger brother Roy. Alec first turned out at right-back before having a spell in the Reserves, but since returning to the first team has played consistently well.
Alec, who is a cousin of Les Patterson, has had a chequered career in football. He played for Wealdstone in the Athenian League when he was as only 17 and then joined Yiewsley where he played alongside Ken Clarridge.
When Yiewsley turned professional just over two years ago and joined the Southern League, Alec joined Wembley and became skipper of the first team. He was with them or two seasons until joining Slough.
Like so many of Slough's players, Alec represented his school and played for his District Schools team at Ealing, where he was a centre-forward. Made captain as Bob Gibbs rebuilt the side after the disastrous season 1960-61. Moved on to Southall in October 1964 but returned to the club for season 1965/66.
Married, with three girls and lived in Hanwell. Alex is a telephone engineer. When he manages to take time off to relax he listens to modern jazz.
Mens
| First Appearance | Appearances | First Goal | Goals |
| --- | --- | --- | --- |
| 20-08-1960 vs Epsom | 159 | 20-04-1963 vs Horsham | 1 |
History
| Match Date | Home | Score | Away | Competition | Goals | Cards | |
| --- | --- | --- | --- | --- | --- | --- | --- |
| 07-05-1968 | Hornchurch | 2-4 | Slough Town | Mithras Cup | | | Match report |
| 30-04-1968 | Leatherhead | 7-0 | Slough Town | Premier Midweek FL | | | Match report |
| 17-04-1968 | Slough Town | 1-6 | Southall | Premier Midweek FL | | | Match report |
| 06-04-1967 | Oxford City | 6-1 | Slough Town | Wycombe Floodlit League | | | Match report |
| 13-03-1967 | Slough Town | 2-3 | Wokingham Town | Wycombe Floodlit League | | | Match report |
| 18-10-1966 | Southall | 1-0 | Slough Town | Wycombe Floodlit League | | | Match report |
| 03-09-1964 | Uxbridge | 2-0 | Slough Town | League | | | Match report |
| 29-08-1964 | Harrow Town | 0-2 | Slough Town | League | | | Match report |
| 27-08-1964 | Wokingham Town | 1-1 | Slough Town | League | | | Match report |
| 22-08-1964 | Slough Town | 7-1 | Erith | League | | | Match report |
| 02-05-1964 | Worthing | 5-0 | Slough Town | League | | | Match report |
| 30-04-1964 | Slough Town | 1-0 | Molesey | S. Comb. Cup | | | Match report |
| 25-04-1964 | Slough Town | 3-2 | Wokingham Town | S. Comb. Cup | | | Match report |
| 21-04-1964 | Uxbridge | 1-0 | Slough Town | League | | | Match report |
| 18-04-1964 | Slough Town | 3-2 | Eastbourne | League | | | Match report |
| 15-04-1964 | Slough Town | 1-1 | Edgware | League | | | Match report |
| 11-04-1964 | Slough Town | 3-0 | Horsham | League | | | Match report |
| 08-04-1964 | Slough Town | 1-0 | Wokingham Town | League | | | Match report |
| 04-04-1964 | Wokingham Town | 3-2 | Slough Town | Benevolent Cup | | | Match report |
| 30-03-1964 | Eastbourne | 1-1 | Slough Town | League | | | Match report |
| 28-03-1964 | Dorking | 0-4 | Slough Town | League | | | Match report |
| 21-03-1964 | Slough Town | 3-0 | Letchworth | League | | | Match report |
| 14-03-1964 | Horsham | 1-3 | Slough Town | League | | | Match report |
| 07-03-1964 | Wokingham Town | 2-1 | Slough Town | League | | | Match report |
| 29-02-1964 | Slough Town | 4-2 | Epsom | League | | | Match report |
| 22-02-1964 | Slough Town | 3-1 | Dorking | League | | | Match report |
| 15-02-1964 | Worthing | 4-0 | Slough Town | Memorial Shield | | | Match report |
| 08-02-1964 | Windsor & Eton | 2-0 | Slough Town | B&B Senior Cup | | | Match report |
| 01-02-1964 | Slough Town | 5-0 | Didcot Town | B&B Senior Cup | | | Match report |
| 25-01-1964 | Newbury Town | 0-4 | Slough Town | B&B Senior Cup | | | Match report |
| 11-01-1964 | Slough Town | 2-1 | Chesham United | League | | | Match report |
| 04-01-1964 | Chesham United | 2-1 | Slough Town | League | | | Match report |
| 28-12-1963 | Slough Town | 4-1 | Uxbridge | League | | | Match report |
| 07-12-1963 | Slough Town | 4-2 | Edgware | Memorial Shield | | | Match report |
| 23-11-1963 | Letchworth | 2-1 | Slough Town | League | | | Match report |
| 16-11-1963 | Slough Town | 2-1 | Wembley | League | | | Match report |
| 09-11-1963 | Wokingham Town | 4-1 | Slough Town | FA Amateur Cup | | | Match report |
| 02-11-1963 | Epsom | 1-2 | Slough Town | League | | | Match report |
| 26-10-1963 | Slough Town | 2-0 | Aylesbury United | FA Amateur Cup | | | Match report |
| 19-10-1963 | Erith | 2-1 | Slough Town | League | | | Match report |
| 12-10-1963 | Slough Town | 6-0 | Hungerford Town | FA Amateur Cup | | | Match report |
| 05-10-1963 | Slough Town | 5-1 | Chalfont St Peter | FA Amateur Cup | | | Match report |
| 28-09-1963 | Chalfont St Peter | 1-1 | Slough Town | FA Amateur Cup | | | Match report |
| 21-09-1963 | Edgware | 0-3 | Slough Town | League | | | Match report |
| 14-09-1963 | Slough Town | 3-1 | Worthing | League | | | Match report |
| 07-09-1963 | Epsom | 2-1 | Slough Town | FA Cup | | | Match report |
| 31-08-1963 | Slough Town | 1-2 | Erith | League | | | Match report |
| 27-08-1963 | Slough Town | 6-1 | Windsor & Eton | S. Comb. Cup | | | Match report |
| 24-08-1963 | Leatherhead | 4-1 | Slough Town | League | | | Match report |
| 27-05-1963 | Slough Town | 3-0 | Wokingham Town | S. Comb. Cup | | | Match report |
| 25-05-1963 | Horsham | 2-3 | Slough Town | League | | | Match report |
| 15-05-1963 | Windsor & Eton | 3-0 | Slough Town | Benevolent Cup | | | Match report |
| 11-05-1963 | Slough Town | 1-1 | Windsor & Eton | Benevolent Cup | | | Match report |
| 08-05-1963 | Uxbridge | 1-1 | Slough Town | League | | | Match report |
| 04-05-1963 | Slough Town | 5-0 | Eastbourne | League | | | Match report |
| 27-04-1963 | Letchworth | 4-2 | Slough Town | League | | | Match report |
| 20-04-1963 | Slough Town | 3-0 | Horsham | League | | | Match report |
| 12-04-1963 | Chesham United | 3-0 | Slough Town | Memorial Shield | | | Match report |
| 06-04-1963 | Slough Town | 0-2 | Dorking | League | | | Match report |
| 30-03-1963 | Eastbourne | 2-1 | Slough Town | League | | | Match report |
| 23-03-1963 | Slough Town | 2-4 | Wycombe Wanderers | B&B Senior Cup | | | Match report |
| 16-03-1963 | Epsom | 0-5 | Slough Town | League | | | Match report |
| 09-03-1963 | Slough Town | 3-2 | Edgware | League | | | Match report |
| 02-03-1963 | Slough Town | 4-2 | Wembley | League | | | Match report |
| 23-02-1963 | Slough Town | 2-2 | Worthing | League | | | Match report |
| 26-12-1962 | Slough Town | 1-1 | Maidenhead United | League | | | Match report |
| 22-12-1962 | Maidenhead United | 1-1 | Slough Town | League | | | Match report |
| 15-12-1962 | Edgware | 4-1 | Slough Town | League | | | Match report |
| 08-12-1962 | Slough Town | 5-2 | Erith | League | | | Match report |
| 01-12-1962 | Wembley | 2-3 | Slough Town | League | | | Match report |
| 24-11-1962 | Slough Town | 2-2 | Letchworth | League | | | Match report |
| 17-11-1962 | Slough Town | 2-0 | Epsom | League | | | Match report |
| 03-11-1962 | Dorking | 5-2 | Slough Town | League | | | Match report |
| 27-10-1962 | Erith | 2-2 | Slough Town | League | | | Match report |
| 20-10-1962 | Slough Town | 0-0 | Dagenham | League | | | Match report |
| 13-10-1962 | Dagenham | 2-1 | Slough Town | League | | | Match report |
| 06-10-1962 | Slough Town | 3-1 | Uxbridge | League | | | Match report |
| 22-09-1962 | Slough Town | 0-4 | Tooting | FA Cup | | | Match report |
| 15-09-1962 | Slough Town | 2-1 | Dagenham | Memorial Shield | | | Match report |
| 08-09-1962 | Epsom | 1-3 | Slough Town | FA Cup | | | Match report |
| 05-09-1962 | Slough Town | 4-3 | Molesey | S. Comb. Cup | | | Match report |
| 01-09-1962 | Worthing | 2-2 | Slough Town | League | | | Match report |
| 30-08-1962 | Wokingham Town | 1-0 | Slough Town | League | | | Match report |
| 25-08-1962 | Leatherhead | 3-3 | Slough Town | League | | | Match report |
| 22-08-1962 | Slough Town | 2-1 | Chesham United | League | | | Match report |
| 18-08-1962 | Slough Town | 0-5 | Leatherhead | League | | | Match report |
| 12-05-1962 | Slough Town | 2-1 | Wokingham Town | Benevolent Cup | | | Match report |
| 03-05-1962 | Wembley | 1-4 | Slough Town | League | | | Match report |
| 28-04-1962 | Eastbourne | 2-1 | Slough Town | League | | | Match report |
| 25-04-1962 | Slough Town | 3-1 | Wembley | League | | | Match report |
| 14-04-1962 | Slough Town | 2-0 | Epsom | League | | | Match report |
| 07-04-1962 | Slough Town | 3-2 | Windsor & Eton | Benevolent Cup | | | Match report |
| 31-03-1962 | Epsom | 2-1 | Slough Town | League | | | Match report |
| 24-03-1962 | Windsor & Eton | 0-1 | Slough Town | B&B Senior Cup | | | Match report |
| 17-03-1962 | Slough Town | 0-3 | Edgware | League | | | Match report |
| 10-03-1962 | Slough Town | 2-1 | Letchworth | League | | | Match report |
| 03-03-1962 | Slough Town | 2-0 | Worthing | League | | | Match report |
| 24-02-1962 | Horsham | 3-2 | Slough Town | League | | | Match report |
| 17-02-1962 | Slough Town | 3-0 | Eastbourne | League | | | Match report |
| 10-02-1962 | Slough Town | 2-0 | Newbury Town | B&B Senior Cup | | | Match report |
| 03-02-1962 | Worthing | 4-0 | Slough Town | League | | | Match report |
| 27-01-1962 | Slough Town | 2-0 | Chesham United | Benevolent Cup | | | Match report |
| 20-01-1962 | Leatherhead | 3-0 | Slough Town | Memorial Shield | | | Match report |
| 13-01-1962 | Slough Town | 2-1 | Chesham United | League | | | Match report |
| 06-01-1962 | Uxbridge | 1-0 | Slough Town | League | | | Match report |
| 30-12-1961 | Slough Town | 0-2 | Wokingham Town | League | | | Match report |
| 26-12-1961 | Maidenhead United | 2-0 | Slough Town | League | | | Match report |
| 23-12-1961 | Slough Town | 0-1 | Maidenhead United | League | | | Match report |
| 16-12-1961 | Chesham United | 0-1 | Slough Town | League | | | Match report |
| 25-11-1961 | Slough Town | 3-2 | Leatherhead | League | | | Match report |
| 18-11-1961 | Slough Town | 0-1 | Uxbridge | League | | | Match report |
| 11-11-1961 | Erith | 2-2 | Slough Town | League | | | Match report |
| 04-11-1961 | Slough Town | 1-1 | Horsham | League | | | Match report |
| 21-10-1961 | Dorking | 2-2 | Slough Town | League | | | Match report |
| 07-10-1961 | Dulwich Hamlet | 5-1 | Slough Town | FA Cup | | | Match report |
| 30-09-1961 | Slough Town | 1-2 | Aylesbury United | FA Amateur Cup | | | Match report |
| 23-09-1961 | Slough Town | 2-0 | Redhill | FA Cup | | | Match report |
| 16-09-1961 | Slough Town | 1-0 | Epsom | Memorial Shield | | | Match report |
| 13-09-1961 | Slough Town | 0-3 | Carshalton Ath | S. Comb. Cup | | | Match report |
| 09-09-1961 | Slough Town | 4-1 | Sutton United | FA Cup | | | Match report |
| 02-09-1961 | Dagenham | 3-4 | Slough Town | League | | | Match report |
| 30-08-1961 | Slough Town | 1-1 | Erith | League | | | Match report |
| 26-08-1961 | Slough Town | 3-0 | Dorking | League | | | Match report |
| 22-08-1961 | Wokingham Town | 4-0 | Slough Town | League | | | Match report |
| 19-08-1961 | Leatherhead | 3-1 | Slough Town | League | | | Match report |
| 03-05-1961 | Slough Town | 0-5 | Worthing | League | | | Match report |
| 29-04-1961 | Horsham | 5-2 | Slough Town | League | | | Match report |
| 26-04-1961 | Slough Town | 1-3 | Edgware | League | | | Match report |
| 22-04-1961 | Letchworth | 1-0 | Slough Town | League | | | Match report |
| 17-04-1961 | Slough Town | 0-2 | Windsor & Eton | S. Comb. Cup | | | Match report |
| 15-04-1961 | Eastbourne | 1-1 | Slough Town | League | | | Match report |
| 12-04-1961 | Edgware | 2-2 | Slough Town | League | | | Match report |
| 08-04-1961 | Slough Town | 0-3 | Wokingham Town | League | | | Match report |
| 03-04-1961 | Erith | 4-0 | Slough Town | League | | | Match report |
| 01-04-1961 | Slough Town | 2-1 | Dorking | League | | | Match report |
| 25-03-1961 | Slough Town | 1-2 | Letchworth | League | | | Match report |
| 18-03-1961 | Slough Town | 1-3 | Chesham United | League | | | Match report |
| 11-03-1961 | Uxbridge | 6-0 | Slough Town | League | | | Match report |
| 04-03-1961 | Slough Town | 1-3 | Leatherhead | League | | | Match report |
| 25-02-1961 | Chesham United | 1-2 | Slough Town | B&B Senior Cup | | | Match report |
| 18-02-1961 | Slough Town | 1-3 | Eastbourne | League | | | Match report |
| 11-02-1961 | Leatherhead | 4-2 | Slough Town | League | | | Match report |
| 04-02-1961 | Slough Town | 4-6 | Horsham | League | | | Match report |
| 28-01-1961 | Wolverton | 1-2 | Slough Town | B&B Senior Cup | | | Match report |
| 21-01-1961 | Worthing | 6-5 | Slough Town | League | | | Match report |
| 14-01-1961 | Slough Town | 1-2 | Maidenhead United | Benevolent Cup | | | Match report |
| 07-01-1961 | Slough Town | 5-1 | Aylesbury United | B&B Senior Cup | | | Match report |
| 27-12-1960 | Slough Town | 2-3 | Maidenhead United | League | | | Match report |
| 26-12-1960 | Maidenhead United | 2-0 | Slough Town | League | | | Match report |
| 17-12-1960 | Dorking | 3-1 | Slough Town | League | | | Match report |
| 10-12-1960 | Slough Town | 1-2 | Dagenham | League | | | Match report |
| 03-12-1960 | Chesham United | 4-1 | Slough Town | League | | | Match report |
| 26-11-1960 | Epsom | 5-4 | Slough Town | League | | | Match report |
| 19-11-1960 | Slough Town | 3-7 | Wokingham Town | Memorial Shield | | | Match report |
| 05-11-1960 | Slough Town | 5-1 | Erith | League | | | Match report |
| 29-10-1960 | Slough Town | 1-2 | Uxbridge | League | | | Match report |
| 22-10-1960 | Slough Town | 4-2 | Wokingham Town | S. Comb. Cup | | | Match report |
| 24-08-1960 | Wembley | 6-0 | Slough Town | League | | | Match report |
| 20-08-1960 | Epsom | 1-1 | Slough Town | Memorial Shield | | | Match report |
Slough Town FC is not responsible for content produced on external websites | Copyright Slough Town FC 2023