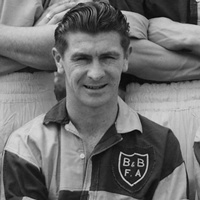 Position:
Midfielder
Bio
Jeremiah 'Jerry' Morley was born in Cork, Ireland. He originally played for Evergreen, who became Cork City.
He moved to Slough in 1949 to earn money to send home. Instead he met his wife Margo and settled down. They lived in St Elmo's Crescent their whole lives.
Jerry was a tool setter at the former Ideal Capsules Ltd factory in Farnham Road and worked there until he retired. Initially he played for Slough Centre, joining Slough Town in 1955, and he made his debut against Epsom. It took him until his third game to score his first goal against Yiewsley.
In 1957/58 Berks and Bucks won the Southern Counties Amateur Championship for the first time since 1924, beating Suffolk at Portman Road, Ipswich, 6-1. Jerry was one of the few players from Slough Town in that side dominated by Wycombe Wanderers. He impressed sufficiently that he was offered a trial for Ipswich by the future England Manager, Sir Alf Ramsey.
After finishing his football career in 1959, Jerry enjoyed travel and devoted the rest of his life to his beloved wife Margo and family of a son and daughter, five grandchildren and seven great-grandchildren.
Jerry scored a total of 67 goals in 157 appearances. He is one of the last of the era of 1950s Slough Town players, sadly he died on 27 April 2018.
Mens
| First Appearance | Appearances | First Goal | Goals |
| --- | --- | --- | --- |
| 20-08-1955 vs Epsom | 157 | 03-09-1955 vs Yiewsley | 67 |
History
| Match Date | Home | Score | Away | Competition | Goals | Cards | |
| --- | --- | --- | --- | --- | --- | --- | --- |
| 17-10-1959 | Slough Town | 1-1 | Eastbourne | League | | | Match report |
| 10-10-1959 | Wembley | 4-2 | Slough Town | League | | | Match report |
| 03-10-1959 | Dorking | 2-3 | Slough Town | League | | | Match report |
| 19-09-1959 | Slough Town | 2-1 | Dorking | League | | | Match report |
| 09-05-1959 | Slough Town | 3-2 | Carshalton Ath | S. Comb. Cup | | | Match report |
| 25-04-1959 | Slough Town | 7-0 | Chesham United | League | | | Match report |
| 20-04-1959 | Slough Town | 5-3 | Redhill | S. Comb. Cup | | | Match report |
| 04-04-1959 | Worthing | 3-4 | Slough Town | League | | | Match report |
| 28-03-1959 | Slough Town | 5-1 | Horsham | League | | | Match report |
| 27-03-1959 | Dorking | 2-2 | Slough Town | League | | | Match report |
| 21-03-1959 | Slough Town | 0-1 | Aylesbury United | Benevolent Cup | | | Match report |
| 14-03-1959 | Slough Town | 0-2 | Erith | League | | | Match report |
| 07-03-1959 | Horsham | 4-2 | Slough Town | League | | | Match report |
| 28-02-1959 | Dagenham | 2-1 | Slough Town | League | | | Match report |
| 21-02-1959 | Slough Town | 3-1 | Dorking | League | | | Match report |
| 14-02-1959 | Slough Town | 3-0 | Eastbourne | League | | | Match report |
| 27-12-1958 | Slough Town | 1-1 | Maidenhead United | League | | | Match report |
| 26-12-1958 | Maidenhead United | 2-1 | Slough Town | League | | | Match report |
| 20-12-1958 | Chesham United | 3-3 | Slough Town | League | | | Match report |
| 13-12-1958 | Slough Town | 3-1 | Wembley | League | | | Match report |
| 22-11-1958 | Leatherhead | 2-2 | Slough Town | League | | | Match report |
| 25-10-1958 | Slough Town | 2-2 | Uxbridge | League | | | Match report |
| 18-10-1958 | Edgware | 1-0 | Slough Town | League | | | Match report |
| 11-10-1958 | Aylesbury United | 2-0 | Slough Town | FA Amateur Cup | | | Match report |
| 04-10-1958 | Slough Town | 6-2 | Worthing | League | | | Match report |
| 27-09-1958 | Stokenchurch | 2-3 | Slough Town | FA Amateur Cup | | | Match report |
| 20-09-1958 | Wokingham Town | 3-2 | Slough Town | FA Cup | | | Match report |
| 13-09-1958 | Epsom | 1-2 | Slough Town | League | | | Match report |
| 06-09-1958 | Slough Town | 2-3 | Leatherhead | League | | | Match report |
| 30-08-1958 | Wembley | 2-3 | Slough Town | League | | | Match report |
| 27-08-1958 | Slough Town | 3-2 | Leatherhead | S. Comb. Cup | | | Match report |
| 23-08-1958 | Slough Town | 4-1 | Epsom | League | | | Match report |
| 07-05-1958 | Slough Town | 3-0 | Wokingham Town | Benevolent Cup | | | Match report |
| 03-05-1958 | Dagenham | 1-2 | Slough Town | League | | | Match report |
| 30-04-1958 | Slough Town | 4-0 | Edgware | League | | | Match report |
| 28-04-1958 | Slough Town | 3-0 | Dorking | League | | | Match report |
| 26-04-1958 | Slough Town | 2-1 | Worthing | League | | | Match report |
| 24-04-1958 | Wembley | 0-1 | Slough Town | League | | | Match report |
| 22-04-1958 | Yiewsley | 2-1 | Slough Town | Memorial Shield | | | Match report |
| 19-04-1958 | Dorking | 0-2 | Slough Town | League | | | Match report |
| 17-04-1958 | Erith | 1-0 | Slough Town | League | | | Match report |
| 07-04-1958 | Uxbridge | 1-1 | Slough Town | League | | | Match report |
| 04-04-1958 | Slough Town | 4-1 | Erith | League | | | Match report |
| 29-03-1958 | Aylesbury United | 3-5 | Slough Town | Benevolent Cup | | | Match report |
| 22-03-1958 | Erith | 1-2 | Slough Town | Memorial Shield | | | Match report |
| 15-03-1958 | Slough Town | 1-1 | Yiewsley | League | | | Match report |
| 08-03-1958 | Maidenhead United | 1-4 | Slough Town | B&B Senior Cup | | | Match report |
| 01-03-1958 | Slough Town | 5-2 | Horsham | League | | | Match report |
| 22-02-1958 | Worthing | 1-5 | Slough Town | Memorial Shield | | | Match report |
| 15-02-1958 | Horsham | 2-3 | Slough Town | League | | | Match report |
| 01-02-1958 | Slough Town | 4-0 | Marlow | B&B Senior Cup | | | Match report |
| 25-01-1958 | Worthing | 1-4 | Slough Town | League | | | Match report |
| 18-01-1958 | Windsor & Eton | 2-3 | Slough Town | Benevolent Cup | | | Match report |
| 11-01-1958 | Slough Town | 3-2 | Epsom | League | | | Match report |
| 04-01-1958 | Grays Athletic | 8-2 | Slough Town | League | | | Match report |
| 28-12-1957 | Maidenhead United | 2-2 | Slough Town | League | | | Match report |
| 26-12-1957 | Slough Town | 6-3 | Maidenhead United | League | | | Match report |
| 21-12-1957 | Slough Town | 2-2 | Grays Athletic | League | | | Match report |
| 14-12-1957 | Edgware | 0-2 | Slough Town | League | | | Match report |
| 07-12-1957 | Slough Town | 4-1 | Edgware | Memorial Shield | | | Match report |
| 30-11-1957 | Eastbourne | 1-1 | Slough Town | League | | | Match report |
| 23-11-1957 | Yiewsley | 2-0 | Slough Town | League | | | Match report |
| 16-11-1957 | Slough Town | 5-1 | Eastbourne | League | | | Match report |
| 02-11-1957 | Wokingham Town | 2-0 | Slough Town | FA Amateur Cup | | | Match report |
| 26-10-1957 | Slough Town | 2-2 | Wokingham Town | FA Amateur Cup | | | Match report |
| 19-10-1957 | Slough Town | 5-2 | Dagenham | League | | | Match report |
| 12-10-1957 | Slough Town | 7-0 | Didcot Town | FA Amateur Cup | | | Match report |
| 05-10-1957 | Slough Town | 2-1 | Uxbridge | League | | | Match report |
| 28-09-1957 | Slough Town | 5-0 | St Frideswides | FA Amateur Cup | | | Match report |
| 21-09-1957 | Slough Town | 1-2 | Oxford City | FA Cup | | | Match report |
| 14-09-1957 | Slough Town | 6-0 | Wolvercote | FA Amateur Cup | | | Match report |
| 07-09-1957 | Slough Town | 5-2 | Witney | FA Cup | | | Match report |
| 04-09-1957 | Slough Town | 4-1 | Chesham United | League | | | Match report |
| 31-08-1957 | Slough Town | 2-3 | Wembley | League | | | Match report |
| 28-08-1957 | Chesham United | 1-1 | Slough Town | League | | | Match report |
| 24-08-1957 | Epsom | 1-3 | Slough Town | League | | | Match report |
| 11-05-1957 | Slough Town | 2-0 | Aylesbury United | Benevolent Cup | | | Match report |
| 04-05-1957 | Slough Town | 1-1 | Eastbourne | League | | | Match report |
| 22-04-1957 | Worthing | 0-1 | Slough Town | League | | | Match report |
| 20-04-1957 | Maidstone United | 5-1 | Slough Town | League | | | Match report |
| 19-04-1957 | Slough Town | 0-0 | Maidstone United | League | | | Match report |
| 13-04-1957 | Dorking | 1-3 | Slough Town | League | | | Match report |
| 06-04-1957 | Slough Town | 2-0 | Chesham United | League | | | Match report |
| 30-03-1957 | Slough Town | 5-0 | Worthing | League | | | Match report |
| 23-03-1957 | Slough Town | 2-1 | Maidenhead United | Benevolent Cup | | | Match report |
| 16-03-1957 | Maidenhead United | 0-3 | Slough Town | B&B Senior Cup | | | Match report |
| 09-03-1957 | Erith | 2-3 | Slough Town | League | | | Match report |
| 02-03-1957 | Slough Town | 2-1 | Erith | League | | | Match report |
| 23-02-1957 | Slough Town | 1-2 | Yiewsley | League | | | Match report |
| 16-02-1957 | Newbury Town | 0-2 | Slough Town | B&B Senior Cup | | | Match report |
| 09-02-1957 | Yiewsley | 2-0 | Slough Town | League | | | Match report |
| 02-02-1957 | Slough Town | 2-5 | Epsom | Memorial Shield | | | Match report |
| 26-01-1957 | Epsom | 1-0 | Slough Town | League | | | Match report |
| 19-01-1957 | Slough Town | 3-1 | Marlow | Benevolent Cup | | | Match report |
| 12-01-1957 | Tilbury | 1-1 | Slough Town | League | | | Match report |
| 05-01-1957 | Epsom | 1-1 | Slough Town | Memorial Shield | | | Match report |
| 29-12-1956 | Slough Town | 6-0 | Tilbury | League | | | Match report |
| 26-12-1956 | Maidenhead United | 5-2 | Slough Town | League | | | Match report |
| 25-12-1956 | Slough Town | 2-2 | Maidenhead United | League | | | Match report |
| 22-12-1956 | Wembley | 3-2 | Slough Town | League | | | Match report |
| 15-12-1956 | Uxbridge | 1-1 | Slough Town | League | | | Match report |
| 08-12-1956 | Grays Athletic | 3-3 | Slough Town | League | | | Match report |
| 01-12-1956 | Slough Town | 2-2 | Grays Athletic | League | | | Match report |
| 24-11-1956 | Slough Town | 0-0 | Wembley | League | | | Match report |
| 17-11-1956 | Eastbourne | 1-0 | Slough Town | League | | | Match report |
| 27-10-1956 | Slough Town | 3-0 | Uxbridge | League | | | Match report |
| 20-10-1956 | Chesham United | 2-1 | Slough Town | FA Amateur Cup | | | Match report |
| 13-10-1956 | Slough Town | 2-2 | Chesham United | FA Amateur Cup | | | Match report |
| 06-10-1956 | Slough Town | 4-3 | Uxbridge | Memorial Shield | | | Match report |
| 29-09-1956 | Stokenchurch | 1-3 | Slough Town | FA Amateur Cup | | | Match report |
| 22-09-1956 | Aylesbury United | 3-0 | Slough Town | FA Cup | | | Match report |
| 15-09-1956 | Slough Town | 3-0 | Windsor & Eton | FA Amateur Cup | | | Match report |
| 08-09-1956 | Chesham United | 2-4 | Slough Town | League | | | Match report |
| 01-09-1956 | Slough Town | 3-3 | Edgware | League | | | Match report |
| 22-08-1956 | Slough Town | 5-0 | Dorking | League | | | Match report |
| 18-08-1956 | Slough Town | 3-2 | Epsom | League | | | Match report |
| 05-05-1956 | Slough Town | 2-0 | Erith | League | | | Match report |
| 28-04-1956 | Slough Town | 5-1 | Eastbourne | League | | | Match report |
| 25-04-1956 | Slough Town | 4-1 | Newbury Town | Benevolent Cup | | | Match report |
| 21-04-1956 | Carshalton Ath | 4-3 | Slough Town | League | | | Match report |
| 14-04-1956 | Slough Town | 4-2 | Worthing | League | | | Match report |
| 07-04-1956 | Worthing | 2-3 | Slough Town | League | | | Match report |
| 02-04-1956 | Grays Athletic | 2-1 | Slough Town | League | | | Match report |
| 31-03-1956 | Maidstone United | 1-1 | Slough Town | League | | | Match report |
| 30-03-1956 | Slough Town | 2-3 | Maidstone United | League | | | Match report |
| 24-03-1956 | Newbury Town | 4-4 | Slough Town | Benevolent Cup | | | Match report |
| 17-03-1956 | Maidenhead United | 1-2 | Slough Town | B&B Senior Cup | | | Match report |
| 10-03-1956 | Edgware | 1-1 | Slough Town | League | | | Match report |
| 03-03-1956 | Slough Town | 2-0 | Slough Centre | B&B Senior Cup | | | Match report |
| 25-02-1956 | Slough Town | 1-1 | Slough Centre | B&B Senior Cup | | | Match report |
| 18-02-1956 | Slough Centre | 1-1 | Slough Town | B&B Senior Cup | | | Match report |
| 11-02-1956 | Slough Town | 4-3 | Maidenhead United | Benevolent Cup | | | Match report |
| 28-01-1956 | Maidenhead United | 2-2 | Slough Town | Benevolent Cup | | | Match report |
| 14-01-1956 | Tilbury | 3-3 | Slough Town | League | | | Match report |
| 07-01-1956 | Slough Town | 4-0 | Chesham United | League | | | Match report |
| 31-12-1955 | Uxbridge | 2-0 | Slough Town | League | | | Match report |
| 27-12-1955 | Maidenhead United | 3-4 | Slough Town | League | | | Match report |
| 26-12-1955 | Slough Town | 1-2 | Maidenhead United | League | | | Match report |
| 17-12-1955 | Slough Town | 1-2 | Yiewsley | League | | | Match report |
| 10-12-1955 | Erith | 1-1 | Slough Town | League | | | Match report |
| 03-12-1955 | Chesham United | 2-3 | Slough Town | League | | | Match report |
| 26-11-1955 | Eastbourne | 0-1 | Slough Town | League | | | Match report |
| 19-11-1955 | Slough Town | 1-0 | Uxbridge | League | | | Match report |
| 12-11-1955 | Slough Town | 3-0 | Tilbury | League | | | Match report |
| 05-11-1955 | Slough Town | 2-1 | Grays Athletic | League | | | Match report |
| 29-10-1955 | Slough Town | 3-1 | Carshalton Ath | League | | | Match report |
| 22-10-1955 | Slough Town | 2-4 | Tilbury | Memorial Shield | | | Match report |
| 15-10-1955 | Tilbury | 1-1 | Slough Town | Memorial Shield | | | Match report |
| 12-10-1955 | Wycombe Wanderers | 1-0 | Slough Town | FA Cup | | | Match report |
| 08-10-1955 | Slough Town | 3-3 | Wycombe Wanderers | FA Cup | | | Match report |
| 01-10-1955 | Oxford City | 3-1 | Slough Town | FA Amateur Cup | | | Match report |
| 24-09-1955 | Abingdon | 0-3 | Slough Town | FA Cup | | | Match report |
| 17-09-1955 | Slough Town | 5-0 | Oxford YMCA | FA Amateur Cup | | | Match report |
| 10-09-1955 | Slough Town | 4-0 | Bicester | FA Cup | | | Match report |
| 03-09-1955 | Yiewsley | 0-2 | Slough Town | League | | | Match report |
| 27-08-1955 | Slough Town | 4-0 | Edgware | League | | | Match report |
| 20-08-1955 | Epsom | 2-2 | Slough Town | League | | | Match report |
Slough Town FC is not responsible for content produced on external websites | Copyright Slough Town FC 2023