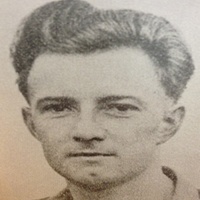 Position:
Defender
Achievements
1952/53 Berks & Bucks Senior Cup - runner-up
1954/55 Berks & Bucks Senior Cup - winner
Bio
Dennis was born at the little village of Dennington, near Sheffield in Yorkshire, on the 22nd February 1928.
Whilst still at school he showed little interest in football, even being so close to those famous clubs – "The Wednesday" and "The United" although in those days he could hardly be expected to, as he came to Slough in 1933.
Ten years later he started his football career as a centre-half in the Slough Minors and was elected captain of his team in season 1945/46. For the next three he was in H.M. Forces having volunteered at the age of 17 for the Royal Navy, being drafted to the Far East.
Whilst serving he played at the centre forward position for the Base Team at Columbo. Back in civvy life in 1948, he had twelve months rest before joining the Centre F.C. as right back. The following season he joined the Town Club and was given a trial in the First Eleven after Christmas, but Dennis was not quite ready for the senior side. A season in the Reserves did him a world of good and earned him the position in the senior side which he made his own. He was considered by those who knew him as a first-class left back.
He played for the Minor League representative sides, G.W. Combination and Slough "B" versus Hilversum "B". He is the holder of the B&B Senior Cup "runners-up" medal and the Reading Senior Cup medal.
Dennis was a very likeable chap, a first class club man.
Mens
| First Appearance | Appearances | First Goal | Goals |
| --- | --- | --- | --- |
| 17-12-1949 vs Uxbridge | 138 | N/A | 0 |
History
| Match Date | Home | Score | Away | Competition | Goals | Cards | |
| --- | --- | --- | --- | --- | --- | --- | --- |
| 03-09-1955 | Yiewsley | 0-2 | Slough Town | League | | | Match report |
| 27-08-1955 | Slough Town | 4-0 | Edgware | League | | | Match report |
| 20-08-1955 | Epsom | 2-2 | Slough Town | League | | | Match report |
| 06-05-1955 | Yiewsley | 1-1 | Slough Town | League | | | Match report |
| 02-05-1955 | Hounslow | 5-0 | Slough Town | League | | | Match report |
| 30-04-1955 | Slough Town | 3-0 | Maidstone United | League | | | Match report |
| 27-04-1955 | Slough Town | 2-3 | Hounslow | League | | | Match report |
| 23-04-1955 | Slough Town | 4-0 | Eastbourne | League | | | Match report |
| 18-04-1955 | Uxbridge | 1-1 | Slough Town | League | | | Match report |
| 16-04-1955 | Edgware | 1-2 | Slough Town | League | | | Match report |
| 11-04-1955 | Wycombe Wanderers | 2-1 | Slough Town | B&B Senior Cup | | | Match report |
| 02-04-1955 | Eastbourne | 0-1 | Slough Town | League | | | Match report |
| 26-03-1955 | Slough Town | 5-3 | Worthing | League | | | Match report |
| 19-03-1955 | Slough Town | 2-2 | Edgware | League | | | Match report |
| 12-03-1955 | Chesham United | 4-2 | Slough Town | B&B Senior Cup | | | Match report |
| 05-03-1955 | Tilbury | 1-1 | Slough Town | League | | | Match report |
| 26-02-1955 | Slough Town | 4-2 | Maidenhead United | B&B Senior Cup | | | Match report |
| 19-02-1955 | Slough Town | 2-3 | Yiewsley | Memorial Shield | | | Match report |
| 27-12-1954 | Maidenhead United | 4-2 | Slough Town | League | | | Match report |
| 25-12-1954 | Slough Town | 2-1 | Maidenhead United | League | | | Match report |
| 18-12-1954 | Chesham United | 1-3 | Slough Town | League | | | Match report |
| 11-12-1954 | Slough Town | 4-2 | Chesham United | League | | | Match report |
| 06-11-1954 | Maidstone United | 0-0 | Slough Town | League | | | Match report |
| 09-10-1954 | Slough Town | 3-3 | Erith | League | | | Match report |
| 02-10-1954 | Erith | 5-1 | Slough Town | League | | | Match report |
| 25-09-1954 | Slough Town | 2-3 | Oxford City | FA Cup | | | Match report |
| 18-09-1954 | Grays Athletic | 2-0 | Slough Town | League | | | Match report |
| 11-09-1954 | Slough Town | 6-2 | Windsor & Eton | FA Cup | | | Match report |
| 04-09-1954 | Slough Town | 2-0 | Edgware | Memorial Shield | | | Match report |
| 28-08-1954 | Carshalton Ath | 1-2 | Slough Town | League | | | Match report |
| 21-08-1954 | Slough Town | 5-2 | Uxbridge | League | | | Match report |
| 24-04-1954 | Maidenhead United | 2-1 | Slough Town | Maidenhead Charity Cup | | | Match report |
| 17-04-1954 | Hounslow | 3-1 | Slough Town | League | | | Match report |
| 10-04-1954 | Edgware | 2-1 | Slough Town | League | | | Match report |
| 03-04-1954 | Slough Town | 2-2 | Grays Athletic | League | | | Match report |
| 20-03-1954 | Slough Town | 6-1 | Erith | League | | | Match report |
| 27-02-1954 | Slough Town | 1-2 | Slough Centre | B&B Senior Cup | | | Match report |
| 20-02-1954 | Grays Athletic | 2-0 | Slough Town | League | | | Match report |
| 13-02-1954 | Eastbourne | 1-0 | Slough Town | League | | | Match report |
| 06-02-1954 | Slough Town | 1-1 | Chesham United | League | | | Match report |
| 23-01-1954 | Slough Centre | 2-1 | Slough Town | Benevolent Cup | | | Match report |
| 16-01-1954 | Slough Town | 5-1 | Epsom | League | | | Match report |
| 09-01-1954 | Chesham United | 2-1 | Slough Town | League | | | Match report |
| 02-01-1954 | Slough Town | 2-2 | Uxbridge | League | | | Match report |
| 26-12-1953 | Slough Town | 3-2 | Maidenhead United | League | | | Match report |
| 25-12-1953 | Maidenhead United | 1-4 | Slough Town | League | | | Match report |
| 19-12-1953 | Dulwich Hamlet | 3-1 | Slough Town | FA Amateur Cup | | | Match report |
| 05-12-1953 | Slough Town | 2-4 | Hounslow | League | | | Match report |
| 21-11-1953 | Maidstone United | 2-1 | Slough Town | League | | | Match report |
| 14-11-1953 | Slough Town | 3-3 | Carshalton Ath | League | | | Match report |
| 24-10-1953 | Slough Town | 3-3 | Tilbury | League | | | Match report |
| 17-10-1953 | Slough Town | 1-1 | Worthing | League | | | Match report |
| 10-10-1953 | Worthing | 4-1 | Slough Town | League | | | Match report |
| 03-10-1953 | Slough Town | 2-3 | Uxbridge | Memorial Shield | | | Match report |
| 26-09-1953 | Slough Town | 3-2 | Edgware | League | | | Match report |
| 05-09-1953 | Slough Town | 0-4 | Eastbourne | League | | | Match report |
| 29-08-1953 | Erith | 3-2 | Slough Town | League | | | Match report |
| 22-08-1953 | Epsom | 2-0 | Slough Town | League | | | Match report |
| 09-05-1953 | Aylesbury United | 7-2 | Slough Town | Benevolent Cup | | | Match report |
| 04-05-1953 | Slough Town | 3-1 | Slough Centre | Benevolent Cup | | | Match report |
| 02-05-1953 | Slough Town | 1-1 | Edgware | League | | | Match report |
| 30-04-1953 | Edgware | 3-1 | Slough Town | League | | | Match report |
| 25-04-1953 | Grays Athletic | 3-1 | Slough Town | League | | | Match report |
| 22-04-1953 | Slough Town | 3-3 | Epsom | League | | | Match report |
| 20-04-1953 | Carshalton Ath | 3-1 | Slough Town | League | | | Match report |
| 18-04-1953 | Slough Town | 2-5 | Grays Athletic | League | | | Match report |
| 15-04-1953 | Hounslow | 1-1 | Slough Town | League | | | Match report |
| 11-04-1953 | Slough Centre | 1-2 | Slough Town | B&B Senior Cup | | | Match report |
| 06-04-1953 | Slough Centre | 2-2 | Slough Town | B&B Senior Cup | | | Match report |
| 04-04-1953 | Uxbridge | 0-1 | Slough Town | League | | | Match report |
| 28-03-1953 | Slough Town | 0-0 | Maidstone United | League | | | Match report |
| 14-03-1953 | Wycombe Wanderers | 0-2 | Slough Town | B&B Senior Cup | | | Match report |
| 09-03-1953 | Worthing | 1-0 | Slough Town | League | | | Match report |
| 28-02-1953 | Slough Town | 4-1 | Bletchley | B&B Senior Cup | | | Match report |
| 21-02-1953 | Slough Town | 0-2 | Pegasus | FA Amateur Cup | | | Match report |
| 14-02-1953 | Slough Town | 3-2 | Willington | FA Amateur Cup | | | Match report |
| 07-02-1953 | Willington | 1-1 | Slough Town | FA Amateur Cup | | | Match report |
| 24-01-1953 | Slough Town | 2-1 | Barking | FA Amateur Cup | | | Match report |
| 17-01-1953 | Stokenchurch | 4-8 | Slough Town | B&B Senior Cup | | | Match report |
| 10-01-1953 | Slough Town | 0-0 | Uxbridge | League | | | Match report |
| 03-01-1953 | Maidstone United | 3-2 | Slough Town | League | | | Match report |
| 27-12-1952 | Slough Town | 3-2 | Maidenhead United | League | | | Match report |
| 26-12-1952 | Maidenhead United | 3-2 | Slough Town | League | | | Match report |
| 20-12-1952 | Slough Town | 2-1 | Worthing | League | | | Match report |
| 13-12-1952 | Eastbourne | 1-4 | Slough Town | FA Amateur Cup | | | Match report |
| 29-11-1952 | Slough Town | 2-2 | Chesham United | League | | | Match report |
| 22-11-1952 | Chesham United | 3-1 | Slough Town | League | | | Match report |
| 08-11-1952 | Slough Town | 1-0 | Tilbury | League | | | Match report |
| 01-11-1952 | Tilbury | 4-5 | Slough Town | League | | | Match report |
| 18-10-1952 | Eastbourne | 6-1 | Slough Town | League | | | Match report |
| 04-10-1952 | Slough Town | 1-2 | Eastbourne | League | | | Match report |
| 20-09-1952 | Hounslow | 2-0 | Slough Town | Memorial Shield | | | Match report |
| 13-09-1952 | Slough Centre | 2-1 | Slough Town | FA Cup | | | Match report |
| 06-09-1952 | Slough Town | 4-2 | Carshalton Ath | League | | | Match report |
| 30-08-1952 | Slough Town | 2-1 | Erith | League | | | Match report |
| 23-08-1952 | Epsom | 2-1 | Slough Town | League | | | Match report |
| 03-05-1952 | Slough Town | 1-2 | Erith | League | | | Match report |
| 26-04-1952 | Eastbourne | 2-3 | Slough Town | League | | | Match report |
| 21-04-1952 | Epsom | 1-2 | Slough Town | League | | | Match report |
| 19-04-1952 | Slough Town | 1-1 | Slough Centre | Benevolent Cup | | | Match report |
| 22-03-1952 | Slough Town | 4-2 | Windsor & Eton | Benevolent Cup | | | Match report |
| 15-03-1952 | Hounslow | 2-0 | Slough Town | Memorial Shield | | | Match report |
| 01-03-1952 | Slough Town | 1-1 | Hounslow | Memorial Shield | | | Match report |
| 23-02-1952 | Slough Town | 4-1 | Erith | Memorial Shield | | | Match report |
| 16-02-1952 | Wolverton | 2-1 | Slough Town | B&B Senior Cup | | | Match report |
| 02-02-1952 | Erith | 2-1 | Slough Town | League | | | Match report |
| 26-01-1952 | Slough Town | 3-3 | Carshalton Ath | League | | | Match report |
| 19-01-1952 | Slough Town | 1-2 | Chesham United | League | | | Match report |
| 12-01-1952 | Uxbridge | 1-5 | Slough Town | League | | | Match report |
| 29-12-1951 | Slough Town | 1-0 | Eastbourne | League | | | Match report |
| 26-12-1951 | Slough Town | 2-1 | Maidenhead United | League | | | Match report |
| 25-12-1951 | Maidenhead United | 1-4 | Slough Town | League | | | Match report |
| 30-12-1950 | Maidstone United | 2-0 | Slough Town | League | | | Match report |
| 02-12-1950 | Chesham United | 1-0 | Slough Town | League | | | Match report |
| 19-08-1950 | Carshalton Ath | 2-3 | Slough Town | League | | | Match report |
| 27-04-1950 | Edgware | 2-0 | Slough Town | League | | | Match report |
| 22-04-1950 | Slough Town | 0-4 | Erith | League | | | Match report |
| 17-04-1950 | Windsor & Eton | 1-5 | Slough Town | League | | | Match report |
| 15-04-1950 | Slough Town | 0-1 | Wycombe Wanderers | B&B Senior Cup | | | Match report |
| 10-04-1950 | Wycombe Wanderers | 1-1 | Slough Town | B&B Senior Cup | | | Match report |
| 07-04-1950 | Slough Town | 2-0 | Grays Athletic | League | | | Match report |
| 01-04-1950 | Uxbridge | 2-3 | Slough Town | League | | | Match report |
| 29-03-1950 | Hounslow | 3-2 | Slough Town | Memorial Shield | | | Match report |
| 25-03-1950 | Carshalton Ath | 7-0 | Slough Town | League | | | Match report |
| 18-03-1950 | Slough Town | 1-1 | Hounslow | Memorial Shield | | | Match report |
| 11-03-1950 | Eastbourne | 1-1 | Slough Town | League | | | Match report |
| 04-03-1950 | Wolverton | 2-1 | Slough Town | B&B Senior Cup | | | Match report |
| 25-02-1950 | Chesham United | 1-1 | Slough Town | League | | | Match report |
| 18-02-1950 | Slough Town | 1-2 | Wolverton | Benevolent Cup | | | Match report |
| 11-02-1950 | Slough Town | 4-0 | Edgware | League | | | Match report |
| 28-01-1950 | Slough Town | 2-0 | Worthing | League | | | Match report |
| 21-01-1950 | Slough Town | 3-1 | Slough Centre | B&B Senior Cup | | | Match report |
| 14-01-1950 | Slough Town | 1-1 | Epsom | League | | | Match report |
| 07-01-1950 | Slough Town | 6-3 | Chesham United | League | | | Match report |
| 31-12-1949 | Slough Town | 3-1 | Windsor & Eton | League | | | Match report |
| 27-12-1949 | Maidenhead United | 0-0 | Slough Town | League | | | Match report |
| 26-12-1949 | Slough Town | 1-1 | Maidenhead United | League | | | Match report |
| 17-12-1949 | Slough Town | 0-2 | Uxbridge | League | | | Match report |
Slough Town FC is not responsible for content produced on external websites | Copyright Slough Town FC 2023