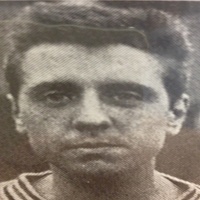 Position:
Forward
Bio
Dave Lummes joined Slough in 1962. Before joining the club he spent two years with Kingstonian to whom he went from Hounslow.
Despite Slough's "give local youth a chance" policy with regard to players, the club was always willing to give a chance to "outsiders" and one who settled down into a first-team regular was the then 22 year-old Isleworth-based Dave Lummes.
Like most of the Slough players, Dave gained representative honours. He played for Middlesex schoolboys and his school side won the Blaxland Cup, the Middlesex Schools Cup.
He played for Fulham Juniors as a 16 year old at wing half or inside forward but switched to the wing when he joined Kingstonian. It was as a winger that he joined the Rebels.
Dave did not get a regular first team place until after Christmas 1962, and became a regular in the 1963/64 season. Most of his appearances were at inside right, although he also appeared on both wings and at inside left.
After leaving Slough, Dave later featured for Southall and Feltham. He was a plumber and worked for his father, a builder. Dave passed away in June 2012.
Mens
| First Appearance | Appearances | First Goal | Goals |
| --- | --- | --- | --- |
| 07-04-1962 vs Windsor & Eton | 42 | 07-04-1962 vs Windsor & Eton | 10 |
History
| Match Date | Home | Score | Away | Competition | Goals | Cards | |
| --- | --- | --- | --- | --- | --- | --- | --- |
| 15-02-1964 | Worthing | 4-0 | Slough Town | Memorial Shield | | | Match report |
| 08-02-1964 | Windsor & Eton | 2-0 | Slough Town | B&B Senior Cup | | | Match report |
| 01-02-1964 | Slough Town | 5-0 | Didcot Town | B&B Senior Cup | | | Match report |
| 25-01-1964 | Newbury Town | 0-4 | Slough Town | B&B Senior Cup | | | Match report |
| 11-01-1964 | Slough Town | 2-1 | Chesham United | League | | | Match report |
| 14-12-1963 | Slough Town | 0-3 | Leatherhead | League | | | Match report |
| 07-12-1963 | Slough Town | 4-2 | Edgware | Memorial Shield | | | Match report |
| 23-11-1963 | Letchworth | 2-1 | Slough Town | League | | | Match report |
| 16-11-1963 | Slough Town | 2-1 | Wembley | League | | | Match report |
| 09-11-1963 | Wokingham Town | 4-1 | Slough Town | FA Amateur Cup | | | Match report |
| 26-10-1963 | Slough Town | 2-0 | Aylesbury United | FA Amateur Cup | | | Match report |
| 19-10-1963 | Erith | 2-1 | Slough Town | League | | | Match report |
| 12-10-1963 | Slough Town | 6-0 | Hungerford Town | FA Amateur Cup | | | Match report |
| 05-10-1963 | Slough Town | 5-1 | Chalfont St Peter | FA Amateur Cup | | | Match report |
| 28-09-1963 | Chalfont St Peter | 1-1 | Slough Town | FA Amateur Cup | | | Match report |
| 21-09-1963 | Edgware | 0-3 | Slough Town | League | | | Match report |
| 31-08-1963 | Slough Town | 1-2 | Erith | League | | | Match report |
| 27-08-1963 | Slough Town | 6-1 | Windsor & Eton | S. Comb. Cup | | | Match report |
| 24-08-1963 | Leatherhead | 4-1 | Slough Town | League | | | Match report |
| 27-05-1963 | Slough Town | 3-0 | Wokingham Town | S. Comb. Cup | | | Match report |
| 15-05-1963 | Windsor & Eton | 3-0 | Slough Town | Benevolent Cup | | | Match report |
| 11-05-1963 | Slough Town | 1-1 | Windsor & Eton | Benevolent Cup | | | Match report |
| 08-05-1963 | Uxbridge | 1-1 | Slough Town | League | | | Match report |
| 04-05-1963 | Slough Town | 5-0 | Eastbourne | League | | | Match report |
| 27-04-1963 | Letchworth | 4-2 | Slough Town | League | | | Match report |
| 20-04-1963 | Slough Town | 3-0 | Horsham | League | | | Match report |
| 17-04-1963 | Slough Town | 3-3 | Staines Town | S. Comb. Cup | | | Match report |
| 15-04-1963 | Slough Town | 1-3 | Wokingham Town | League | | | Match report |
| 13-04-1963 | Chesham United | 0-2 | Slough Town | League | | | Match report |
| 06-04-1963 | Slough Town | 0-2 | Dorking | League | | | Match report |
| 13-10-1962 | Dagenham | 2-1 | Slough Town | League | | | Match report |
| 08-09-1962 | Epsom | 1-3 | Slough Town | FA Cup | | | Match report |
| 05-09-1962 | Slough Town | 4-3 | Molesey | S. Comb. Cup | | | Match report |
| 01-09-1962 | Worthing | 2-2 | Slough Town | League | | | Match report |
| 30-08-1962 | Wokingham Town | 1-0 | Slough Town | League | | | Match report |
| 25-08-1962 | Leatherhead | 3-3 | Slough Town | League | | | Match report |
| 22-08-1962 | Slough Town | 2-1 | Chesham United | League | | | Match report |
| 18-08-1962 | Slough Town | 0-5 | Leatherhead | League | | | Match report |
| 12-05-1962 | Slough Town | 2-1 | Wokingham Town | Benevolent Cup | | | Match report |
| 03-05-1962 | Wembley | 1-4 | Slough Town | League | | | Match report |
| 14-04-1962 | Slough Town | 2-0 | Epsom | League | | | Match report |
| 07-04-1962 | Slough Town | 3-2 | Windsor & Eton | Benevolent Cup | | | Match report |
Slough Town FC is not responsible for content produced on external websites | Copyright Slough Town FC 2023