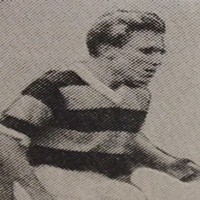 Position:
Midfielder
Bio
Winger/WingHalf.
Terry had a number of soccer successes as a Youngster. After representing Slough in the under-14 and under-15 age groups he went on to represent Bucks as a schoolboy, youth and finally senior player. Another product of Slough Technical School this dynamic, fair haired, midfield player burst into the first team aged 17 in 1961 and quickly gained county representative honours at senior level.
He remained a first team regular until he moved to Maidenhead United in 1963 for whom he later played as an out-and-out winger.
It was his form as a youngster that earned Terry trials with Wolves and Crystal Palace and offers from other senior amateur clubs.
A metallurgist with High Duty Alloys. Away from football he had an interesting hobby, collecting antique firearms.
Mens
| First Appearance | Appearances | First Goal | Goals |
| --- | --- | --- | --- |
| 29-04-1961 vs Horsham | 79 | 10-02-1962 vs Newbury Town | 23 |
History
| Match Date | Home | Score | Away | Competition | Goals | Cards | |
| --- | --- | --- | --- | --- | --- | --- | --- |
| 04-01-1964 | Chesham United | 2-1 | Slough Town | League | | | Match report |
| 28-12-1963 | Slough Town | 4-1 | Uxbridge | League | | | Match report |
| 21-12-1963 | Wembley | 1-6 | Slough Town | League | | | Match report |
| 14-12-1963 | Slough Town | 0-3 | Leatherhead | League | | | Match report |
| 07-12-1963 | Slough Town | 4-2 | Edgware | Memorial Shield | | | Match report |
| 09-11-1963 | Wokingham Town | 4-1 | Slough Town | FA Amateur Cup | | | Match report |
| 02-11-1963 | Epsom | 1-2 | Slough Town | League | | | Match report |
| 26-10-1963 | Slough Town | 2-0 | Aylesbury United | FA Amateur Cup | | | Match report |
| 19-10-1963 | Erith | 2-1 | Slough Town | League | | | Match report |
| 12-10-1963 | Slough Town | 6-0 | Hungerford Town | FA Amateur Cup | | | Match report |
| 05-10-1963 | Slough Town | 5-1 | Chalfont St Peter | FA Amateur Cup | | | Match report |
| 07-09-1963 | Epsom | 2-1 | Slough Town | FA Cup | | | Match report |
| 31-08-1963 | Slough Town | 1-2 | Erith | League | | | Match report |
| 27-08-1963 | Slough Town | 6-1 | Windsor & Eton | S. Comb. Cup | | | Match report |
| 24-08-1963 | Leatherhead | 4-1 | Slough Town | League | | | Match report |
| 27-05-1963 | Slough Town | 3-0 | Wokingham Town | S. Comb. Cup | | | Match report |
| 25-05-1963 | Horsham | 2-3 | Slough Town | League | | | Match report |
| 11-05-1963 | Slough Town | 1-1 | Windsor & Eton | Benevolent Cup | | | Match report |
| 27-04-1963 | Letchworth | 4-2 | Slough Town | League | | | Match report |
| 20-04-1963 | Slough Town | 3-0 | Horsham | League | | | Match report |
| 15-04-1963 | Slough Town | 1-3 | Wokingham Town | League | | | Match report |
| 13-04-1963 | Chesham United | 0-2 | Slough Town | League | | | Match report |
| 12-04-1963 | Chesham United | 3-0 | Slough Town | Memorial Shield | | | Match report |
| 06-04-1963 | Slough Town | 0-2 | Dorking | League | | | Match report |
| 30-03-1963 | Eastbourne | 2-1 | Slough Town | League | | | Match report |
| 23-03-1963 | Slough Town | 2-4 | Wycombe Wanderers | B&B Senior Cup | | | Match report |
| 16-03-1963 | Epsom | 0-5 | Slough Town | League | | | Match report |
| 09-03-1963 | Slough Town | 3-2 | Edgware | League | | | Match report |
| 02-03-1963 | Slough Town | 4-2 | Wembley | League | | | Match report |
| 23-02-1963 | Slough Town | 2-2 | Worthing | League | | | Match report |
| 26-12-1962 | Slough Town | 1-1 | Maidenhead United | League | | | Match report |
| 22-12-1962 | Maidenhead United | 1-1 | Slough Town | League | | | Match report |
| 15-12-1962 | Edgware | 4-1 | Slough Town | League | | | Match report |
| 01-12-1962 | Wembley | 2-3 | Slough Town | League | | | Match report |
| 24-11-1962 | Slough Town | 2-2 | Letchworth | League | | | Match report |
| 17-11-1962 | Slough Town | 2-0 | Epsom | League | | | Match report |
| 03-11-1962 | Dorking | 5-2 | Slough Town | League | | | Match report |
| 27-10-1962 | Erith | 2-2 | Slough Town | League | | | Match report |
| 20-10-1962 | Slough Town | 0-0 | Dagenham | League | | | Match report |
| 13-10-1962 | Dagenham | 2-1 | Slough Town | League | | | Match report |
| 06-10-1962 | Slough Town | 3-1 | Uxbridge | League | | | Match report |
| 29-09-1962 | Slough Town | 2-4 | Newbury Town | FA Amateur Cup | | | Match report |
| 22-09-1962 | Slough Town | 0-4 | Tooting | FA Cup | | | Match report |
| 15-09-1962 | Slough Town | 2-1 | Dagenham | Memorial Shield | | | Match report |
| 08-09-1962 | Epsom | 1-3 | Slough Town | FA Cup | | | Match report |
| 05-09-1962 | Slough Town | 4-3 | Molesey | S. Comb. Cup | | | Match report |
| 30-08-1962 | Wokingham Town | 1-0 | Slough Town | League | | | Match report |
| 22-08-1962 | Slough Town | 2-1 | Chesham United | League | | | Match report |
| 18-08-1962 | Slough Town | 0-5 | Leatherhead | League | | | Match report |
| 12-05-1962 | Slough Town | 2-1 | Wokingham Town | Benevolent Cup | | | Match report |
| 03-05-1962 | Wembley | 1-4 | Slough Town | League | | | Match report |
| 28-04-1962 | Eastbourne | 2-1 | Slough Town | League | | | Match report |
| 25-04-1962 | Slough Town | 3-1 | Wembley | League | | | Match report |
| 14-04-1962 | Slough Town | 2-0 | Epsom | League | | | Match report |
| 07-04-1962 | Slough Town | 3-2 | Windsor & Eton | Benevolent Cup | | | Match report |
| 31-03-1962 | Epsom | 2-1 | Slough Town | League | | | Match report |
| 24-03-1962 | Windsor & Eton | 0-1 | Slough Town | B&B Senior Cup | | | Match report |
| 17-03-1962 | Slough Town | 0-3 | Edgware | League | | | Match report |
| 10-03-1962 | Slough Town | 2-1 | Letchworth | League | | | Match report |
| 03-03-1962 | Slough Town | 2-0 | Worthing | League | | | Match report |
| 24-02-1962 | Horsham | 3-2 | Slough Town | League | | | Match report |
| 17-02-1962 | Slough Town | 3-0 | Eastbourne | League | | | Match report |
| 10-02-1962 | Slough Town | 2-0 | Newbury Town | B&B Senior Cup | | | Match report |
| 03-02-1962 | Worthing | 4-0 | Slough Town | League | | | Match report |
| 27-01-1962 | Slough Town | 2-0 | Chesham United | Benevolent Cup | | | Match report |
| 20-01-1962 | Leatherhead | 3-0 | Slough Town | Memorial Shield | | | Match report |
| 13-01-1962 | Slough Town | 2-1 | Chesham United | League | | | Match report |
| 06-01-1962 | Uxbridge | 1-0 | Slough Town | League | | | Match report |
| 26-12-1961 | Maidenhead United | 2-0 | Slough Town | League | | | Match report |
| 23-12-1961 | Slough Town | 0-1 | Maidenhead United | League | | | Match report |
| 16-12-1961 | Chesham United | 0-1 | Slough Town | League | | | Match report |
| 09-12-1961 | Edgware | 2-1 | Slough Town | League | | | Match report |
| 25-11-1961 | Slough Town | 3-2 | Leatherhead | League | | | Match report |
| 18-11-1961 | Slough Town | 0-1 | Uxbridge | League | | | Match report |
| 11-11-1961 | Erith | 2-2 | Slough Town | League | | | Match report |
| 04-11-1961 | Slough Town | 1-1 | Horsham | League | | | Match report |
| 26-08-1961 | Slough Town | 3-0 | Dorking | League | | | Match report |
| 22-08-1961 | Wokingham Town | 4-0 | Slough Town | League | | | Match report |
| 29-04-1961 | Horsham | 5-2 | Slough Town | League | | | Match report |
Slough Town FC is not responsible for content produced on external websites | Copyright Slough Town FC 2023