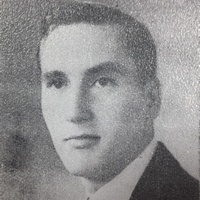 Position:
Forward
Bio
Born in Mansfield, Nottinghamshire on 3 May 1924.
At the age of 19, he joined the R.A.F. and after training in Canada was awarded his wings on 8 September 1944. Slough first made the acquaintance of Arthur in 1940, when at the age of 16, he played for us against Hitchin Town.
From then on he played for the Social Centre Club. On his return from Canada he became a member of Slough United, and went on to play in every position except goal. He played one of his best games at right-back, but settled down at centre forward.
At times brilliant, Arthur always had the potential to develop into a first class player. He was a good Clubman and a sportsman.
Amongst his highlights for the club were a five-goal haul in a 9-0 win against Edgware, and in December 1946 he went two better, finding the net seven times in an amazing 11-4 win at Eastbourne Borough.
Known as "Bomber" on account of his wartime occupation, he enjoyed a big reputation for scoring goals. Moved on to Hayes in summer 1947 but returned to Slough at Christmas 1949 for another season and a half. Subsequently played for Wycombe Wanderers, Windsor and Eton and Maidenhead United.
Mens
| First Appearance | Appearances | First Goal | Goals |
| --- | --- | --- | --- |
| 20-09-1941 vs Hitchin Town | 98 | 13-09-1945 vs Hounslow | 96 |
History
| Match Date | Home | Score | Away | Competition | Goals | Cards | |
| --- | --- | --- | --- | --- | --- | --- | --- |
| 29-04-1950 | Grays Athletic | 3-3 | Slough Town | League | | | Match report |
| 27-04-1950 | Edgware | 2-0 | Slough Town | League | | | Match report |
| 22-04-1950 | Slough Town | 0-4 | Erith | League | | | Match report |
| 17-04-1950 | Windsor & Eton | 1-5 | Slough Town | League | | | Match report |
| 15-04-1950 | Slough Town | 0-1 | Wycombe Wanderers | B&B Senior Cup | | | Match report |
| 10-04-1950 | Wycombe Wanderers | 1-1 | Slough Town | B&B Senior Cup | | | Match report |
| 07-04-1950 | Slough Town | 2-0 | Grays Athletic | League | | | Match report |
| 01-04-1950 | Uxbridge | 2-3 | Slough Town | League | | | Match report |
| 29-03-1950 | Hounslow | 3-2 | Slough Town | Memorial Shield | | | Match report |
| 12-11-1949 | Epsom | 2-3 | Slough Town | League | | | Match report |
| 05-11-1949 | Walton & Hersham | 1-0 | Slough Town | League | | | Match report |
| 29-10-1949 | Worthing | 6-1 | Slough Town | League | | | Match report |
| 22-10-1949 | Erith | 4-0 | Slough Town | League | | | Match report |
| 15-10-1949 | Slough Town | 1-2 | Hayes | FA Cup | | | Match report |
| 08-10-1949 | Slough Town | 4-2 | Oxford City | FA Cup | | | Match report |
| 01-10-1949 | Oxford City | 1-1 | Slough Town | FA Cup | | | Match report |
| 10-09-1949 | Thame United | 1-3 | Slough Town | FA Amateur Cup | | | Match report |
| 03-09-1949 | Slough Town | 1-0 | Slough Centre | FA Cup | | | Match report |
| 27-08-1949 | Slough Town | 1-0 | Eastbourne | League | | | Match report |
| 14-05-1949 | Maidenhead United | 0-1 | Slough Town | Benevolent Cup | | | Match report |
| 07-05-1949 | Worthing | 2-2 | Slough Town | League | | | Match report |
| 05-05-1949 | Slough Town | 1-2 | Worthing | League | | | Match report |
| 02-05-1949 | Uxbridge | 1-1 | Slough Town | League | | | Match report |
| 26-04-1949 | Slough Town | 3-4 | Erith | League | | | Match report |
| 23-04-1949 | Wycombe Wanderers | 2-1 | Slough Town | B&B Senior Cup | | | Match report |
| 18-04-1949 | Wycombe Wanderers | 0-0 | Slough Town | B&B Senior Cup | | | Match report |
| 16-04-1949 | Slough Town | 2-2 | Grays Athletic | League | | | Match report |
| 09-04-1949 | Hounslow | 2-1 | Slough Town | League | | | Match report |
| 02-04-1949 | Slough Town | 2-0 | Aylesbury United | Benevolent Cup | | | Match report |
| 26-03-1949 | Grays Athletic | 0-4 | Slough Town | League | | | Match report |
| 19-03-1949 | Carshalton Ath | 3-5 | Slough Town | League | | | Match report |
| 12-03-1949 | Slough Town | 0-1 | Carshalton Ath | League | | | Match report |
| 05-03-1949 | Abingdon | 0-5 | Slough Town | B&B Senior Cup | | | Match report |
| 26-02-1949 | Slough Town | 2-0 | Windsor & Eton | League | | | Match report |
| 19-02-1949 | Marlow | 3-5 | Slough Town | Benevolent Cup | | | Match report |
| 12-02-1949 | Slough Town | 6-1 | Eastbourne | League | | | Match report |
| 05-02-1949 | Erith | 2-2 | Slough Town | League | | | Match report |
| 29-01-1949 | Chesham United | 2-2 | Slough Town | League | | | Match report |
| 22-01-1949 | Wolverton | 1-2 | Slough Town | B&B Senior Cup | | | Match report |
| 15-01-1949 | Windsor & Eton | 0-2 | Slough Town | League | | | Match report |
| 08-01-1949 | Slough Town | 5-0 | Chesham United | League | | | Match report |
| 01-01-1949 | Slough Town | 0-4 | Walton & Hersham | League | | | Match report |
| 26-12-1948 | Maidenhead United | 4-2 | Slough Town | League | | | Match report |
| 07-06-1947 | Slough Town | 3-4 | Uxbridge | League | | | Match report |
| 24-05-1947 | Slough Town | 1-3 | Wolverton | Benevolent Cup | | | Match report |
| 17-05-1947 | Slough Town | 2-3 | Chippenham Town | Unknown Cup | | | Match report |
| 10-05-1947 | Slough Town | 5-3 | Marlow | Benevolent Cup | | | Match report |
| 03-05-1947 | Uxbridge | 0-1 | Slough Town | League | | | Match report |
| 19-04-1947 | Edgware | 0-7 | Slough Town | League | | | Match report |
| 12-04-1947 | Slough Town | 6-0 | Bedford Avenue | League | | | Match report |
| 07-04-1947 | Wycombe Wanderers | 2-1 | Slough Town | B&B Senior Cup | | | Match report |
| 04-04-1947 | Slough Town | 5-2 | Grays Athletic | League | | | Match report |
| 29-03-1947 | Walton & Hersham | 6-1 | Slough Town | Memorial Shield | | | Match report |
| 22-03-1947 | Bedford Avenue | 1-7 | Slough Town | League | | | Match report |
| 01-03-1947 | Wolverton | 2-3 | Slough Town | B&B Senior Cup | | | Match report |
| 25-01-1947 | Slough Town | 1-0 | Chesham United | B&B Senior Cup | | | Match report |
| 18-01-1947 | Slough Town | 4-3 | Carshalton Ath | League | | | Match report |
| 28-12-1946 | Slough Town | 1-3 | Walton & Hersham | League | | | Match report |
| 26-12-1946 | Maidenhead United | 1-1 | Slough Town | League | | | Match report |
| 25-12-1946 | Slough Town | 5-1 | Maidenhead United | League | | | Match report |
| 14-12-1946 | Eastbourne | 4-11 | Slough Town | League | | | Match report |
| 07-12-1946 | Slough Town | 6-1 | Bedford Avenue | Memorial Shield | | | Match report |
| 30-11-1946 | Slough Town | 3-2 | REmE Aborfield | B&B Senior Cup | | | Match report |
| 23-11-1946 | Enfield | 3-2 | Slough Town | FA Amateur Cup | | | Match report |
| 16-11-1946 | Windsor & Eton | 3-4 | Slough Town | League | | | Match report |
| 09-11-1946 | Slough Town | 4-3 | Erith | League | | | Match report |
| 26-10-1946 | Slough Town | 9-0 | Edgware | League | | | Match report |
| 19-10-1946 | Hayes | 6-3 | Slough Town | FA Cup | | | Match report |
| 12-10-1946 | Hastings United | 1-1 | Slough Town | League | | | Match report |
| 05-10-1946 | Slough Town | 3-3 | Windsor & Eton | FA Cup | | | Match report |
| 28-09-1946 | Erith | 1-2 | Slough Town | League | | | Match report |
| 21-09-1946 | Slough Town | 4-2 | Lyons Club | FA Cup | | | Match report |
| 14-09-1946 | Walton & Hersham | 2-2 | Slough Town | League | | | Match report |
| 11-05-1946 | Chippenham Town | 0-4 | Slough Town | Unknown Cup | | | Match report |
| 27-04-1946 | Walton & Hersham | 2-7 | Slough Town | League | | | Match report |
| 13-04-1946 | Maidenhead United | 3-6 | Slough Town | League | | | Match report |
| 26-03-1946 | Marlow | 3-10 | Slough Town | League | | | Match report |
| 19-03-1946 | Slough Town | 3-1 | Epsom Town | Benevolent Cup | | | Match report |
| 02-03-1946 | Slough Town | 6-5 | St Albans City | Unknown Cup | | | Match report |
| 23-02-1946 | Wycombe Wanderers | 6-1 | Slough Town | League | | | Match report |
| 16-02-1946 | Moor Green | 2-1 | Slough Town | B&B Senior Cup | | | Match report |
| 26-01-1946 | Lyons Club | 2-4 | Slough Town | FA Amateur Cup | | | Match report |
| 19-01-1946 | Chippenham Town | 1-5 | Slough Town | League | | | Match report |
| 12-01-1946 | Slough Town | 2-1 | Lyons Club | FA Amateur Cup | | | Match report |
| 08-12-1945 | Slough Town | 0-2 | Maidenhead United | League | | | Match report |
| 01-12-1945 | Chesham United | 1-13 | Slough Town | B&B Senior Cup | | | Match report |
| 20-11-1945 | Bromley | 6-1 | Slough Town | FA Cup | | | Match report |
| 03-11-1945 | Leytonstone | 3-3 | Slough Town | FA Cup | | | Match report |
| 27-10-1945 | Slough Town | 6-4 | Twickenham | League | | | Match report |
| 20-10-1945 | Slough Town | 3-1 | Oxford City | FA Cup | | | Match report |
| 06-10-1945 | Banbury Spencer | 2-5 | Slough Town | FA Cup | | | Match report |
| 29-09-1945 | Slough Town | 4-0 | Walton & Hersham | League | | | Match report |
| 22-09-1945 | Yiewsley | 2-2 | Slough Town | FA Cup | | | Match report |
| 15-09-1945 | Erith | 0-2 | Slough Town | League | | | Match report |
| 13-09-1945 | Slough Town | 3-1 | Hounslow | FA Cup | | | Match report |
| 19-05-1945 | Southall | 3-2 | Slough Town | League | | | Match report |
| 10-03-1945 | Barnet | 1-0 | Slough Town | League | | | Match report |
| 20-09-1941 | Hitchin Town | 7-1 | Slough Town | League | | | Match report |
Slough Town FC is not responsible for content produced on external websites | Copyright Slough Town FC 2023