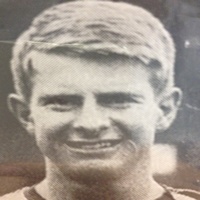 Position:
Midfielder
Bio
Energetic midfield player possessed of a powerful shot from distance. One of the most improved players with Slough Town is right-half and vice captain Roy Nairn. Roy is the brother of another Rebel, Alec.
This is his fourth season with the Rebels and he credits Bob Gibbs with the improvement he has made while at the Dolphin.
Like his brother, Roy joined Slough after spells with Wembley and Yiewsley, and during his first year at Slough he was on Chelsea's books.
Roy began his football career at school In Ealing and quickly established himself in the school side and in the Ealing and District Schools representative eleven. After leaving school at 15 he went to Brentford Juniors, moving on to Yiewsley when he was 17. He was still with Yiewsley when he went into the army and did not leave the club until he was dernobbed.
During his National Service Roy captained his unit and played for the R.O.A.C. in Germany.
Like his brother, Roy is a Post time engineer and represented the London Civil Service team which won the Civil Service Challenge Cup last season. In the final, Roy. playing at inside-right, scored two of his sides four goals. Roy is easily recognised on the field by his high stepping stride. Not so easily noticeable, however, is his intelligent positional play from which he helps setup many dangerous attacking moves,.
When Roy is not playing football he likes to play golf regularly or sit with a good book or some classical music. Apart from Slough Town F.C. Roy is a Brentford fan in particular and a real football fanatic in general
Later played for Staines Town and assisted their management team.
Mens
| First Appearance | Appearances | First Goal | Goals |
| --- | --- | --- | --- |
| 20-08-1960 vs Epsom | 164 | 03-09-1960 vs Dagenham | 31 |
History
| Match Date | Home | Score | Away | Competition | Goals | Cards | |
| --- | --- | --- | --- | --- | --- | --- | --- |
| 31-03-1969 | Hillingdon | 2-0 | Slough Town | Premier Midweek FL | | | Match report |
| 05-05-1968 | Windsor & Eton | 5-1 | Slough Town | Windsor Hosp. | | | Match report |
| 01-05-1968 | Dagenham | 2-1 | Slough Town | League | | | Match report |
| 30-04-1968 | Leatherhead | 7-0 | Slough Town | Premier Midweek FL | | | Match report |
| 27-04-1968 | Leatherhead | 0-0 | Slough Town | League | | | Match report |
| 24-04-1968 | Slough Town | 4-1 | Hornchurch | Mithras Cup | | | Match report |
| 23-04-1968 | Southall | 0-0 | Slough Town | League | | | Match report |
| 19-04-1968 | Slough Town | 4-0 | Bishop's Stortford | League | | | Match report |
| 17-04-1968 | Slough Town | 1-6 | Southall | Premier Midweek FL | | | Match report |
| 08-04-1968 | Woking | 2-1 | Slough Town | Wycombe Floodlit Lge. | | | Match report |
| 04-04-1968 | Guildford City | 3-1 | Slough Town | Premier Midweek FL | | | Match report |
| 26-03-1968 | Maidenhead United | 0-2 | Slough Town | Wycombe Floodlit Lge. | | | Match report |
| 12-03-1968 | Crawley Town | 3-2 | Slough Town | Premier Midweek FL | | | Match report |
| 12-02-1968 | Slough Town | 2-2 | Wokingham Town | Wycombe Floodlit Lge. | | | Match report |
| 17-10-1967 | Southall | 1-1 | Slough Town | Premier Midweek FL | | | Match report |
| 27-04-1967 | Wycombe Wanderers | 1-0 | Slough Town | Wycombe Floodlit League | | | Match report |
| 06-04-1967 | Oxford City | 6-1 | Slough Town | Wycombe Floodlit League | | | Match report |
| 13-03-1967 | Slough Town | 2-3 | Wokingham Town | Wycombe Floodlit League | | | Match report |
| 01-11-1966 | Wokingham Town | 1-0 | Slough Town | Wycombe Floodlit League | | | Match report |
| 18-10-1966 | Southall | 1-0 | Slough Town | Wycombe Floodlit League | | | Match report |
| 22-05-1966 | Windsor & Eton | 1-2 | Slough Town | Windsor Hosp. | | | Match report |
| 11-05-1966 | Slough Town | 2-1 | Reading | Wycombe Floodlit League | | | Match report |
| 19-03-1966 | Leatherhead | 1-1 | Slough Town | League | | | Match report |
| 05-03-1966 | Leyton | 2-1 | Slough Town | League | | | Match report |
| 05-02-1966 | Slough Town | 3-4 | Maidenhead United | B&B Senior Cup | | | Match report |
| 29-01-1966 | Hemel Hempstead Town | 2-3 | Slough Town | League | | | Match report |
| 22-01-1966 | Hounslow | 4-3 | Slough Town | League | | | Match report |
| 20-11-1965 | Dagenham | 5-3 | Slough Town | League | | | Match report |
| 02-05-1964 | Worthing | 5-0 | Slough Town | League | | | Match report |
| 25-04-1964 | Slough Town | 3-2 | Wokingham Town | S. Comb. Cup | | | Match report |
| 21-04-1964 | Uxbridge | 1-0 | Slough Town | League | | | Match report |
| 18-04-1964 | Slough Town | 3-2 | Eastbourne | League | | | Match report |
| 15-04-1964 | Slough Town | 1-1 | Edgware | League | | | Match report |
| 11-04-1964 | Slough Town | 3-0 | Horsham | League | | | Match report |
| 08-04-1964 | Slough Town | 1-0 | Wokingham Town | League | | | Match report |
| 04-04-1964 | Wokingham Town | 3-2 | Slough Town | Benevolent Cup | | | Match report |
| 07-03-1964 | Wokingham Town | 2-1 | Slough Town | League | | | Match report |
| 29-02-1964 | Slough Town | 4-2 | Epsom | League | | | Match report |
| 22-02-1964 | Slough Town | 3-1 | Dorking | League | | | Match report |
| 15-02-1964 | Worthing | 4-0 | Slough Town | Memorial Shield | | | Match report |
| 08-02-1964 | Windsor & Eton | 2-0 | Slough Town | B&B Senior Cup | | | Match report |
| 01-02-1964 | Slough Town | 5-0 | Didcot Town | B&B Senior Cup | | | Match report |
| 25-01-1964 | Newbury Town | 0-4 | Slough Town | B&B Senior Cup | | | Match report |
| 11-01-1964 | Slough Town | 2-1 | Chesham United | League | | | Match report |
| 04-01-1964 | Chesham United | 2-1 | Slough Town | League | | | Match report |
| 28-12-1963 | Slough Town | 4-1 | Uxbridge | League | | | Match report |
| 21-12-1963 | Wembley | 1-6 | Slough Town | League | | | Match report |
| 14-12-1963 | Slough Town | 0-3 | Leatherhead | League | | | Match report |
| 07-12-1963 | Slough Town | 4-2 | Edgware | Memorial Shield | | | Match report |
| 23-11-1963 | Letchworth | 2-1 | Slough Town | League | | | Match report |
| 16-11-1963 | Slough Town | 2-1 | Wembley | League | | | Match report |
| 09-11-1963 | Wokingham Town | 4-1 | Slough Town | FA Amateur Cup | | | Match report |
| 02-11-1963 | Epsom | 1-2 | Slough Town | League | | | Match report |
| 26-10-1963 | Slough Town | 2-0 | Aylesbury United | FA Amateur Cup | | | Match report |
| 19-10-1963 | Erith | 2-1 | Slough Town | League | | | Match report |
| 12-10-1963 | Slough Town | 6-0 | Hungerford Town | FA Amateur Cup | | | Match report |
| 28-09-1963 | Chalfont St Peter | 1-1 | Slough Town | FA Amateur Cup | | | Match report |
| 21-09-1963 | Edgware | 0-3 | Slough Town | League | | | Match report |
| 14-09-1963 | Slough Town | 3-1 | Worthing | League | | | Match report |
| 07-09-1963 | Epsom | 2-1 | Slough Town | FA Cup | | | Match report |
| 31-08-1963 | Slough Town | 1-2 | Erith | League | | | Match report |
| 27-08-1963 | Slough Town | 6-1 | Windsor & Eton | S. Comb. Cup | | | Match report |
| 24-08-1963 | Leatherhead | 4-1 | Slough Town | League | | | Match report |
| 27-05-1963 | Slough Town | 3-0 | Wokingham Town | S. Comb. Cup | | | Match report |
| 25-05-1963 | Horsham | 2-3 | Slough Town | League | | | Match report |
| 15-05-1963 | Windsor & Eton | 3-0 | Slough Town | Benevolent Cup | | | Match report |
| 11-05-1963 | Slough Town | 1-1 | Windsor & Eton | Benevolent Cup | | | Match report |
| 08-05-1963 | Uxbridge | 1-1 | Slough Town | League | | | Match report |
| 04-05-1963 | Slough Town | 5-0 | Eastbourne | League | | | Match report |
| 27-04-1963 | Letchworth | 4-2 | Slough Town | League | | | Match report |
| 20-04-1963 | Slough Town | 3-0 | Horsham | League | | | Match report |
| 15-04-1963 | Slough Town | 1-3 | Wokingham Town | League | | | Match report |
| 13-04-1963 | Chesham United | 0-2 | Slough Town | League | | | Match report |
| 12-04-1963 | Chesham United | 3-0 | Slough Town | Memorial Shield | | | Match report |
| 06-04-1963 | Slough Town | 0-2 | Dorking | League | | | Match report |
| 30-03-1963 | Eastbourne | 2-1 | Slough Town | League | | | Match report |
| 23-03-1963 | Slough Town | 2-4 | Wycombe Wanderers | B&B Senior Cup | | | Match report |
| 16-03-1963 | Epsom | 0-5 | Slough Town | League | | | Match report |
| 09-03-1963 | Slough Town | 3-2 | Edgware | League | | | Match report |
| 02-03-1963 | Slough Town | 4-2 | Wembley | League | | | Match report |
| 23-02-1963 | Slough Town | 2-2 | Worthing | League | | | Match report |
| 26-12-1962 | Slough Town | 1-1 | Maidenhead United | League | | | Match report |
| 22-12-1962 | Maidenhead United | 1-1 | Slough Town | League | | | Match report |
| 15-12-1962 | Edgware | 4-1 | Slough Town | League | | | Match report |
| 08-12-1962 | Slough Town | 5-2 | Erith | League | | | Match report |
| 01-12-1962 | Wembley | 2-3 | Slough Town | League | | | Match report |
| 24-11-1962 | Slough Town | 2-2 | Letchworth | League | | | Match report |
| 17-11-1962 | Slough Town | 2-0 | Epsom | League | | | Match report |
| 03-11-1962 | Dorking | 5-2 | Slough Town | League | | | Match report |
| 27-10-1962 | Erith | 2-2 | Slough Town | League | | | Match report |
| 20-10-1962 | Slough Town | 0-0 | Dagenham | League | | | Match report |
| 13-10-1962 | Dagenham | 2-1 | Slough Town | League | | | Match report |
| 06-10-1962 | Slough Town | 3-1 | Uxbridge | League | | | Match report |
| 29-09-1962 | Slough Town | 2-4 | Newbury Town | FA Amateur Cup | | | Match report |
| 22-09-1962 | Slough Town | 0-4 | Tooting | FA Cup | | | Match report |
| 15-09-1962 | Slough Town | 2-1 | Dagenham | Memorial Shield | | | Match report |
| 08-09-1962 | Epsom | 1-3 | Slough Town | FA Cup | | | Match report |
| 05-09-1962 | Slough Town | 4-3 | Molesey | S. Comb. Cup | | | Match report |
| 01-09-1962 | Worthing | 2-2 | Slough Town | League | | | Match report |
| 30-08-1962 | Wokingham Town | 1-0 | Slough Town | League | | | Match report |
| 25-08-1962 | Leatherhead | 3-3 | Slough Town | League | | | Match report |
| 22-08-1962 | Slough Town | 2-1 | Chesham United | League | | | Match report |
| 18-08-1962 | Slough Town | 0-5 | Leatherhead | League | | | Match report |
| 12-05-1962 | Slough Town | 2-1 | Wokingham Town | Benevolent Cup | | | Match report |
| 03-05-1962 | Wembley | 1-4 | Slough Town | League | | | Match report |
| 28-04-1962 | Eastbourne | 2-1 | Slough Town | League | | | Match report |
| 25-04-1962 | Slough Town | 3-1 | Wembley | League | | | Match report |
| 14-04-1962 | Slough Town | 2-0 | Epsom | League | | | Match report |
| 07-04-1962 | Slough Town | 3-2 | Windsor & Eton | Benevolent Cup | | | Match report |
| 31-03-1962 | Epsom | 2-1 | Slough Town | League | | | Match report |
| 24-03-1962 | Windsor & Eton | 0-1 | Slough Town | B&B Senior Cup | | | Match report |
| 17-03-1962 | Slough Town | 0-3 | Edgware | League | | | Match report |
| 10-03-1962 | Slough Town | 2-1 | Letchworth | League | | | Match report |
| 03-03-1962 | Slough Town | 2-0 | Worthing | League | | | Match report |
| 24-02-1962 | Horsham | 3-2 | Slough Town | League | | | Match report |
| 17-02-1962 | Slough Town | 3-0 | Eastbourne | League | | | Match report |
| 10-02-1962 | Slough Town | 2-0 | Newbury Town | B&B Senior Cup | | | Match report |
| 30-12-1961 | Slough Town | 0-2 | Wokingham Town | League | | | Match report |
| 26-12-1961 | Maidenhead United | 2-0 | Slough Town | League | | | Match report |
| 23-12-1961 | Slough Town | 0-1 | Maidenhead United | League | | | Match report |
| 16-12-1961 | Chesham United | 0-1 | Slough Town | League | | | Match report |
| 09-12-1961 | Edgware | 2-1 | Slough Town | League | | | Match report |
| 02-12-1961 | Letchworth | 2-2 | Slough Town | League | | | Match report |
| 25-11-1961 | Slough Town | 3-2 | Leatherhead | League | | | Match report |
| 18-11-1961 | Slough Town | 0-1 | Uxbridge | League | | | Match report |
| 11-11-1961 | Erith | 2-2 | Slough Town | League | | | Match report |
| 04-11-1961 | Slough Town | 1-1 | Horsham | League | | | Match report |
| 21-10-1961 | Dorking | 2-2 | Slough Town | League | | | Match report |
| 14-10-1961 | Slough Town | 4-2 | Dagenham | League | | | Match report |
| 07-10-1961 | Dulwich Hamlet | 5-1 | Slough Town | FA Cup | | | Match report |
| 30-09-1961 | Slough Town | 1-2 | Aylesbury United | FA Amateur Cup | | | Match report |
| 23-09-1961 | Slough Town | 2-0 | Redhill | FA Cup | | | Match report |
| 16-09-1961 | Slough Town | 1-0 | Epsom | Memorial Shield | | | Match report |
| 13-09-1961 | Slough Town | 0-3 | Carshalton Ath | S. Comb. Cup | | | Match report |
| 09-09-1961 | Slough Town | 4-1 | Sutton United | FA Cup | | | Match report |
| 02-09-1961 | Dagenham | 3-4 | Slough Town | League | | | Match report |
| 30-08-1961 | Slough Town | 1-1 | Erith | League | | | Match report |
| 22-08-1961 | Wokingham Town | 4-0 | Slough Town | League | | | Match report |
| 19-08-1961 | Leatherhead | 3-1 | Slough Town | League | | | Match report |
| 03-05-1961 | Slough Town | 0-5 | Worthing | League | | | Match report |
| 29-04-1961 | Horsham | 5-2 | Slough Town | League | | | Match report |
| 26-04-1961 | Slough Town | 1-3 | Edgware | League | | | Match report |
| 22-04-1961 | Letchworth | 1-0 | Slough Town | League | | | Match report |
| 17-04-1961 | Slough Town | 0-2 | Windsor & Eton | S. Comb. Cup | | | Match report |
| 15-04-1961 | Eastbourne | 1-1 | Slough Town | League | | | Match report |
| 12-04-1961 | Edgware | 2-2 | Slough Town | League | | | Match report |
| 08-04-1961 | Slough Town | 0-3 | Wokingham Town | League | | | Match report |
| 03-04-1961 | Erith | 4-0 | Slough Town | League | | | Match report |
| 01-04-1961 | Slough Town | 2-1 | Dorking | League | | | Match report |
| 25-03-1961 | Slough Town | 1-2 | Letchworth | League | | | Match report |
| 18-03-1961 | Slough Town | 1-3 | Chesham United | League | | | Match report |
| 11-03-1961 | Uxbridge | 6-0 | Slough Town | League | | | Match report |
| 04-03-1961 | Slough Town | 1-3 | Leatherhead | League | | | Match report |
| 18-02-1961 | Slough Town | 1-3 | Eastbourne | League | | | Match report |
| 04-02-1961 | Slough Town | 4-6 | Horsham | League | | | Match report |
| 28-01-1961 | Wolverton | 1-2 | Slough Town | B&B Senior Cup | | | Match report |
| 21-01-1961 | Worthing | 6-5 | Slough Town | League | | | Match report |
| 31-12-1960 | Wokingham Town | 1-1 | Slough Town | League | | | Match report |
| 07-09-1960 | Slough Town | 2-4 | Carshalton Ath | S. Comb. Cup | | | Match report |
| 03-09-1960 | Dagenham | 2-1 | Slough Town | League | | | Match report |
| 31-08-1960 | Slough Town | 4-3 | Wembley | League | | | Match report |
| 27-08-1960 | Slough Town | 3-0 | Epsom | Memorial Shield | | | Match report |
| 24-08-1960 | Wembley | 6-0 | Slough Town | League | | | Match report |
| 20-08-1960 | Epsom | 1-1 | Slough Town | Memorial Shield | | | Match report |
Slough Town FC is not responsible for content produced on external websites | Copyright Slough Town FC 2023