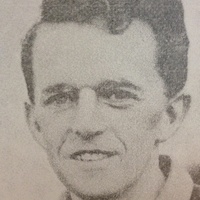 Position:
Forward
Bio
Percy, younger brother of the Mighty Atom, was born at Hebburn on Tyne on the 9th June, 1924. As a schoolboy he showed little promise of becoming the footballer as we knew him to be.
On his arrival in Slough during 1936, he first played for the Lascelles Minors where he soon caught the selectors eye. At the early age of fifteen he was first given his trial for Slough at outside right, with Harry playing right half.
Little was heard of him for the next five years, and in 1942 he joined the Royal Marines serving in India, Malaya and on the Burmese coast. On his demobilization in 1946 he joined Slough United at outside left.
Remaining with the Centre Club for two seasons he joined the Town Club – beginning by playing for the Reserve Eleven. He has certainly earned his place in the Premier side and is today one of the players on whom we can and do rely.
Whilst playing with the Centre Club he was chosen to represent them in the Berks and Bucks Eleven and since he has been with us more honours have come his way, playing for "The Rest" versus The Champions, and for the Corinthian League against the Athenian League. He was selected to play for the League in their match with the Delphian League but stood down n to make sure he would be fit to play for his hometown Club the following Saturday.
Signed for Maidenhead United in summer 1953 where he remained a first team regular for five seasons before becoming assistant manager to Jimmy Price.
Rejoined Slough Town and served as assistant to Bob Gibbs from 1964 to 1967, managing the reserve team to its league championship in his first season.
He counts among his medals the runner up for the B&B Senior Cup, Corinthian League and the winners medal for the Benevolent Cup. Married, with a daughter named Sue.
Mens
| First Appearance | Appearances | First Goal | Goals |
| --- | --- | --- | --- |
| 14-09-1940 vs Golders Green | 116 | 04-10-1941 vs Enfield | 15 |
History
| Match Date | Home | Score | Away | Competition | Goals | Cards | |
| --- | --- | --- | --- | --- | --- | --- | --- |
| 24-04-1954 | Maidenhead United | 2-1 | Slough Town | Maidenhead Charity Cup | | | Match report |
| 17-04-1954 | Hounslow | 3-1 | Slough Town | League | | | Match report |
| 27-02-1954 | Slough Town | 1-2 | Slough Centre | B&B Senior Cup | | | Match report |
| 20-02-1954 | Grays Athletic | 2-0 | Slough Town | League | | | Match report |
| 13-02-1954 | Eastbourne | 1-0 | Slough Town | League | | | Match report |
| 06-02-1954 | Slough Town | 1-1 | Chesham United | League | | | Match report |
| 23-01-1954 | Slough Centre | 2-1 | Slough Town | Benevolent Cup | | | Match report |
| 16-01-1954 | Slough Town | 5-1 | Epsom | League | | | Match report |
| 09-01-1954 | Chesham United | 2-1 | Slough Town | League | | | Match report |
| 02-01-1954 | Slough Town | 2-2 | Uxbridge | League | | | Match report |
| 26-12-1953 | Slough Town | 3-2 | Maidenhead United | League | | | Match report |
| 25-12-1953 | Maidenhead United | 1-4 | Slough Town | League | | | Match report |
| 19-12-1953 | Dulwich Hamlet | 3-1 | Slough Town | FA Amateur Cup | | | Match report |
| 05-12-1953 | Slough Town | 2-4 | Hounslow | League | | | Match report |
| 21-11-1953 | Maidstone United | 2-1 | Slough Town | League | | | Match report |
| 22-08-1953 | Epsom | 2-0 | Slough Town | League | | | Match report |
| 09-05-1953 | Aylesbury United | 7-2 | Slough Town | Benevolent Cup | | | Match report |
| 02-05-1953 | Slough Town | 1-1 | Edgware | League | | | Match report |
| 30-04-1953 | Edgware | 3-1 | Slough Town | League | | | Match report |
| 25-04-1953 | Grays Athletic | 3-1 | Slough Town | League | | | Match report |
| 22-04-1953 | Slough Town | 3-3 | Epsom | League | | | Match report |
| 20-04-1953 | Carshalton Ath | 3-1 | Slough Town | League | | | Match report |
| 18-04-1953 | Slough Town | 2-5 | Grays Athletic | League | | | Match report |
| 15-04-1953 | Hounslow | 1-1 | Slough Town | League | | | Match report |
| 11-04-1953 | Slough Centre | 1-2 | Slough Town | B&B Senior Cup | | | Match report |
| 06-04-1953 | Slough Centre | 2-2 | Slough Town | B&B Senior Cup | | | Match report |
| 04-04-1953 | Uxbridge | 0-1 | Slough Town | League | | | Match report |
| 28-03-1953 | Slough Town | 0-0 | Maidstone United | League | | | Match report |
| 14-03-1953 | Wycombe Wanderers | 0-2 | Slough Town | B&B Senior Cup | | | Match report |
| 09-03-1953 | Worthing | 1-0 | Slough Town | League | | | Match report |
| 28-02-1953 | Slough Town | 4-1 | Bletchley | B&B Senior Cup | | | Match report |
| 21-02-1953 | Slough Town | 0-2 | Pegasus | FA Amateur Cup | | | Match report |
| 14-02-1953 | Slough Town | 3-2 | Willington | FA Amateur Cup | | | Match report |
| 07-02-1953 | Willington | 1-1 | Slough Town | FA Amateur Cup | | | Match report |
| 31-01-1953 | Newbury Town | 0-2 | Slough Town | Benevolent Cup | | | Match report |
| 24-01-1953 | Slough Town | 2-1 | Barking | FA Amateur Cup | | | Match report |
| 17-01-1953 | Stokenchurch | 4-8 | Slough Town | B&B Senior Cup | | | Match report |
| 10-01-1953 | Slough Town | 0-0 | Uxbridge | League | | | Match report |
| 03-01-1953 | Maidstone United | 3-2 | Slough Town | League | | | Match report |
| 27-12-1952 | Slough Town | 3-2 | Maidenhead United | League | | | Match report |
| 26-12-1952 | Maidenhead United | 3-2 | Slough Town | League | | | Match report |
| 20-12-1952 | Slough Town | 2-1 | Worthing | League | | | Match report |
| 13-12-1952 | Eastbourne | 1-4 | Slough Town | FA Amateur Cup | | | Match report |
| 25-10-1952 | Slough Town | 0-1 | Hounslow | League | | | Match report |
| 18-10-1952 | Eastbourne | 6-1 | Slough Town | League | | | Match report |
| 04-10-1952 | Slough Town | 1-2 | Eastbourne | League | | | Match report |
| 27-09-1952 | Erith | 1-1 | Slough Town | League | | | Match report |
| 13-09-1952 | Slough Centre | 2-1 | Slough Town | FA Cup | | | Match report |
| 06-09-1952 | Slough Town | 4-2 | Carshalton Ath | League | | | Match report |
| 30-08-1952 | Slough Town | 2-1 | Erith | League | | | Match report |
| 23-08-1952 | Epsom | 2-1 | Slough Town | League | | | Match report |
| 03-05-1952 | Slough Town | 1-2 | Erith | League | | | Match report |
| 01-05-1952 | Slough Town | 4-2 | Uxbridge | League | | | Match report |
| 29-04-1952 | Grays Athletic | 3-1 | Slough Town | League | | | Match report |
| 21-04-1952 | Epsom | 1-2 | Slough Town | League | | | Match report |
| 19-04-1952 | Slough Town | 1-1 | Slough Centre | Benevolent Cup | | | Match report |
| 22-03-1952 | Slough Town | 4-2 | Windsor & Eton | Benevolent Cup | | | Match report |
| 15-03-1952 | Hounslow | 2-0 | Slough Town | Memorial Shield | | | Match report |
| 01-03-1952 | Slough Town | 1-1 | Hounslow | Memorial Shield | | | Match report |
| 23-02-1952 | Slough Town | 4-1 | Erith | Memorial Shield | | | Match report |
| 16-02-1952 | Wolverton | 2-1 | Slough Town | B&B Senior Cup | | | Match report |
| 20-10-1951 | Maidstone United | 3-3 | Slough Town | League | | | Match report |
| 06-10-1951 | Tilbury | 0-2 | Slough Town | League | | | Match report |
| 04-10-1951 | Barnet | 1-6 | Slough Town | FA Cup | | | Match report |
| 08-09-1951 | Tilbury | 1-3 | Slough Town | Memorial Shield | | | Match report |
| 01-09-1951 | Slough Town | 2-1 | Epsom | League | | | Match report |
| 19-05-1951 | Maidenhead United | 1-2 | Slough Town | Benevolent Cup | | | Match report |
| 10-05-1951 | Slough Town | 2-0 | Hounslow | League | | | Match report |
| 07-05-1951 | Grays Athletic | 2-1 | Slough Town | League | | | Match report |
| 02-05-1951 | Hounslow | 1-0 | Slough Town | League | | | Match report |
| 18-04-1951 | Slough Town | 1-0 | Carshalton Ath | League | | | Match report |
| 14-04-1951 | Slough Town | 8-1 | Aylesbury United | Benevolent Cup | | | Match report |
| 11-04-1951 | Slough Town | 2-0 | Chesham United | League | | | Match report |
| 26-03-1951 | Chesham United | 2-1 | Slough Town | B&B Senior Cup | | | Match report |
| 24-03-1951 | Slough Town | 4-0 | Edgware | League | | | Match report |
| 27-01-1951 | Slough Town | 1-3 | Pegasus | FA Amateur Cup | | | Match report |
| 14-10-1950 | Banbury Spencer | 1-1 | Slough Town | FA Cup | | | Match report |
| 23-09-1950 | Slough Town | 3-0 | Kidlington | FA Amateur Cup | | | Match report |
| 01-04-1950 | Uxbridge | 2-3 | Slough Town | League | | | Match report |
| 25-03-1950 | Carshalton Ath | 7-0 | Slough Town | League | | | Match report |
| 18-03-1950 | Slough Town | 1-1 | Hounslow | Memorial Shield | | | Match report |
| 11-03-1950 | Eastbourne | 1-1 | Slough Town | League | | | Match report |
| 14-06-1947 | Grays Athletic | 4-1 | Slough Town | League | | | Match report |
| 31-05-1947 | Slough Town | 7-6 | Hounslow | League | | | Match report |
| 26-05-1947 | Hounslow | 1-2 | Slough Town | League | | | Match report |
| 24-05-1947 | Slough Town | 1-3 | Wolverton | Benevolent Cup | | | Match report |
| 03-05-1947 | Uxbridge | 0-1 | Slough Town | League | | | Match report |
| 26-04-1947 | Slough Town | 2-0 | Hastings United | League | | | Match report |
| 19-04-1947 | Edgware | 0-7 | Slough Town | League | | | Match report |
| 12-04-1947 | Slough Town | 6-0 | Bedford Avenue | League | | | Match report |
| 22-03-1947 | Bedford Avenue | 1-7 | Slough Town | League | | | Match report |
| 15-03-1947 | Slough Town | 4-4 | Eastbourne | League | | | Match report |
| 01-03-1947 | Wolverton | 2-3 | Slough Town | B&B Senior Cup | | | Match report |
| 25-01-1947 | Slough Town | 1-0 | Chesham United | B&B Senior Cup | | | Match report |
| 18-01-1947 | Slough Town | 4-3 | Carshalton Ath | League | | | Match report |
| 11-01-1947 | Slough Town | 1-2 | Windsor & Eton | League | | | Match report |
| 28-12-1946 | Slough Town | 1-3 | Walton & Hersham | League | | | Match report |
| 26-12-1946 | Maidenhead United | 1-1 | Slough Town | League | | | Match report |
| 25-12-1946 | Slough Town | 5-1 | Maidenhead United | League | | | Match report |
| 14-12-1946 | Eastbourne | 4-11 | Slough Town | League | | | Match report |
| 07-09-1946 | Carshalton Ath | 3-2 | Slough Town | League | | | Match report |
| 27-04-1946 | Walton & Hersham | 2-7 | Slough Town | League | | | Match report |
| 22-04-1946 | Grays Athletic | 1-0 | Slough Town | League | | | Match report |
| 13-04-1946 | Maidenhead United | 3-6 | Slough Town | League | | | Match report |
| 06-04-1946 | Slough Town | 2-1 | Windsor & Eton | League | | | Match report |
| 30-03-1946 | Epsom Town | 0-3 | Slough Town | Benevolent Cup | | | Match report |
| 26-03-1946 | Marlow | 3-10 | Slough Town | League | | | Match report |
| 19-03-1946 | Slough Town | 3-1 | Epsom Town | Benevolent Cup | | | Match report |
| 23-09-1944 | Finchley | 1-3 | Slough Town | League | | | Match report |
| 16-09-1944 | Slough Town | 7-0 | Leyton | League | | | Match report |
| 21-11-1942 | Tuffnell Park | 4-1 | Slough Town | League | | | Match report |
| 20-12-1941 | Wealdstone | 4-0 | Slough Town | League | | | Match report |
| 13-12-1941 | Slough Town | 4-1 | Wealdstone | League | | | Match report |
| 18-10-1941 | Barnet | 5-1 | Slough Town | League | | | Match report |
| 04-10-1941 | Slough Town | 3-6 | Enfield | League | | | Match report |
| 14-09-1940 | Golders Green | 3-4 | Slough Town | League | | | Match report |
Slough Town FC is not responsible for content produced on external websites | Copyright Slough Town FC 2023