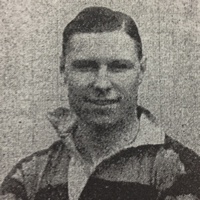 Position:
Unknown
Bio
Son of "Jock" Watson, the famous Scotland, Sunderland and Brentford full-back.
He played for Ealing in the Southern Amateur League before coming to Windsor in 1932-33 season.
Joined Slough in the following season and rapidly established himself as one of the most popular players in the team. Was elected captain for the 1934-35 season, and again for the current season.
Jock was a good all-round athlete.
Mens
| First Appearance | Appearances | First Goal | Goals |
| --- | --- | --- | --- |
| 09-12-1933 vs Walthamstow | 86 | 07-12-1935 vs Wolverton | 1 |
History
| Match Date | Home | Score | Away | Competition | Goals | Cards | |
| --- | --- | --- | --- | --- | --- | --- | --- |
| 19-04-1941 | Slough Town | 3-6 | Wealdstone | League | | | Match report |
| 21-09-1940 | Slough Town | 1-3 | Hitchin Town | League | | | Match report |
| 29-04-1936 | Windsor & Eton | 7-1 | Slough Town | Benevolent Cup | | | Match report |
| 18-04-1936 | Slough Town | 4-6 | Callenders Ath | League | | | Match report |
| 13-04-1936 | Maidenhead United | 1-3 | Slough Town | B&B Senior Cup | | | Match report |
| 04-04-1936 | Slough Town | 5-1 | Maidenhead United | League | | | Match report |
| 28-03-1936 | Jurgens | 1-0 | Slough Town | League | | | Match report |
| 21-03-1936 | Metropolitan Police | 4-1 | Slough Town | League | | | Match report |
| 14-03-1936 | Waterlows | 7-1 | Slough Town | League | | | Match report |
| 07-03-1936 | Aylesbury United | 6-0 | Slough Town | B&B Senior Cup | | | Match report |
| 29-02-1936 | Hitchin Town | 3-0 | Slough Town | League | | | Match report |
| 22-02-1936 | Slough Town | 0-4 | Metropolitan Police | League | | | Match report |
| 15-02-1936 | Cambridge Town | 3-2 | Slough Town | League | | | Match report |
| 08-02-1936 | Slough Town | 1-1 | Hoxton Manor | League | | | Match report |
| 25-01-1936 | Wycombe Wanderers | 3-4 | Slough Town | B&B Senior Cup | | | Match report |
| 11-01-1936 | Slough Town | 1-0 | Windsor & Eton | League | | | Match report |
| 28-12-1935 | Windsor & Eton | 6-1 | Slough Town | League | | | Match report |
| 21-12-1935 | Slough Town | 2-2 | Cambridge Town | League | | | Match report |
| 14-12-1935 | Chesham United | 1-0 | Slough Town | League | | | Match report |
| 07-12-1935 | Slough Town | 16-0 | Wolverton | Benevolent Cup | | | Match report |
| 30-11-1935 | Callenders Ath | 5-1 | Slough Town | League | | | Match report |
| 23-11-1935 | Slough Town | 3-0 | Hitchin Town | League | | | Match report |
| 16-11-1935 | Aylesbury United | 0-2 | Slough Town | League | | | Match report |
| 09-11-1935 | Slough Town | 5-2 | Jurgens | League | | | Match report |
| 02-11-1935 | Letchworth | 1-2 | Slough Town | League | | | Match report |
| 26-10-1935 | Marlow | 1-0 | Slough Town | FA Amateur Cup | | | Match report |
| 12-10-1935 | Slough Town | 4-2 | Banbury Spencer | FA Amateur Cup | | | Match report |
| 21-09-1935 | Wycombe Wanderers | 4-3 | Slough Town | FA Cup | | | Match report |
| 14-09-1935 | Slough Town | 1-3 | Aylesbury United | League | | | Match report |
| 07-09-1935 | AEC Southall | 2-4 | Slough Town | FA Cup | | | Match report |
| 31-08-1935 | Marlow | 2-5 | Slough Town | Benevolent Cup | | | Match report |
| 04-05-1935 | Egham Town | 6-1 | Slough Town | Windsor Hosp. | | | Match report |
| 24-04-1935 | Slough Town | 4-3 | Wycombe Wanderers | Windsor Hosp. | | | Match report |
| 20-04-1935 | Slough Town | 3-3 | Chesham United | League | | | Match report |
| 19-04-1935 | Slough Town | 4-2 | Callenders Ath | League | | | Match report |
| 13-04-1935 | Maidenhead United | 4-3 | Slough Town | League | | | Match report |
| 06-04-1935 | Wycombe Wanderers | 2-2 | Slough Town | Windsor Hosp. | | | Match report |
| 30-03-1935 | Slough Town | 1-1 | Letchworth | League | | | Match report |
| 23-03-1935 | Colchester Town | 4-4 | Slough Town | League | | | Match report |
| 16-03-1935 | Slough Town | 0-2 | Hitchin Town | League | | | Match report |
| 09-03-1935 | Windsor & Eton | 0-1 | Slough Town | League | | | Match report |
| 02-03-1935 | Waterlows | 1-3 | Slough Town | League | | | Match report |
| 23-02-1935 | Slough Town | 6-0 | Crittals Ath | League | | | Match report |
| 16-02-1935 | Callenders Ath | 3-2 | Slough Town | League | | | Match report |
| 09-02-1935 | Slough Town | 0-1 | Wycombe Wanderers | B&B Senior Cup | | | Match report |
| 02-02-1935 | Hoxton Manor | 3-0 | Slough Town | League | | | Match report |
| 26-01-1935 | Wycombe Wanderers | 2-0 | Slough Town | B&B Senior Cup | | | Match report |
| 05-01-1935 | Slough Town | 4-1 | Colchester Town | League | | | Match report |
| 29-12-1934 | Chesham United | 1-4 | Slough Town | League | | | Match report |
| 22-12-1934 | Slough Town | 4-0 | Maidenhead United | League | | | Match report |
| 15-12-1934 | Hounslow | 0-8 | Slough Town | League | | | Match report |
| 08-12-1934 | Slough Town | 1-2 | Hoxton Manor | League | | | Match report |
| 24-11-1934 | Metropolitan Police | 3-1 | Slough Town | League | | | Match report |
| 10-11-1934 | Slough Town | 2-0 | Windsor & Eton | League | | | Match report |
| 03-11-1934 | Slough Town | 2-0 | Metropolitan Police | League | | | Match report |
| 27-10-1934 | Slough Town | 3-1 | Apsley | League | | | Match report |
| 20-10-1934 | Newbury Town | 1-0 | Slough Town | FA Amateur Cup | | | Match report |
| 13-10-1934 | Crittals Ath | 8-2 | Slough Town | League | | | Match report |
| 06-10-1934 | Headington | 2-8 | Slough Town | FA Amateur Cup | | | Match report |
| 22-09-1934 | Hitchin Town | 5-0 | Slough Town | League | | | Match report |
| 15-09-1934 | Slough Town | 0-2 | Uxbridge | FA Cup | | | Match report |
| 08-09-1934 | Letchworth | 2-1 | Slough Town | League | | | Match report |
| 01-09-1934 | Slough Town | 3-1 | RAF Halton | FA Cup | | | Match report |
| 25-08-1934 | Slough Town | 5-2 | Waterlows | League | | | Match report |
| 30-04-1934 | Hounslow | 2-1 | Slough Town | League | | | Match report |
| 28-04-1934 | Hitchin Town | 5-3 | Slough Town | League | | | Match report |
| 25-04-1934 | Slough Town | 0-0 | Chesham United | League | | | Match report |
| 21-04-1934 | Callenders Ath | 3-4 | Slough Town | League | | | Match report |
| 14-04-1934 | Slough Town | 4-2 | Hitchin Town | League | | | Match report |
| 07-04-1934 | Slough Town | 5-0 | 1st Welsh Guards | Unknown Cup | | | Match report |
| 02-04-1934 | Windsor & Eton | 1-0 | Slough Town | League | | | Match report |
| 24-03-1934 | Colchester Town | 3-4 | Slough Town | League | | | Match report |
| 17-03-1934 | Slough Town | 0-1 | Callenders Ath | League | | | Match report |
| 10-03-1934 | Chesham United | 2-5 | Slough Town | B&B Senior Cup | | | Match report |
| 03-03-1934 | Letchworth | 3-2 | Slough Town | League | | | Match report |
| 24-02-1934 | Brentwood | 6-2 | Slough Town | League | | | Match report |
| 17-02-1934 | Crittals Ath | 2-2 | Slough Town | League | | | Match report |
| 10-02-1934 | Slough Town | 0-1 | Wood Green | League | | | Match report |
| 03-02-1934 | Windsor & Eton | 0-3 | Slough Town | B&B Senior Cup | | | Match report |
| 27-01-1934 | Slough Town | 2-2 | Windsor & Eton | B&B Senior Cup | | | Match report |
| 20-01-1934 | Slough Town | 4-3 | Colchester Town | League | | | Match report |
| 13-01-1934 | Windsor & Eton | 5-3 | Slough Town | Benevolent Cup | | | Match report |
| 30-12-1933 | Slough Town | 4-0 | Crittals Ath | League | | | Match report |
| 26-12-1933 | Slough Town | 4-1 | Windsor & Eton | League | | | Match report |
| 23-12-1933 | Slough Town | 1-3 | Metropolitan Police | League | | | Match report |
| 09-12-1933 | Slough Town | 0-4 | Walthamstow | FA Amateur Cup | | | Match report |
Slough Town FC is not responsible for content produced on external websites | Copyright Slough Town FC 2023