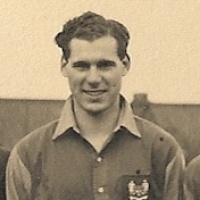 Position:
Defender
Achievements
1948/49 Berks & Bucks Benevolent Cup winner
1948/49 Berks & Bucks Senior Cup runner-up
Bio
John Anderson, nicknamed "Jock", played 23 games for Slough in season 1948/49.
He was born John McVane Anderson on 21 February 1923, and grew up in Montrose, Angus, Scotland.
He played football and cricket for his school, The Montrose Academy, and later played for Montrose Football Club.
John joined the RAF at the age of 19 in 1942, and went on to become a Spitfire pilot during the Second World War. He was shot down over Italy, and had to parachute out as his plane caught fire, so became a member of the 'Caterpillar Club'.
In 1945, John left the RAF, although he retained his commission of Flight Lieutenant in the RAF Reserves, a rank he did not relinquish until July 1959. After leaving the RAF, John took a degree in Economics and then joined Cooper Mechanical Joints in 1948. He spent the first three or four years of his time with the company in Slough.
During this time John played football, firstly for Slough Town and then for Hayes. At Slough, John won the Berks & Bucks Benevolent Cup after a 1-0 win over Maidenhead United, and a runner-up medal in the Berks & Bucks Senior Cup after a 2-1 defeat against Wycombe Wanderers in a replayed final.
John also met his future wife, Betty Louise Swadling, and they married at St. Paul's Church in Slough.
In 1951 John was promoted within CMJ and moved to Abergavenny. There were several more work moves before the family settled in Reading in 1955, where they remained. John and Betty had two daughters, Elaine and Janet. John continued to enjoy playing sport (hockey, cricket and golf) and had a life-long love of the game of football.
John sadly passed away in January 1988 at the age of just 64, after a heart attack. He is remembered as a wonderful father and grandfather, a good sportsman, and one of life's true gentlemen.
Mens
| First Appearance | Appearances | First Goal | Goals |
| --- | --- | --- | --- |
| 13-11-1948 vs Uxbridge | 23 | N/A | 0 |
History
| Match Date | Home | Score | Away | Competition | Goals | Cards | |
| --- | --- | --- | --- | --- | --- | --- | --- |
| 14-05-1949 | Maidenhead United | 0-1 | Slough Town | Benevolent Cup | | | Match report |
| 07-05-1949 | Worthing | 2-2 | Slough Town | League | | | Match report |
| 05-05-1949 | Slough Town | 1-2 | Worthing | League | | | Match report |
| 03-05-1949 | Slough Town | 1-2 | Hounslow | League | | | Match report |
| 02-05-1949 | Uxbridge | 1-1 | Slough Town | League | | | Match report |
| 26-04-1949 | Slough Town | 3-4 | Erith | League | | | Match report |
| 23-04-1949 | Wycombe Wanderers | 2-1 | Slough Town | B&B Senior Cup | | | Match report |
| 18-04-1949 | Wycombe Wanderers | 0-0 | Slough Town | B&B Senior Cup | | | Match report |
| 16-04-1949 | Slough Town | 2-2 | Grays Athletic | League | | | Match report |
| 09-04-1949 | Hounslow | 2-1 | Slough Town | League | | | Match report |
| 02-04-1949 | Slough Town | 2-0 | Aylesbury United | Benevolent Cup | | | Match report |
| 26-03-1949 | Grays Athletic | 0-4 | Slough Town | League | | | Match report |
| 05-03-1949 | Abingdon | 0-5 | Slough Town | B&B Senior Cup | | | Match report |
| 19-02-1949 | Marlow | 3-5 | Slough Town | Benevolent Cup | | | Match report |
| 12-02-1949 | Slough Town | 6-1 | Eastbourne | League | | | Match report |
| 05-02-1949 | Erith | 2-2 | Slough Town | League | | | Match report |
| 29-01-1949 | Chesham United | 2-2 | Slough Town | League | | | Match report |
| 22-01-1949 | Wolverton | 1-2 | Slough Town | B&B Senior Cup | | | Match report |
| 15-01-1949 | Windsor & Eton | 0-2 | Slough Town | League | | | Match report |
| 08-01-1949 | Slough Town | 5-0 | Chesham United | League | | | Match report |
| 18-12-1948 | Walton & Hersham | 1-2 | Slough Town | League | | | Match report |
| 11-12-1948 | Slough Town | 0-4 | Erith | Memorial Shield | | | Match report |
| 13-11-1948 | Slough Town | 1-2 | Uxbridge | League | | | Match report |
Slough Town FC is not responsible for content produced on external websites | Copyright Slough Town FC 2023