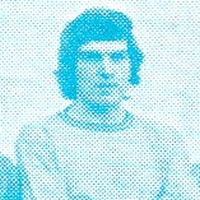 Stats
Position:
Defender
First Appearance:
27-04-1967 vs Wycombe Wanderers
Appearances:
48
First Goal:
15-08-1970 vs Tilbury
Goals:
6
Bio
Scottish born Ian has lived in Slough for the last seven years. As of 21 years of age, Ian played for Glasgow Schoolboys and after his move spent time with Slough before moving to Maidenhead last season. Returning this term. Very fast off the mark he is a centre back with plenty of aerial dominance.
History
| Match Date | Home | Score | Away | Competition | Goals | Cards | |
| --- | --- | --- | --- | --- | --- | --- | --- |
| 30-08-1971 | Leatherhead | 1-0 | Slough Town | League | | | Match report |
| 28-08-1971 | Slough Town | 2-1 | Wembley | League | | | Match report |
| 23-08-1971 | Slough Town | 4-0 | Southall | League | | | Match report |
| 21-08-1971 | Dagenham | 3-2 | Slough Town | League | | | Match report |
| 18-08-1971 | Redhill | 0-2 | Slough Town | League | | | Match report |
| 14-08-1971 | Slough Town | 1-0 | Tilbury | League | | | Match report |
| 13-05-1971 | Slough Town | 7-0 | Hemel Hempstead Town | Premier Midweek FL | | | Match report |
| 12-05-1971 | Slough Town | 2-1 | Hayes | League | | | Match report |
| 10-05-1971 | Wycombe Wanderers | 1-0 | Slough Town | B&B Senior Cup | | | Match report |
| 08-05-1971 | Dagenham | 1-0 | Slough Town | League | | | Match report |
| 03-05-1971 | Hayes | 1-1 | Slough Town | League | | | Match report |
| 28-04-1971 | Wycombe Wanderers | 0-0 | Slough Town | B&B Senior Cup | | | Match report |
| 19-04-1971 | Slough Town | 1-1 | Redhill | League | | | Match report |
| 03-04-1971 | Bishop's Stortford | 1-1 | Slough Town | League | | | Match report |
| 31-03-1971 | Slough Town | 2-0 | Cheshunt | League | | | Match report |
| 09-03-1971 | Hemel Hempstead Town | 0-2 | Slough Town | Premier Midweek FL | | | Match report |
| 06-02-1971 | Slough Town | 0-0 | Maidenhead United | B&B Senior Cup | | | Match report |
| 02-02-1971 | Cheshunt | 1-0 | Slough Town | League | | | Match report |
| 30-01-1971 | Harwich | 0-3 | Slough Town | FA Amateur Cup | | | Match report |
| 16-01-1971 | Redhill | 1-3 | Slough Town | FA Amateur Cup | | | Match report |
| 11-01-1971 | Slough Town | 1-2 | Wycombe Wanderers | Premier Midweek FL | | | Match report |
| 09-01-1971 | Slough Town | 1-1 | Redhill | FA Amateur Cup | | | Match report |
| 26-12-1970 | Slough Town | 1-1 | Maidenhead United | League | | | Match report |
| 21-12-1970 | Slough Town | 6-1 | Chesham United | Premier Midweek FL | | | Match report |
| 19-12-1970 | Slough Town | 4-1 | Marlow | B&B Senior Cup | | | Match report |
| 12-12-1970 | Slough Town | 0-1 | Barnet | FA Cup | | | Match report |
| 05-12-1970 | Walton & Hersham | 1-0 | Slough Town | League | | | Match report |
| 30-11-1970 | Slough Town | 3-1 | Maidenhead United | Premier Midweek FL | | | Match report |
| 28-11-1970 | Slough Town | 0-1 | Dagenham | League | | | Match report |
| 25-11-1970 | Slough Town | 1-0 | Wycombe Wanderers | FA Cup | | | Match report |
| 21-11-1970 | Wycombe Wanderers | 1-1 | Slough Town | FA Cup | | | Match report |
| 17-11-1970 | Wealdstone | 1-6 | Slough Town | Premier Midweek FL | | | Match report |
| 14-11-1970 | Harwich | 0-2 | Slough Town | League | | | Match report |
| 09-11-1970 | Hillingdon Borough | 0-2 | Slough Town | FA Cup | | | Match report |
| 07-11-1970 | Slough Town | 3-3 | Hillingdon Borough | FA Cup | | | Match report |
| 02-11-1970 | Oxford City | 4-1 | Slough Town | Premier Midweek FL | | | Match report |
| 31-10-1970 | Cheshunt | 4-2 | Slough Town | Athenian League Cup | | | Match report |
| 24-10-1970 | Slough Town | 2-1 | Ilford | FA Cup | | | Match report |
| 20-10-1970 | Chesham United | 2-1 | Slough Town | Premier Midweek FL | | | Match report |
| 17-10-1970 | Grays Athletic | 0-1 | Slough Town | League | | | Match report |
| 12-10-1970 | Slough Town | 2-1 | Marlow | Premier Midweek FL | | | Match report |
| 15-08-1970 | Tilbury | 2-2 | Slough Town | League | | | Match report |
| 07-09-1968 | Slough Town | 2-2 | Cheshunt | League | | | Match report |
| 04-09-1968 | Slough Town | 1-0 | Hounslow | League | | | Match report |
| 31-08-1968 | Harwich | 1-2 | Slough Town | League | | | Match report |
| 27-08-1968 | Southall | 0-1 | Slough Town | League | | | Match report |
| 24-08-1968 | Slough Town | 3-2 | Finchley | League | | | Match report |
| 27-04-1967 | Wycombe Wanderers | 1-0 | Slough Town | Wycombe Floodlit League | | | Match report |
Slough Town FC is not responsible for content produced on external websites | Copyright Slough Town FC 2021