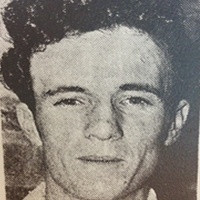 Position:
Midfielder
Bio
Another player who established himself in the side prior to his nineteenth birthday. Gordon is also one of the few local boys in the side.
He joined Slough midway through last season when they were short of a winger. Brown, the secretary, persuading him to play, and since then has been a regular player in the reserves.
As a left winger he had a few outings with the first team at the beginning of the season and since just before Christmas has kept his place.
Gordon, who is single and lives in Slough, joined Southern League club Yiewsley straight from Haymill School mid played regularly in their first team for some time before joining Slough.
At school he played at inside-right for the district team and. although naturally a right footed player, was forced to develop his left foot because he played on the left wing so often.
Gordon is now beginning to make his name with Slough as a thrustful winger who can score goals and fitted well into the forward line.
Left the club to play for local side Rainbow Sports.
Mens
| First Appearance | Appearances | First Goal | Goals |
| --- | --- | --- | --- |
| 24-08-1960 vs Wembley | 30 | 17-09-1960 vs Amersham Town | 7 |
History
| Match Date | Home | Score | Away | Competition | Goals | Cards | |
| --- | --- | --- | --- | --- | --- | --- | --- |
| 26-12-1961 | Maidenhead United | 2-0 | Slough Town | League | | | Match report |
| 23-12-1961 | Slough Town | 0-1 | Maidenhead United | League | | | Match report |
| 16-12-1961 | Chesham United | 0-1 | Slough Town | League | | | Match report |
| 09-12-1961 | Edgware | 2-1 | Slough Town | League | | | Match report |
| 02-12-1961 | Letchworth | 2-2 | Slough Town | League | | | Match report |
| 13-09-1961 | Slough Town | 0-3 | Carshalton Ath | S. Comb. Cup | | | Match report |
| 30-08-1961 | Slough Town | 1-1 | Erith | League | | | Match report |
| 26-08-1961 | Slough Town | 3-0 | Dorking | League | | | Match report |
| 22-08-1961 | Wokingham Town | 4-0 | Slough Town | League | | | Match report |
| 19-08-1961 | Leatherhead | 3-1 | Slough Town | League | | | Match report |
| 03-05-1961 | Slough Town | 0-5 | Worthing | League | | | Match report |
| 29-04-1961 | Horsham | 5-2 | Slough Town | League | | | Match report |
| 26-04-1961 | Slough Town | 1-3 | Edgware | League | | | Match report |
| 17-04-1961 | Slough Town | 0-2 | Windsor & Eton | S. Comb. Cup | | | Match report |
| 15-04-1961 | Eastbourne | 1-1 | Slough Town | League | | | Match report |
| 12-04-1961 | Edgware | 2-2 | Slough Town | League | | | Match report |
| 08-04-1961 | Slough Town | 0-3 | Wokingham Town | League | | | Match report |
| 03-04-1961 | Erith | 4-0 | Slough Town | League | | | Match report |
| 01-04-1961 | Slough Town | 2-1 | Dorking | League | | | Match report |
| 25-03-1961 | Slough Town | 1-2 | Letchworth | League | | | Match report |
| 18-02-1961 | Slough Town | 1-3 | Eastbourne | League | | | Match report |
| 14-01-1961 | Slough Town | 1-2 | Maidenhead United | Benevolent Cup | | | Match report |
| 07-01-1961 | Slough Town | 5-1 | Aylesbury United | B&B Senior Cup | | | Match report |
| 27-12-1960 | Slough Town | 2-3 | Maidenhead United | League | | | Match report |
| 26-12-1960 | Maidenhead United | 2-0 | Slough Town | League | | | Match report |
| 17-12-1960 | Dorking | 3-1 | Slough Town | League | | | Match report |
| 24-09-1960 | Carshalton Ath | 5-2 | Slough Town | FA Cup | | | Match report |
| 17-09-1960 | Slough Town | 10-1 | Amersham Town | FA Amateur Cup | | | Match report |
| 14-09-1960 | Wokingham Town | 0-0 | Slough Town | S. Comb. Cup | | | Match report |
| 24-08-1960 | Wembley | 6-0 | Slough Town | League | | | Match report |
Slough Town FC is not responsible for content produced on external websites | Copyright Slough Town FC 2023