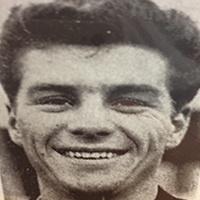 Position:
Defender
Bio
One of the most popular members of the club is Gerald Gray but lie prefers to be called Ginger!
Ginger was one of the original Slough Town Minors team, captaining them from the centre-half position and being selected for the youth league and county. He came into the reserve team a little over a season ago as a full-back and has played practically all his senior football in the left-back position.
Ginger made his first team debut against Edgware last season and was promptly up to his neck in work for he had to mark one of the fastest wingers in the league. He did so remarkably effectively and many consider- that this is the first game he has ever played for Slough.
Ginger kept his place in the team until the end of the season and this term has alternated with John Ford in defence, turning in many sound displays. He has also had a run at left-half and inside-left and in the latter position last week at Pegasus had the great pleasure of scoring the winning goal.
Ginger played between the reserves and first team and it is a tribute to his club spirit that he doesn't mind just so long as he gets his game of football.
Later played for Windsor & Eton and Maidenhead United.
Mens
| First Appearance | Appearances | First Goal | Goals |
| --- | --- | --- | --- |
| 12-04-1961 vs Edgware | 65 | 05-09-1962 vs Molesey | 1 |
History
| Match Date | Home | Score | Away | Competition | Goals | Cards | |
| --- | --- | --- | --- | --- | --- | --- | --- |
| 15-02-1964 | Worthing | 4-0 | Slough Town | Memorial Shield | | | Match report |
| 08-02-1964 | Windsor & Eton | 2-0 | Slough Town | B&B Senior Cup | | | Match report |
| 01-02-1964 | Slough Town | 5-0 | Didcot Town | B&B Senior Cup | | | Match report |
| 21-12-1963 | Wembley | 1-6 | Slough Town | League | | | Match report |
| 14-12-1963 | Slough Town | 0-3 | Leatherhead | League | | | Match report |
| 07-12-1963 | Slough Town | 4-2 | Edgware | Memorial Shield | | | Match report |
| 15-04-1963 | Slough Town | 1-3 | Wokingham Town | League | | | Match report |
| 13-04-1963 | Chesham United | 0-2 | Slough Town | League | | | Match report |
| 12-04-1963 | Chesham United | 3-0 | Slough Town | Memorial Shield | | | Match report |
| 06-04-1963 | Slough Town | 0-2 | Dorking | League | | | Match report |
| 30-03-1963 | Eastbourne | 2-1 | Slough Town | League | | | Match report |
| 23-03-1963 | Slough Town | 2-4 | Wycombe Wanderers | B&B Senior Cup | | | Match report |
| 16-03-1963 | Epsom | 0-5 | Slough Town | League | | | Match report |
| 09-03-1963 | Slough Town | 3-2 | Edgware | League | | | Match report |
| 02-03-1963 | Slough Town | 4-2 | Wembley | League | | | Match report |
| 26-12-1962 | Slough Town | 1-1 | Maidenhead United | League | | | Match report |
| 22-12-1962 | Maidenhead United | 1-1 | Slough Town | League | | | Match report |
| 15-12-1962 | Edgware | 4-1 | Slough Town | League | | | Match report |
| 08-12-1962 | Slough Town | 5-2 | Erith | League | | | Match report |
| 01-12-1962 | Wembley | 2-3 | Slough Town | League | | | Match report |
| 24-11-1962 | Slough Town | 2-2 | Letchworth | League | | | Match report |
| 17-11-1962 | Slough Town | 2-0 | Epsom | League | | | Match report |
| 03-11-1962 | Dorking | 5-2 | Slough Town | League | | | Match report |
| 27-10-1962 | Erith | 2-2 | Slough Town | League | | | Match report |
| 20-10-1962 | Slough Town | 0-0 | Dagenham | League | | | Match report |
| 13-10-1962 | Dagenham | 2-1 | Slough Town | League | | | Match report |
| 06-10-1962 | Slough Town | 3-1 | Uxbridge | League | | | Match report |
| 29-09-1962 | Slough Town | 2-4 | Newbury Town | FA Amateur Cup | | | Match report |
| 22-09-1962 | Slough Town | 0-4 | Tooting | FA Cup | | | Match report |
| 15-09-1962 | Slough Town | 2-1 | Dagenham | Memorial Shield | | | Match report |
| 08-09-1962 | Epsom | 1-3 | Slough Town | FA Cup | | | Match report |
| 05-09-1962 | Slough Town | 4-3 | Molesey | S. Comb. Cup | | | Match report |
| 01-09-1962 | Worthing | 2-2 | Slough Town | League | | | Match report |
| 30-08-1962 | Wokingham Town | 1-0 | Slough Town | League | | | Match report |
| 25-08-1962 | Leatherhead | 3-3 | Slough Town | League | | | Match report |
| 22-08-1962 | Slough Town | 2-1 | Chesham United | League | | | Match report |
| 12-05-1962 | Slough Town | 2-1 | Wokingham Town | Benevolent Cup | | | Match report |
| 14-04-1962 | Slough Town | 2-0 | Epsom | League | | | Match report |
| 07-04-1962 | Slough Town | 3-2 | Windsor & Eton | Benevolent Cup | | | Match report |
| 31-03-1962 | Epsom | 2-1 | Slough Town | League | | | Match report |
| 24-03-1962 | Windsor & Eton | 0-1 | Slough Town | B&B Senior Cup | | | Match report |
| 10-03-1962 | Slough Town | 2-1 | Letchworth | League | | | Match report |
| 03-03-1962 | Slough Town | 2-0 | Worthing | League | | | Match report |
| 17-02-1962 | Slough Town | 3-0 | Eastbourne | League | | | Match report |
| 10-02-1962 | Slough Town | 2-0 | Newbury Town | B&B Senior Cup | | | Match report |
| 03-02-1962 | Worthing | 4-0 | Slough Town | League | | | Match report |
| 27-01-1962 | Slough Town | 2-0 | Chesham United | Benevolent Cup | | | Match report |
| 20-01-1962 | Leatherhead | 3-0 | Slough Town | Memorial Shield | | | Match report |
| 13-01-1962 | Slough Town | 2-1 | Chesham United | League | | | Match report |
| 06-01-1962 | Uxbridge | 1-0 | Slough Town | League | | | Match report |
| 16-12-1961 | Chesham United | 0-1 | Slough Town | League | | | Match report |
| 09-12-1961 | Edgware | 2-1 | Slough Town | League | | | Match report |
| 02-12-1961 | Letchworth | 2-2 | Slough Town | League | | | Match report |
| 21-10-1961 | Dorking | 2-2 | Slough Town | League | | | Match report |
| 14-10-1961 | Slough Town | 4-2 | Dagenham | League | | | Match report |
| 30-09-1961 | Slough Town | 1-2 | Aylesbury United | FA Amateur Cup | | | Match report |
| 13-09-1961 | Slough Town | 0-3 | Carshalton Ath | S. Comb. Cup | | | Match report |
| 02-09-1961 | Dagenham | 3-4 | Slough Town | League | | | Match report |
| 03-05-1961 | Slough Town | 0-5 | Worthing | League | | | Match report |
| 29-04-1961 | Horsham | 5-2 | Slough Town | League | | | Match report |
| 26-04-1961 | Slough Town | 1-3 | Edgware | League | | | Match report |
| 22-04-1961 | Letchworth | 1-0 | Slough Town | League | | | Match report |
| 17-04-1961 | Slough Town | 0-2 | Windsor & Eton | S. Comb. Cup | | | Match report |
| 15-04-1961 | Eastbourne | 1-1 | Slough Town | League | | | Match report |
| 12-04-1961 | Edgware | 2-2 | Slough Town | League | | | Match report |
Slough Town FC is not responsible for content produced on external websites | Copyright Slough Town FC 2023