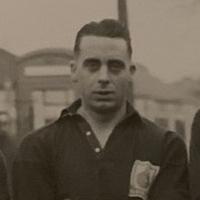 Position:
Unknown
Bio
Cyril was born at Sharpness on 14 May 1919.
He joined the Army in October 1939, and served in France and Germany. During his Army career he spent 2 years in Northern Ireland with Jock MacKenzie, when a firm friendship was built up.
In his earlier years he played for Sharpness, his local club, and in season 1938/39 had a trial for Bristol City, and in September 1942 for Bradford City. He joined Slough in 1943, playing his first game against Grays in October, winning 4-2.
He returned to his local club in February 1946 and also achieved his ambition having been chosen to play for his county against Dorset on 21 December 1946.
In April 1946 he scored all six goals in a 6-3 win at Maidenhead United.
Mens
| First Appearance | Appearances | First Goal | Goals |
| --- | --- | --- | --- |
| 09-10-1943 vs Grays Athletic | 26 | 09-10-1943 vs Grays Athletic | 39 |
History
| Match Date | Home | Score | Away | Competition | Goals | Cards | |
| --- | --- | --- | --- | --- | --- | --- | --- |
| 09-10-1946 | Windsor & Eton | 2-4 | Slough Town | FA Cup | | | Match report |
| 28-09-1946 | Erith | 1-2 | Slough Town | League | | | Match report |
| 21-09-1946 | Slough Town | 4-2 | Lyons Club | FA Cup | | | Match report |
| 14-09-1946 | Walton & Hersham | 2-2 | Slough Town | League | | | Match report |
| 07-09-1946 | Carshalton Ath | 3-2 | Slough Town | League | | | Match report |
| 11-05-1946 | Chippenham Town | 0-4 | Slough Town | Unknown Cup | | | Match report |
| 29-04-1946 | Slough Town | 1-1 | Wycombe Wanderers | Benevolent Cup | | | Match report |
| 27-04-1946 | Walton & Hersham | 2-7 | Slough Town | League | | | Match report |
| 22-04-1946 | Grays Athletic | 1-0 | Slough Town | League | | | Match report |
| 20-04-1946 | Twickenham | 2-4 | Slough Town | League | | | Match report |
| 19-04-1946 | Slough Town | 0-0 | Grays Athletic | League | | | Match report |
| 13-04-1946 | Maidenhead United | 3-6 | Slough Town | League | | | Match report |
| 06-04-1946 | Slough Town | 2-1 | Windsor & Eton | League | | | Match report |
| 26-03-1946 | Marlow | 3-10 | Slough Town | League | | | Match report |
| 19-03-1946 | Slough Town | 3-1 | Epsom Town | Benevolent Cup | | | Match report |
| 02-03-1946 | Slough Town | 6-5 | St Albans City | Unknown Cup | | | Match report |
| 23-02-1946 | Wycombe Wanderers | 6-1 | Slough Town | League | | | Match report |
| 16-02-1946 | Moor Green | 2-1 | Slough Town | B&B Senior Cup | | | Match report |
| 13-05-1944 | RAF HW | 4-2 | Slough Town | Red Cross Cup | | | Match report |
| 06-05-1944 | Slough Town | 4-1 | RAF HW | Red Cross Cup | | | Match report |
| 04-12-1943 | Slough Town | 1-2 | Tuffnell Park | League | | | Match report |
| 27-11-1943 | Slough Town | 1-0 | Hitchin Town | League | | | Match report |
| 13-11-1943 | Windsor & Eton | 5-2 | Slough Town | B&B Senior Emergency Cup | | | Match report |
| 23-10-1943 | Wood Green | 1-9 | Slough Town | League | | | Match report |
| 16-10-1943 | Slough Town | 7-0 | H D A | B&B Senior Emergency Cup | | | Match report |
| 09-10-1943 | Grays Athletic | 2-4 | Slough Town | League | | | Match report |
Slough Town FC is not responsible for content produced on external websites | Copyright Slough Town FC 2023