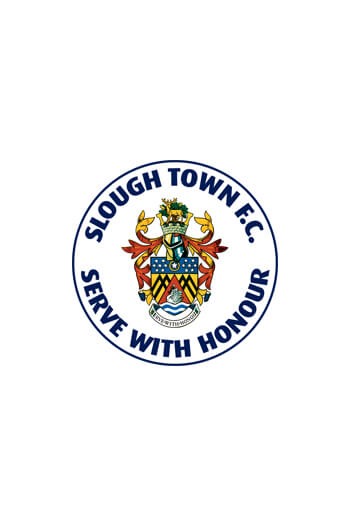 Position:
Defender
Bio
Wing Half/Centre Half.
Six foot tall and as good in the air as he was on the ground, he joined Slough from Maidenhead United, where he had already enjoyed an outstanding career, in summer 1966.
His all-action style of play equipped him best for a wing half role but he also performed with distinction at centre half when needed. Apart from a brief spell with Wycombe Wanderers at the beginning of season 1969/70, he was a first team regular throughout his time with the Rebels which ended with the arrival of new manager, Tommy Lawrence, in summer 1970.
He subsequently continued to play with distinction for both Hayes and Wokingham Town. Although invited to train with the England amateur squad, he was widely regarded as unfortunate not to win a cap.
An upholsterer by trade, Bobby was born in Reading where he learned his football playing for the local Schools' District Team in Wokingham. In 1962 he joined our local rivals Maidenhead, where he stayed for four seasons, apart from half a season with Hounslow Town.
At one time West Bromwich Albion approached him to join them but as Bobby told me, "I enjoy my football too much. Once it becomes one's profession one ceases to enjoy it. I love playing football and I want to go on enjoying it."
Mens
| First Appearance | Appearances | First Goal | Goals |
| --- | --- | --- | --- |
| 20-08-1966 vs Leyton | 231 | 20-08-1966 vs Leyton | 83 |
History
| Match Date | Home | Score | Away | Competition | Goals | Cards | |
| --- | --- | --- | --- | --- | --- | --- | --- |
| 25-04-1970 | Slough Town | 0-0 | Leatherhead | League | | | Match report |
| 22-04-1970 | Crawley Town | 0-2 | Slough Town | Premier Midweek FL | | | Match report |
| 20-04-1970 | Slough Town | 7-0 | Redhill | Premier Midweek FL | | | Match report |
| 15-04-1970 | Slough Town | 3-0 | Windsor & Eton | Windsor Hosp. | | | Match report |
| 10-04-1970 | Redhill | 0-1 | Slough Town | League | | | Match report |
| 08-04-1970 | Slough Town | 2-1 | Dagenham | League | | | Match report |
| 30-03-1970 | Walton & Hersham | 1-5 | Slough Town | League | | | Match report |
| 28-03-1970 | Slough Town | 0-0 | Finchley | League | | | Match report |
| 23-03-1970 | Guildford City | 2-1 | Slough Town | Premier Midweek FL | | | Match report |
| 21-03-1970 | Leatherhead | 0-2 | Slough Town | League | | | Match report |
| 18-03-1970 | Slough Town | 0-1 | Woking | Premier Midweek FL | | | Match report |
| 14-03-1970 | Cheshunt | 0-1 | Slough Town | League | | | Match report |
| 10-03-1970 | Walton & Hersham | 3-2 | Slough Town | Premier Midweek FL | | | Match report |
| 07-03-1970 | Hayes | 2-1 | Slough Town | League | | | Match report |
| 28-02-1970 | Skelmersdale | 3-0 | Slough Town | FA Amateur Cup | | | Match report |
| 21-02-1970 | Slough Town | 0-0 | Skelmersdale | FA Amateur Cup | | | Match report |
| 07-02-1970 | Slough Town | 2-0 | Alvechurch | FA Amateur Cup | | | Match report |
| 31-01-1970 | Alvechurch | 2-2 | Slough Town | FA Amateur Cup | | | Match report |
| 24-01-1970 | Maidenhead United | 3-1 | Slough Town | B&B Senior Cup | | | Match report |
| 20-01-1970 | Addlestone | 0-3 | Slough Town | Wycombe Floodlit Lge. | | | Match report |
| 17-01-1970 | Slough Town | 4-1 | Wembley | League | | | Match report |
| 10-01-1970 | Slough Town | 2-0 | Aveley | FA Amateur Cup | | | Match report |
| 03-01-1970 | Slough Town | 0-1 | Walton & Hersham | League | | | Match report |
| 27-12-1969 | Finchley | 1-5 | Slough Town | League | | | Match report |
| 20-12-1969 | Slough Town | 5-0 | Eastbourne Utd | League | | | Match report |
| 13-12-1969 | Chesham United | 2-3 | Slough Town | FA Amateur Cup | | | Match report |
| 08-12-1969 | Slough Town | 2-1 | Walton & Hersham | Premier Midweek FL | | | Match report |
| 06-12-1969 | Harwich | 0-1 | Slough Town | League | | | Match report |
| 02-12-1969 | Woking | 2-3 | Slough Town | Premier Midweek FL | | | Match report |
| 26-11-1969 | Slough Town | 3-0 | Wokingham Town | Premier Midweek FL | | | Match report |
| 22-11-1969 | Slough Town | 3-3 | Harwich | League | | | Match report |
| 19-11-1969 | Slough Town | 2-0 | Crawley Town | Premier Midweek FL | | | Match report |
| 15-11-1969 | Bishop's Stortford | 1-0 | Slough Town | League | | | Match report |
| 11-11-1969 | Addlestone | 0-1 | Slough Town | Premier Midweek FL | | | Match report |
| 08-11-1969 | Slough Town | 0-0 | Redhill | League | | | Match report |
| 01-11-1969 | Grays Athletic | 0-0 | Slough Town | League | | | Match report |
| 25-10-1969 | Slough Town | 3-0 | Tilbury | League | | | Match report |
| 18-10-1969 | Eastbourne Utd | 0-4 | Slough Town | League | | | Match report |
| 15-10-1969 | Redhill | 1-3 | Slough Town | Premier Midweek FL | | | Match report |
| 11-10-1969 | Slough Town | 0-1 | Grays Athletic | League | | | Match report |
| 08-10-1969 | Slough Town | 3-2 | Guildford City | Premier Midweek FL | | | Match report |
| 04-10-1969 | Wembley | 0-3 | Slough Town | League | | | Match report |
| 29-09-1969 | Wokingham Town | 1-2 | Slough Town | Premier Midweek FL | | | Match report |
| 27-09-1969 | Slough Town | 1-1 | Cheshunt | League | | | Match report |
| 20-09-1969 | Hertford Town | 1-0 | Slough Town | FA Cup | | | Match report |
| 16-09-1969 | Maidenhead United | 1-4 | Slough Town | League | | | Match report |
| 13-09-1969 | Slough Town | 2-2 | Hayes | League | | | Match report |
| 06-09-1969 | Slough Town | 0-3 | Walton & Hersham | Athenian League Cup | | | Match report |
| 03-09-1969 | Slough Town | 1-0 | Southall | League | | | Match report |
| 09-05-1969 | Slough Town | 0-2 | Wokingham Town | Unknown Cup | | | Match report |
| 07-05-1969 | Slough Town | 3-1 | Hayes | Premier Midweek FL | | | Match report |
| 03-05-1969 | Hayes | 1-0 | Slough Town | League | | | Match report |
| 30-04-1969 | Slough Town | 2-1 | Dagenham | League | | | Match report |
| 25-04-1969 | Walton & Hersham | 0-3 | Slough Town | League | | | Match report |
| 19-04-1969 | Hounslow | 2-3 | Slough Town | League | | | Match report |
| 15-04-1969 | Hayes | 1-1 | Slough Town | Premier Midweek FL | | | Match report |
| 12-04-1969 | Slough Town | 3-0 | Wembley | League | | | Match report |
| 07-04-1969 | Slough Town | 0-1 | Wokingham Town | B&B Senior Cup | | | Match report |
| 31-03-1969 | Hillingdon | 2-0 | Slough Town | Premier Midweek FL | | | Match report |
| 29-03-1969 | Bishop's Stortford | 1-3 | Slough Town | League | | | Match report |
| 26-03-1969 | Slough Town | 3-2 | Wembley | Premier Midweek FL | | | Match report |
| 24-03-1969 | Slough Town | 0-0 | St Albans City | Premier Midweek FL | | | Match report |
| 22-03-1969 | Slough Town | 2-2 | Walton & Hersham | League | | | Match report |
| 19-03-1969 | Slough Town | 3-0 | Redhill | League | | | Match report |
| 15-03-1969 | Wolverton | 2-3 | Slough Town | B&B Senior Cup | | | Match report |
| 08-03-1969 | Slough Town | 2-0 | Hornchurch | League | | | Match report |
| 05-03-1969 | Slough Town | 6-1 | Finchley | Premier Midweek FL | | | Match report |
| 03-03-1969 | Maidenhead United | 0-0 | Slough Town | League | | | Match report |
| 25-02-1969 | Chesham United | 2-3 | Slough Town | Premier Midweek FL | | | Match report |
| 22-02-1969 | Slough Town | 4-3 | Southall | League | | | Match report |
| 18-02-1969 | Cheshunt | 1-4 | Slough Town | League | | | Match report |
| 08-02-1969 | Marlow | 0-1 | Slough Town | B&B Senior Cup | | | Match report |
| 01-02-1969 | Whitley Bay | 3-2 | Slough Town | FA Amateur Cup | | | Match report |
| 25-01-1969 | Wembley | 0-1 | Slough Town | League | | | Match report |
| 18-01-1969 | Slough Town | 2-1 | Grays Athletic | League | | | Match report |
| 11-01-1969 | Slough Town | 4-0 | Hitchin Town | FA Amateur Cup | | | Match report |
| 04-01-1969 | Slough Town | 1-0 | Bishop's Stortford | League | | | Match report |
| 21-12-1968 | Slough Town | 2-1 | Walton & Hersham | FA Amateur Cup | | | Match report |
| 14-12-1968 | Walton & Hersham | 2-2 | Slough Town | FA Amateur Cup | | | Match report |
| 09-12-1968 | Slough Town | 1-0 | Woking | Wycombe Floodlit Lge. | | | Match report |
| 07-12-1968 | Slough Town | 4-0 | Harwich | League | | | Match report |
| 23-11-1968 | Redhill | 1-4 | Slough Town | League | | | Match report |
| 20-11-1968 | Slough Town | 1-1 | Chesham United | Premier Midweek FL | | | Match report |
| 18-11-1968 | Woking | 2-0 | Slough Town | Wycombe Floodlit Lge. | | | Match report |
| 16-11-1968 | Slough Town | 3-1 | Leatherhead | League | | | Match report |
| 13-11-1968 | Wembley | 3-0 | Slough Town | Premier Midweek FL | | | Match report |
| 09-11-1968 | Finchley | 1-1 | Slough Town | League | | | Match report |
| 06-11-1968 | Wealdstone | 2-0 | Slough Town | FA Cup | | | Match report |
| 02-11-1968 | Slough Town | 1-1 | Wealdstone | FA Cup | | | Match report |
| 26-10-1968 | Slough Town | 1-1 | Hayes | League | | | Match report |
| 23-10-1968 | Slough Town | 4-2 | Hemel Hempstead Town | Premier Midweek FL | | | Match report |
| 19-10-1968 | Slough Town | 2-0 | Bishop's Stortford | FA Cup | | | Match report |
| 12-10-1968 | Dagenham | 3-2 | Slough Town | League | | | Match report |
| 05-10-1968 | Slough Town | 2-1 | Hendon | FA Cup | | | Match report |
| 28-09-1968 | Grays Athletic | 2-4 | Slough Town | League | | | Match report |
| 21-09-1968 | Slough Town | 2-1 | Feltham | FA Cup | | | Match report |
| 14-09-1968 | Leatherhead | 2-3 | Slough Town | League | | | Match report |
| 11-09-1968 | Dagenham | 2-1 | Slough Town | Mithras Cup | | | Match report |
| 07-09-1968 | Slough Town | 2-2 | Cheshunt | League | | | Match report |
| 04-09-1968 | Slough Town | 1-0 | Hounslow | League | | | Match report |
| 31-08-1968 | Harwich | 1-2 | Slough Town | League | | | Match report |
| 27-08-1968 | Southall | 0-1 | Slough Town | League | | | Match report |
| 24-08-1968 | Slough Town | 3-2 | Finchley | League | | | Match report |
| 21-08-1968 | Slough Town | 0-0 | Maidenhead United | League | | | Match report |
| 17-08-1968 | Hornchurch | 2-1 | Slough Town | League | | | Match report |
| 14-08-1968 | Slough Town | 1-2 | Wycombe Wanderers | Windsor Hosp. | | | Match report |
| 10-08-1968 | Slough Town | 0-0 | Dagenham | Mithras Cup | | | Match report |
| 07-05-1968 | Hornchurch | 2-4 | Slough Town | Mithras Cup | | | Match report |
| 05-05-1968 | Windsor & Eton | 5-1 | Slough Town | Windsor Hosp. | | | Match report |
| 04-05-1968 | Slough Town | 4-2 | Leyton | League | | | Match report |
| 27-04-1968 | Leatherhead | 0-0 | Slough Town | League | | | Match report |
| 24-04-1968 | Slough Town | 4-1 | Hornchurch | Mithras Cup | | | Match report |
| 23-04-1968 | Southall | 0-0 | Slough Town | League | | | Match report |
| 19-04-1968 | Slough Town | 4-0 | Bishop's Stortford | League | | | Match report |
| 15-04-1968 | Wycombe Wanderers | 3-2 | Slough Town | B&B Senior Cup | | | Match report |
| 13-04-1968 | Slough Town | 6-1 | Hornchurch | League | | | Match report |
| 11-04-1968 | Slough Town | 4-0 | Maidenhead United | Wycombe Floodlit Lge. | | | Match report |
| 06-04-1968 | Aylesbury United | 0-1 | Slough Town | B&B Senior Cup | | | Match report |
| 04-04-1968 | Guildford City | 3-1 | Slough Town | Premier Midweek FL | | | Match report |
| 30-03-1968 | Chesham United | 0-2 | Slough Town | B&B Senior Cup | | | Match report |
| 26-03-1968 | Maidenhead United | 0-2 | Slough Town | Wycombe Floodlit Lge. | | | Match report |
| 23-03-1968 | Slough Town | 0-0 | Chesham United | B&B Senior Cup | | | Match report |
| 18-03-1968 | Slough Town | 3-1 | Redhill | League | | | Match report |
| 16-03-1968 | Hemel Hempstead Town | 0-2 | Slough Town | League | | | Match report |
| 11-03-1968 | Slough Town | 1-1 | Dagenham | League | | | Match report |
| 09-03-1968 | Slough Town | 3-1 | Leatherhead | League | | | Match report |
| 06-03-1968 | Slough Town | 3-0 | Hertford Town | Mithras Cup | | | Match report |
| 04-03-1968 | Slough Town | 2-0 | Wycombe Wanderers | Wycombe Floodlit Lge. | | | Match report |
| 02-03-1968 | Slough Town | 7-0 | Hemel Hempstead Town | League | | | Match report |
| 28-02-1968 | Slough Town | 0-1 | Walton & Hersham | Premier Midweek FL | | | Match report |
| 26-02-1968 | Hertford Town | 2-0 | Slough Town | Mithras Cup | | | Match report |
| 24-02-1968 | Hayes | 0-2 | Slough Town | League | | | Match report |
| 21-02-1968 | Tooting | 0-0 | Slough Town | Premier Midweek FL | | | Match report |
| 17-02-1968 | Sutton United | 1-0 | Slough Town | FA Amateur Cup | | | Match report |
| 10-02-1968 | Slough Town | 1-1 | Sutton United | FA Amateur Cup | | | Match report |
| 03-02-1968 | West Auckland | 1-3 | Slough Town | FA Amateur Cup | | | Match report |
| 27-01-1968 | Marlow | 0-4 | Slough Town | B&B Senior Cup | | | Match report |
| 22-01-1968 | Wokingham Town | 0-3 | Slough Town | Wycombe Floodlit Lge. | | | Match report |
| 20-01-1968 | Slough Town | 3-2 | Finchley | FA Amateur Cup | | | Match report |
| 06-01-1968 | Slough Town | 1-2 | Hounslow | League | | | Match report |
| 03-01-1968 | Slough Town | 5-2 | Horsham | Mithras Cup | | | Match report |
| 30-12-1967 | Slough Town | 4-0 | Maidenhead United | League | | | Match report |
| 26-12-1967 | Maidenhead United | 0-4 | Slough Town | League | | | Match report |
| 22-12-1967 | Slough Town | 5-2 | Southall | Wycombe Floodlit Lge. | | | Match report |
| 18-12-1967 | Wycombe Wanderers | 1-5 | Slough Town | Wycombe Floodlit Lge. | | | Match report |
| 16-12-1967 | Slough Town | 4-1 | Hoddesdon | FA Amateur Cup | | | Match report |
| 04-12-1967 | Slough Town | 3-0 | Woking | Wycombe Floodlit Lge. | | | Match report |
| 02-12-1967 | Harwich | 1-3 | Slough Town | League | | | Match report |
| 29-11-1967 | Slough Town | 2-0 | Tooting | Premier Midweek FL | | | Match report |
| 25-11-1967 | Slough Town | 5-0 | Grays Athletic | League | | | Match report |
| 22-11-1967 | Slough Town | 7-1 | Crawley Town | Premier Midweek FL | | | Match report |
| 18-11-1967 | Walton & Hersham | 0-2 | Slough Town | League | | | Match report |
| 15-11-1967 | Slough Town | 2-1 | Guildford City | Premier Midweek FL | | | Match report |
| 11-11-1967 | Hornchurch | 0-1 | Slough Town | League | | | Match report |
| 07-11-1967 | Walton & Hersham | 0-2 | Slough Town | Premier Midweek FL | | | Match report |
| 04-11-1967 | Slough Town | 9-1 | Southall | League | | | Match report |
| 01-11-1967 | Leytonstone | 2-1 | Slough Town | FA Cup | | | Match report |
| 28-10-1967 | Slough Town | 2-2 | Leytonstone | FA Cup | | | Match report |
| 21-10-1967 | Finchley | 1-2 | Slough Town | League | | | Match report |
| 17-10-1967 | Southall | 1-1 | Slough Town | Premier Midweek FL | | | Match report |
| 14-10-1967 | Slough Town | 5-1 | Bishop's Stortford | FA Cup | | | Match report |
| 11-10-1967 | Slough Town | 3-3 | Leatherhead | Premier Midweek FL | | | Match report |
| 07-10-1967 | Leyton | 0-4 | Slough Town | League | | | Match report |
| 03-10-1967 | Horsham | 2-2 | Slough Town | Premier Midweek FL | | | Match report |
| 30-09-1967 | Slough Town | 3-0 | Hertford Town | FA Cup | | | Match report |
| 23-09-1967 | Hounslow | 1-3 | Slough Town | League | | | Match report |
| 20-09-1967 | Slough Town | 1-0 | Windsor & Eton | Westminster Hospital Cup | | | Match report |
| 16-09-1967 | Slough Town | 3-0 | Corinthian Casuals | FA Cup | | | Match report |
| 09-09-1967 | Slough Town | 3-0 | Walton & Hersham | League | | | Match report |
| 06-09-1967 | Slough Town | 2-0 | Hayes | League | | | Match report |
| 02-09-1967 | Grays Athletic | 1-4 | Slough Town | League | | | Match report |
| 28-08-1967 | Redhill | 3-3 | Slough Town | League | | | Match report |
| 26-08-1967 | Slough Town | 6-2 | Harwich | League | | | Match report |
| 23-08-1967 | Slough Town | 2-2 | Finchley | League | | | Match report |
| 19-08-1967 | Bishop's Stortford | 1-2 | Slough Town | League | | | Match report |
| 17-05-1967 | Slough Town | 1-0 | Hendon | Benevolent Fund | | | Match report |
| 07-05-1967 | Windsor & Eton | 1-1 | Slough Town | Windsor Hosp. | | | Match report |
| 29-04-1967 | Grays Athletic | 4-1 | Slough Town | League | | | Match report |
| 26-04-1967 | Slough Town | 2-1 | Leatherhead | League | | | Match report |
| 19-04-1967 | Slough Town | 0-0 | Hemel Hempstead Town | League | | | Match report |
| 17-04-1967 | Maidenhead United | 2-1 | Slough Town | Wycombe Floodlit League | | | Match report |
| 15-04-1967 | Harwich | 1-5 | Slough Town | League | | | Match report |
| 12-04-1967 | Slough Town | 2-0 | Southall | Wycombe Floodlit League | | | Match report |
| 10-04-1967 | Slough Town | 1-0 | Maidenhead United | Wycombe Floodlit League | | | Match report |
| 08-04-1967 | Slough Town | 1-1 | Southall | League | | | Match report |
| 06-04-1967 | Oxford City | 6-1 | Slough Town | Wycombe Floodlit League | | | Match report |
| 04-04-1967 | Walton & Hersham | 1-2 | Slough Town | League | | | Match report |
| 01-04-1967 | Slough Town | 2-1 | Harwich | League | | | Match report |
| 29-03-1967 | Slough Town | 3-1 | Oxford City | Wycombe Floodlit League | | | Match report |
| 27-03-1967 | Leyton | 2-0 | Slough Town | League | | | Match report |
| 25-03-1967 | Slough Town | 0-2 | Dagenham | League | | | Match report |
| 22-03-1967 | Edgware | 1-4 | Slough Town | League | | | Match report |
| 18-03-1967 | Worthing | 0-4 | Slough Town | League | | | Match report |
| 14-03-1967 | Leatherhead | 1-0 | Slough Town | League | | | Match report |
| 11-03-1967 | Slough Town | 1-0 | Worthing | League | | | Match report |
| 08-03-1967 | Hemel Hempstead Town | 1-0 | Slough Town | League | | | Match report |
| 04-03-1967 | Skelmersdale | 1-0 | Slough Town | FA Amateur Cup | | | Match report |
| 25-02-1967 | Slough Town | 2-2 | Skelmersdale | FA Amateur Cup | | | Match report |
| 18-02-1967 | Chesham United | 2-1 | Slough Town | B&B Senior Cup | | | Match report |
| 11-02-1967 | Southall | 0-1 | Slough Town | FA Amateur Cup | | | Match report |
| 04-02-1967 | Slough Town | 4-0 | Chalfont St Peter | B&B Senior Cup | | | Match report |
| 28-01-1967 | Harwich | 0-2 | Slough Town | FA Amateur Cup | | | Match report |
| 21-01-1967 | Hitchin Town | 1-3 | Slough Town | FA Amateur Cup | | | Match report |
| 18-01-1967 | Slough Town | 1-1 | Finchley | League | | | Match report |
| 14-01-1967 | Slough Town | 1-1 | Hitchin Town | FA Amateur Cup | | | Match report |
| 31-12-1966 | Maidenhead United | 1-1 | Slough Town | League | | | Match report |
| 26-12-1966 | Slough Town | 4-5 | Maidenhead United | League | | | Match report |
| 17-12-1966 | Witney | 0-4 | Slough Town | FA Amateur Cup | | | Match report |
| 13-12-1966 | Maidenhead United | 2-0 | Slough Town | Mithras Cup | | | Match report |
| 03-12-1966 | Hayes | 0-1 | Slough Town | League | | | Match report |
| 26-11-1966 | Slough Town | 6-0 | Hounslow | League | | | Match report |
| 19-11-1966 | Bishop's Stortford | 0-2 | Slough Town | League | | | Match report |
| 14-11-1966 | Slough Town | 0-1 | Maidenhead United | Mithras Cup | | | Match report |
| 12-11-1966 | Slough Town | 1-1 | Grays Athletic | League | | | Match report |
| 05-11-1966 | Marlow | 1-2 | Slough Town | FA Amateur Cup | | | Match report |
| 01-11-1966 | Wokingham Town | 1-0 | Slough Town | Wycombe Floodlit League | | | Match report |
| 29-10-1966 | Slough Town | 7-0 | Hazells | FA Amateur Cup | | | Match report |
| 22-10-1966 | Hazells | 2-2 | Slough Town | FA Amateur Cup | | | Match report |
| 15-10-1966 | Slough Town | 4-1 | Bishop's Stortford | League | | | Match report |
| 08-10-1966 | Bracknell Town | 0-4 | Slough Town | FA Amateur Cup | | | Match report |
| 03-10-1966 | Slough Town | 1-4 | Wycombe Wanderers | Wycombe Floodlit League | | | Match report |
| 01-10-1966 | Finchley | 3-2 | Slough Town | FA Cup | | | Match report |
| 24-09-1966 | Hounslow | 2-0 | Slough Town | League | | | Match report |
| 17-09-1966 | Clapton | 0-2 | Slough Town | FA Cup | | | Match report |
| 10-09-1966 | Slough Town | 3-2 | Hayes | League | | | Match report |
| 07-09-1966 | Slough Town | 1-2 | Edgware | League | | | Match report |
| 03-09-1966 | Slough Town | 2-0 | Dagenham | FA Cup | | | Match report |
| 29-08-1966 | Slough Town | 3-1 | Walton & Hersham | League | | | Match report |
| 27-08-1966 | Finchley | 1-0 | Slough Town | League | | | Match report |
| 23-08-1966 | Southall | 2-0 | Slough Town | League | | | Match report |
| 20-08-1966 | Slough Town | 3-2 | Leyton | League | | | Match report |
Slough Town FC is not responsible for content produced on external websites | Copyright Slough Town FC 2023