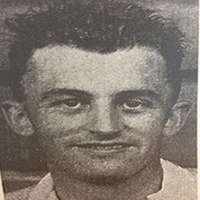 Position:
Midfielder
Bio
Diminutive right winger Stuart "Stewie" White who has had a rather chequered footballing career in this area.
"Stewie" was born in Durham and came to Slough playing with the Rebels for several seasons, both in the first team and reserves, until he joined Len T ownsend at Maidenhead.
There too, "Stewie" alternated between the two elevens, gaining two Neale Trophy runners-up medals, in successive years, representing the Corinthian League reserve section and playing for the county junior team.
When Len Townsend moved to the Dolphin, "Stewie" returned with him and last season had an almost equal proportion of games in each eleven. Here again he received a Neal Trophy runners-up medal - his third in succession. He was ineligible to play in the intermediate cup last year, but will be this year when he hopes to add this medal and a Reading Senior Cup medal to the two he already has.
Last season in the first team Stewie gained a name for himself with his partnership with Terry Melling when corners were being taken. "Stewie" lobbed them over and Terry them headed in.
Mostly in the reserves he has added to his goal tally and one week worked trainer Les Wickson to death on the wing, when Les unexpectedly turned out for the reserves! Subsequently played for Coopers Sports.
Married, with a family, Stewie worked for an engineering company on the Trading estate.
Mens
| First Appearance | Appearances | First Goal | Goals |
| --- | --- | --- | --- |
| 25-04-1953 vs Grays Athletic | 41 | 16-01-1954 vs Epsom | 5 |
History
| Match Date | Home | Score | Away | Competition | Goals | Cards | |
| --- | --- | --- | --- | --- | --- | --- | --- |
| 25-03-1961 | Slough Town | 1-2 | Letchworth | League | | | Match report |
| 11-03-1961 | Uxbridge | 6-0 | Slough Town | League | | | Match report |
| 20-08-1960 | Epsom | 1-1 | Slough Town | Memorial Shield | | | Match report |
| 12-05-1960 | Maidenhead United | 4-1 | Slough Town | Benevolent Cup | | | Match report |
| 07-05-1960 | Worthing | 3-5 | Slough Town | League | | | Match report |
| 30-04-1960 | Slough Town | 2-3 | Uxbridge | League | | | Match report |
| 28-04-1960 | Redhill | 0-4 | Slough Town | S. Comb. Cup | | | Match report |
| 23-04-1960 | Slough Town | 5-0 | Letchworth | League | | | Match report |
| 18-04-1960 | Uxbridge | 2-3 | Slough Town | League | | | Match report |
| 16-04-1960 | Slough Town | 3-1 | Worthing | League | | | Match report |
| 09-04-1960 | Chesham United | 1-2 | Slough Town | Benevolent Cup | | | Match report |
| 05-03-1960 | Wokingham Town | 0-1 | Slough Town | League | | | Match report |
| 23-01-1960 | Huntley & Palmers | 1-6 | Slough Town | Benevolent Cup | | | Match report |
| 25-02-1956 | Slough Town | 1-1 | Slough Centre | B&B Senior Cup | | | Match report |
| 11-02-1956 | Slough Town | 4-3 | Maidenhead United | Benevolent Cup | | | Match report |
| 28-01-1956 | Maidenhead United | 2-2 | Slough Town | Benevolent Cup | | | Match report |
| 14-01-1956 | Tilbury | 3-3 | Slough Town | League | | | Match report |
| 27-12-1955 | Maidenhead United | 3-4 | Slough Town | League | | | Match report |
| 10-09-1955 | Slough Town | 4-0 | Bicester | FA Cup | | | Match report |
| 06-05-1955 | Yiewsley | 1-1 | Slough Town | League | | | Match report |
| 02-05-1955 | Hounslow | 5-0 | Slough Town | League | | | Match report |
| 30-04-1955 | Slough Town | 3-0 | Maidstone United | League | | | Match report |
| 27-04-1955 | Slough Town | 2-3 | Hounslow | League | | | Match report |
| 23-04-1955 | Slough Town | 4-0 | Eastbourne | League | | | Match report |
| 02-10-1954 | Erith | 5-1 | Slough Town | League | | | Match report |
| 25-09-1954 | Slough Town | 2-3 | Oxford City | FA Cup | | | Match report |
| 17-04-1954 | Hounslow | 3-1 | Slough Town | League | | | Match report |
| 10-04-1954 | Edgware | 2-1 | Slough Town | League | | | Match report |
| 03-04-1954 | Slough Town | 2-2 | Grays Athletic | League | | | Match report |
| 20-03-1954 | Slough Town | 6-1 | Erith | League | | | Match report |
| 20-02-1954 | Grays Athletic | 2-0 | Slough Town | League | | | Match report |
| 13-02-1954 | Eastbourne | 1-0 | Slough Town | League | | | Match report |
| 06-02-1954 | Slough Town | 1-1 | Chesham United | League | | | Match report |
| 23-01-1954 | Slough Centre | 2-1 | Slough Town | Benevolent Cup | | | Match report |
| 16-01-1954 | Slough Town | 5-1 | Epsom | League | | | Match report |
| 14-11-1953 | Slough Town | 3-3 | Carshalton Ath | League | | | Match report |
| 07-11-1953 | Carshalton Ath | 5-3 | Slough Town | League | | | Match report |
| 31-10-1953 | Uxbridge | 2-1 | Slough Town | League | | | Match report |
| 24-10-1953 | Slough Town | 3-3 | Tilbury | League | | | Match report |
| 02-05-1953 | Slough Town | 1-1 | Edgware | League | | | Match report |
| 25-04-1953 | Grays Athletic | 3-1 | Slough Town | League | | | Match report |
Slough Town FC is not responsible for content produced on external websites | Copyright Slough Town FC 2023