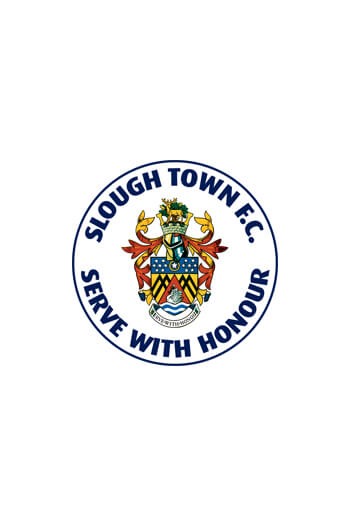 Position:
Defender
Bio
A fine centre-half, and captain, Arthur Day, was in the centre of the defence when Slough won the county Senior Cup in 1954 when a 2-1 victory over the much fancied Wycombe Wanderers brought that trophy here for the first time for twenty years.
One of the finest players ever produced by the club was John Delaney, who, after joining as a 'keeper, became a central defender of commanding qualities. Despite his many years of success here, he was unable to gain an England cap, until he transferred to Wycombe, where he was almost immediately recognised and became a regular first choice.
He later went on to play for Bournemouth.
Mens
| First Appearance | Appearances | First Goal | Goals |
| --- | --- | --- | --- |
| 12-09-1953 vs Slough Centre | 66 | N/A | 0 |
History
| Match Date | Home | Score | Away | Competition | Goals | Cards | |
| --- | --- | --- | --- | --- | --- | --- | --- |
| 22-10-1955 | Slough Town | 2-4 | Tilbury | Memorial Shield | | | Match report |
| 12-10-1955 | Wycombe Wanderers | 1-0 | Slough Town | FA Cup | | | Match report |
| 08-10-1955 | Slough Town | 3-3 | Wycombe Wanderers | FA Cup | | | Match report |
| 01-10-1955 | Oxford City | 3-1 | Slough Town | FA Amateur Cup | | | Match report |
| 24-09-1955 | Abingdon | 0-3 | Slough Town | FA Cup | | | Match report |
| 17-09-1955 | Slough Town | 5-0 | Oxford YMCA | FA Amateur Cup | | | Match report |
| 10-09-1955 | Slough Town | 4-0 | Bicester | FA Cup | | | Match report |
| 03-09-1955 | Yiewsley | 0-2 | Slough Town | League | | | Match report |
| 20-08-1955 | Epsom | 2-2 | Slough Town | League | | | Match report |
| 06-05-1955 | Yiewsley | 1-1 | Slough Town | League | | | Match report |
| 02-05-1955 | Hounslow | 5-0 | Slough Town | League | | | Match report |
| 30-04-1955 | Slough Town | 3-0 | Maidstone United | League | | | Match report |
| 23-04-1955 | Slough Town | 4-0 | Eastbourne | League | | | Match report |
| 18-04-1955 | Uxbridge | 1-1 | Slough Town | League | | | Match report |
| 16-04-1955 | Edgware | 1-2 | Slough Town | League | | | Match report |
| 11-04-1955 | Wycombe Wanderers | 2-1 | Slough Town | B&B Senior Cup | | | Match report |
| 02-04-1955 | Eastbourne | 0-1 | Slough Town | League | | | Match report |
| 26-03-1955 | Slough Town | 5-3 | Worthing | League | | | Match report |
| 19-03-1955 | Slough Town | 2-2 | Edgware | League | | | Match report |
| 12-03-1955 | Chesham United | 4-2 | Slough Town | B&B Senior Cup | | | Match report |
| 05-03-1955 | Tilbury | 1-1 | Slough Town | League | | | Match report |
| 26-02-1955 | Slough Town | 4-2 | Maidenhead United | B&B Senior Cup | | | Match report |
| 19-02-1955 | Slough Town | 2-3 | Yiewsley | Memorial Shield | | | Match report |
| 12-02-1955 | Epsom | 1-1 | Slough Town | League | | | Match report |
| 05-02-1955 | Wolverton | 3-0 | Slough Town | Benevolent Cup | | | Match report |
| 29-01-1955 | Worthing | 1-1 | Slough Town | League | | | Match report |
| 22-01-1955 | Slough Town | 4-2 | Aylesbury United | B&B Senior Cup | | | Match report |
| 08-01-1955 | Yiewsley | 3-3 | Slough Town | Memorial Shield | | | Match report |
| 27-12-1954 | Maidenhead United | 4-2 | Slough Town | League | | | Match report |
| 25-12-1954 | Slough Town | 2-1 | Maidenhead United | League | | | Match report |
| 11-12-1954 | Slough Town | 4-2 | Chesham United | League | | | Match report |
| 04-12-1954 | Slough Town | 3-3 | Epsom | League | | | Match report |
| 27-11-1954 | Slough Town | 2-3 | Grays Athletic | League | | | Match report |
| 20-11-1954 | Uxbridge | 3-1 | Slough Town | FA Amateur Cup | | | Match report |
| 13-11-1954 | Slough Town | 3-3 | Uxbridge | FA Amateur Cup | | | Match report |
| 06-11-1954 | Maidstone United | 0-0 | Slough Town | League | | | Match report |
| 30-10-1954 | Slough Town | 3-0 | Tilbury | League | | | Match report |
| 23-10-1954 | Slough Town | 4-3 | Newbury Town | Benevolent Cup | | | Match report |
| 16-10-1954 | Slough Town | 3-3 | Carshalton Ath | League | | | Match report |
| 09-10-1954 | Slough Town | 3-3 | Erith | League | | | Match report |
| 02-10-1954 | Erith | 5-1 | Slough Town | League | | | Match report |
| 25-09-1954 | Slough Town | 2-3 | Oxford City | FA Cup | | | Match report |
| 18-09-1954 | Grays Athletic | 2-0 | Slough Town | League | | | Match report |
| 11-09-1954 | Slough Town | 6-2 | Windsor & Eton | FA Cup | | | Match report |
| 04-09-1954 | Slough Town | 2-0 | Edgware | Memorial Shield | | | Match report |
| 28-08-1954 | Carshalton Ath | 1-2 | Slough Town | League | | | Match report |
| 21-08-1954 | Slough Town | 5-2 | Uxbridge | League | | | Match report |
| 24-04-1954 | Maidenhead United | 2-1 | Slough Town | Maidenhead Charity Cup | | | Match report |
| 17-04-1954 | Hounslow | 3-1 | Slough Town | League | | | Match report |
| 10-04-1954 | Edgware | 2-1 | Slough Town | League | | | Match report |
| 20-03-1954 | Slough Town | 6-1 | Erith | League | | | Match report |
| 27-02-1954 | Slough Town | 1-2 | Slough Centre | B&B Senior Cup | | | Match report |
| 20-02-1954 | Grays Athletic | 2-0 | Slough Town | League | | | Match report |
| 13-02-1954 | Eastbourne | 1-0 | Slough Town | League | | | Match report |
| 06-02-1954 | Slough Town | 1-1 | Chesham United | League | | | Match report |
| 23-01-1954 | Slough Centre | 2-1 | Slough Town | Benevolent Cup | | | Match report |
| 16-01-1954 | Slough Town | 5-1 | Epsom | League | | | Match report |
| 09-01-1954 | Chesham United | 2-1 | Slough Town | League | | | Match report |
| 02-01-1954 | Slough Town | 2-2 | Uxbridge | League | | | Match report |
| 26-12-1953 | Slough Town | 3-2 | Maidenhead United | League | | | Match report |
| 25-12-1953 | Maidenhead United | 1-4 | Slough Town | League | | | Match report |
| 24-10-1953 | Slough Town | 3-3 | Tilbury | League | | | Match report |
| 17-10-1953 | Slough Town | 1-1 | Worthing | League | | | Match report |
| 03-10-1953 | Slough Town | 2-3 | Uxbridge | Memorial Shield | | | Match report |
| 19-09-1953 | Slough Town | 2-4 | Maidstone United | League | | | Match report |
| 12-09-1953 | Slough Centre | 4-1 | Slough Town | FA Cup | | | Match report |
Slough Town FC is not responsible for content produced on external websites | Copyright Slough Town FC 2023