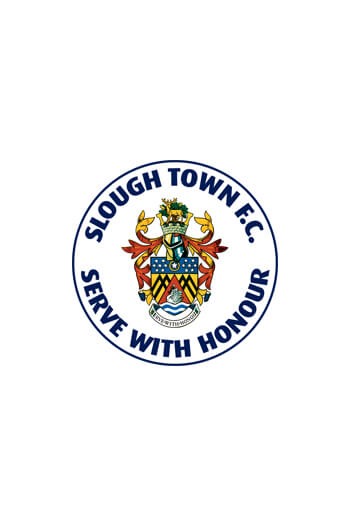 Position:
Forward
Bio
Much travelled goalscorer who enjoyed three separate spells with Slough, first signing in autumn 1966 but failing to establish a place in that season's successful FA Amateur Cup team.
He returned, from Southall, in September 1969 and this time held his place in the team that was again beaten in the Quarter Final of the Amateur Cup by Skelmersdale United after a replay.
His third spell was during the first half of season 1973/74 when Slough competed in the first season in the newly formed second division of the Isthmian League.
Moved on to Leatherhead for whom he subsequently appeared in the team that reached the Fourth Round of the FA Cup in 1974/75.
Mens
| First Appearance | Appearances | First Goal | Goals |
| --- | --- | --- | --- |
| 15-10-1966 vs Bishop's Stortford | 79 | 12-11-1966 vs Grays Athletic | 34 |
History
| Match Date | Home | Score | Away | Competition | Goals | Cards | |
| --- | --- | --- | --- | --- | --- | --- | --- |
| 24-10-1973 | Slough Town | 1-0 | Southall | Premier Midweek FL | | | Match report |
| 20-10-1973 | Slough Town | 4-0 | Southall | League | | | Match report |
| 13-10-1973 | Harwich | 0-1 | Slough Town | League | | | Match report |
| 10-10-1973 | Feltham | 0-0 | Slough Town | Premier Midweek FL | | | Match report |
| 06-10-1973 | Slough Town | 1-0 | Harlow Town | League | | | Match report |
| 03-10-1973 | Slough Town | 5-1 | Boreham Wood | Premier Midweek FL | | | Match report |
| 29-09-1973 | Tilbury | 2-0 | Slough Town | League | | | Match report |
| 25-09-1973 | Southall | 0-5 | Slough Town | Premier Midweek FL | | | Match report |
| 22-09-1973 | Slough Town | 2-0 | Carshalton Ath | League | | | Match report |
| 19-09-1973 | Slough Town | 6-0 | Feltham | Premier Midweek FL | | | Match report |
| 11-09-1973 | Hertford Town | 2-0 | Slough Town | League | | | Match report |
| 08-09-1973 | Slough Town | 2-3 | Dagenham | League | | | Match report |
| 05-09-1973 | Slough Town | 2-1 | Finchley | League | | | Match report |
| 01-09-1973 | Harlow Town | 1-1 | Slough Town | League | | | Match report |
| 28-08-1973 | Chesham United | 1-2 | Slough Town | League | | | Match report |
| 25-08-1973 | Slough Town | 2-1 | Aveley | League | | | Match report |
| 07-05-1970 | Marlow | 2-1 | Slough Town | Wycombe Floodlit Lge. | | | Match report |
| 25-04-1970 | Slough Town | 0-0 | Leatherhead | League | | | Match report |
| 22-04-1970 | Crawley Town | 0-2 | Slough Town | Premier Midweek FL | | | Match report |
| 20-04-1970 | Slough Town | 7-0 | Redhill | Premier Midweek FL | | | Match report |
| 15-04-1970 | Slough Town | 3-0 | Windsor & Eton | Windsor Hosp. | | | Match report |
| 10-04-1970 | Redhill | 0-1 | Slough Town | League | | | Match report |
| 08-04-1970 | Slough Town | 2-1 | Dagenham | League | | | Match report |
| 30-03-1970 | Walton & Hersham | 1-5 | Slough Town | League | | | Match report |
| 28-03-1970 | Slough Town | 0-0 | Finchley | League | | | Match report |
| 23-03-1970 | Guildford City | 2-1 | Slough Town | Premier Midweek FL | | | Match report |
| 21-03-1970 | Leatherhead | 0-2 | Slough Town | League | | | Match report |
| 18-03-1970 | Slough Town | 0-1 | Woking | Premier Midweek FL | | | Match report |
| 14-03-1970 | Cheshunt | 0-1 | Slough Town | League | | | Match report |
| 07-03-1970 | Hayes | 2-1 | Slough Town | League | | | Match report |
| 28-02-1970 | Skelmersdale | 3-0 | Slough Town | FA Amateur Cup | | | Match report |
| 21-02-1970 | Slough Town | 0-0 | Skelmersdale | FA Amateur Cup | | | Match report |
| 11-02-1970 | Slough Town | 2-3 | Addlestone | Premier Midweek FL | | | Match report |
| 07-02-1970 | Slough Town | 2-0 | Alvechurch | FA Amateur Cup | | | Match report |
| 31-01-1970 | Alvechurch | 2-2 | Slough Town | FA Amateur Cup | | | Match report |
| 24-01-1970 | Maidenhead United | 3-1 | Slough Town | B&B Senior Cup | | | Match report |
| 20-01-1970 | Addlestone | 0-3 | Slough Town | Wycombe Floodlit Lge. | | | Match report |
| 17-01-1970 | Slough Town | 4-1 | Wembley | League | | | Match report |
| 10-01-1970 | Slough Town | 2-0 | Aveley | FA Amateur Cup | | | Match report |
| 03-01-1970 | Slough Town | 0-1 | Walton & Hersham | League | | | Match report |
| 27-12-1969 | Finchley | 1-5 | Slough Town | League | | | Match report |
| 20-12-1969 | Slough Town | 5-0 | Eastbourne Utd | League | | | Match report |
| 13-12-1969 | Chesham United | 2-3 | Slough Town | FA Amateur Cup | | | Match report |
| 08-12-1969 | Slough Town | 2-1 | Walton & Hersham | Premier Midweek FL | | | Match report |
| 06-12-1969 | Harwich | 0-1 | Slough Town | League | | | Match report |
| 02-12-1969 | Woking | 2-3 | Slough Town | Premier Midweek FL | | | Match report |
| 26-11-1969 | Slough Town | 3-0 | Wokingham Town | Premier Midweek FL | | | Match report |
| 22-11-1969 | Slough Town | 3-3 | Harwich | League | | | Match report |
| 19-11-1969 | Slough Town | 2-0 | Crawley Town | Premier Midweek FL | | | Match report |
| 15-11-1969 | Bishop's Stortford | 1-0 | Slough Town | League | | | Match report |
| 11-11-1969 | Addlestone | 0-1 | Slough Town | Premier Midweek FL | | | Match report |
| 08-11-1969 | Slough Town | 0-0 | Redhill | League | | | Match report |
| 01-11-1969 | Grays Athletic | 0-0 | Slough Town | League | | | Match report |
| 25-10-1969 | Slough Town | 3-0 | Tilbury | League | | | Match report |
| 18-10-1969 | Eastbourne Utd | 0-4 | Slough Town | League | | | Match report |
| 15-10-1969 | Redhill | 1-3 | Slough Town | Premier Midweek FL | | | Match report |
| 11-10-1969 | Slough Town | 0-1 | Grays Athletic | League | | | Match report |
| 08-10-1969 | Slough Town | 3-2 | Guildford City | Premier Midweek FL | | | Match report |
| 04-10-1969 | Wembley | 0-3 | Slough Town | League | | | Match report |
| 29-09-1969 | Wokingham Town | 1-2 | Slough Town | Premier Midweek FL | | | Match report |
| 27-09-1969 | Slough Town | 1-1 | Cheshunt | League | | | Match report |
| 20-09-1969 | Hertford Town | 1-0 | Slough Town | FA Cup | | | Match report |
| 16-09-1969 | Maidenhead United | 1-4 | Slough Town | League | | | Match report |
| 13-09-1969 | Slough Town | 2-2 | Hayes | League | | | Match report |
| 06-09-1969 | Slough Town | 0-3 | Walton & Hersham | Athenian League Cup | | | Match report |
| 14-03-1967 | Leatherhead | 1-0 | Slough Town | League | | | Match report |
| 11-03-1967 | Slough Town | 1-0 | Worthing | League | | | Match report |
| 08-03-1967 | Hemel Hempstead Town | 1-0 | Slough Town | League | | | Match report |
| 18-02-1967 | Chesham United | 2-1 | Slough Town | B&B Senior Cup | | | Match report |
| 04-02-1967 | Slough Town | 4-0 | Chalfont St Peter | B&B Senior Cup | | | Match report |
| 31-12-1966 | Maidenhead United | 1-1 | Slough Town | League | | | Match report |
| 26-12-1966 | Slough Town | 4-5 | Maidenhead United | League | | | Match report |
| 03-12-1966 | Hayes | 0-1 | Slough Town | League | | | Match report |
| 26-11-1966 | Slough Town | 6-0 | Hounslow | League | | | Match report |
| 19-11-1966 | Bishop's Stortford | 0-2 | Slough Town | League | | | Match report |
| 14-11-1966 | Slough Town | 0-1 | Maidenhead United | Mithras Cup | | | Match report |
| 12-11-1966 | Slough Town | 1-1 | Grays Athletic | League | | | Match report |
| 01-11-1966 | Wokingham Town | 1-0 | Slough Town | Wycombe Floodlit League | | | Match report |
| 15-10-1966 | Slough Town | 4-1 | Bishop's Stortford | League | | | Match report |
Slough Town FC is not responsible for content produced on external websites | Copyright Slough Town FC 2023