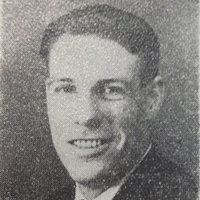 Position:
Unknown
Bio
Leslie Wickson although only having joined the Club this season is now a firm favourite with both the crowd and players alike. Born at Kirtbuyton, Oxfordshire in 1920. Prior to the war he played for Oxford City.
He joined the Royal Navy in 1940. As a Lieutenant in the R.N.V.R. he took part in the Dieppe Raid. His Tank landing craft was sunk as was also the boat that picked him up. He was taken prisoner and suffered the indignity of being handcuffed by the Germans and was kept in irons for nine months.
Whilst a P.O.W. he met Dennis Kelleher of Barnet and together they kept up their form on a pitch made of cinders. That they were successful in their endeavour is proved by the game he is playing today and we hope he will be with us for many seasons yet to come.
Joint manager with Bob Gibbs and Edgar Woodford from summer 1961 to 1963.
Mens
| First Appearance | Appearances | First Goal | Goals |
| --- | --- | --- | --- |
| 05-10-1946 vs Windsor & Eton | 106 | 06-09-1947 vs Bedford Avenue | 4 |
History
| Match Date | Home | Score | Away | Competition | Goals | Cards | |
| --- | --- | --- | --- | --- | --- | --- | --- |
| 29-10-1949 | Worthing | 6-1 | Slough Town | League | | | Match report |
| 22-10-1949 | Erith | 4-0 | Slough Town | League | | | Match report |
| 15-10-1949 | Slough Town | 1-2 | Hayes | FA Cup | | | Match report |
| 08-10-1949 | Slough Town | 4-2 | Oxford City | FA Cup | | | Match report |
| 01-10-1949 | Oxford City | 1-1 | Slough Town | FA Cup | | | Match report |
| 24-09-1949 | Slough Centre | 2-1 | Slough Town | FA Amateur Cup | | | Match report |
| 17-09-1949 | Slough Town | 3-2 | Aylesbury United | FA Cup | | | Match report |
| 10-09-1949 | Thame United | 1-3 | Slough Town | FA Amateur Cup | | | Match report |
| 03-09-1949 | Slough Town | 1-0 | Slough Centre | FA Cup | | | Match report |
| 27-08-1949 | Slough Town | 1-0 | Eastbourne | League | | | Match report |
| 14-05-1949 | Maidenhead United | 0-1 | Slough Town | Benevolent Cup | | | Match report |
| 07-05-1949 | Worthing | 2-2 | Slough Town | League | | | Match report |
| 05-05-1949 | Slough Town | 1-2 | Worthing | League | | | Match report |
| 03-05-1949 | Slough Town | 1-2 | Hounslow | League | | | Match report |
| 02-05-1949 | Uxbridge | 1-1 | Slough Town | League | | | Match report |
| 26-04-1949 | Slough Town | 3-4 | Erith | League | | | Match report |
| 23-04-1949 | Wycombe Wanderers | 2-1 | Slough Town | B&B Senior Cup | | | Match report |
| 18-04-1949 | Wycombe Wanderers | 0-0 | Slough Town | B&B Senior Cup | | | Match report |
| 16-04-1949 | Slough Town | 2-2 | Grays Athletic | League | | | Match report |
| 09-04-1949 | Hounslow | 2-1 | Slough Town | League | | | Match report |
| 02-04-1949 | Slough Town | 2-0 | Aylesbury United | Benevolent Cup | | | Match report |
| 26-03-1949 | Grays Athletic | 0-4 | Slough Town | League | | | Match report |
| 19-03-1949 | Carshalton Ath | 3-5 | Slough Town | League | | | Match report |
| 12-03-1949 | Slough Town | 0-1 | Carshalton Ath | League | | | Match report |
| 05-03-1949 | Abingdon | 0-5 | Slough Town | B&B Senior Cup | | | Match report |
| 19-02-1949 | Marlow | 3-5 | Slough Town | Benevolent Cup | | | Match report |
| 12-02-1949 | Slough Town | 6-1 | Eastbourne | League | | | Match report |
| 22-01-1949 | Wolverton | 1-2 | Slough Town | B&B Senior Cup | | | Match report |
| 15-01-1949 | Windsor & Eton | 0-2 | Slough Town | League | | | Match report |
| 08-01-1949 | Slough Town | 5-0 | Chesham United | League | | | Match report |
| 01-01-1949 | Slough Town | 0-4 | Walton & Hersham | League | | | Match report |
| 26-12-1948 | Maidenhead United | 4-2 | Slough Town | League | | | Match report |
| 25-12-1948 | Slough Town | 3-0 | Maidenhead United | League | | | Match report |
| 18-12-1948 | Walton & Hersham | 1-2 | Slough Town | League | | | Match report |
| 20-11-1948 | Edgware | 1-1 | Slough Town | League | | | Match report |
| 06-11-1948 | Slough Town | 0-2 | Maidenhead United | FA Amateur Cup | | | Match report |
| 30-10-1948 | Slough Town | 3-0 | Windsor & Eton | Memorial Shield | | | Match report |
| 23-10-1948 | Aylesbury United | 1-3 | Slough Town | FA Amateur Cup | | | Match report |
| 16-10-1948 | Headington | 1-4 | Slough Town | FA Amateur Cup | | | Match report |
| 02-10-1948 | Eastbourne | 2-5 | Slough Town | League | | | Match report |
| 25-09-1948 | Metal Recovery | 1-4 | Slough Town | FA Amateur Cup | | | Match report |
| 18-09-1948 | Berkhamsted Town | 3-1 | Slough Town | FA Cup | | | Match report |
| 11-09-1948 | Slough Town | 3-2 | Chesham United | FA Amateur Cup | | | Match report |
| 04-09-1948 | Slough Town | 2-1 | Hayes | FA Cup | | | Match report |
| 28-08-1948 | Slough Town | 2-0 | Edgware | League | | | Match report |
| 17-04-1948 | Erith | 2-1 | Slough Town | League | | | Match report |
| 29-03-1948 | Grays Athletic | 0-2 | Slough Town | League | | | Match report |
| 26-03-1948 | Slough Town | 2-1 | Grays Athletic | League | | | Match report |
| 20-03-1948 | Walton & Hersham | 3-2 | Slough Town | League | | | Match report |
| 13-03-1948 | Wolverton | 1-0 | Slough Town | Benevolent Cup | | | Match report |
| 28-02-1948 | Windsor & Eton | 1-4 | Slough Town | League | | | Match report |
| 14-02-1948 | Marlow | 0-3 | Slough Town | Benevolent Cup | | | Match report |
| 07-02-1948 | Slough Town | 1-2 | Hounslow | League | | | Match report |
| 24-01-1948 | Slough Town | 2-3 | Carshalton Ath | League | | | Match report |
| 17-01-1948 | Slough Town | 1-2 | Maidenhead United | League | | | Match report |
| 10-01-1948 | Uxbridge | 1-4 | Slough Town | League | | | Match report |
| 03-01-1948 | Slough Town | 5-0 | Bedford Avenue | League | | | Match report |
| 01-01-1948 | Slough Town | 4-0 | Eastbourne | League | | | Match report |
| 26-12-1947 | Maidenhead United | 2-1 | Slough Town | League | | | Match report |
| 20-12-1947 | Slough Town | 1-2 | Chesham United | League | | | Match report |
| 13-12-1947 | Chesham United | 3-3 | Slough Town | League | | | Match report |
| 29-11-1947 | Slough Town | 1-2 | Chesham United | B&B Senior Cup | | | Match report |
| 22-11-1947 | Slough Town | 1-6 | Walton & Hersham | League | | | Match report |
| 08-11-1947 | Hastings United | 2-2 | Slough Town | League | | | Match report |
| 18-10-1947 | Erith | 3-1 | Slough Town | Memorial Shield | | | Match report |
| 11-10-1947 | Slough Town | 1-3 | Huntley & Palmers | FA Amateur Cup | | | Match report |
| 04-10-1947 | Slough Town | 0-1 | Windsor & Eton | League | | | Match report |
| 27-09-1947 | Maidenhead United | 0-1 | Slough Town | FA Amateur Cup | | | Match report |
| 20-09-1947 | Slough Town | 0-1 | Southall | FA Cup | | | Match report |
| 13-09-1947 | Marlow | 0-1 | Slough Town | FA Amateur Cup | | | Match report |
| 06-09-1947 | Slough Town | 4-0 | Bedford Avenue | Memorial Shield | | | Match report |
| 04-09-1947 | Carshalton Ath | 1-0 | Slough Town | League | | | Match report |
| 23-08-1947 | Edgware | 5-3 | Slough Town | League | | | Match report |
| 14-06-1947 | Grays Athletic | 4-1 | Slough Town | League | | | Match report |
| 07-06-1947 | Slough Town | 3-4 | Uxbridge | League | | | Match report |
| 31-05-1947 | Slough Town | 7-6 | Hounslow | League | | | Match report |
| 26-05-1947 | Hounslow | 1-2 | Slough Town | League | | | Match report |
| 24-05-1947 | Slough Town | 1-3 | Wolverton | Benevolent Cup | | | Match report |
| 17-05-1947 | Slough Town | 2-3 | Chippenham Town | Unknown Cup | | | Match report |
| 10-05-1947 | Slough Town | 5-3 | Marlow | Benevolent Cup | | | Match report |
| 03-05-1947 | Uxbridge | 0-1 | Slough Town | League | | | Match report |
| 26-04-1947 | Slough Town | 2-0 | Hastings United | League | | | Match report |
| 19-04-1947 | Edgware | 0-7 | Slough Town | League | | | Match report |
| 12-04-1947 | Slough Town | 6-0 | Bedford Avenue | League | | | Match report |
| 07-04-1947 | Wycombe Wanderers | 2-1 | Slough Town | B&B Senior Cup | | | Match report |
| 04-04-1947 | Slough Town | 5-2 | Grays Athletic | League | | | Match report |
| 29-03-1947 | Walton & Hersham | 6-1 | Slough Town | Memorial Shield | | | Match report |
| 22-03-1947 | Bedford Avenue | 1-7 | Slough Town | League | | | Match report |
| 15-03-1947 | Slough Town | 4-4 | Eastbourne | League | | | Match report |
| 01-03-1947 | Wolverton | 2-3 | Slough Town | B&B Senior Cup | | | Match report |
| 25-01-1947 | Slough Town | 1-0 | Chesham United | B&B Senior Cup | | | Match report |
| 18-01-1947 | Slough Town | 4-3 | Carshalton Ath | League | | | Match report |
| 11-01-1947 | Slough Town | 1-2 | Windsor & Eton | League | | | Match report |
| 28-12-1946 | Slough Town | 1-3 | Walton & Hersham | League | | | Match report |
| 26-12-1946 | Maidenhead United | 1-1 | Slough Town | League | | | Match report |
| 25-12-1946 | Slough Town | 5-1 | Maidenhead United | League | | | Match report |
| 14-12-1946 | Eastbourne | 4-11 | Slough Town | League | | | Match report |
| 07-12-1946 | Slough Town | 6-1 | Bedford Avenue | Memorial Shield | | | Match report |
| 30-11-1946 | Slough Town | 3-2 | REmE Aborfield | B&B Senior Cup | | | Match report |
| 23-11-1946 | Enfield | 3-2 | Slough Town | FA Amateur Cup | | | Match report |
| 16-11-1946 | Windsor & Eton | 3-4 | Slough Town | League | | | Match report |
| 26-10-1946 | Slough Town | 9-0 | Edgware | League | | | Match report |
| 19-10-1946 | Hayes | 6-3 | Slough Town | FA Cup | | | Match report |
| 12-10-1946 | Hastings United | 1-1 | Slough Town | League | | | Match report |
| 09-10-1946 | Windsor & Eton | 2-4 | Slough Town | FA Cup | | | Match report |
| 05-10-1946 | Slough Town | 3-3 | Windsor & Eton | FA Cup | | | Match report |
Slough Town FC is not responsible for content produced on external websites | Copyright Slough Town FC 2023