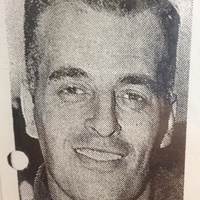 Position:
Defender
Bio
Undoubtedly one of the most difficult tasks in the late 1950s for any player, was that of skippering Slough. For frustrating weeks on end he was faced with trying to encourage a demoralised team and weld it into an effective unit.
The man who did that job - and did it very well - was Ken Claridge, a centre-half, in his first season with the club in 1959/60. That he managed to overcome difficulties and blend the team into a happy side was due in many ways to Ken's personality.
Off the field he was a modest and unassuming chap. On field he marshalled his men well and set an example to them - unlike many skippers who did a lot of shouting and little else. Ken was the veteran of the Slough side at the time, although only 30 years old.
He was short in comparison for a centre half, but kept more than one centre-forward tied up in knots by his reliability, experience and coolness in the face of dangerous situations in front of goal.
Before coming to the Dolphin at very short notice when Chris Symons was injured at the beginning of the previous season, Ken was at Wembley for a year.
For six or seven seasons previously, he turned out for Yiewsley as wing-half or centre-half - preferring the latter position - until they turned professional and entered the Southern League.
While at Yiewsley he gained a Middlesex junior cap and played for the Corinthian League and London F.A.
Mens
| First Appearance | Appearances | First Goal | Goals |
| --- | --- | --- | --- |
| 22-08-1959 vs Erith | 58 | 26-08-1959 vs Wembley | 5 |
History
| Match Date | Home | Score | Away | Competition | Goals | Cards | |
| --- | --- | --- | --- | --- | --- | --- | --- |
| 25-02-1961 | Chesham United | 1-2 | Slough Town | B&B Senior Cup | | | Match report |
| 18-02-1961 | Slough Town | 1-3 | Eastbourne | League | | | Match report |
| 31-12-1960 | Wokingham Town | 1-1 | Slough Town | League | | | Match report |
| 19-11-1960 | Slough Town | 3-7 | Wokingham Town | Memorial Shield | | | Match report |
| 05-11-1960 | Slough Town | 5-1 | Erith | League | | | Match report |
| 29-10-1960 | Slough Town | 1-2 | Uxbridge | League | | | Match report |
| 22-10-1960 | Slough Town | 4-2 | Wokingham Town | S. Comb. Cup | | | Match report |
| 15-10-1960 | Slough Town | 3-5 | Newbury Town | FA Amateur Cup | | | Match report |
| 08-10-1960 | Slough Town | 4-3 | Epsom | League | | | Match report |
| 01-10-1960 | Bletchley | 1-2 | Slough Town | FA Amateur Cup | | | Match report |
| 24-09-1960 | Carshalton Ath | 5-2 | Slough Town | FA Cup | | | Match report |
| 17-09-1960 | Slough Town | 10-1 | Amersham Town | FA Amateur Cup | | | Match report |
| 14-09-1960 | Wokingham Town | 0-0 | Slough Town | S. Comb. Cup | | | Match report |
| 10-09-1960 | Marlow | 0-1 | Slough Town | FA Cup | | | Match report |
| 07-09-1960 | Slough Town | 2-4 | Carshalton Ath | S. Comb. Cup | | | Match report |
| 03-09-1960 | Dagenham | 2-1 | Slough Town | League | | | Match report |
| 31-08-1960 | Slough Town | 4-3 | Wembley | League | | | Match report |
| 27-08-1960 | Slough Town | 3-0 | Epsom | Memorial Shield | | | Match report |
| 24-08-1960 | Wembley | 6-0 | Slough Town | League | | | Match report |
| 20-08-1960 | Epsom | 1-1 | Slough Town | Memorial Shield | | | Match report |
| 12-05-1960 | Maidenhead United | 4-1 | Slough Town | Benevolent Cup | | | Match report |
| 07-05-1960 | Worthing | 3-5 | Slough Town | League | | | Match report |
| 30-04-1960 | Slough Town | 2-3 | Uxbridge | League | | | Match report |
| 23-04-1960 | Slough Town | 5-0 | Letchworth | League | | | Match report |
| 18-04-1960 | Uxbridge | 2-3 | Slough Town | League | | | Match report |
| 16-04-1960 | Slough Town | 3-1 | Worthing | League | | | Match report |
| 09-04-1960 | Chesham United | 1-2 | Slough Town | Benevolent Cup | | | Match report |
| 26-03-1960 | Slough Town | 1-0 | Horsham | League | | | Match report |
| 19-03-1960 | Maidenhead United | 1-0 | Slough Town | League | | | Match report |
| 12-03-1960 | Leatherhead | 1-2 | Slough Town | League | | | Match report |
| 05-03-1960 | Wokingham Town | 0-1 | Slough Town | League | | | Match report |
| 27-02-1960 | Slough Town | 1-1 | Dagenham | League | | | Match report |
| 20-02-1960 | Slough Town | 1-2 | Uxbridge | Memorial Shield | | | Match report |
| 13-02-1960 | Slough Town | 1-1 | Wokingham Town | League | | | Match report |
| 30-01-1960 | Wycombe Wanderers | 3-1 | Slough Town | B&B Senior Cup | | | Match report |
| 23-01-1960 | Huntley & Palmers | 1-6 | Slough Town | Benevolent Cup | | | Match report |
| 09-01-1960 | Chesham United | 1-0 | Slough Town | League | | | Match report |
| 02-01-1960 | Slough Town | 1-0 | Newbury Town | B&B Senior Cup | | | Match report |
| 26-12-1959 | Slough Town | 1-4 | Maidenhead United | League | | | Match report |
| 19-12-1959 | Slough Town | 3-0 | Leatherhead | League | | | Match report |
| 12-12-1959 | Horsham | 4-1 | Slough Town | League | | | Match report |
| 05-12-1959 | Slough Town | 0-1 | Edgware | League | | | Match report |
| 28-11-1959 | Edgware | 5-1 | Slough Town | League | | | Match report |
| 21-11-1959 | Slough Town | 0-1 | Erith | League | | | Match report |
| 14-11-1959 | Letchworth | 3-0 | Slough Town | League | | | Match report |
| 31-10-1959 | Slough Town | 3-1 | Chesham United | League | | | Match report |
| 24-10-1959 | Eastbourne | 2-2 | Slough Town | League | | | Match report |
| 17-10-1959 | Slough Town | 1-1 | Eastbourne | League | | | Match report |
| 10-10-1959 | Wembley | 4-2 | Slough Town | League | | | Match report |
| 03-10-1959 | Dorking | 2-3 | Slough Town | League | | | Match report |
| 26-09-1959 | Dagenham | 4-1 | Slough Town | League | | | Match report |
| 19-09-1959 | Slough Town | 2-1 | Dorking | League | | | Match report |
| 12-09-1959 | Maidenhead United | 3-0 | Slough Town | FA Amateur Cup | | | Match report |
| 05-09-1959 | Wokingham Town | 5-2 | Slough Town | FA Cup | | | Match report |
| 02-09-1959 | Epsom | 1-3 | Slough Town | League | | | Match report |
| 29-08-1959 | Slough Town | 3-2 | Epsom | League | | | Match report |
| 26-08-1959 | Slough Town | 3-1 | Wembley | League | | | Match report |
| 22-08-1959 | Erith | 2-1 | Slough Town | League | | | Match report |
Slough Town FC is not responsible for content produced on external websites | Copyright Slough Town FC 2023