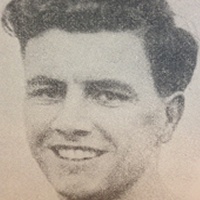 Position:
Unknown
Bio
Johnny was born in the small village of Syde, near Cirencester in Gloucestershire, on the 5th March, 1929, but migrated to Slough as a small boy to attend first Cippenham Council School and afterwards the Slough Grammar School. As a junior he played for the Cippenham Youth Club in the local Under 16 Years League and the Local Minor League.
At the age of sixteen he joined what was then "Slough United", and remained to assist the Centre Club for two seasons, afterwards joining Maidenhead before coming to the Town Club.He first gained County honours when he played in the Final of the All England Youth Championship at Elm Park in season 1945 /46.
He was one of the Berks & Bucks Youth Eleven versus Durham. He also played in the Slough and District Under 16 Years Representative side. He was the holder of both Corinthian League Championship medals, first winning the Senior medal in 1950/51 and the Reserve Section in the following season. In addition he has the Reading Senior Cup medal and the B&B Benevolent Cup winners and runners-up medals.
From May until March 1949 he was serving with H.M. Forces as an electrician in the Royal Navy Air Service.
On September 20th, 1952, he, took unto himself a wife.
Mens
| First Appearance | Appearances | First Goal | Goals |
| --- | --- | --- | --- |
| 27-04-1946 vs Walton & Hersham | 43 | N/A | 0 |
History
| Match Date | Home | Score | Away | Competition | Goals | Cards | |
| --- | --- | --- | --- | --- | --- | --- | --- |
| 03-01-1953 | Maidstone United | 3-2 | Slough Town | League | | | Match report |
| 27-12-1952 | Slough Town | 3-2 | Maidenhead United | League | | | Match report |
| 26-12-1952 | Maidenhead United | 3-2 | Slough Town | League | | | Match report |
| 25-10-1952 | Slough Town | 0-1 | Hounslow | League | | | Match report |
| 01-05-1952 | Slough Town | 4-2 | Uxbridge | League | | | Match report |
| 27-10-1951 | Wealdstone | 5-0 | Slough Town | FA Cup | | | Match report |
| 20-10-1951 | Maidstone United | 3-3 | Slough Town | League | | | Match report |
| 17-10-1951 | Slough Town | 4-0 | St Albans City | FA Cup | | | Match report |
| 13-10-1951 | St Albans City | 1-1 | Slough Town | FA Cup | | | Match report |
| 22-09-1951 | Edgware | 2-2 | Slough Town | League | | | Match report |
| 25-08-1951 | Slough Town | 6-0 | Tilbury | League | | | Match report |
| 18-08-1951 | Hounslow | 0-1 | Slough Town | League | | | Match report |
| 19-05-1951 | Maidenhead United | 1-2 | Slough Town | Benevolent Cup | | | Match report |
| 10-05-1951 | Slough Town | 2-0 | Hounslow | League | | | Match report |
| 02-05-1951 | Hounslow | 1-0 | Slough Town | League | | | Match report |
| 28-04-1951 | Slough Town | 2-0 | Worthing | League | | | Match report |
| 26-04-1951 | Slough Town | 4-3 | Eastbourne | League | | | Match report |
| 21-04-1951 | Worthing | 2-2 | Slough Town | League | | | Match report |
| 18-04-1951 | Slough Town | 1-0 | Carshalton Ath | League | | | Match report |
| 14-04-1951 | Slough Town | 8-1 | Aylesbury United | Benevolent Cup | | | Match report |
| 11-04-1951 | Slough Town | 2-0 | Chesham United | League | | | Match report |
| 23-03-1951 | Slough Town | 5-1 | Grays Athletic | League | | | Match report |
| 17-03-1951 | Slough Town | 2-1 | Wolverton | Benevolent Cup | | | Match report |
| 10-03-1951 | Wycombe Wanderers | 1-0 | Slough Town | B&B Senior Cup | | | Match report |
| 17-02-1951 | Slough Town | 4-3 | Maidenhead United | B&B Senior Cup | | | Match report |
| 10-02-1951 | Slough Town | 5-1 | Tilbury | Memorial Shield | | | Match report |
| 03-02-1951 | Slough Town | 8-2 | Maidstone United | League | | | Match report |
| 27-01-1951 | Slough Town | 1-3 | Pegasus | FA Amateur Cup | | | Match report |
| 20-01-1951 | Eastbourne | 1-2 | Slough Town | League | | | Match report |
| 13-01-1951 | Slough Town | 4-1 | Poole Town | FA Amateur Cup | | | Match report |
| 30-12-1950 | Maidstone United | 2-0 | Slough Town | League | | | Match report |
| 26-12-1950 | Maidenhead United | 1-4 | Slough Town | League | | | Match report |
| 25-12-1950 | Slough Town | 1-0 | Maidenhead United | League | | | Match report |
| 23-12-1950 | Slough Town | 6-2 | Chesham United | Memorial Shield | | | Match report |
| 16-12-1950 | Uxbridge | 2-2 | Slough Town | League | | | Match report |
| 09-12-1950 | Erith | 2-3 | Slough Town | League | | | Match report |
| 02-12-1950 | Chesham United | 1-0 | Slough Town | League | | | Match report |
| 18-11-1950 | Slough Town | 1-0 | Haywards Heath | FA Amateur Cup | | | Match report |
| 11-11-1950 | Maidenhead United | 0-3 | Slough Town | FA Amateur Cup | | | Match report |
| 04-11-1950 | Slough Town | 2-2 | Maidenhead United | FA Amateur Cup | | | Match report |
| 01-11-1950 | Wycombe Wanderers | 2-0 | Slough Town | FA Cup | | | Match report |
| 14-06-1947 | Grays Athletic | 4-1 | Slough Town | League | | | Match report |
| 27-04-1946 | Walton & Hersham | 2-7 | Slough Town | League | | | Match report |
Slough Town FC is not responsible for content produced on external websites | Copyright Slough Town FC 2023