Role: Current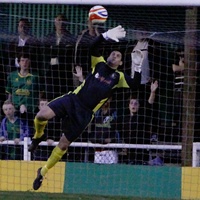 Jamie Jackson
Jamie Jackson rejoined Slough Town for a fourth spell in December 2011 from Burnham, in a player/coach capacity, to compete for the number one jersey with James Warrington.
Local lad Jamie was with the club back in the Conference days, but had to wait until January 2007 to make his debut for his home-town club.
In a difficult time for the Rebels, Jamie won acclaim from fans for his displays, in which he looked accomplished in the air and made several good saves to prevent further damage to the goals conceded column towards the back end of the 2006/07 season.
He struggled with a back injury which forced him to miss much of the 2007/08 season, but became one of the first names on the teamsheet.
Jamie left in the summer of 2011 to seek first-team football at local rivals Burnham, following Steve Bateman's signing of Steve Smith.
He also played for Hemel Hempstead Town and Burnham, where he helped them into the FA Cup First Round.
Statistics
| | |
| --- | --- |
| First Appearance: | 13-01-2007 vs Leyton |
| First Goal: | Never |
| Position: | Goalkeeper |
| Total STFC Appearances: | 106 |
| Total STFC Goals: | 0 |
Achievements
2008/09 Player of the season
2008/09 Players' player of the season
Matches Played
| Match Date | Home Team | Score | Away Team | Competition | Goals | Cards | Report |
| --- | --- | --- | --- | --- | --- | --- | --- |
| 27-04-2013 | Slough Town | 3-0 | Chertsey Town | League | - | - | Report |
| 23-04-2013 | Thatcham Town | 0-2 | Slough Town | League | - | - | Report |
| 18-04-2013 | Rugby Town | 0-4 | Slough Town | League | - | - | Report |
| 16-04-2013 | Godalming Town | 1-2 | Slough Town | League | - | - | Report |
| 13-04-2013 | Slough Town | 2-3 | Godalming Town | League | - | - | Report |
| 11-04-2013 | Aylesbury | 1-4 | Slough Town | League | - | - | Report |
| 03-04-2013 | Northwood | 2-1 | Slough Town | League | - | - | Report |
| 01-04-2013 | Burnham | 1-0 | Slough Town | League | - | - | Report |
| 28-03-2013 | Barton Rovers | 2-2 | Slough Town | League | - | - | Report |
| 12-03-2013 | Daventry Town | 3-1 | Slough Town | League | - | - | Report |
| 26-02-2013 | AFC Hayes | 0-3 | Slough Town | League | - | - | Report |
| 21-02-2013 | Slough Town | 2-1 | Northwood | Red Insure Cup | - | - | Report |
| 19-02-2013 | Slough Town | 3-0 | North Greenford Utd | League | - | | Report |
| 06-02-2013 | Guildford City | 1-1 | Slough Town | League | - | - | Report |
| 08-01-2013 | Slough Town | 3-1 | AFC Hayes | Red Insure Cup | - | - | Report |
| 04-12-2012 | Aylesbury | 0-1 | Slough Town | Red Insure Cup | - | - | Report |
| 24-01-2012 | Chesham United | 3-1 | Slough Town | B&B Senior Cup | - | - | Report |
| 25-04-2011 | Beaconsfield SYCOB | 1-0 | Slough Town | League | - | - | Report |
| 14-12-2010 | Oxford City | 0-2 | Slough Town | Red Insure Cup | - | - | Report |
| 23-11-2010 | Marlow | 3-2 | Slough Town | Berks & Bucks | - | - | Report |
| 20-11-2010 | Aylesbury | 1-2 | Slough Town | League | - | - | Report |
| 16-11-2010 | Slough Town | 5-0 | AFC Hayes | League | - | - | Report |
| 25-09-2010 | Slough Town | 1-3 | Daventry Town | League | - | - | Report |
| 18-09-2010 | Atherstone Town | 1-2 | Slough Town | League | - | - | Report |
| 14-09-2010 | Slough Town | 1-3 | Marlow | League | - | - | Report |
| 11-09-2010 | Erith Town | 1-0 | Slough Town | FA Cup | - | - | Report |
| 04-09-2010 | Biggleswade Town | 1-5 | Slough Town | League | - | - | Report |
| 30-08-2010 | Slough Town | 5-2 | Uxbridge | League | - | - | Report |
| 28-08-2010 | Lancing | 1-4 | Slough Town | FA Cup | - | - | Report |
| 21-08-2010 | Hitchin Town | 3-2 | Slough Town | League | - | - | Report |
| 18-08-2010 | Bedfont Town | 1-2 | Slough Town | League | - | - | Report |
| 14-08-2010 | Slough Town | 2-1 | Barton Rovers | League | - | - | Report |
| 01-05-2010 | Chesham United | 4-0 | Slough Town | Play Off | - | - | Report |
| 27-04-2010 | Hitchin Town | 1-2 | Slough Town | Play Off | - | - | Report |
| 24-04-2010 | Romulus | 1-4 | Slough Town | League | - | - | Report |
| 20-04-2010 | Slough Town | 0-1 | Hitchin Town | League | - | - | Report |
| 17-04-2010 | Slough Town | 5-1 | Aylesbury United | League | - | - | Report |
| 16-03-2010 | Slough Town | 0-1 | Wycombe Wanderers | Berks & Bucks | - | - | Report |
| 09-02-2010 | Slough Town | 1-1 | Marlow | League | - | - | Report |
| 26-01-2010 | Slough Town | 2-1 | Marlow | Berks & Bucks | - | - | Report |
| 27-10-2009 | Slough Town | 1-2 | Chesham United | Red Insure Cup | - | - | Report |
| 24-10-2009 | Slough Town | 3-2 | Stourport Swifts | League | - | - | Report |
| 04-10-2009 | Slough Town | 1-1 | Mangotsfield Utd | FA Trophy | - | - | Report |
| 26-09-2009 | Slough Town | 2-0 | Concord Rangers | FA Cup | - | - | Report |
| 19-09-2009 | Soham Town Rangers | 0-2 | Slough Town | League | - | - | Report |
| 15-09-2009 | Slough Town | 2-1 | Hemel Hempstead | FA Cup | - | - | Report |
| 12-09-2009 | Hemel Hempstead | 1-1 | Slough Town | FA Cup | - | - | Report |
| 05-09-2009 | Slough Town | 4-2 | Biggleswade Town | League | - | - | Report |
| 25-04-2009 | Slough Town | 2-1 | Bridgwater Town | League | - | - | Report |
| 21-04-2009 | Slough Town | 2-1 | Gosport Borough | League | - | - | Report |
| 18-04-2009 | Didcot Town | 2-0 | Slough Town | League | - | - | Report |
| 13-04-2009 | Beaconsfield SYCOB | 0-0 | Slough Town | League | - | - | Report |
| 11-04-2009 | Slough Town | 2-2 | Taunton Town | League | - | - | Report |
| 04-04-2009 | Winchester City | 3-1 | Slough Town | League | - | - | Report |
| 28-03-2009 | Slough Town | 1-0 | Paulton Rovers | League | - | - | Report |
| 26-03-2009 | Bridgwater Town | 6-0 | Slough Town | League | - | - | Report |
| 24-03-2009 | Burnham | 3-0 | Slough Town | League | - | - | Report |
| 21-03-2009 | AFC Totton | 4-2 | Slough Town | League | - | - | Report |
| 14-03-2009 | Slough Town | 0-0 | Bracknell Town | League | - | - | Report |
| 10-03-2009 | Slough Town | 0-3 | Abingdon Utd | League | - | - | Report |
| 07-03-2009 | Bishops Cleeve | 0-4 | Slough Town | League | - | - | Report |
| 03-03-2009 | Slough Town | 2-3 | Cinderford Town | League | - | - | Report |
| 28-02-2009 | Uxbridge | 4-0 | Slough Town | League | - | - | Report |
| 21-02-2009 | Slough Town | 4-3 | Andover | League | - | - | Report |
| 14-02-2009 | AFC Hayes | 2-1 | Slough Town | League | - | - | Report |
| 31-01-2009 | Truro City | 2-1 | Slough Town | League | - | - | Report |
| 27-01-2009 | Marlow | 1-0 | Slough Town | Berks & Bucks | - | - | Report |
| 24-01-2009 | Slough Town | 3-2 | Windsor & Eton | League | - | - | Report |
| 20-01-2009 | Slough Town | 1-1 | North Leigh | League | - | - | Report |
| 17-01-2009 | Cirencester Town | 4-1 | Slough Town | League | - | - | Report |
| 01-01-2009 | Slough Town | 2-2 | Beaconsfield SYCOB | League | - | - | Report |
| 27-12-2008 | Thatcham Town | 3-1 | Slough Town | League | - | - | Report |
| 20-12-2008 | Slough Town | 2-3 | Didcot Town | League | - | - | Report |
| 16-12-2008 | Slough Town | 0-0 | AFC Totton | League | - | - | Report |
| 06-12-2008 | Paulton Rovers | 1-2 | Slough Town | League | - | - | Report |
| 29-11-2008 | Slough Town | 4-0 | Winchester City | League | - | - | Report |
| 15-11-2008 | Bracknell Town | 0-0 | Slough Town | League | - | - | Report |
| 11-11-2008 | Abingdon Utd | 1-1 | Slough Town | League | - | - | Report |
| 08-11-2008 | Slough Town | 1-1 | Bishops Cleeve | League | - | - | Report |
| 04-11-2008 | Slough Town | 2-3 | AFC Hayes | League | - | - | Report |
| 01-11-2008 | Gosport Borough | 2-1 | Slough Town | League | - | - | Report |
| 18-10-2008 | Thatcham Town | 5-4 | Slough Town | FA Trophy | - | - | Report |
| 27-09-2008 | Andover | 1-2 | Slough Town | League | - | - | Report |
| 20-09-2008 | Slough Town | 3-2 | Cirencester Town | League | - | - | Report |
| 13-09-2008 | Farnborough | 1-0 | Slough Town | FA Cup | - | - | Report |
| 06-09-2008 | Taunton Town | 2-3 | Slough Town | League | - | - | Report |
| 02-09-2008 | Slough Town | 5-2 | Abingdon Utd | FA Cup | - | - | Report |
| 30-08-2008 | Abingdon Utd | 1-1 | Slough Town | FA Cup | - | - | Report |
| 25-08-2008 | Slough Town | 1-1 | Thatcham Town | League | - | - | Report |
| 23-08-2008 | Cinderford Town | 4-1 | Slough Town | League | - | - | Report |
| 19-08-2008 | North Leigh | 6-1 | Slough Town | League | - | - | Report |
| 16-08-2008 | Slough Town | 2-2 | Burnham | League | - | - | Report |
| 26-04-2008 | Fleet Town | 1-0 | Slough Town | League | - | - | Report |
| 22-04-2008 | Bridgwater Town | 0-0 | Slough Town | League | - | - | Report |
| 19-04-2008 | Newport IOW | 1-3 | Slough Town | League | - | - | Report |
| 12-04-2008 | Slough Town | 3-2 | Godalming Town | League | - | - | Report |
| 28-04-2007 | Hampton & Richmond | 4-2 | Slough Town | League | - | - | Report |
| 31-03-2007 | AFC Wimbledon | 9-0 | Slough Town | League | - | - | Report |
| 27-03-2007 | Walton & Hersham | 3-0 | Slough Town | League | - | - | Report |
| 17-02-2007 | Slough Town | 0-1 | Hendon | League | - | - | Report |
| 06-02-2007 | Slough Town | 0-5 | East Thurrock Utd | League | - | - | Report |
| 03-02-2007 | Slough Town | 1-1 | Worthing | League | - | - | Report |
| 30-01-2007 | Horsham | 4-0 | Slough Town | League | - | - | Report |
| 27-01-2007 | Heybridge Swifts | 2-3 | Slough Town | League | - | - | Report |
| 23-01-2007 | Slough Town | 0-5 | Harrow Borough | League | - | - | Report |
| 13-01-2007 | Leyton | 1-0 | Slough Town | League | - | - | Report |