Role: Current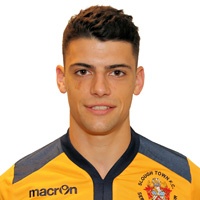 Josh Jackman
Josh Jackman joined the club in the summer of 2016 from March Town after a recommendation to Neil Baker.
He came in late during pre-season, however he showed quality and calmness on the ball, and was instantly liked by his fellow team mates, making it an easy decision to get him on board for the 2016/2017 season.
As a right back he has some real competition for a starting place, however Neil Baker and Jon Underwood have since found he is equally comfortable in midfield and on the left, and are confident he will feature often, as he is highly rated.
Statistics
| | |
| --- | --- |
| First Appearance: | 13-08-2016 vs Kings Langley |
| First Goal: | 15-08-2017 vs Gosport Borough |
| Position: | Defender |
| Total STFC Appearances: | 29 |
| Total STFC Goals: | 2 |
Matches Played
| Match Date | Home Team | Score | Away Team | Competition | Goals | Cards | Report |
| --- | --- | --- | --- | --- | --- | --- | --- |
| 18-11-2017 | Slough Town | 3-0 | Weymouth | League | | - | Report |
| 14-11-2017 | Hayes & Yeading | 3-1 | Slough Town | League Cup | - | - | Report |
| 11-11-2017 | Maldon & Tiptree | 1-4 | Slough Town | FA Trophy | - | - | Report |
| 28-10-2017 | Kidlington | 1-4 | Slough Town | FA Trophy | - | - | Report |
| 24-10-2017 | Slough Town | 5-1 | Gosport Borough | League | - | - | Report |
| 17-10-2017 | Slough Town | 2-0 | Tiverton Town | League | - | - | Report |
| 14-10-2017 | Slough Town | 1-0 | Folkestone Invicta | FA Cup | - | - | Report |
| 07-10-2017 | Slough Town | 2-1 | Biggleswade Town | League | - | - | Report |
| 02-10-2017 | Beaconsfield Town | 2-2 | Slough Town | League Cup | - | - | Report |
| 30-09-2017 | Slough Town | 2-1 | Poole Town | FA Cup | - | - | Report |
| 26-09-2017 | Redditch United | 1-4 | Slough Town | League | - | - | Report |
| 12-09-2017 | Slough Town | 4-0 | Hitchin Town | League | - | | Report |
| 28-08-2017 | Farnborough | 1-2 | Slough Town | League | - | - | Report |
| 19-08-2017 | Hereford | 0-1 | Slough Town | League | - | | Report |
| 15-08-2017 | Gosport Borough | 1-5 | Slough Town | League | | - | Report |
| 26-04-2017 | Leamington | 1-0 | Slough Town | Play Off | - | - | Report |
| 22-04-2017 | Slough Town | 1-1 | Redditch United | League | - | - | Report |
| 25-02-2017 | Dorchester Town | 0-4 | Slough Town | League | - | - | Report |
| 11-02-2017 | Cambridge City | 3-4 | Slough Town | League | - | - | Report |
| 20-12-2016 | Slough Town | 3-0 | MK Dons | Berks & Bucks | - | - | Report |
| 23-11-2016 | Northwood | 1-0 | Slough Town | League Cup | - | - | Report |
| 29-10-2016 | Slough Town | 4-1 | Bognor Regis Town | FA Trophy | - | - | Report |
| 25-10-2016 | Slough Town | 2-1 | Dorchester Town | League | - | - | Report |
| 22-10-2016 | Basingstoke Town | 4-1 | Slough Town | League | - | - | Report |
| 18-10-2016 | Slough Town | 7-4 | Beaconsfield Town | Berks & Bucks | - | - | Report |
| 11-10-2016 | Dunstable Town | 0-1 | Slough Town | League | - | - | Report |
| 03-09-2016 | Slough Town | 6-1 | Chipstead | FA Cup | - | - | Report |
| 27-08-2016 | Cirencester Town | 1-3 | Slough Town | League | - | - | Report |
| 13-08-2016 | Kings Langley | 2-3 | Slough Town | League | - | - | Report |