Role: Current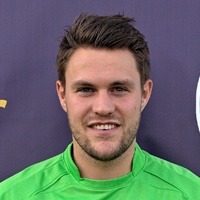 Mark Scott
Mark Scott joined the club in the summer of 2015 from Oxford City, and quickly established himself as number 1, seeing off the challenge of Luke Williams for the jersey.
Now in his second full season, 'Scottie' has proved to be an excellent acquisition for the club, and for many is one of the best keepers in the league, with his shot stopping in particular being exceptional.
His previous clubs include Swindon Town, Salisbury and Oxford City.
Statistics
| | |
| --- | --- |
| First Appearance: | 08-08-2015 vs Frome Town |
| First Goal: | Never |
| Position: | Goalkeeper |
| Total STFC Appearances: | 95 |
| Total STFC Goals: | 0 |
Achievements
2016/17 Golden Gloves Award
Matches Played
| Match Date | Home Team | Score | Away Team | Competition | Goals | Cards | Report |
| --- | --- | --- | --- | --- | --- | --- | --- |
| 04-03-2017 | Slough Town | 3-2 | Basingstoke Town | League | - | - | Report |
| 25-02-2017 | Dorchester Town | 0-4 | Slough Town | League | - | - | Report |
| 21-02-2017 | Cinderford Town | 2-1 | Slough Town | League | - | - | Report |
| 18-02-2017 | Slough Town | 1-0 | Merthyr Town | League | - | - | Report |
| 11-02-2017 | Cambridge City | 3-4 | Slough Town | League | - | - | Report |
| 07-02-2017 | Slough Town | 3-0 | Weymouth | League | - | - | Report |
| 04-02-2017 | Slough Town | 1-0 | Dunstable Town | League | - | - | Report |
| 31-01-2017 | King's Lynn Town | 5-2 | Slough Town | League | - | - | Report |
| 28-01-2017 | Leamington | 0-6 | Slough Town | League | - | - | Report |
| 21-01-2017 | Slough Town | 0-1 | Chippenham Town | League | - | - | Report |
| 17-01-2017 | Maidenhead United | 4-2 | Slough Town | Berks & Bucks | - | - | Report |
| 07-01-2017 | St Ives Town | 2-0 | Slough Town | League | - | - | Report |
| 02-01-2017 | Slough Town | 1-2 | Chesham United | League | - | - | Report |
| 27-12-2016 | Hayes & Yeading | 2-3 | Slough Town | League | - | - | Report |
| 20-12-2016 | Slough Town | 3-0 | MK Dons | Berks & Bucks | - | - | Report |
| 17-12-2016 | Slough Town | 3-2 | Kettering Town | League | - | - | Report |
| 06-12-2016 | Chippenham Town | 3-3 | Slough Town | League | - | - | Report |
| 03-12-2016 | Slough Town | 1-2 | Frome Town | League | - | - | Report |
| 29-11-2016 | Slough Town | 2-0 | Banbury United | League | - | - | Report |
| 26-11-2016 | Slough Town | 2-4 | Wingate & Finchley | FA Trophy | - | - | Report |
| 22-11-2016 | Stratford Town | 1-2 | Slough Town | League | - | - | Report |
| 19-11-2016 | Slough Town | 2-2 | Kings Langley | League | - | - | Report |
| 15-11-2016 | Slough Town | 2-0 | Merthyr Town | FA Trophy | - | - | Report |
| 12-11-2016 | Merthyr Town | 2-2 | Slough Town | FA Trophy | - | - | Report |
| 05-11-2016 | Slough Town | 0-1 | Hitchin Town | League | - | - | Report |
| 29-10-2016 | Slough Town | 4-1 | Bognor Regis Town | FA Trophy | - | - | Report |
| 25-10-2016 | Slough Town | 2-1 | Dorchester Town | League | - | - | Report |
| 22-10-2016 | Basingstoke Town | 4-1 | Slough Town | League | - | - | Report |
| 15-10-2016 | Merthyr Town | 1-1 | Slough Town | League | - | - | Report |
| 11-10-2016 | Dunstable Town | 0-1 | Slough Town | League | - | - | Report |
| 08-10-2016 | Slough Town | 1-0 | Cambridge City | League | - | - | Report |
| 01-10-2016 | Slough Town | 2-3 | Dartford | FA Cup | - | - | Report |
| 27-09-2016 | Slough Town | 2-0 | Leamington | League | - | - | Report |
| 24-09-2016 | Slough Town | 3-0 | Biggleswade Town | League | - | - | Report |
| 17-09-2016 | Cambridge City | 1-3 | Slough Town | FA Cup | - | - | Report |
| 13-09-2016 | Weymouth | 0-1 | Slough Town | League | - | - | Report |
| 10-09-2016 | Redditch United | 0-4 | Slough Town | League | - | - | Report |
| 03-09-2016 | Slough Town | 6-1 | Chipstead | FA Cup | - | - | Report |
| 29-08-2016 | Slough Town | 2-1 | Hayes & Yeading | League | - | - | Report |
| 27-08-2016 | Cirencester Town | 1-3 | Slough Town | League | - | - | Report |
| 20-08-2016 | Slough Town | 3-0 | St Ives Town | League | - | - | Report |
| 16-08-2016 | Slough Town | 0-0 | Stratford Town | League | - | - | Report |
| 13-08-2016 | Kings Langley | 2-3 | Slough Town | League | - | - | Report |
| 09-08-2016 | Banbury United | 1-0 | Slough Town | League | - | - | Report |
| 06-08-2016 | Slough Town | 2-0 | St Neots Town | League | - | - | Report |
| 23-04-2016 | Merthyr Town | 2-0 | Slough Town | League | - | - | Report |
| 16-04-2016 | Slough Town | 2-0 | King's Lynn Town | League | - | - | Report |
| 09-04-2016 | Cambridge City | 4-2 | Slough Town | League | - | - | Report |
| 02-04-2016 | Slough Town | 1-0 | Chippenham Town | League | - | - | Report |
| 28-03-2016 | Slough Town | 0-2 | Hungerford Town | League | - | - | Report |
| 22-03-2016 | Bideford | 2-1 | Slough Town | League | - | - | Report |
| 19-03-2016 | Slough Town | 0-0 | Weymouth | League | - | - | Report |
| 14-03-2016 | Hungerford Town | 1-0 | Slough Town | League | - | - | Report |
| 12-03-2016 | St Neots Town | 0-0 | Slough Town | League | - | - | Report |
| 09-03-2016 | Frome Town | 2-1 | Slough Town | League | - | - | Report |
| 05-03-2016 | Slough Town | 1-0 | Dunstable Town | League | - | - | Report |
| 01-03-2016 | Slough Town | 1-3 | Kettering Town | League | - | - | Report |
| 27-02-2016 | Paulton Rovers | 3-3 | Slough Town | League | - | - | Report |
| 20-02-2016 | Slough Town | 1-3 | Leamington | League | - | - | Report |
| 16-02-2016 | Cirencester Town | 1-3 | Slough Town | League | - | - | Report |
| 13-02-2016 | Dorchester Town | 1-2 | Slough Town | League | - | - | Report |
| 06-02-2016 | Slough Town | 1-2 | Bedworth United | League | - | | Report |
| 26-01-2016 | Potters Bar Town | 2-2 | Slough Town | League Cup | - | - | Report |
| 23-01-2016 | Slough Town | 1-0 | Hitchin Town | League | - | - | Report |
| 26-12-2015 | Slough Town | 0-1 | Chesham United | League | - | - | Report |
| 19-12-2015 | Poole Town | 3-3 | Slough Town | League | - | - | Report |
| 15-12-2015 | Slough Town | 3-1 | Merthyr Town | League | - | - | Report |
| 12-12-2015 | Weymouth | 6-1 | Slough Town | League | - | - | Report |
| 05-12-2015 | Slough Town | 2-2 | St Neots Town | League | - | - | Report |
| 01-12-2015 | Slough Town | 2-0 | Biggleswade Town | League | - | - | Report |
| 24-11-2015 | Dunstable Town | 1-3 | Slough Town | League | - | - | Report |
| 21-11-2015 | Slough Town | 2-4 | Stratford Town | League | - | - | Report |
| 14-11-2015 | Frome Town | 2-1 | Slough Town | FA Trophy | - | - | Report |
| 10-11-2015 | Marlow | 3-6 | Slough Town | League Cup | - | - | Report |
| 07-11-2015 | King's Lynn Town | 2-1 | Slough Town | League | - | - | Report |
| 01-11-2015 | Romford | 0-4 | Slough Town | FA Trophy | - | - | Report |
| 27-10-2015 | Chippenham Town | 3-3 | Slough Town | League | - | - | Report |
| 24-10-2015 | Slough Town | 3-1 | Cambridge City | League | - | - | Report |
| 19-10-2015 | Redditch United | 1-0 | Slough Town | League | - | - | Report |
| 17-10-2015 | Slough Town | 2-1 | Paulton Rovers | League | - | | Report |
| 13-10-2015 | Slough Town | 3-0 | Chesham United | League Cup | - | - | Report |
| 10-10-2015 | Histon | 1-2 | Slough Town | League | - | - | Report |
| 06-10-2015 | Slough Town | 4-1 | Dorchester Town | League | - | - | Report |
| 03-10-2015 | Slough Town | 2-1 | Bideford | League | - | - | Report |
| 29-09-2015 | Leamington | 3-0 | Slough Town | League | - | - | Report |
| 26-09-2015 | Basingstoke Town | 4-2 | Slough Town | FA Cup | - | - | Report |
| 22-09-2015 | Slough Town | 0-2 | Redditch United | League | - | - | Report |
| 19-09-2015 | Bedworth United | 2-1 | Slough Town | League | - | - | Report |
| 31-08-2015 | Chesham United | 1-1 | Slough Town | League | - | - | Report |
| 29-08-2015 | Slough Town | 1-3 | Poole Town | League | - | - | Report |
| 22-08-2015 | Hitchin Town | 3-1 | Slough Town | League | - | | Report |
| 18-08-2015 | Slough Town | 7-1 | Histon | League | - | - | Report |
| 15-08-2015 | Stratford Town | 1-1 | Slough Town | League | - | - | Report |
| 11-08-2015 | Biggleswade Town | 5-1 | Slough Town | League | - | - | Report |
| 08-08-2015 | Slough Town | 0-0 | Frome Town | League | - | - | Report |